Students in the US now have an easier way to access a free version of Office 365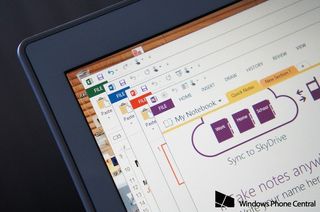 Students that are 13 years old or older in the US will now be able to quickly gain access to a free version of Microsoft's Office 365 suite of productivity apps.
Previously, students had to rely on their schools to give them the free Office 365 account, but today Microsoft announced that US students that attend a school that has already purchased Office for all of its faculty and staff can simply go to the Office 365 for Students (opens in new tab) website and enter a valid school provided email address to get their own Office 365 account.
This will give students a way to officially install Office apps like Word, Excel, PowerPoint and others on up to five Windows or Mac PCs and up to five mobile devices, along with 1 TB of free OneDrive cloud storage space and Office Online. Microsoft says:
This offer will be extended to other students worldwide later in 2014. Do you believe this move is a good one for Microsoft?
Source: Microsoft (opens in new tab)
Windows Central Newsletter
Get the best of Windows Central in in your inbox, every day!
Does this extend to college students as well?

Yes. Atleast for my university it did. Try your ID and see if it works, likely if it's a major university it should work as they will likely have a contract with Microsoft.

It appears that it does NOT work for University of Phoenix.

Well that explains why my account never closed.

Wow I did not know about this. This is great. About to get anew PC and it wont have office included, but this will let me gte office as I'm a student. THANKS WPC!

Very good move. Microsoft has suddenly become very competitive. All these moves will help take back market shares from Google offerings. We may never know how bad Balmer policies were...thank God for Nadella

This was all a part of Ballmer's strategy to fight against Google's and Apple on all fronts, so these items were already slated, no thanks to Satya........ Sorry to disappoint you

oh please. Ballmer oversaw huge rises in revenue. MS never "lost" anything to Google, Google just took the biggest slice of a new market - Search based advertising. MS have done a respectable job coming second. Apple doesn't even do search. Apple only do devices (that's where they make their money). MS never made devices. Apple have done a brilliant job of persuading people to pay twice as much as they should for shiny devices, and are reaping the reward for first mover on slabs of glass smartphones which have changed all our lives. This will all normalise over the long term. Ballmer suffered more from internal politics than being particulalry poor at production sales and numbers. Lets hope Sat can bring MS together and streamline the user experience. Have you tried resuming Skype on Windows Phone? !! LOL

Ballmer was always late to the party, never accepted new innovations as being a threat to Microsoft, and always ended up playing from behind in the end. Things look much better under Satya.

US, US and US
... but good that it will come to other countries soon

You get the best flagship Windows Phones first.

Canada would beg to differ.

I tried with my email from Puerto Rico but didn't work.

What school? Remember, they have to be under contract with Microsoft...

There is student offer for Windows 8.1 too. It's a great move with office 365.

Link please o.o, my brother is a sophomore at his high school atm, ill have him apply xD

Yes, this will be great fo my son.

Had it come a year ago a friend of mined wouldnt have had to torrent a cracked suite of MS Office '13 Pro. Lol

Yep :o
I'm stuck with 2007 that came with my PC xD

Great stuff and great move by Microsoft

Yes that's great. Looking forward to seeing this going worldwide!

So once we get this, is there is expiration on it? For example after a certain date you lose access?

That the general idea with 365/msdn/TechNet subscriptions my guess at the end of school year

I work in IT for a public university that provides this to our students. For us, you lose access 30 days after you graduate or are determined to be inactive as a student

Catch them young, huh! Good move Microsoft. You are on the right path. But do not sound desparate while giving away your services for free.

Nice!!! Must try this out ;)

Very good idea, my university was deeply tied to Google. Everybody used Google docs, yet I would show them office online and 365 along with OneDrive they were always like "this is awesome, how did you know about this?" I'm happy to see that Microsoft is making a push with their superior product.

Excellent way to reel in the masses. Get em used to Office while they are young! Obviously this benefits both parties.

Important! ''Office apps on other mobile devices including Windows tablets and iPad'' Office App on Windows Tablets?? Office Touch is coming?! =O http://blogs.office.com/2014/09/22/students-teachers-may-eligible-get-office-free/

Apparently works with my email, but fails when I try to log in after they've installed. Boo.

I hate when things like this happen after having bought Office for my son! But guess what? Called MS after verifying that he had access to 365, told them I wanted a refund, boom!, refund processed, Office uninstalled and now installing 365! Easy and out! That is the kind of customer service I expect, and MS does it right! Absolutely awesome!

Great promotion for office 365

There's not much on licensing details on their blog post (i.e. Office 365 expiration). But overall, great move on Microsoft's part.

Our ISD doesn't have this, even though they use Office 365 for faculty. (faculty accounts go under @domain.org, students use @k12.domain.org, so that sucks :c)

Genius! Get em' while they're young! Seed the next generation of fans and loyal customers

This is fantastic even for alumni.

It's also in the Netherlands as "Office 365 Pro Plus" I already bought the University pack last year, so it isn't for me.

Finally, When I saw the student advantage program was put into place, I contacted my University's IT department to ask if they were doing something about it and they told me they would look into it, after which I got no more answers. I hope this extends worldwide fast. I've been waiting for this program for a while now.

The public high schools in my area don't provide students with email addresses at all. How can they take advantage of this?

probably won't work for my HS

AWESOM!!! This is a great move by Microsoft. The next generation will now have easy access to the productivty suite that that got many of us through college, work and home projects. With Google with chrome books and it's productivity suite and Apple offering it's suite for free Microsoft need to make a move that would ensure that the next generation is aware of their products. They have certainly been losing mindshare among the youth. But this move is a brilliant strategic blow against Googles and Apple encroachment on thier territory! Long live Microsoft! Down with Google and that persistent 'Droid. Resistance is NOT futile. And no thank you APPLE! iCLOUD and your productivity suite are second rate. (Excuse the zeal) :-) Microsoft has only lost ground to Google and Apple because it missed the boat on mobile. They are now righting the ship. And with moves like this, making it extraordinarily easy for School Systems(Administrators) to implement the productivity suite they are likely MOST comfortable with (people advocate for what they know) the children(students) will get first hand exposure to a first class productivity suite!

does not work for UMUC students

I feel like MS doesn't even address the issues people post here. It's been four months since your post about our school and still no replies. I also feel UMUC needs to step up a bit and help us out with this contract with MS. I mean, the campus I go to we can't even get wifi on a military post and we are majoring in cybersecurity...:-/

I'm old, but impressionable. Is there a freebie program for us folks?

Now I have to find a stoner with a edu mail..

What about poor students in Europe?

This is awesome news! Hope it'll come to the UK soon as this could benefit me :)

Beats the hell out of Google docs and their cloud storage

I am living in Dubai, and my school has this exact thing. I was just wondering if you will lose your OneDrive and installed office applications if it is a limited license that the school has with Microsoft.

Worked for me!!! Thanks for the information

Anyone know how to use this 1TB onedrive offer with your existing personal Outlook/Microsoft account instead of the university email account? Thx

Can't wait this feature to come in my country

Nice! I already have it free on my tablet.

People cam say what they want about MS, but at least they're giving students real help and options to get through school. I know I'm grateful for this program.

Yep, they are a good company.

Wow, this would have been helpful to know the past two years..... Haha at least it is easy to set up now, and I have two more years to go.....

Yes, a good step forward! More of these offers.

I'm not sure where to go to get my schools email address?

It doesn't look like there is a way to combine your personal @outlook.com/Microsoft account with this offer. I had to setup this university offer with my email address using OneDrive for Business. The interesting thing is that my android device does both the personal and "business" account (read that as university account) in the same application. Windows requires two different downloads -Onedrive for Windows and Onedrive Business... No way that I can tell to combine this. It would be better if Microsoft would let you add this offer to your existing Microsoft Account and combine the benefits...

@Teezy022 - You use the email address that your school assigned to you - usually something like yourname@yourschool.edu

Woo, can't wait for this to come to the UK. Especially if I go and get a Surface Pro 3...

This still isn't working for UMUC students. How can we get connected? That's University of Maryland University College. Our e-mails end at username@student.umuc.edu
Windows Central Newsletter
Thank you for signing up to Windows Central. You will receive a verification email shortly.
There was a problem. Please refresh the page and try again.