Style Jukebox for Windows Phone updated with new look, premium accounts and more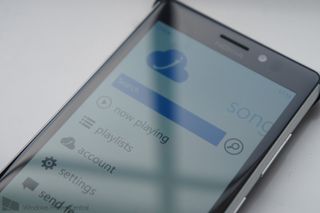 Style Jukebox is an interesting, cloud-based service that enables you to enjoy your music collection wherever you may be. Available for Windows and Windows Phone, as well as competitor platforms, we've followed the development of Style Jukebox since the original version of the Windows Phone app was released some time ago. Today we're revisiting the app, which has been majorly updated with a new look and premium account support.
If you've used Style Jukebox previously, you'll be pleasantly surprised by how good the app looks with this latest release. Screaming Modern UI, it's an absolute joy to use, though we'd like it if it weren't required for you to use the Windows client to create an account. Not a deal breaker, but something to consider if you've not got access to a computer temporarily. So what else is new in the update along with the new look?
Automatic music import from Dropbox and SkyDrive is now supported. This means you can clear up space on your personal cloud storage services, while keeping all your files together in one location, which is accessible through any Style Jukebox app. It just works, if you will. Really neat addition and one we're sure fans will warmly welcome.
Now, we've noted before how Style Jukebox is free to use (bar the fee for the paid app without advertisements), but the team has unveiled a premium account option for those hardcore music lover who require 400TB drives for their collections to be stored. With the free account, you get a generous 1,000 song limit - more than enough for most who simply desire a means to stream favourite playlists, but what if you require more? This is where premium comes into play.
Providing extra storage, the optional upgrade (which costs $2.99/month or $24.99/year) includes a limit increase to 20,000 songs; files that are up to 1GB in size (for those massive megamixes); FLAC, MP3, WMA, AAC and M4A formats supported; and up to 10 devices linked to any one account. It's not a bad option, especially if you find yourself hitting a streaming wall and require a higher limit for songs and hardware.
Here's a sweet video introducing you to the service:
You can download Style Jukebox from the Windows Phone Store for $1.49 - free version available, but ad-supported (right QR code). Best of all: it's completely free to use, unless you'd like to upgrade to premium and take advantage of more features and functionality.
Windows Central Newsletter
Get the best of Windows Central in in your inbox, every day!
Rich Edmonds was formerly a Senior Editor of PC hardware at Windows Central, covering everything related to PC components and NAS. He's been involved in technology for more than a decade and knows a thing or two about the magic inside a PC chassis. You can follow him on Twitter at @RichEdmonds.
What a worthwhile and relevant comment. How old are you...like, 8?

0 lol
all the emoticon from Splashtop personal keyboard turned to square... so heres the builtin emoticon

hei where did they ran away???

I love things like this❕ These updates, to apps that are also on other platforms, show how far developer support has come on WP.. What's even better is that we still have a long way to go, so that means there's much more to come for us WP fans..

"what's even better is that we still have a long way to go...". Ya that's great. Thanks Rodney. So inspirational.

It is if you think about it.. The fact that our devices already are feature rich, and plenty capable, just let's me know that if we still have a long way to go then we have a whole of great shiznit for NIST to look forward to.. I'm looking at it in a positive WP fans way, and not in your negative iDroid fans haterNISTic way..... Lol❕❕

Ahaaaiii love it. This is something in going to look in to.

Hmm, trying out the desktop version and its all going slow. Couldn't download there client from there site, had to use CNET or what there called. Not off to a good start. All I want is all my (and I have many) mp3's on a cloud service. So tired it got to be this hard. :'(

Hi Nakazul, I'm Johnny, one of the Style Jukebox team members. Here you have my email address team@stylejukebox.com You can write anytime if you need support. Concerning this, we will try to fix your problem, even though are system doesn't indicate any kind of problem when trying to download the app from our website.

wheres the official dropbox app???

what does this have to do with this article? Email dropbox...

Where's the official WPCentral app❔... This is the slowest day ever❗❗❗

On this app 'compatile with windows' argh spelling mistakes >_<

Why does it look exactly like Spotify? They both used a template?

I'll stick with google music. 20,000 song upload for free and no file size restrictions, at least none that I've encountered.

Not available in my region

Yet another feature that should be native to my windows phone. At the very least, if my music is stored in a SkyDrive account, it should be easily and readily streamed by a windows device.

There already is this kind of feature with xbox music, you have remote access to your pc collection... and you don't need a client on your pc... in many way this it is a better solution.
This is an alternative solution, it only is usefull for those who don't use xbox music...


So excited for the flac and alac support. Long time coming. Does this app transcode the high bitrate flac files to mp3 format for streaming? Or we get an untouched flac file with the flac driver built in app to play? I will be willing to pay 25$ if flac is streamed without transcoding. Please make this happen developers. Great start.
Windows Central Newsletter
Thank you for signing up to Windows Central. You will receive a verification email shortly.
There was a problem. Please refresh the page and try again.