Subway Surfers takes on the tunnels of Vancouver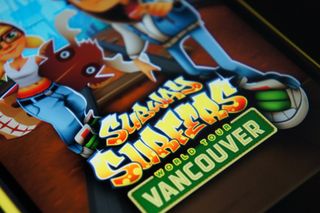 Kiloo has published an update for its popular Subway Surfers game on iOS, Android and Windows Phone. In this latest release, players are able to traverse through Vancouver, Canada. Not only is there a new adventure awaiting, but a new character is also available – Olivia the spirited girl scout. Olivia comes bearing gifts in the form of new outfits and boards, just in case the current collection wasn't enough.
If you're not familiar with the game, Subway Surfers takes players down the subways of major cities around the world and is a highly addictive endless runner. As well as the new location, character and bonus items for personalization, players can also add a humorous new Moose board to their collection and locate hidden maple leaves in the new subway to win special prizes.
Thanks to Pratham for the tip!
Get the Windows Central Newsletter
All the latest news, reviews, and guides for Windows and Xbox diehards.
Rich Edmonds was formerly a Senior Editor of PC hardware at Windows Central, covering everything related to PC components and NAS. He's been involved in technology for more than a decade and knows a thing or two about the magic inside a PC chassis. You can follow him on Twitter at @RichEdmonds.
You forgot to mention that it is still not available for 512mb devices :p

Sometimes I think of a 600-700mb game running easily on my 720 but a 31mb is incompatible . Nd no signs of optimization yet ... Really -.-

How large an app is in storage (on disk) has absolutely nothing to do with how much RAM is required to run it.

Subway surfers is boring now

For me as well. I like minion rush more.

I like Spartan Runner. Or the granddaddy of them all, "B.C.'s Quest For Tires" from the early '80s!

Agree, though 2D but Spartan runner is pretty fun. Didn't try B.C.'s quest.. yet

How does it works on L625? Its also 512MB right?

Nope not available for L625 yet.

It is working on my friends L625!! Even I don't know how...

I think by now, the lesson has been learned, If you want to play new games....a 512mb device will not do it, if you keep your device, then you know what you going to get. I wish MS never released 512mb device, it was one thing that android has and these devices created it for Windows Phone....Fragmentation...

Please don't comment about 512mb ram support... Sick of that already.

U still need that game. I mean there are tons of games available. Though this is the easiest one

Still they are modifying the theme. They aren't making any sequel or new games.

I was just thinking something similar. Also...I'm sure I just updated it recently to whatever the last location was, lol. It never changes that much to even feel it's worth download. But I'm not going to complain (although technically I already have, lol) because at least they pay attention to the app. So many devs make one for WP8 and then forget about it all together. :'(

Wait is over... No need to wait for 512mb ram devices anymore....they never gonna release it.... i lost my hope... worst Kiloo....

There are games with better graphics available for 512mb ram devices I wonder why this game still has no support for 512 ram phones

This game is a port from android they are lazy to optimize coz porting is easy but optimizing may take some time

You are true, asphalt 8 runs on my lumia 520 with ease. But I think there is problem with Unity engine

The very surprising thing about this is that this runs on iOS devices that have much less than 512MB of RAM. It lags quite a bit but it runs!

Why its still not available for 512 ram

On the bright side, the good news from this story is that IOS, Android, and WP got the update at the SAME TIME. #breakingnews

Breaking and good news but bad news for 512 mb ram devices again

This gane uses features not available in your phone: Not expensive enough

This game isn't working on 512mb but asphalt 8 does... GG

In Canada they are Girl Guides, not Girl Scouts.

Why always have to launch twice. So complicated. FYI seems there's a improvement with play experience, you know, more fluid.

Is there is option for changing the country in game.,.in each update new country is added can we take favourite theme...

Just sideload it for 512mb ram. If some Chinese people can optimize it i don't see why the actual developers cant

I saw 2 (been delisted now), both were Indians.

Howcome a game like asphalt 8 with such great graphics runs smoothly on 512mb devices but a simple subway surfers or a temple run 2 isn't even available?

This. Subway Surfers also runs at a much higher FPS than Asphalt, since its much more reliant on quick reactions.

What you said, actually makes sense. But, then what do you say about the clones that appeared and were taken down at the Store, which runs "good enough" on 512 megabyte RAM devices?

I haven't got a 512mb RAM handset to try the clones on so I don't know about their performance, but it's a pretty safe bet that they weren't updated on the same three-week timescale as the legit game is. Were they?

Oh I tell you, the performance is good. Little glitches, here and there, such as overheating, battery drain at times, lagging when on WiFi etc. And no updates. But, can live with it :p I don't play it as much as A8 or 2048 :D

Yeah, no updates is the thing. Notice how the real game is visually overhauled every three weeks. If it's so easy to optimise, why isn't the cloner doing so?

The clone was delisted in a matter of few days. We can never know if we could or could not optimise it.

as you noted, they run "good enough" on 512mb ram phones. there are actually many users with subpar performance too, and they're not liking it, and are asking for "update to fix lags". that is just what would happen if Kiloo made the game available to 512mb ram consumers. and since it won't be a clone this time, they would actually be accountable for the app performance.
and so they haven't made it available for 512mb ram phones, because a constantlly bad-working app not only turns away customers, it also spoil your brand/company's image.

Actually I think that the cloner put very little effort in the process. And the bugs such as over heating, lag only when WiFi is ON etc could be fixed by Kiloo, the original developer. But then, I am no developer. So I don't know the business. Just wondering if a cloner could make something "good enough", can't the original developer make it better?

But, how can you explain how well Minion Rush plays on 512 RAM devices

1. Engines 2. Optimization

Just add Xbox Live support!

Hats of to Kiloo for supporting WP in a timely fashion with all their updates.

So agreed. Updates every three weeks like this is fantastic. =D

So agreed Much true Very yes Wow ;P

Hats off to Kiloo for supporting WP in a timely fashion with all their updates.

like shit game that requires 1G ram vl!

1Gb 1Gb 1Gb. Why did Nokia, i mean Microsoft mobile, make a phone with 512mb Ram when they now that a lot of *great* games are just actually working on 1Gb Ram or more? I don't know who to blame.

If Nokia stopped making 512mb RAM devices then devs would stop making 512mb RAM apps. It's hard to win.

It's happened already, devs, especially game devs have stopped making 512mb Ram supported games.

If you want to play new games, no choice, sell you 512mb device and buy a 1gb device, if not you know what your getting so stop compaining about it..

Pretty much this. It's not like you have to buy a 2014 handset either; stuff like the 920 are still fantastic phones and relatively future-proof.

That first comment is nice one guys

They do not think about 512mb ram devices they think these phones are lower level phones

Nokia and Microsoft are still making 512mb ram phones like Lumia 630 and 635 which was going to be released but they doesn't release good games to make these phones popular so that customers will buy this phones

Bring 512mb device this game and Temple run too

Its a nice looking update
Vancouver looks good!

This was working on my 256mb ram iPod touch 4, but it's not working on my 512mb ram phone...

i will already downloaded do u have any save files for this

I don't think I'll be downloading it even if it comes with 512 MB support. Kiloo should start working on something new now, if they aren't already, and make that one with 512 MB support ;)

Don't need it for 512mb now. Its past now. There are various other alternatives which give similar or better experience. :\

Lazy developers again, please you've got to be f...ing kidding me

Still no 512mb support...!! When are they gonna realise it guys were needed them badly

Ask the fun in the universe is here oh my goodness i have it in my mobile..... With 512mb ram oh i was speaking am about windows phone 8.1 lol

Even temple run 2 isn't available for 512 mb ram devices , why the hell MS let devices being manufactured with 512 MB rams when they aren't keen to compel developers to optimise games for 512 MB ram devices

This GAME Subway Surfers & Temple Run 2 never would be available to 512 Mb devices as recently googled around 60 times for this game to download, but at last coming to an answer is that it doesn't design to play in 512 mb devices. It designed to play more that 1Gb Ram only.

When are we surfing in Africa? This question is never answered why?????