Your Surface Book and Surface Pro 4 battery drivers are likely out of date - Does it matter?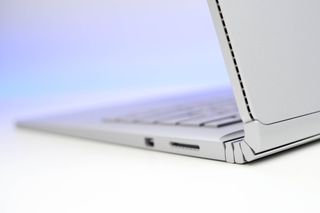 One of the fun things about owning a new device is working through the bugs and quirks. Okay, maybe fun is not the right word, more like voodoo science.
Some interesting threads on Reddit and our forums have raised an issue about outdated battery drivers on the Surface Book and Surface Pro 4. Fact or fiction?
Fact.
For some reason, both devices are shipping with generic Microsoft battery drivers from 2006. Once updated they are now properly labeled NEC drivers from 2013.
Does it matter?
Maybe. After all, drivers exist for a reason. The bigger question is will this fix battery drain issues in Connected Standby aka InstantGo?
Maybe, maybe not. Results from some Reddit users suggest yes, it can make a difference while for some people there is no change:
And yet others have had more issues:
Just as odd are people with older Surfaces also finding that they have older drivers installed. That calls into question this fixing anything.
Because of the mixed results, we are not quite ready to endorse this as a solution. Moreover, it is not clear what this newer driver does compared to the old one. Still, if you would like to update your driver here is how it's done. (You can always rollback)
How to update Surface Book/Surface Pro 4 battery driver
1. Device Manager
Right-click on the Start menu and choose Device Manager
2. Battery
Double-click ACIP-Compliant Control Method Battery. (Note: Surface Book owners will have two of these as there are two batteries to update on that device)
3. Driver
Under the battery's properties choose the Driver tab. Here you should see the current driver installed, and it likely says Microsoft and is dated 6/21/2006.
4. Update Driver
If your driver says 2006, just hit the Update Driver button
5. Search
Choose Search automatically for updated driver software. This tool uses the Microsoft database to install the proper driver for that hardware. This is not a 'hack', but a legitimate way to update system drivers. Usually, Windows Update catches them, but not always.
6. Installed
You should see a Windows has successfully updated your driver software message. You can then hit Close and verify the driver as **NEC Personal Computers, Ltd., dated 6/20/2013 and version number 1.0.0.5.
Remember, if you are on a Surface Book, you need to do this process twice. The AC Adapter will not have a new driver, so just choose Battery.
7. Restart
With new drivers, it is always good to restart the OS.
Will any of this matter? We have no idea but we are skeptical. We are not calling this a fix although your experience may vary. All we can confirm is that on our new Surfaces we had the 2006 drivers and now have 2013 ones. Nothing more.
More Info
To learn more about Microsoft's Sleep Study to understand your Surface's battery usage see our previous coverage (Only for devices with Connected Standby e.g. Surface Pro 3, Pro 4 and Surface Book)
Source: Reddit; via Windows Central Forums
Daniel Rubino is the Executive Editor of Windows Central, head reviewer, podcast co-host, and analyst. He has been covering Microsoft here since 2007, back when this site was called WMExperts (and later Windows Phone Central). His interests include Windows, Microsoft Surface, laptops, next-gen computing, and arguing with people on the internet.
While updated drivers are in general a good idea, I really don't think the bug is related to the battery driver. The battery driver is just an interface to the battery, i.e. gives battery stats/charge-discharge rates, reports the health, and low-level stuff like this. The bug seems related to other pieces of hardware/software (i.e. management of power states - not a function of the battery). Hopefully firmware updates will better address that bug. P.S.: What do I know, I'm just an Electrical and Computer Engineer...

I agree and seeing as other devices have this driver but no issues also casts doubt. Still, it's a neat trick and if it makes people feel better, lol

Bless the placebo effect, hahaha :P

May be its a non issue. This happens when we buy a new device. We check its features and keep its display ON most of the time. That can result in a battery drain. I am telling you this from my own experience.

The battery drains while the computer is not in use. Please read up on the issues before posting. You are not talking to tech amateurs here.

I have to disagree. The ACPI-compiant control battery driver is not as dumb as some here are suggesting and could definitely be the culprit of preventing the SP4/Surface Books from going into ACPI (S3) sleep state. If the this driver is preventing the computer from going from "connected standby" to ACPI (S3) state, then there will be a significant battery drain while the computer is in sleep mode. Now, why it is affecting some SP4/Surface Books and not others is another question. For me, updating the battery driver improved my SP4 but not my Surface Book. And it seems from comments that most results are mixed. But then again, even on the 3 machines I purchased, there have been different issues and different results from fixes and work arounds for the different issues. The most consistent and annoying error I have is the constant temporary lock up followed by the "display driver stopped responding and has recovered" message. Man I hate this... http://1drv.ms/1MPuYGj

Mark, I never saw that display driver error on my SP3 untill Windows 10 preview. Then one day I removed and manually installed the Intel driver and it went away. I haven't tried it on my SP Book as of yet, but I'm tempted to see if it make a different. As for the Battery drivers, when I try to update the driver, it tells me that i'm using the latest version of the driver.

I've been so busy the past couple weeks that I haven't had a chance to play around with drivers too much other than standard updates on the SP4/SB. I'm definitely going to experiment with these killer machines this weekend. But I gotta say, my most solid stable machine is the SP2 that I kept 8.1 running on. It just works, never crashes, and rarely has to be restarted. I have an identical SP2 which is running 10 (non insider) and has a lot of power issues including waking up immediatly after going to sleep. Anyway it's going to be a fun weekend! lol

Yeah, i'm playing around with the Surface Book and the intel Dispay driver right now. It seems to be the latest, but I'm going to uninstall and reinstall to see if it makes any difference. I'll be interested to see what you come up with as well.

I'm also thinking about adding my Surface Book to the Insider Preview builds.

I have now installed the following Preview Build and no longer have any battery issues when no other solutions worked. 10 hours of video playback at 50% brightness got me down to 41%. Suffice to say I had a ton of battery left (BatteryBar predicted another 7 hours) so I stopped the looping there and claimed victory. 10.0.10586 N/A Build 10586 Surface Book i5 - 8GB - 256 SSD

I do not exactly know what a PC battery driver does in detail,
but I suspect that it not only provides an interface only
but comes with some build-in functionalities as well. So a battery driver could have indeed an impact
on how well/bad or how (in)efficiently a given battery system is handled. If the battery driver neogotiates with other system components
this can have certain unwanted effects if that goes not fully well. If if the battery driver only communicates with other system components
things can also go fairly wrong if the communication is error-prone
and may lead to unwanted system behaivor. So it is the system architect who does know
what the battery driver is supposed to do
and what (if any) functionality he/she put in the driver. It really depends on what functionality / intelligence a system architect puts into the driver.

It's a battery, the least "smart" active component of a device.

Yeah especially with it being NVIDIA optimus usually isn't properly implemented by OEMs at bios level

What about "connected, not charging" issue? Is it battery or the driver?

I feel like this occurs when you're plugged in but using intensive enough programs that the charger can't keep up with the usage

Yes, usually this is the cause. In rare cases it can also mean that the battery charging circuit is broken somewhere.

This happens on the surface Book and surface pro 4 too? We have the issue with numerous surface 3 devices showing this message, and my own surface pro 3 shows it from time to time recently, but more often the surface 3 that's doing it

I did this to my original Surface Pro and I'll see if I get any results.

I applied this driver update to my SB i5 dGPU. It did indeed seem to help with the battery drain. But then it started failing to resume from hibernate! I rolled back the driver and am seemingly no longer getting the failure to resume. Time will tell if my battery drain issues have returned.

These issues should not be happening on such expensive devices!. What an embarrassment for MS

I truely full heartedly utterly hate old, out-of-date drivers. They are the cause for sticky problems and can kill user experience. Some big name PC vendors do a horrible job regarding driver support.
They give a sneeze to update the drivers in the appropriate download section for a given machine. Or they do not care to update a crucial driver at all.
My latest example is the Levono ThinkPad 8
with a WLAN driver dating back to 2014
and a Bluetooth driver even way older (both are Broadcom devices).
Of course drivers for those devices are not available via the internet
or directy from Broadcom. This is how companies alienate customers.
The ThinkPad 8 is my first Lenovo device at all
and Lenovo is working hard to make this my very last buy from them. PC vendors regularily let customers down when it comes to drivers
and they seem to have a terrible management process in place if they have one at all.
Just to often it seems of if they leave this all to interns. When it comes to dismal driver support
consumer should become way more unrenlentless unforgiving.

Concerned about Lumia 950 XL battery and Windows Hello. Just me?

I'm not concerned. I'll wait to see if there's an issue before worrying....

They use different components and different firmware, on different hardware platforms.

There's a reason why updated drivers exist. Try them and then rewind to the old version if there's any issues....

The real problem is when the proper drivers aren't available.... I.E. Windows 10 drivers for my laptop's fingerprint reader. Used to work with 8.1, but 10 is a no go.

moving from w8.0 to w8.1 my Wi-Fi started to drop was grateful I only dual booted it. Same thing happens with w10

If I replace 'fun' with 'voodoo science' the sentence doesn't make any sense though.

I had the Surface Book burn through the battery one night, then never again. Still goes down almost 10% overnight though.

I had more battery drain while using my Surface Book after updating the drivers. Rolled back and that drain is gone. Don't think this has anything to do with Connected Standby Posted via the Windows Central App for Android

i checked battery drivers on my hp envy dv6 and it's got the same drivers, so it's not an issue with the surface book.

Why would they still be using drivers from almost 10 years ago? Posted via the Windows Central App for Android

Guessing it's on their todo list of things to break

I think W10 also has a bug or two where malware scanner and indexing process run too often, too long unnecessarily. My desktop PC hasn't gotten many new files recently but those two processes often keep one or two CPU cores very busy for an hour or more for no good reason. It's going to kill the battery life if it happens on laptops.

This is not specific to the Surface Book. I just looked on my Surface 3 (not pro, just the regular one) and it uses the 2006 drivers. Did an upgrade on them, will need some time to try it out. Other drivers are also from 2006, such as the bluetooth, disk, mouse, and keyboard drivers.

Do you ever get the "plugged in, not charging" message on that Surface 3?

I have an old HP laptop with similar battery problems to some of the new Surface devices and I tried updating my battery drivers and it seemed to help fix the issue too... This could be a bug in the OS' default drivers supply

Doesn't seem to apply to original surface rt version..... Still says 2006 version....

Its a Saturday and new articles are still coming. Thank you windowscentral ^_^

It's still Friday over here in the US. Keep holding your breath until tomorrow.

I'm more worried about the frequent lockups. 4 times in 2 days, it will just lock up, nothing works, frozen. Have to hard power cycle to get back in action. And yes I have the recent updates.. :(

just updated battery driver of lenovo miix 3 out of curiousity after reading this article. And the battery driver is also updated to NEC one. I thought it is only for the mighty surface?

What's interesting about these examples was that all reddit forum members seem to have positive results and windows central forum members with negative results. Being a witness to the negativity in windows central comments and forums, it becomes sometime hard for me to digest all the information. I trust the reviewers though. And I hope they publish actual experiences with the devices despite their brand preferences.

I did this. Thank u. Still hasn't resolved freezing issue.

Hmm, this is also the case with Surface Pro 3 running the latest Windows 10 Insider 10586. The same 2013 version was available and I just upgraded...

Lol looks like Microsoft missed the battery drivers from W10. My MSI GT60 (10240) and Dell Venue 8 Pro (10586) both updated to the 2013 genetic and 2014 NEC drivers. It's not going to improve anything I guess but it's better to be running the latest :D

I'm on the fence about this driver. It's also available on my Lenovo laptop. Is it an error in how MS determines what available drivers there are? My experience on the SP4 is that after installing it, and rebooting, invoking the battery saver option does nothing for me (Lower right, click battery icon, choose battery saver). Usually, invoking this option dims the screen a bit. It doesn't with this driver, making me think it isn't doing anything. Immediately after rolling back the driver, invoking battery saver seems to do what it did before. So, I don't know if it's good or bad ...

I honestly just checked my yoga2pro and wow I had over 10 drivers that were out of date including Intel driver, a bunch of thermal hardware (could be why my battery has been crap too), and then wifi, audio and a few other things I didn't know (I manually checked everything). Kinda disappointed that it was that much work to do that. Thanks for pointing this out though!

By the time the Surface Pro 5 and Surface Book 2 launch, everything should be right as rain. Keep up the good work, beta testers.

@daniel why is it taking you so long to review the SB?

Because any review right now would be brutal. He has already documented all the issues he is having with it. To now put out a review extolling it would seem disingenuous at best. So, he has to wait till all the bugs have been taken care of and then state in his review, "the Surface Book had its issues, like all first gen products do, but once Microsoft fixed that with an update, I can truly say it is the best laptop I have ever used. Works flawlessly with no discernable issues". I understand how it works. But gotta say, Microsoft is not making his job easy at all. I feel you my man... hang in there.

Why does the user have to go through the burden of updating the driver via the device manager? Why isn't it part of a set it and forget it 2015 experience via the windows update program? It feels so 1985 for such a trivial driver. Or is this part of a back to the future type nostalgia easter egg?

I really liked the way you presented the information. Not like other outlet who would probably say"Nifty trick to improve battery life in your surface book"

Ha ha, yeah, or how about; "he updated his battery driver on his Surface Book, now look what happened next"

My Lenovo laptop only remains out of the charger about 2-3 hours kkk

OK window 10 had bugs, onedrive reduced storage, but why to this laptop. That's too sad for Microsoft. I used to like Microsofts programs but this is too far. I hope the do something this about it soon.

:/ what are you even trying to say...

How about the Surface Pro 3? I guess that 'outdated' driver has been introduced as a generic solution while upgrading from Windows 8.1 to Windows 10. I've no idea if there had been a more specific driver installed before that upgrade. Thank you for this interesting triggering discussion.

Why would they not be updated in the first place :D

A little off topic here, but does anyone else have issues with OpenGL after the latest update for surface?

Just noticed that on my Macbook Air the same driver was not updated... Might help other devices...

Nice article. But should have added how to rollback to older driver too. It is right under "update driver" :-)

Why does a company the size of Microsoft not have quality control procedures in place to ensure things like this don't happen???

Did you know how much lines of code Windows has? more than 40 millions, and only one bit value can cause this... They are doing the best they can, but bugs always will exists, the important is that MS is working on fixes very fast

Doesn't make a difference on mine. The machine is still a little bit warm when it sleeps.

Of course battery drain is a big problem while sleep... But please people!!! Turn OFF your computer at night, it's not good have the computer always on... :S

This seems to be an issue with Win 8-10. Sleep on my Surface Pro (gen 1) has always been sketchy, and likewise with my Asus VivoTab 8 M81C. Sometime the device sleeps, other times it's like the screen is the only thing that slept.

Not to try and put too much common sense into a conversation from reddit... but this seems to have nothing to do with battery life *when in use*. The battery driver has more to do with charge cycle times and controls charging voltages. This will certainly have an effect on the overall life and usefulness of the battery over time, but not likely to see an immediately noticeable difference except perhaps charge times. There are SO many things that affect ba