Surface Book and Surface Pro 4 to get custom sleeves from WaterField Designs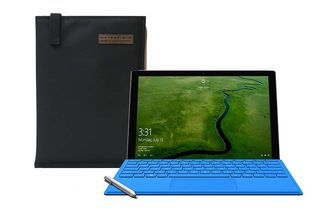 Microsoft may have just announced the Surface Book notebook and Surface Pro 4 tablet, but well-known tablet and notebook accessories maker WaterField Designs has already planning to release three custom sleeves and bags for those devices.
The Dash Sleeve for both products includes:
Black ballistic nylon shell with impact-resistant compression foam and plush liner
Elastic band to secure tablet/laptop
Stretch-mesh back pocket
Black or copper piping
The Laptop SleeveCase for the Surface Pro 4 and Surface Book includes:
High-grade neoprene in an indestructible black ballistic nylon or tan waxed canvas shell
Padded flap
Angled back pocket for papers or flat accessories
SP4 size includes rear loop to hold updated Microsoft Pencils
Customizable options: horizontal or vertical oriented case, D-rings and shoulder strap
Finally, the Outback Solo case includes
High-grade neoprene padding within a tan, coated-canvas shell
Distressed, premium "chocolate" leather flap
Custom-fitted, padded main compartment for Surface 3 and Type Cover
Two front pockets for power adapter and a smart phone (such as the new Lumia 950 and 950 XL) or other accessories
Magnetic snap closure
Removable strap allows use as shoulder bag or case within another bag
You can pre-order all of these cases and sleeves now. The Dash Sleeve and SleeveCase are both priced at $59 while the Outback Solo costs $109. All of them will begin shipping by early November.
Source: WaterField Designs
"Sp4 size includes rear loop to hold updated Microsoft Pencils" Pencils??

Didnt you know apple just invented a new fangled screen writing instrument called the Pencil? Everything else is just a poor copy if it doesnt require charging everyday...... /s

Yes, the original pencil is also a rip off of apple pencil..

Watch out Mongol and Faber-Castell! Apple just finished up its lawsuit with Samsung and is itching for a new legal fight! Honestly, calling your stylus "Pencil" is pretentious beyond belief it could have only been concocted by the social climbers of Apple.

Slick. The pencil part was funny. The apple distortion field is already working. No more stylus'!!!! Pencils only lol lol

Distortion is right! The Apple 'Pencil' doesn't have an eraser while the MS stylus does have an eraser and can be 'sharpened' with tips lol

Lol. Someone in Apple just got fired! Give it two years and they'll reinvent their pencil with those specs lol

Lmao you are right, they might be crying for not doing it before.

What about the custom backs for the 950XL phones that Daniel mentioned and that were show in his review video. Will they show the phones with one of those instead of the standard polycarbonate backs?

Just waiting for SP3 to get cheaper and then get that with the new Typecover and Pen

Check SlickDeals regularly. I picked up (2 --- 1 for myself and my +1) 128GB / 4GB/ i5 @ $479.99 each 2 months ago. It was marked as used but it came in pristine condition with each having 1 yr warranty on it. It didn't come with the pen or charger but that i picked up easily on fleabay for roughly $20 for charger and $99 for the type kb. It is usually sold by cowboom (a subsidiary of amazon) which good return policy. If you go this route, pick the one from Rhino, CA. I almost sold it for $899 just before the SP4 announcement but I realized i would still have to add money to buy other goods with the SP4. I'll be keeping my SP3 for a while. I'll probably buy the fingerprinter KB when the price drops to $99 and the new pen for my +1.

Ah ok, thanks for the tip!

I love the one I have for my SP3

I hope there are more designs. I think this one is too conspicous.Was looking for a more inconspicous mabag shoulderbag with more bigger pockets or inconsipicous backpack with special section for the surface. These backs just scream that one is carying an expensive computer device. Free advertising for pick pockets.

I love the surface book, I just don't have 2600 laying around. Maybe I will start a gofundme...

I love the one I have for my SP3. High quality and fits like a glove.

Toooooooo costly lol.........

What is the difference between surface 4 and surface book

Surface book is the more expensive"laptop" convertible at 13.5 inches. It can become a tablet too. It starts at 1.4k. GPU built into the base. The SP4 is a more tablet oriented device that's less expensive, and an upgrade over the SP3.

Nice! I'm still holding out for a rigid, nearly-form-fitting case. My current laptop has ghosting problems due to it being a bit squashed in transit.
Windows Central Newsletter
Thank you for signing up to Windows Central. You will receive a verification email shortly.
There was a problem. Please refresh the page and try again.