Surface Book and Surface Pro 4 grab three Intel updates for power management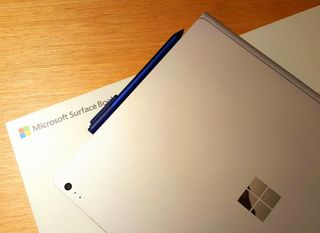 If you are using a Microsoft Surface Book or a Surface Pro 4 you will want to head into Settings > Update & Security > Windows update > Check for update to grab a three new Intel drive updates for the popular two-in-ones.
The drivers were released sometime last evening (US time). Some users, however, have had the drivers auto-install so check your update history if you do not see any available as they may already be updated.
Checking our various Surface devices, we see three drivers that are getting updated and none require the OS to restart so this won't disrupt your workflow. Those drivers are:
Driver update for Intel Xeon E3
Driver update for Intel 100 Series Chipset Family SMBUS
Driver update for Intel 100 Series Chipset Family PMC
PMC refers to the Intel Power Management Controller and is responsible for power state transitions (so, wake, sleep, etc.). The SMBUS applies to System Management Bus and it too is related to "communication with the power source for ON/OFF instructions" and a laptop's rechargeable battery.
Finally, as to the 'Gaussian Mixture Model' and Xeon E3 we are not to sure. However, at the very least, this update should continue to improve sleep/wake states of the new Surface series based on Intel Skylake as well as general power management.
Thanks, Lance, for the tip!
Daniel Rubino is the Editor-in-chief of Windows Central, head reviewer, podcast co-host, and analyst. He has been here covering Microsoft since 2007 when this site was called WMExperts (and later Windows Phone Central). His interests include Windows, Microsoft Surface, laptops, next-gen computing, and for some reason, watches. Before all this tech stuff, he worked on a Ph.D. in linguistics and ran the projectors at movie theaters, which has done absolutely nothing for his career.
No update for SP3? It's not just SP4 and Book having wake issues!!!

Absolutely zero wake issues here. SP3. Using every day like a boss!!! Love it ; )

Surface 3 here. My Surface just loads when it feels like it wants to. Using every day like it was on Super-Fast Ring. (This problem is already existing since launch and there is a thread in Forum with over 12k Views).

I specifically have issues when I try to wake it when the keyboard is folded back. Takes anywhere from 5 seconds to 10 seconds to actually wake up and sometimes it doesn't wake at all and I have to Ctrl-Alt-Del to bring up login screen. So annoying and it's been happening since the November update.

Not just surfaces either. Still having sleep and wake issues on my Acer Aspire s7 Posted via the Windows Central App for Android

I personally have never seen any computer NOT have a sleep issue. That includes Macbooks.

Well this only started after Windows 10 upgrade. Every other time I close the screen the laptop doesn't shut down and I have to force shut down. Driver update seemed to fix it some. But yes, every computer will have some issues

More updates and improvements is always a plus in my books. On that note I must ask, why is an official firmware update for the Surface taking so long? It's been over a month now and I still have the Windows Hello problem :/ least it doesn't crash on detach for the Book anymore. Still, lil too long.

SP4 - no such updates yet EDIT - oops, my bad. I looked in history and see theey were applied today.

SB no update here either Posted from Windows Central for Windows 10

Check update history. Some users had them auto-install last night.

Thanks for the suggestion but last install was 4/12 cumulative update Posted from Windows Central for Windows 10

Did you receive the updates by now? (still nothing here).

I still haven't gotten the updates either

You could try running Microsoft Surface Diagnostic Toolkit. That found the drivers in my case (SP4).

This worked for me!! Thanks for the tip

really hope this solves my SP4 sleep issues

My SP4's sleep issues were fixed with the previous update. Do you still have problems with yours?

I still have issues with mine. Although I just reinstalled some drivers and stuff, so that might have caused the issues.
Not sure about OP, but my SP4 will sometimes still stay running if I close the keyboard. Which is bad when it is then put in a fuzzy laptop pocket in my bag. Gets warm really quick.
And for some reason if I put it in sleep while charging, it cranks up the fan and heat, even if it's just sitting on my desk in sleep mode. It's so strange. Posted via the Windows Central App for Android

Have you set it to sleep/hibernate when the lid is closed? I've turned off connected standby (although they fixed it), the SP4 is so quick that waking from sleep is almost as fast as CS. See if turning Win Hello has any effect too.

Set to sleep on lid close. Used hibernate on previous SP4 before swapping it because of hardware issue. Figured that I would give sleep a shot this time because it's supposed to be fixed.
I use windows hello a lot, since it's really useful, so I don't really want to turn it off. I'm still confused as to how this can still be an issue. If the lid is closed, or the computer is in sleep, windows hello shouldn't turn on (unless there's supposed to be some way it wakes up when you're close, but it should only need a proximity sensor for that).
I have no idea why Microsoft has so much trouble with this. Coming from my old mac of 6 years, Apple has been able to do this forever. Although their OS is a computer OS, not like windows which has mobile features and wants to have mobile OS abilities.
I'm guessing that if this isn't fixed soon, it'll be fixed for all of windows in the anniversary update. Feel like that update was named Redstone not because of new features, but because it's the update that fixes all the bad wiring, so to speak. How would I go about getting rid of connected stand? And what is the difference between CS, sleep, and hibernate? I thought connected stand was the same as sleep mode.

I completely rolled back to the issued vanilla Windows 10 last week and left the Insider program. It wasn't working for me on the SP4, too many gremlins, power, sleep, switch on, rotate lock... it's been fine since. Not worth the hassle and it was making me hate the Surface.

Signing up for beta and alpha builds (what MS calls Insider Slow and Fast rings, respectively) probably wasn't the best idea if you want a stable experience... ;)

You are not alone. My SP4 refuses to wake up atleast once a day. My SP4 installed these updates last night and it refused to wake up this morning. So it doesn't look like it is fixed yet.

Will this help the battery life at all? I might be getting a sp4 today. Great timing!

Not showing up win Windows Update for my SB and not showing up already installed. :/

Yes, some were solved with last update but still had problem with hibernate and waking after closing the lid/keyboard. First test now looked promising.

Bought a surface book this week thinking they had finally fixed all the firmware issues, and I've had 2 of the 5 attempts to detach/attach the screen result in lockup. That's too high a failure rate, and this last one has left the base completely unresponsive. The battery is not available, kb/trackpad don't work, and the detach button just glows red. Tried the "two button reset" and all that got me was the red light on the detach button (previously had nothing). Liked this machine while I had it, but not worth this headache. I love Microsoft products (own Surface Pro 3, MS Band 2, Lumia 950XL), but this one is too expensive to suffer like this. Returning it while I can.

I had sort of the same issue with mine, went to the store, exchanged it and never had that problem again. Happy I did not return it and loving my SB since, there a view minor issues like the camera for windows hello not always turning on after a reboot but I am sure this wioll be fixed in the near future.

So now my battery is totally dead and I never even got to wipe my device. Screen didn't detect the base, so didn't detect that I had it plugged in either. No way to eject the screen manually, so can't charge the screen. Horrible design flaw. I really liked this device when it worked, but this was an impulse "wanted to have" for my birthday and not a "need to have". I'm taking this as a sign that my impulse buy was a bad idea and I should just want until next Spring for hardware refresh. Back to the Surface Pro 3 for now. Maybe just get a SP4 type cover to give it new life, but will certainly miss Windows Hello.

There were definitely bad models out there. I am right now on 3rd Surface Book, the first 2 were having daily BSODs. This third one is actually from an older batch, but I have no issues with it whatsoever (ok once a month or so the Win Hello camera doesn't turn on, but it doesn't stop my workflow and a simple restart fixes it for another ~month) Also make sure you follow this guide in case you're having problems: https://www.reddit.com/r/Surface/comments/49g46p/i_am_going_to_make_one_... this did fix the device for me as well as for many other users.

Thanks, matus201. MS confirmed my only option is to return/replace. With no way to manually detach the screen and charge the screen itself, it's just dead. I appreciate the guide, but don't want to have to jump through all those hoops and possible hardware returns hoping I get a working device for my $2000. I can see why some would, though. Hardware was great before it failed on me. I rarely buy a Gen 1 device for reasons like this, but Surface Book was so tempting. I expect I'll be a pre-order purchase on the Surface Book 2 (or whatever they call it).

I dont know if thats true. I was shown in the store that there's a charging receptable on the bottom of the screen and you can plug the charger directly in there.

Unfortunately it is. You are absolutely right that there is a charger on the bottom of the screen, but that charger port locks into the base (it's how the screen communicates with the base). You cannot access it while the screen is attached, and, in my case, I cannot detach the screen due to hardware/software failure. Normally the charging from the base passes through to the screen, but the screen is not recognizing the base at all, including the pass-thru charging. Battery eventually ran out with no way to charge it.

To bad you are returning it and not exchanging it. It is a great device that as with every first model had some hickups but I would not trade it for any other machine out there.

It's a really tough call. I may even change my mind when I walk in to Best Buy. Was really digging this device before this happened, but also discovered that I really didn't need it and could get by on my Surface Pro 3 for another year until next hardware refresh. I'm really looking forward to seeing how they evolve this design.

i wish they would address the display driver issues for the surface book, i can't make through a day without the darn thing crashing. I am using the surface book dock and i have two monitors connected to it, it constantly crashes when i view a webpage with a video on it. it is the most annoying thing, not to mention the resolution issues when docking and undocking.

My wife and I both have Surface Pro 4 computers and the display driver crashes multiple times per day on both units. Normally it recovers after 5 seconds. It would be a great device if this issue was resolved.

Not seeing it as an available update and not in update history either :/ Will have to wait and see...

No reboot necessary on chipset updates?! What could this possible address without requiring a reboot?

wait so this finally fixed ??? the power button ossue and sleep/wake up cycle??

What you are seeing is problem between the Intel GPU and NVidia GPU and the Optimus Technology. Many Dell Laptops have the same issue. Not sure if it is driver hardware related but it is a piss fight between Intel and NVidia and it was there on last gen Dell Laptops as well and I have a personal laptop where it was never resolved. Both companies simply stopped making updates. Many issues exist with Skylake as well. Intel has sucked with its support.

Why are my intel updates stuck on status: waiting to install and downloading 0%? SP4, i5, 8GB...

Surface Book still didnt wake up this morning. It's a routine every morning where i have to shut down my laptop and boot it back up. But before i boot it back up i have to disconnect my Surface Dock otherwise boot up takes 10 times as long. Reminds me of Windows 98 First Edition where every morning i would wake up to a blue screen.

These updates are definitely not new drivers. I asked about them on the SP4 forum and a Microsoft employee replied. http://fs5.directupload.net/images/160417/yvdnhrzi.png http://answers.microsoft.com/en-us/surface/forum/surfpro4-surfdrivers/an...

Thanks for sharing this. My SB still hasn't received these "updates", and I was wondering if I was missing something. At least now I know it isn't missing anything new ...

Interesting reading. I have just purchased a new Surface Book, I am astonished how long the battery lasts for... When detatched I get about 1.5 hours maximum and when docked to the keyboard about 3 or 4 hours. I have read that turning down the brightness, turning off Windows Hello, amongst a few other things improves things. I didn't however read anywhere in the sales blurb that to achieve 7 hours + that I had to turn off features that sell lthe propduct, to get any decent battery life out of it. With that said there are some very nice features on the Surface, I love the keyboard, I like the pen very much etc.... I don't however enjoy blue screens and having to reboot. I have had the latptop 4 days and it's blue sceened about 5 times. It yells unreliability. I am quite disapointed and wondering if to return it. The problem is that there is nothing that offers the same potential that drew me to this in the first place. So it looks like I will have to not exchange but just return. That's very dissapointing. What I don't undestand is how these laptops are ever released with this many faults on them. It's like they are knowingly sold with problems unless they just are not tested. There is someting that feels very wrong about that. I just feel very disapointed.

That's some really dismal battery life. My SP4 lasts longer than that. Although, depends, what are you doing on the Book? Because those battery life claims aren't rated for things like gaming or rendering. They're for watching videos stored on a hard drive.
Sounds like it could be hardware issue. On my SP4, I only get blue screens doing to things: using Microsoft edge, or using Fresh Paint. Never have them when playing games or doing anything else. However, the SP4 is also much simpler, because there's no fancy GPU magic detachment going on. I agree with the feeling that it's wrong. Seems to be an issue with Microsoft over the last two or three years. Really hoping that they're starting to get a hang of it, but it still sucks. I would imagine that they might have trouble hiring, because everyone wants to go work for Apple or Google or Samsung in the phone market. Hopefully surface can help that problem a bit.

Also, as a solution to your issue, you could try reinstalling windows/ It's super drastic and annoying, but it has solved my major issues when they've popped up. It's really annoying to have to do it, but better to do before you've been using it for a very very long time and your files are spread all over the computer.

Thanks for the response. Yes I guess that's an option. I havent really installed that much on it yet. I have mainly used it so far for reading news groups. Yes it means opening and closing browser sessions etc. No games played or anything to heavy. How do I re-install? Do you mean reset or re-install? Is it a key combination to boot into another partition, or do I have to start downloading images etc. Sorry for asking but I never imagined I would have to pay for it and rebuild it...Talk about adding insult to injury :-)

Tell me about it. Never had any issues with my desktop, and that's all parts from different manufactures. Runs fantastic on 10.
Look at the link here about resetting windows 10: http://windows.microsoft.com/en-us/windows-10/windows-10-recovery-options
Pretty sure that works, but remember that there was something that used to fail, and you had to access those options a different way through advanced boot screen.

Just keep in mind the promises that Microsoft made at launch about the incredible battery life of these new machines. Unfortunately, it's incredibly bad, putting the SP4 and SBook into a unique category of having perhaps the *worst* battery life of any laptop *OR* tablet on the market! "Let me tell you what 12 hours means to me. Use it for a week, I don't have to charge it... Cause when I close it, I'm saving every bit of battery life with NO DRAIN. It's phenomenal work by the Surface engineers. When you open it, you can get to 12 hours. This is huge." - Panos Panay, Oct 6, 2015 Surface Book Launch Event My SP4 is really lucky to get to 4 hours. My SP3 was the best computer I've ever owned. The SP4 is unquestionably the worst. I have no idea how this thing actaully got into production, and has made so many enemies. I want to love it, I really do, but I've never owned a less reliable machine in my life. Cheap-ass Chinese toys are more reliable than this thing...

If I remember correctly, there was an issue a couple week back with new intel xeon processors not performing as expected when running Gaussian model calculations. They were producing errors or something. I believe the Xeon proc update is supposed to fix those performance issues.
Windows Central Newsletter