Surface Dial is a unique new peripheral for Surface devices
Microsoft debuted the rumored Surface Dial at their New York Event, giving creators greater control.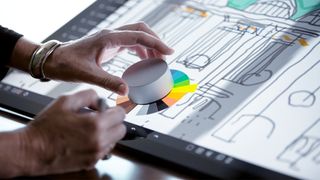 Debuted alongside the Surface Studio desktop PC, the Surface Dial is a hockey puck-like device that allows users to access a new radial menu using haptic touch inputs. Additionally, the Surface Dial can be placed directly onto the screen, producing additional screen controls directly on the display.
The Surface Dial will allow users to easily access and control the Surface Wheel, a feature which has leaked previously. Whether you're using the Surface Dial for creativity or more mundane functions, the Surface Wheel can be customized in the Windows settings, giving you access to volume controls, browsing features and more. The Surface Dial is designed to sit next to your Surface device on your desk with the keyboard and mouse.
The Surface Dial will work with other Surface devices using Bluetooth, but it's unknown whether the physical on-screen placement functionality will work with devices like the Surface Pro and Surface Book at this time. Stay tuned for more as we get it.
You can pre-order the Dial on the Microsoft Store in the US for $99.
See on the Microsoft Store (opens in new tab)
Windows Central Newsletter
Get the best of Windows Central in in your inbox, every day!
Jez Corden a Managing Editor at Windows Central, focusing primarily on all things Xbox and gaming. Jez is known for breaking exclusive news and analysis as relates to the Microsoft ecosystem while being powered by caffeine. Follow on Twitter @JezCorden and listen to his Xbox Two podcast, all about, you guessed it, Xbox!
It would be nice to have this for a wireless controller for video like on XB1 or PC streams. Even using it for audio control for playing music would be beneficial.

I think audio controls will work.

Bummer, I was hoping for a "Surface Pedal"

Don't know why you're downvoted; "Creators" don't seem to include musicians

Agreed. Would be sweet to have an MS direct box of some kind as well as a pedal. Coupled with a nice music transcription and composition app.

Ooo...and maybe a touch version of pro tools

I was hoping for a Surface toggle switch.

.....Will this Dial work with current Surface tablets?

It was mention that Pro 3 Pro 4 and Surface Book will be able to use it, but not the surface 3 and older.

Sweet. I'll wait for reviews to show up before procuring one for my SP3. Wonder if I can place the dial on the SP3 screen... that could be awesome.

The specs say no. It releases Nov. 10th.

The Pro4 and Surfacebook will get firmware updates first quarter 2017 that will allow you to use it onscreen just like the Studio. You can use it off screen from day one.

Edit: Saw the quote from Terry Myerson about the firmware. That's surprising and doesn't bode well for any significant refresh of Surface Pro or Surface Book around the release of the Creators Update as had been rumored.

Well, this is actually pretty incredible.

Totally - I dont think I stopped smiling through the entire video. Surface name is always tied to innovation and no exception here.

Key question - is this thing Surface *only*? Or will with work with other devices, say the HP Spectre x360, even if only in offscreen mode?

Specs shown by MJF says it works on all W10 devices with Anniversary Update, though on screen stuff only works on Studio. There is also special support for Surface Pro 3 and 4, but not sure what.

Mind blowing tech! Good job MS!

This seems a lot like the programmable hardware keys on my 3-year-old Wacom tablet. I'll have to try it out on a SB when its time to replace that Wacom (hopefully a long way off -- I absolutely adore my Wacom).

Best for animators and the like! I want something like this on my pad.

Don't worry. I'm sure Apple will "invent" the Surface Dial for iPads sometime next year.

I am glad they are not resting on their laurels.

Product page says on-screen capability only works with Surface Studio.

Yeah, the surface pros with need a firmware update set for 2017 :)

Remember when the Kinect was out and hackers did wonderful things with it, I think this could be that next 'thing'

I wonder if it'll work in games, like an additional way to interact with World of Warcraft and so on. That'd be really neat!

Potentially awesome accessory. Curious to know by the early adopters if it will also work with the surface pro 1 and 2 (and other windows devices for that matter). That would be a nice gesture by microsoft.

How cool would this be to use for gaming....using it to move POV style and then using some type of "surface gun" to aim at the screen and blast zombies away...but then again, maybe a "surface metal gun" might be hard to get through security...lol

I sincerly hope Adobe gives us something nice to enhance PP and LR with these tools.

Make sure to send Adobe a feature request here to let them know you want Dial support for PP! (I just did)

From the product description: On-screen detection: Touch digitizer reports the onscreen location through a capacitive pattern (Studio only)

The dial looks really cool!

Dear Apple, THIS is how you INNOVATE.. Kind regards and up yours, Microsoft Surface Team

You can ONLY buy it solo; it doesn't come with the Studio.

MS throws one in if you preorder the Studio.

Sorry I have to disagree, the Surface Dial isn't unique, whilst it may have unique features it's predated by these: http://www.3dconnexion.co.uk/products/spacemouse/spacemousewireless.html And also these: http://www.3dconnexion.com/products/spacemouse/spacepilot-pro.html Of which are heavily used in the CAD/CAM and 3D design industries. Some of these ideas was already outed by Adobe a number of years ago and in place with the Wacom tablets/displays. I'm not saying the Surface Dial isn't a good tool, it probably is and I'm interested in it myself.

You got a down vote, but you're correct. I had a wheel device for video editing around 16 years ago. This appears to be a better device, though, and I'm al;so interested.

Didnt stop Apple and thier life changing 'tablet'. Its all about timing and with the Mac Pro announcment tomorrow with a ****** OLED swipe 'function key' you will see what innovation truly is, btw who made the first tablet?

Apple Newton I believe mid-80s though there was tablets in the late 70s/early 80s but Apple I think was the first to market. MS didn't start their Tablet push until late 90s early 2000s with little success out-with PDTs until the Surface line. OLED function keys aren't new either Lenovo had them a few years if I remember rightly, and there is the Russian keyboard that's been around for years called the Optimus Maximus (or Optimus Keyboard) but even that's predated by a European keyboard in the 80s from what I remember.,,

Well the Apple Newton was not the original one, there were Psion Series 3 & HP 95LX...

HP Jaguar came out in '91 but wasn't a tablet in the sense of what we know today. It was a clamshell design. Psion Series 3 came out the same year as the Newton but again was a clamshell design. The form factor for the Newton was more of a PDT.

"Apple Newton" - NOPE! First tablet was made by the guys at Xerox Parc. Steve Jobs stole a LOT of "Apple innovation" from those guys - like the mouse.

Note I said first to market, yes there was tablets in the 80s but the Newton was the first real stab at making it accesible even if it failed. It formed the basis for a lot of tablet development from that point on. It's the great failing of Xerox Parc they had a lot of great tech and laid the foundations of modern IT that both MS and Apple built upon. There was a lot of ideas borrowed from companies in those days, IT in the late 70s through much of the 80s was the Wild West when it came to development and a lot of companies failed because they simply wasn't ruthless enough or had deep enough pockets.

I agree. The news is, it's smaller, magnetic, works on or off screen, and it's cheaper. Certainly is a fierce competitor to 3dconnexion.


The rotten apple thrown out of the window ;-)

This needs to work with my sp4!!! I cannot afford SF STudio right now :(

I can't be the only one who hoped this would have been the name of the phone. Drats!

Yet another "US only"... :-(

that mental canvas software look pretty bad ass. anyone know more about it? i went to their website but can only find the player but not the editor.

Yeah, I know!?! Lots about the end product, but not a word on how it's actually made... Very odd!

Ooh, that's actually pretty nice.

PLEASE let this work as a jog dial for Premier Pro!

Make sure to send Adobe a feature request here to let them know you want Dial support for PP! (I just did)

I've heard this one goes to 11!

I'm not interested in the dial but after watching that video, my God, it's an incredible device for people who are. Also that 3D sketch stuff is really cool.

Wow, that 3D sketch is amazing! Can we do that on Surface pro 4?

The ability to rotate the image is game-changing.. for me, masking with the stylus will be completely transformed... also, changing the applied colour on the fly. Pity I can't afford any of it.....

They need to get AutoDesk on board, so we'll have AutoCAD compatibility!
Windows Central Newsletter
Thank you for signing up to Windows Central. You will receive a verification email shortly.
There was a problem. Please refresh the page and try again.