Microsoft Surface Duo launches September 10 for $1,399 with preorders starting today
Surface Duo is official and you can order one starting today.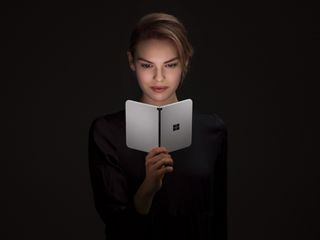 (Image credit: Microsoft)
What you need to know
Microsoft has announced pricing and availability for Surface Duo.
It's launching September 10 for $1,400.
Specs and network support have also been unveiled.
It's finally happening! Microsoft's dual-screen Android smartphone that was first announced back in October 2019 should be available for preorder today, for an eye-watering $1,399, and should begin shipping to customers starting September 10. Microsoft has also revealed all the Surface Duo specs you need to know, including what powers things under the hood, network compatibility, and storage options.
Preorders today!
(opens in new tab)
Two screens are better than one.

Microsoft delves into the future of foldables with an ambitious dual-screen device, featuring two ultra-thin 5.6-inch AMOLED displays bound by a 360-degree hinge. This pocketable inking-enabled Android smartphone marks the latest in the Surface lineup, geared for mobile productivity.
Microsoft has spent the last year finalizing the hardware and software experiences for Surface Duo, and the company now feels like the device is ready for the public, ahead of the original "holiday 2020" timeframe. Unfortunately, the wait between October 2019 and today means that the hardware on the inside isn't using the latest and greatest.
Surface Duo specs
The Redmond-giant has confirmed that Surface Duo ships with a Snapdragon 855 and 6GB RAM that powers things under the hood. It also has a 3577mAh battery, and 128GB or 256GB of UFS 3.0 storage. Although these are last years specs, the Snapdragon 855 is still a great processor which won't be showing its age anytime soon.
Swipe to scroll horizontally
Category
Surface Duo
Operating System
Android 10
Display
Single: 5.6 inch (1800x1350), 401 ppi, 4:3 aspect ratio
Opened: 8.1 inch (2700x1800), 401 ppi, 3:2 aspect ratio
Type: AMOLED
Wide color gamut: 100% SRGB and 100% DCI-P3
Corning Gorilla Glass
Processor
Qualcomm Snapdragon 855
Network
WiFi-5 802.11ac (2.4/5GHz)
Bluetooth 5.0
LTE: 4x4 MIMO, Cat.18 DL / Cat 5 UL
SIM
Nano SIM + eSIM (no eSIM on AT&T model)
Network Bands
FDD-LTE: 1,2,3,4,5,7,8,12,13,14,19 20,25,26,28,29,30,66
TD-LTE: 38,39,40,41,46
WCDMA: 1,2,5,8
GSM/GPRS: GSM-850, E-GSM-900, DCS-1800, PCS-1900
Memory
6GB RAM
Storage
128GB or 256GB UFS 3.0
Expandable Storage
None
Camera
11MP, ƒ/2.0 1.0um, PDAF, 84.0° diagonal FOV
Optimized with AI for front and rear
Audio
Mono speaker
Dual mic with noise suppression and echo cancellation
Qualcomm aptX Adaptive
Security
Fingerprint
Ports
1x USB-C 3.1
Battery
3,577mAh
Up to 15.5 hours of Local Video Playback
Up to 10 days of Standby Time
Up to 27 hours of Talk Time
Fast Charging using 18W in-box power supply
Pen
Surface Pen (not included)
Dimensions
Open: 145.2mm (H) x 186.9mm (W) x 4.8mm (T)
Closed: 145.2mm (H) x 93.3mm (W) x 9.9mm (T at hinge)
Weight
250 grams
Microsoft has also details Surface Duo's dual-displays, which are now confirmed to be AMOLED panels with a resolution of 1800x1350. They are also 100% SRGB and DCI-P3 color accurate, with a pixel density of 401 for a crisp and colourful viewing experience. Microsoft calls them "PixelSense Fusion Displays" and are designed to be identical so that images and apps don't look different on either screen. It also supports the Surface Pen, including the latest Slim Pen and older Surface Pen models.
Regarding the camera, the Surface Duo ships with a single 11MP sensor above the right display that's capable of 4K video recording. It's fair to say that this camera won't be an iPhone or Pixel competitor, as that's not what Microsoft has focused on with this first generation. The camera app does use AI for photo optimization however, which may improve things.
Panos Panay, Chief Product Officer, Windows + Devices, said the following about Surface Duo in today's announcement:
Carrier support
The good news is that Surface Duo will be available to buy unlocked from day one via the Microsoft Store or BestBuy, and will work on AT&T, T-Mobile, and Verizon Wireless. This model will include eSIM in addition to nanoSIM, too. US customers also have the option to buy a locked Surface Duo through AT&T if that's what they prefer.
Surface Duo availability
Surface Duo will be available in the US starting September 10 at a starting price of $1399 for the 128GB model. Unfortunately, Microsoft is not announcing the availability of Surface Duo outside of the United States today. Also note that, according to CNET, Microsoft is offering zero percent interest financing through its store, while AT&T will offer Duo on its Next Up program.
For more information about Surface Duo, make sure to check out our comprehensive Surface Duo FAQ, which should answer all your questions.
Preorders today!
(opens in new tab)
Two screens are better than one.

Microsoft delves into the future of foldables with an ambitious dual-screen device, featuring two ultra-thin 5.6-inch AMOLED displays bound by a 360-degree hinge. This pocketable inking-enabled Android smartphone marks the latest in the Surface lineup, geared for mobile productivity.
Main
Get the Windows Central Newsletter
All the latest news, reviews, and guides for Windows and Xbox diehards.
Zac Bowden is a Senior Editor at Windows Central. Bringing you exclusive coverage into the world of Windows on PCs, tablets, phones, and more. Also an avid collector of rare Microsoft prototype devices! Keep in touch on Twitter: @zacbowden.
They can sell some of those only if they bundle the grass they were smoking while they thought this is interesting.

Yeah.... They will sell a few, but at this price it will ultimately flop. What you have here is an overpriced tablet. As a phone it falls really short (Can't use it with one hand, can't quickly look at notifications, can't fit into a lot of pockets, mediocre camera, mediocre processor, etc.). The fact that they showed it in someone's backpack instead of someone's pocket tells you a lot. If you need to put it in your purse or backpack and it costs more than a surface, then you might as well get a surface at that point. I've been a MS fan for a long time, but the Galaxy Fold 2 pretty much mops the floor with this. If I was seriously in the market for a dual screen device. I would spend the extra $500 for a Fold 2, because I could get more use out of it and I wouldn't be stuck with all the limitations that the Duo has. Sure it's thicker, but with the outside screen you can use it with one hand, get notifications, and because it has a slimmer width it still fits in your pocket. This should have been sold as more of a companion device for a phone priced at $500 rather than a phone replacement. I'm waiting patiently for a dual screen Surface Pro....

At long last it's not only as expensive as we thought it would be, it's MORE expensive! Shaking my head. You'd think after all these years we'd get used to Microsoft hubris, but they continue to amaze. Hubris.
Fancy word I know, but the shoe fits.

Okay, so after watching the video I'm impressed. But still. $1400?

So how do y'all feel about that price? I want to press that button but that is a lot. I just feel there is going to be a deal on it soon in like November. The cost of being an early adopter, I suppose.

I'm easy with it, as I can write it off as a business expense so it'll cost me nothing to use. I'll be using as it's supposed to be used, business centric activities and not for the latest social media craze. I need a device to work with me instead of carrying around a tablet.

Just one hint - as far as I understand apps will work in tablet mode only if they are made specifically for Surface Duo, meaning nearly all of apps except for the built-in won't work. That's due to hinge and the weird effect it would have on non-optimized apps (imagine a button split across the screens with hinge in the middle). If you need that Samsung Flex 2 will be a much better investment as all the apps work in the tablet mode.

Wait, huh? How did you come to that conclusion?

That's in the developer documentation.

I'm going to go look now. Thanks

So I'm seeing outlook being used on single screen. I'm not sure if your interpretation is for inbox apps having to be used to dual screen mode. That just doesn't sound correct

OK, for example you have a 3rd party e-book reader. If Surface Duo makes this app think that both screens are one so that he can use them both even if it is not optimized, I believe you can imagine the result. The hinge in the middle of the paragraph text. Yikes. And most apps would have similar problems. That's why it is not even possible if the app is not optimized for Surface Duo. And it is hard to think that any non-built-in app will be optimized. You may check whether it applies to the vertical mode, not sure about that. Hinge won't feel that bad in the vertical mode even for most non-optimized apps.

This thread is the primary reason you wait 6 months. Wait for people to use the device and apps and wait for their comments. Plus developers will get a pretty good idea with the first adopters. The learning curve will be steep. If people like it and start using apps longer and more frequently, the app developers will see where the glitches occur. SO Give MSFT and the crew of 3rd party developers 6 months to improve the expereince and hopefully a better idea of version 2.

Most of Android apps are not optimized for tablet, that's a well known fact that you can check. Having that in mind thinking that developers will optimize apps for Surface Duo is a wishful thinking.

I don't care, e-mail and Office work with both displays, that's 80% of what I do on my phone. If an app appears on one screen flip the phone round. Simple's really. All apps appear single display unless dual screen optimised which is a better way to work. As to the Fold I still have issues with potential screen creases or damage as I only change my phone every 4-5 years.

Oh, I thought you said "I can write it off as a business expense so it'll cost me nothing to use" ;)

You can always fall back to use only one screen only. This device can use both screens, multitask between two apps, OR use it as a single screen device as you do today. So what you said isn't exactly true.

You, my enthusiastic peer, are the one! Look at you go!
I'd have to come out of pocket ugh

Writing it off as a business expense doesn't mean it costs you nothing to use, LOL. That said, this device is already doomed. No sane person will spend $1400 on a device with specs that are bested by phones at less than half the price, especially from a company who has a long history of starting and then abandoning phone projects. The Surface Duo is dead in the water.

It's a cool phone, I'd like to have one but not at $1400. I think this maybe Nadela's first Balmer level failure. People are going to laugh at this.

Would is the highest acceptable price you would be willing to pay?

$850 would be a buy, no questions asked.
At $1000 I'd need to see some reviews first. At $1400 they really need to have all the latest specs, snapdragon 865+, 120kh refresh rate, nice triple or quad cameras, 5g, Nfc, water resistance rating. They need to show people a phone they can keep for 3 years.

If anything was bundled in that price, how would it change your opinion about that price? Say with earbuds or pen?

Nothing is bundled. It is phone and charger.

I think most of their potential buyers already have surface pens and I also already have nice Bluetooth earbuds(not surface) that work well for me, so a $1400 bundle is still a no for me. Hopefully they'll listen to feedback and keep trying because this is the phone I would want to buy.

I could have bought a Surface Pro 7 with pen and keyboard for $799 at Costco, but they ran out of stock. A surface Go with an i3 and LTE runs about $850. The Duo form factor seems to offer more mobility but I don't think the price justifies the loss in screen real estate and impact on productivity. But if Costco can sell Surface at a healthy discount, I wonder if ATT will also offer a discount to switch. Also, if a new iPhone is around $800, I don't see the $1399 price reasonable. Clearly, MSFT is not trying to gain market share. They may have a basic pricing model. Manufacturing cost times 3. So if it costs $500 to make, then they charge $1500.

I was always committed to the 256 GB model, so I go off of that. At the reported $1,000 starting price for a 64 GB model, I was expecting $1,200 for a 256 GB model. I was iffy, but probably willing to bite. Realistically, I think the thing should have started about $200 under that, and I would have paid $1,000 for a 256 GB model for sure. $1,500 is an easy pass. If it included some Surface Earphones or a Slim Pen, I would probably still buy it, since I expected to have to buy at least one of those anyway. Realizing I would need to put up another $350 for the earphones and pen for the full experience is too much. We're talking $1,850 before tax. If it had wireless charging and microSD support, I'd probably still buy it. It's really not a missing feature or two or the price, it's the price WITH all of the feature compromises.

Yep. Pen should have been included, and it should slot into the body a la Samsung if they're gonna play that card. The ENTIRE reason the Note gets away with the stylus is that it's easy to stow with the device.

128 GB isn't enough for me (my phone is currently using about 115 GB). I'd have to pay $1,700+ for this because I'd have to buy the Pen and go with the 256 GB model. If it included the Pen, I might have gotten it. If this came out a year ago it would STILL be a major hardware compromise, but at least it would be up to date on the core hardware. Instead, we have a phone with inferior hardware and a higher price than the Galaxy Z Flip's 4G model. This wem't from an exciting device to one of the easiest passes ever.

I have a go and a surface and several pens. I don't need more pens. Well, I lost the newer version and I keep forgetting to get a new battery for the older versions. So maybe I only have one pen that will work with my Surface Pro 5 and Surface Go. In any case, if you are a fully entrenched MSFT ecosystem member (Office 365, Teams, Surface, OneDrive etc.) I can see how the duo would be a big plus. I use a SAAS service, which can be used to perform all business functions over a phone, but easier on a desktop. But I can easily see how a dual-screen phone would dramatically improve my productivity if I did not have access to a desktop. The difference between using a Go versus a Surface is minimal. The difference between using a single screen versus a Duo would be much more pronounced. So all in all the Duo is more directed at the enterprise. Let's face it. The enterprise outfitting an increasingly mobile workforce means they are spending a lot less on rent for office space.

I'm a fully entrenched MS user. I actually have a standard Surface Pen now, but I'd still want the Slim Pen to attach to the Duo, rather than having to carry the regular Pen with me. I have Office 365 and use OneDrive and have an XB1X and use Skype on the regular. It's not about whether or not I support Microsoft or like the Duo. It's not even about whether or not $1,400 is something I can personally afford. I would pay $1,400 if the device didn't strip out so many features. It's about the fact that they've reached the financial stratosphere while missing out on so many things that we're used to as Android users--microSD, wireless charging, etc. It feels like we've got a 2015 feature set on a $1,400 phone. I can absolutely see use cases for me with the Surface Duo. I would use the heck out of the two screens. I'm just not paying $1,400 to do it. There are too many key features I use missing to where I'd have to keep carrying my current phone to supplement it. It doesn't do enough to convince me I won't need my laptop for more serious work either. The Duo looked like a device that should make you confident in leaving the house without your other devices. Instead, I'm left worrying about all of the stuff I'll need to carry to make up for what it's missing.

Early adopter? Of an Android phone?!

Not impressed with the price, but i guess I shouldn't be surprised. I think at this price the 2nd edition should NOT be more (or if it is it can be 1500 and not feel like a price hike).

Bezel seems way too big. Disappointed that it's not launching with WiFi-6 especially for the high price. Gonna wait for Duo 2 and stay with the Note 10+ for now.

The war on bezels is the tech industry equivalent of the war on terror. It was a good idea to start with that has left us all worse off. Hold a phone in one hand and your thumb naturally rests in the 2nd quarter up from the bottom. Bezels pushed the keyboard up to this level to make it comfortable to type. Getting rid of bezels was a 100% design choice and in no way related to ergonomics or user friendly engineering.

When you buy a product it's an investment on its hardware. If you buy hardware that is over a year old right from the start you are at a bigger loss that buying the latest hardware. Starting at $1400 is a lot of money to start at a loss. You can try to hide behind saying this product is for productivity but be honest. How much work can you get done with just apps? Then why did they always say iPads were for only consumption and not productivity? Are we really going to ignore logic just because of the Surface logo.

You can easily get mobile OS work done on an 855. There is no revolution between the 855 and the latest and greatest Snapdragon. This product is not for spec fetishists.

Well said. So many commenters on WC seem to have never figured out that Surface devices are not about the hardware specs- witness the endless complaints from some about Thunderbolt for example. Surface is about new form factors (Pro, Studio) or new takes on exiting hardware (Laptop, Book, Hub). Duo seems to fit in both categories.

The idea of "[t]his product is not for spec fetishists" is nonsense. This isn't about JUST missing out on the latest and greatest. They've taken away years-old features like NFC and wireless charging. They aren't even adopting the newest tech of the last 2 years, like 5G and WiFi 6. If they put together a complete package of hardware features with a SD855, I'd be fine with it. Instead, they're using a chip that's over a year old AND taking away a lot of modern functionality on the way. They didn't fall sort of "spec fetishists," they're short of a lot of budget devices. They aren't even in the ballpark of missing out on the tippy-top of hardware features. In some very basic ways, this provides a downgrade from the Lumia 950 I bought in 2015 (no NFC, Qi, lower-specced camera, no microSD).

I'm a big fan of MS services and some of its Surface devices, but with those bezels it looks like two smartphones from 2010 glued together. Also, the specs are 1.5 years old. Maybe the next version will be better, but this one is a big nope.

Pretty sad no 🥺 Australia for the initial release, been waiting for this for half my life of seems.

Old spec and over price.. I was interested but what we get for that money is not worth it.

I want to want this, but I also chose to get the LTE Surface Go 2 and I LOVE that device.

No way. They'll probably sell out because of a super-limited supply or something, but I went from willing to suck it up at $1,000 to walking away QUICKLY at this price. I hoped the $1,400 rumors from last night were for a bundle with the Pen, but they want another $150?! Noooope. If they hadn't stripped out every modern comfort feature and put out a device that WASN'T compromised by 2019's standards, I'd have paid the cost. I could afford this but I can't justify giving Microsoft money for something so egregious. If supply holds, these should easily be discounted about 10 weeks after launch (Black Friday). If that happen, we'll see. Microsoft has, once again, shown they use Apple as their benchmark for trying to milk their customer with the worst pricing ever on their hardware.

While the price is indeed eye watering it is at par with other top of line iPhones or other brand. I'm not an early adopter (except for my Surface Pro X). So I'll wait until the 3rd generation which would also show MS will stick with it. In my mind the price point is not that bad if it can replace a tablet and phone into one device. Then the price becomes somewhat reasonable. I'm a big fan of the Swiss Army knife approach and lugging a laptop, tablet, phone gets old very fast. My devices are all business and no play. Therefore, I don't care if it doesn't play games or if it takes selfies at 8k (or no K at all). As long as I get stuff done we're good to go. But as I said I want to see MS will commit to the form factor before I drop some cash.

It isn't a tablet though. It is a dual screen phone, not a large single screen as you would expect of a tablet. Eventually folding screens will mature and you can buy this device with a single large screen. This is just a stop-gap.

The comment section is loaded with folks talking about price. The data is out. The majority of folks android or ios dont buy 1000 dollar plus phones. So by default you can assume this was way outside people's budget to begin with. Besides the only competition this device has is the old and new galaxy fold. Both cost over a thousand dollars new.

The huawei also competes and so does the LG phones. I agree with you. Most products have a bunch of people commenting on something they weren't going to get or couldn't afford in the 1st place. Everyone knows what a Lamborghini is and has an opinion on it

At least Lamborghini isn't coming with 4 cylinder engines and 200 Horse Power.

Except the "only competition" isn't as compromised. The new Fold has a lot of things missing from this. They're competing in price with an inferior feature set as a new comer. They've shown up with a high price and little incentive to buy.

It will flop at that price. It has a dated SoC, small Ram poll, small battery, small storage, dated 60hz AMOLED screens, bad camara, no NFC, no WiFi 6, no wireless charging. This device is not a flagship that is priced like one. There is no way this can compete with the Fold 2

Your POV may be accurate. However, we don't know how a user may prefer two screens versus one folding screen. Sure watching a video favors a folding screen. But running business apps may be better on a dual-screen. Gaming may be a wash.

A folding screen can do everything that a dual screen can do, so it's not really a question of what's better, a folding screen with a huge secondary screen is just better in every way, so the only way to sell a dual screen is if the dual screen phone is significantly cheaper.

Putting a line down the middle doesn't help productivity. Folding screen will always be superior everything else being equal.

But remember, most Android apps are designed for phones, not tablets. So it is very likely that most apps won't scale properly on a single display that folds into a tablet, effectively eliminating the advantage of having one large display. Edit: Sure, you could go split screen on a large singular screen, but then their is durability issues with a folding screen and therefore probably cannot use a digital pen in it without fear of scratching the display.

"dated SoC, small Ram poll, small battery, small storage, dated 60hz AMOLED screens" IMO, all of these drawbacks are more nitpicking than legitimate issues. The vast majority of people wouldn' notice the SoC different. They wouldn't notice the display difference. They likely wouldn't even notice the storage (though I personally would). The battery's the only one that's a potential pain point that the standard user would really see and feel. The WiFi 6, same thing. There are VERY few people who actually have WiFi 6 routers to connect to, let alone home WiFi speeds fast enough to really utilize the ax speeds anyway. WiFi 6 is a less-meaningful feature today than even 5G is. The NFC (tap-to-pay) and wireless charging are what people will really see and feel, in terms of basic usability. The camera is probably a step below that, but we've seen Google and others manage better-than-expected from modest camera setups, so I wouldn't be super-concerned there. The problem is that there isn't a massive incentive to buy this on the features it offers. You have to be a multitasker who doesn't actually use the latest tech, like tap-to-pay and wireless charging. You have to be a person who multitasks but doesn't actually do a lot of advanced stuff. It's a weird way they've sold this as both a modern device and tried to justify hamstringing it.

We all know the reasons why the Duo miss a lot of functions and why it do not have the latest hardware. I do not think that will hurt the Duo much as those interested are probably understand that this version is more of an pilot than a complete product. The thing that will hurt it is the price! I would be ok with 1000$, I'm not ok with 1400$. I will not both be a beta tester and a financier of Microsoft's test balloon.

Well, it's not an either-or. It's both. It's not that it's missing features, it's that it's missing features at $1,400. It's not that it's $1,400, it's that it's $1,400 with so many compromises. I would have paid $1,000-1,200 for it as-is. I would pay $1,400 if the Slim Pen came with it. I would pay $1,400 if it included a better camera, microSD support, and wireless charging (with things like a headphone jack, NFC, and 5G as things I could sacrifice). It's that MS has gone sky-high with the price AND missed the mark on so many features that have become standard.

I laughed so hard reading this article. And at the fact that 27% of voters have that much cash they can so easily waste. I won't even pay that for a Surface Pro. Bunch of sick puppies out there.

Love it. Too expensive. Aspirational

MS seem to have too much money so they have to try burn their money away this way.

This isn't a fanboy device for spec fetishists. It's a device for grown ups who use their phones for work all the time, like me. I have no idea if this will succeed but the opinions of fanboys and teenage tech reviewers won't be the deciding factor. Grown ups don't care if the box says 855 instead of 865, or if YouTube commenters say OMG the bezels tho.

I mostly just wish it had a timely UK release - If it goes into 2021 then I think I'm personally better to wait for Duo 2, and stick with a Note series phone for now - I actually wasn't put off my the specs if I'm honest because I'd get more benefit from the form factor than any extra performance I'll get from a Note 20 Ultra.

Funny that you say it's for grown ups but ignore that it is so lacking as a "grown up" device. The way it's marketed and priced, it's more of a hobbyist device than a serious work one. Losing something as "grown up" as tap-to-pay is a major drawback to "grown up" users. Not putting out a physical keyboard accessory hurts it as a "do-it-all" device, instead putting it in a place to need companion devices to properly do work consistently. This isn't a "grown up" device beyond the price tag. It absolutely feels like a device for "creatives" because of how many things it misses on. It focuses on the Pen (most valuable in artistic applications, really) and multi-tasking. It doesn't have a real home beyond niche, secondary device right now.

If you see a keyboard accessory, they got it wrong.

The grown ups would not blindly believe in one device, but they would compare it to other devices. If you compare this to Samsung Flex 2, it costs just 20% less than it, but Flex beats this device in almost every possible way. Including in most productivity use cases. If you compare this to LG G8X Thinq, it does have few more useful software tricks, but costs twice as much.

It looks like Microsoft is getting a lot RIGHT with this launch. They definitely understand that this is a gen1 focused on the fans. Because of the high price tag though, I'm a little surprised they haven't included a pair of Surface Earbuds or Surface Pen for free as part of a preorder bonus. It would really help add value for those settling for last year's specs.

I'm one of the fans, and will never get it for that price.

Jason Ward would be proud. https://twitter.com/JLTechWord/status/1293527030647214086 later
-1

I think in these covid times, it will be hard to get people to fork out that kind of money for a phone. People are home nearly all the time now, and when I'm home, I tend to gravitate to something with a larger screen. When I'm out, I just need my phone to work for basic stuff. I'm kinda over phones and can't justify $1400 for basic stuff.

I might import a Duo to Australia, anyone know if the US Surface Duo will support Australian Network Providers? 3G 4G/ LTE
Optus 900MHZ 2100MHZ Band 1 Band 3 Band 7 Band 28 Band 40
Telstra 850MHz 2100MHz Band 1 Band 3 Band 7 Band 8 Band 28
Vodafone 850MHz 900MHz 2100MHz (being refarmed as 4G) Band 3 Band 5 Band 1 These are the band's we use here ☺️

That price makes no sense for a mid range device. Even with current hardware, all the features, and no bezels $1400 would be steep. For this device it is laughable. Should have been $999 at most.

Would gladly pay $1399 for a Surface Duo if it was running Full Windows 10 Pro when docked to a monitor/keyboard setup!

LOL about $500 overpriced. Waited years for this to come to market and I'm going to pass. If I pass on this, who the hell is buying this? I will definitely wait for the version 2 or 3 (if it ever comes out).

My first reaction to the starting price of $1399.00 for the Surface Duo was are you kidding me? This reaction is not unique to the Surface Duo pricing as I have the same reaction to any phone that is priced over $800.00. My reticence to forking over that amount of cash has less to do with the price and more about the value proposition a particular device provides in relation to how I use computers and how it fits in with my other devices. In general, this is the underlying theme I understood in many of the comments to this article. Still, the value proposition, from a "what hardware do I have to carry around" perspective, provided by the Surface Duo seems clear cut. I can imagine that a person who is constantly out of the office, say a real estate agent, outside sales representative, or equipment technician, would find being able to consolidate a smart phone and laptop for say, 80% of what those functionally provide, into a single device justifies the $1399.00 price tag. At this time, these hybrid phone/tablet devices are on the cutting edge of design. This tends to drive up the costs from the new and unique perspective but also the need to recover development costs is spread out across relatively few devices. Given that one could buy a Surface Go 2 LTE and reasonably specified smartphone, even with the need for two cellular subscriptions, for about the same price the value proposition becomes less clear cut. However, this leads to a value proposition from a "how many devices do I want to own perspective." For now, I have solved this problem by owning a Pixel 3a XL, a Surface Pro 7 (Core i5 variant), and a well specified desk top with a 30" color corrected monitor with all of them running straight down the line Microsoft software for my main uses with OneDrive and Your Phone being the glue that makes them all work together. Essentially, this is the minimum hardware / software stack I can own that meets my computing needs. I go back and for if adding a fourth screen, something like a Surface Go 2, adds value to the mix; there is a real cost by doing this both from the initial purchase to the ongoing maintenance. For a person, whose professional life is not spent in a fixed location having fewer items to lug around is a win. This still holds up even if one has a laptop, for more complex tasks, that is left behind in a hotel room or in the trunk of a car. My understanding of the totality of the Surface Duo is primarily informed by the tension between these two value proposition dynamics and far less about the hardware in the device and the selling price. For my needs I cannot remotely justify the Surface Duo at this price point but then again I am not the target user much in the same way I am not the target audience for a Ford F250 pickup. Do note, that I find the Surface Duo and the Ford F250 pretty great things and if I had enough cash that rendered practical decisions moot I would own both in an instant. Microsoft of late has made a number of moves that are stakes in the ground that mark the beginning of where they think computing will be 5 years from now. The Surface Duo, imperfect as it is, much like the Surface Pro X, is such a device. If it finds a sustainable audience, and it has the potential to do just that, in a few generations, much like the Surface Pro, the Surface Duo will be highly refined with a value proposition that is not only justified but self-evident.

Admittedly, I don't know the nomenclature of bands too well. That said, looking at the specs on the Duo, it looks like there is PARTIAL support. The 850 and 900 MHz bands are listed, but not the 2100 MHz. Bands 1, 2, 7, 8, and 28 are listed under the "FDD-LTE" bands, while 40 is listed under "TD-LTE." I'm not sure if that's exactly what you're needing or what the missing 2100 MHz means for overall support. I'm also not sure if those LTE technologies are the same as what is used in Australia, but I would THINK so. You can see that stuff here: https://www.windowscentral.com/e?link=https2F%2Fclick.linksynergy.co...

Thanks for the reply, yeah I am trying to get some clarity, from people in the know, lol, ill probably just import one if I find out the bands on the US model do support, Australia.

It makes me smile to think some people thought Microsoft was just going to give their phone away. Hahaha! Now, they might after six months or so, but all I can say because I had no interest once I knew there would be no Windows variant it didn't matter if the price was $200 or $2000. Love the concept. Just wish it was Microsoft Windows based.

I love the Surface Duo design and I own other Surface products. $1400 USD (like a gazillion Canadian $'s) is too much. I thought it might come in under $1200 USD - I'll be waiting on the sidelines to see how this does against the competition.

Cool designs but who really needs, foldable device Android.