Microsoft releases Surface Duo 1 Feb update with Your Phone 'Apps', improved system performance
Like Surface Duo 2, the OG Surface Duo is also getting an update for February with continued system performance improvements.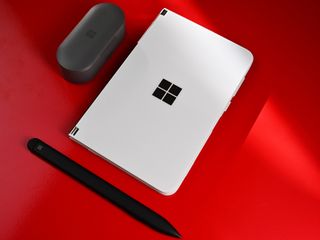 (Image credit: Daniel Rubino / Windows Central)
What you need to know
The original Surface Duo is getting a big update for February.
The update brings Your Phone "Apps" to Surface Duo, just like Surface Duo 2.
The update is 565MB and bumps the system to version 2022.111.64 and improves device and UI stability and system performance.
Microsoft hasn't forgotten about the original Surface Duo following its long-overdue Android 11 update back in January. Like Surface Duo 2, which received a sizable update today, Surface Duo 1 is also getting in on the action.
The 565MB update brings more than just the February Android Security bulletin, thankfully. While Android 11 has generally been well-received on Surface Duo, there are always improvements that can be made, and Microsoft seems to be addressing those with this update.
Moreover, there is also a new feature: Your Phone "Apps" support. Like Surface Duo 2 (and Samsung Android phones), Surface Duo can now run Android apps via Your Phone directly instead of the screen mirroring feature.
Here's what's new (opens in new tab) with update version 2022.111.64:
With the Your Phone app, you can use Android apps on your PC. For more information on using Surface Duo with your PC see Link Surface Duo to your PC.
Addresses scenarios outlined in the Android Security Bulletin – February 2022.
Improves device and UI stability.
Improves system performance.
Improves reliability in the Android Auto experience.
While we haven't tried the update ourselves, this looks like a worthy update for Surface Duo owners. The Apps feature for Your Phone brings Surface Duo more parity with Surface Duo 2, something we expect to continue with future updates.
To grab the update on Surface Duo, follow these instructions:
Connect to a Wi-Fi network.
Select Settings on your Surface Duo home screen.
Select System.
Select System Update.
Select Check for update.
Select Restart now.
Microsoft does note, however, that AT&T users will have to still wait a bit longer for this update as it is still "testing this release, and it is pending final validation." Typically, AT&T Surface Duos get the update a week or two later.
Let us know in the comments how the update has gone for you.
Windows Central Newsletter
Get the best of Windows Central in in your inbox, every day!
Daniel Rubino is the Editor-in-chief of Windows Central, head reviewer, podcast co-host, and analyst. He has been covering Microsoft since 2007 when this site was called WMExperts (and later Windows Phone Central). His interests include Windows, laptops, next-gen computing, and for some reason, watches. Before all this tech stuff, he worked on a Ph.D. in linguistics, watched people sleep (for medical purposes!), and ran the projectors at movie theaters because it was fun.
Huh. This makes Gen 1 an interesting option for me, though I'd have to live with no wireless charging and a bit of a potato of a camera. The Duo is such an intriguing device.

Honestly wireless charging is not a miss. Nfc kind of is but my ticwatch pro 3 replaces that. The camera is not bad especially if you use gcam. OK not a flagship camera but the device was never meant to have one. I got mine a month ago and never regret getting it. I could not go back to a bar phone now.

Likewise, I'm really enjoying my Duo (ATT Model). It's just the right size for me, and I like the dual screen. The camera is good enough for my needs (and I especially like that the Duo 1 folds flat), but I miss NFT (and Apple Pay). I could see myself buying a Duo 3 or 4 (if it survives) at full price down the road.

James and Evil, I think I can accept the tradeoffs I mentioned at the current Duo 1 street price, but not at flagship prices. Personally I am a big fan of wireless charging. Don't care about NFC though. I think Duo 3 will be awesome. Duo 2 is already pretty cool.

Sharepoint app still doesn't run... 😔

Does it not open for you? That's what it's doing on my end.

I can't stand this functionality where Duo wants to open certain apps on the opposite screen you select them on. There needs to be an option to disable that.

@Rodney I agree or at least knowing how the OS is deciding which screen to use would be a start. Lol

Am considering duo 1 cuz of the no bump tbh

If you can get it for ~$400 it's a remarkably different device compared to a year ago.

Android 11 has made a world of difference for me on my Duo 1. The February update also seems to help with making it a little bit more snappy. However, launching Apps from the Your Phone app is still slow and buggy on my Surface Pro X. But it's definitely better with the latest updates versus a year ago.

Does anyone know if there are requirements on the windows os or your phone version or *gasp* region (Canada) to support apps access? I still don't see apps button

Hi Daniel could you contact Microsoft regarding the Sharepoint app not working on the Duo or Duo 2 please? I have submitted feedback and you can find people discussing this on Reddit... Would he great if first party apps at least could work... I had a similar issue with the Sonos app but Sonos have patched their app and it works well now... Thanks in advance...

No update here. Curse me for getting the AT&T version.

I'm sure the 5 people who were foolish enough to buy it are ecstatic.

If you used one for a day you wouldn't think it's so foolish. So, if you haven't used one for a day your opinion is obsolete and irrelevant.

Then why are almost all the reviews negative? Why is it MKBHD's worst phone of 2021? Wired hated it. Their review was quite rough, and another reviewer wanted to "throw it into the ocean". Did these people not use it for more than a day? Why is the general consensus that the devices suck? Why is it only the biggest Microsoft fanboys that liked it?

Am I supposed to stop liking my device because it got an unfavorable reviews?

No, but when it is near universally hated, it is hard to take Rodney's statement seriously. He is obviously wrong.

Part of that is because the big reviewers get a pre-release model, test it for a day, using a work flow they have established for regular devices and never touch it again.

I don't think that is true for the big reviewers. Are there any you can name that specifically did this for either model? "After spending less than a week with the Microsoft Surface Duo 2, channeling phone-testing energy and something that resembled hope into this glitchy two-screened albatross, I started to think it might feel good to throw the Duo 2 into the ocean, except that would be bad for the ocean. I began to carry other phones with me—not for camera testing, but because I just wanted a real phone—" - from the wired review. Sounds like your claim wasn't true here.

Honestly think about it for a moment. Just because a select few have wrote about how they don't like the device, ever stop and think that maybe, just maybe there might be bias and misunderstanding of the device considering its not like they were reviewing it based on the last success of dual screened devices that were mainstream? Last I checked Samsung for instance doesn't have a dual screen folding device to directly compare to. Considering how smooth and non glitchy my SD1 has gotten, I think it's fair to say that these reviewers didn't think at all about how Duo would become after Microsoft started figuring it out and Google putting in native support for this form factor. I think it is good to criticize a product and wish for it to be better but every time I read an article with good news, you seem to constantly full blown crap on whatever it is. I'm a day one adopter and I'm not gonna lie, at one point I wanted to get rid of it because the updates were delayed. Now that I've gotten them, it had made night / day difference in usability and performance. Sure the camera of SD1 is garbage but I also knew that going in. Reviewers were right when it came to bashing the camera. But the device concept as a whole is great for someone who uses it daily for personal and work and DOESN'T need an amazing camera. I work in IT and this device has made everything I do much more smoother and convenient. Have I considered a Fold? Yes. Can reviewers compare the Duo to the Fold? Yes, to a point. While they are both foldables, they are different kind of folding device. Just because a 2-in-1 laptop is a convertible, is it fair to compare a device that flips all they way around and one that disconnects completely? Yes, to a point. Anything Microsoft releases, all reviewers seem to try their best to talk mad crap about anything. So who cares about what big reviewers say when most of the time it's full of bias. I'm enjoying my purchase and many others are. To me this is a real phone. Doesnt have the best camera but everything else outweighs the crappy potato camera it has. And for the change in Duo 2 with better cameras, can only mean Duo 3 will improve on that. At least that is the hope. You may not see it and that's fine. That just means the device isn't for you and that's okay. However, just because you don't like something doesn't mean to constantly try to bash something and spew hate for something that doesn't work for your needs/wants in a device. You should consider to stop trying to always counter everything with negativity. Not everyone sees things how you may but it won't hurt to have more of an open mind about things. Tech media only cares about what Samsung and Apple are doing. I will say, that first Samsung fold was bad. But look at them now... Can't give Microsoft a chance to improve on their design instead of just writing them off? BTW, this is from a guy who got burned on badly last on Windows phone, Cortana (HK Invokes), Band, Groove, etc. I still have anger towards them about those decisions but hey, something tells me Duo 3 might be that game changer for this device and I could care less about what these reviewers think about it. To them, if it's not Samsung or Apple, then it's garbage. Until then, 12L on this may just further polish this experience and so far, I'm happy.

Dan, The ATT version just hit for Duo.

The Duo 1 update from ATT is flowing now.
Windows Central Newsletter
Thank you for signing up to Windows Central. You will receive a verification email shortly.
There was a problem. Please refresh the page and try again.