Surface Duo release currently set for next month, production has begun
Microsoft's Surface Duo is only weeks away as long as the set release date doesn't change.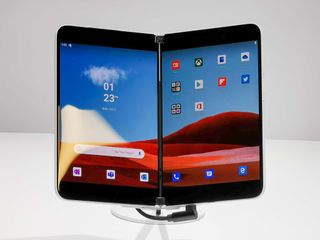 (Image credit: Windows Central)
What you need to know
Microsoft's Surface Duo's release date is currently set for the week of August 24, 2020, according to sources.
As with all dates, the release date of the Surface Duo is subject to change.
We've previously reported that the Surface Duo will launch at sometime this summer.
Microsoft's Surface Duo is set to release on the week of August 24, 2020. That date comes courtesy of people who spoke with our senior editor Zac Bowden. Production of the Surface Duo has also begun, according to those who spoke with Bowden. As is the case with any device's release date, the release date of the Surface Duo is subject to change.
Initially set for a holiday 2020 release, the Surface Duo has crept up to earlier this year. We reported back in February that Microsoft wants to launch the Surface Duo before the holidays. That desire seems to have been met with the currently set release date.
Surface Duo production has started and will begin shipping to customers the week of August 24th, I'm told. Should be less than a month to go now!Surface Duo production has started and will begin shipping to customers the week of August 24th, I'm told. Should be less than a month to go now!— Zac Bowden (@zacbowden) July 29, 2020July 29, 2020
While not a firm indication of an exact release date, the Surface Duo recently passed through the FCC. It's also received Bluetooth SIG certification and appeared in UL LLC certifications.
On top of all of the certifications and what Bowden's been told, several Microsoft executives have shared photos of themselves using the Surface Duo.
News Writer and apps editor
Sean Endicott brings nearly a decade of experience covering Microsoft and Windows news to Windows Central. He joined our team in 2017 as an app reviewer and now heads up our day-to-day news coverage. If you have a news tip or an app to review, hit him up at sean.endicott@futurenet.com (opens in new tab).
Kind of want one, but have also been burned a few times by Microsoft consumer hardware (Windows Mobile, Zune, Band, etc) so cautiously optimistic....

We will see if they have hardware issues, but the software is Google do you don't have to worry much about that. Android is a known quantity.

What are some ways you could be burned by the duo?

I wouldn't mind having one, except that I use NFC fairly often, and would want a really good camera. I'll wait for v2 and see what it brings.

Get an NFC-enabled Wear OS watch https://www.androidcentral.com/these-are-watches-support-android-pay

Same as you Ashram (WMs, WPs, Zunes, Invokes, Bands,). I need them to sell me on something that truly sets them aside. After leaving WP and going to the Note what compels me to use this over the Note 10+ and possibly Note 20 Ultra...

at least this time, it uses Android, a mature OS and we dont have to worry about app any more.

Waiting on carrier info..

me too. it has to work on Verizon or it's a dead issue for me.

Check the bands on the fcc filing.

Waiting for v2, nfc and wireless charging is a requirement for me.

Yes. (more words to fill the minimum)

Thanks, it wouldn't feel right if there wasn't at least one smartass responding to comments.

Might wait for version 2 but hopefully these sell well

Reading title... Me: "Oh, Microsoft finally announced it!" Reading article... Me: "Oh, we're just getting yet another speculative date from Zac." Seriously hope this is right, but not sure if this is supposed to be a self date or an announcement date. Can I fire this thing up and start using it on 8/24 or go on a browser and order it to receive in September or something?

Did you read where it says this is speculated to start shipping to customers the week of the 24th of august?

The article summary says: "Microsoft's Surface Duo's release date is currently set for August 24, 2020, according to sources." The tweet says "shipping to customers the week of August 24th." It's conveying two separate things. That week is August 23th-August 29th. We basically have that...the article piles an extra layer of assumption on top of the rumor. The thing should ship Saturday, August 29th, not arrive in customers' hands until September 4th or later (thanks to Sunday and Labor Day), and this would technically be over a week late AND on time.

No, the article summary does not say that and thus i see what the issue is and why you are confused. That being said, I've learned that the answer to my question to you was no, you did not read it.

they will announce it after it starts shipping

I get what you mean, but I would not confuse "speculative" aka guessing, with sourcing from people who know. Those are quite different things. Zac isn't guessing here. Of course, until Microsoft commits to a date publicly, everything is technically in motion.

The problem is, there's a point where the aim to be first hurts both the credibility of the reporter AND the company trying to release a product. We were told "mid-summer," then we were told "before August 5th," now we're being told "August 24th." If August 24th comes without a release, why even listen to this site when it reports on such things in the future? On top of that, these constant "this release date has been pushed back" sources make Microsoft look badly. It suggests they're either running into issues or trying to minimally put the thing together to sell it, even if it's unpolished/unfinished (for of like how the Lumia 950 launched with buggy software). It reflects badly on MS, through no fault of their own. I'd rather see things not get repeatedly leaked and letting down the readers AND the company whose success most drives this site's content and success.

We're greatly confident in the information presented here. You don't like rumors and sourced reporting? Don't read it and skim over. Feelings have no place here. All the details about Surface Duo we have leaked, including an early summer release, have been spot on.

Except they haven't. We're going to be 2 months into a 3-month season, if this report is right. We're going to be past the "before August 5th" as well. It seems like MS wasn't going to hit those deadlines while the site was promoting them. It's not about liking or disliking leaks, it's that it seems that the situation has proven too fluid to trust the reporting. It's not about disliking leaks or rumors. It's disliking the way it gets recycled when it's wrong. I click on it because the topic is interesting, the same way I turn off my ad blocker on this site to support it and have come here for nearly a decade. However, I do skip over what I don't like. I refuse to click on the fake articles that have comments turned off. I find it frustrating when a post is just a bunch of affiliate links for products that weren't really tested or researched well. That we can't discuss the products with actual testers aor owners in the comments, that's why I won't click those links.

Isn't 2 half way between 1 and 3 making that midsummer for north America? The nature of leaks is the info being fluid due to EVERY release date being arbitrary. I was mistaken before. You very well may have read it and I thought that's what your issue was. I apologize for that. Please forgive me. I, now see, it's not reading you struggle with but comprehension.

Cant wait. Buying this day one 😇😇😇

Super excited about this. Waiting for Dan/Zac's hands-on video. This should be good stuff.

I'm taking bets on how long it is before Microsoft stops supporting this device.

At least it won't matter this time. Google will keep it supported for several years.

they just make android version not compatible with duo hardware..

That wouldn't be an issue. Play Services updates wouldn't have that effect.

Really interested in purchasing this. Hoping for some supprises during the launch like no bezels and NFC. The fact that this initial design was started in 2016 is no excuse for huge bezels in 2020. MS is not apple and can't get away with huge bezels like the ipshone SE. Would be super cool if they had a nice windows phone trade in offer to show some support for those who were supporting them. But Im not holding my breath.

It should have NFC, at least according to the FCC filing. I highly doubt though the design has changed, so it will have bigger bezels. I don't see why that's an issue, MS is still a big company so Apple doesn't have some special 'pass' to be the only one to use bigger bezels in 2020. They shouldn't get special arbitrary treatment just because of some self-made pedestal you have put them on. The SE shouldn't have big bezels either (both companies have massive R&D and design teams/budgets), that's only fair.
Windows Central Newsletter
Thank you for signing up to Windows Central. You will receive a verification email shortly.
There was a problem. Please refresh the page and try again.