Surface Duo snags Adobe Acrobat as latest app with dual-screen support
Adobe jumps on the Microsoft Surface Duo form factor, with dual-screen PDF editing and inking readied for its Android app.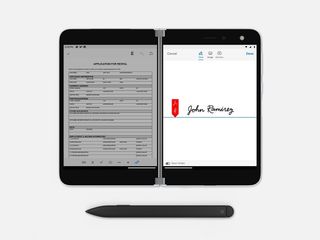 (Image credit: Microsoft)
What you need to know
Adobe Acrobat Reader will feature optimizations for Microsoft Surface Duo, including support for dual-screen spanning and digital inking.
The app joins the initial list of apps with special considerations for the dual-screen foldable, including Amazon Kindle and Spotify.
The Microsoft Surface Duo launches September 10, 2020, starting at $1,399 in the U.S.

(opens in new tab)
Adobe is the latest pledging support for Microsoft Surface Duo, set to adapt Adobe Acrobat Reader for the dual-screen Android device. The software maker joins the initial wave of third-parties gearing up for the September 10 launch, with its mobile PDF editor poised to feature considerations for the foldable. It comes as Surface Duo marketing assets provide our first look at the app in action, including full dual-screen spanning.
Adobe Acrobat Reader aligns with the productivity focus for Surface Duo, delivering a stripped-down toolset for creating and editing PDF documents on the move. The Android app features full dual-screen support when running on Microsoft's new hardware, including "spanning" that allows content to bridge across the twin displays.
The app also fits the device's inking capabilities, showcased alongside the Surface Slim Pen, which Microsoft considers the best pen for Surface Duo. The use cases include comments and annotations, coupled with the ability to quickly sign documents on-device.
Adobe joins several big names supporting Surface Duo, with apps from Amazon, Spotify, and Atlassian previously announcing planned dual-screen functionality. It also boasts an extensive suite of Microsoft-optimized apps that provide the device's foundations, including its Microsoft Office suite and other productivity services.
Microsoft Surface Duo remains set for a September 10 debut in the U.S., starting at $1,399 for the entry-level model. Preorders for the device are now live via Microsoft, Best Buy, and AT&T.
Preorder today
(opens in new tab)
Two screens are better than one

Microsoft delves into the future of foldables with an ambitious dual-screen device, featuring two ultra-thin 5.6-inch AMOLED displays bound by a 360-degree hinge. This pocketable inking-enabled Android smartphone marks the latest in the Surface lineup, geared for mobile productivity.
Main
Matt Brown is Windows Central's Senior Editor, Xbox & PC, at Future. Following over seven years of professional consumer technology and gaming coverage, he's focused on the world of Microsoft's gaming efforts. You can follow him on Twitter @mattjbrown.
Very much needed to fill out pdf's

Nah, it won't be much use. On a 13 inch Windows tablet, I found that you have to place the device flat on the desk to fill out a form. At that size, which is paper size and there are issues, would mean a handheld is probably going to be worse. Cellphone inking worse infact.

I sign with my finger all the time on pdfs with my Samsung galaxy s10+ all the time. Very easy. There is a thing called pinch to zoom. You should try it.

I do more than just sign. I'll fill out a lot of 200 page documents on screen and print with the inking on there. A little device like this is not going to work. I can already imagine that hinge pivoting back with added pressure while held up. I'm guessing Daniel will find the balancing act of holding the two screens in one hand quite innovative.
Hope the clamshell gives him enough time to do a praise podcast before it shuts on reflex. But if signing is where it's at, then sure. Although you can do that with any phone and a real pen with a rubberized tip

"Nah, it won't be much use. "

Who are all of you "I haven't actually used this, but I know it's not good" people? And don't @ me with "common sense," the bane of objective analysis.

How do you know I haven't used it. 😄? For all you know I could be a PIP at Microsoft!
That's Prominent Influential Persons BTW.

@Hiswona.. I think the take away here is that it would be a better experience to use than the current phone you have in your pocket...

I would love to have a Duo, but can't get past the price. If I could get $400 for a trade-in, but still using a Pixel 2 XL from 2017. Trade-in is a whopping $55!

You beat out my Moto X4. $45.

Hey, my MS Lumia 950XL, nothing. ;)

OnePlus 7 Pro is $25. So not going to bother. I'll spend the extra money.

Same price as the Note 20 Ultra. Both are more PocketPC than Smartphone.

A list of apps supporting Duo dual screen will be nice.

Funnily enough, just wrapped something hitting the site soon :P

I'm seeing all these apps that let you ink on the right hand screen. I wonder if there's a left handed mode for those of us the don't want to reach clear over the device to write.

I was thinking the same. I'm a left handed designer and had to adapt my work flow to use mostly the right hand, some time it's awful.

I believe you can turn the device upside-down. ¯\_(ツ)_/¯

Duo is made so that the displays are dynamic, meaning you'll be able to use either screen as you open and close apps. The apps open on whichever screen you tap their icons on. You'll also be able to move apps from one screen to another based on your preferences. The only issue I can see are hardware components such as the camera being fixed placement on the right screen although I can't imagine this would be too big an issue.

you can choose which screen you want to launch the app. so i assume if you load acrobat reader on the right screen, you would be signing on the left screen. and yes, i'm a lefty too.

Switching to landscape/compose mode makes it neutral.

Yes, it's true. But I also mean all other techs, like the mx master 3. Anyway, it's just me complaining about it x)

Nice to see others playing along.

Don't understand why MS thinks the Slim Pen is the best match. I get the size similarity, but with it not having a way to store it, inside, or magnetically outside, does the pen size really matter? You have to carry it separately. At that point other factors would seem to suggest the regular surface pen. A regular pen is much more ergonomic, and I suspect the regular pen will last much longer than the Slim Pen. When the Slim Pen dies, you need that 'bulky' tray and an outlet to charge it. The regular pen just needs a new AAAA battery. Would be nice if MS sold a pen clip for either pen in any case.

Tbf, Not sure Microsoft ever said it's the best match vs just putting its latest version in marketing materials. There's no difference in the slim pen and it's predecessor besides battery and shape as far as accuracy and latency goes so you have the choice to pick what you want along with colors. Marketing is just that; marketing. For example, Adobe just now committing to supporting spanning when the marketing by ms was already released

There IS a magnetic attachment point. Look up Marques Brownlee's video on YouTube. Part of the video includes his showing the pen magnetically attached AND using magnet-sensitive paper to show where the magnet is in the device.

These are magnets for the display, they are not meant to be used with the pen and are not great for the task. Brownlee is mistaken in thinking this is a feature.

Their other pen is an old design. That's probably the only reason.

I think it's largely down to the slimline design, which generally gels better than the original Surface Pen family. Plus, as others pointed out, it's the latest model. I get the impression it'll be the same experience regardless, and if you have a standard Surface Pen already, definitely use that. But if you're paying out for a Duo, picking up the Slim pen isn't a bad call.

I know it is their newest design, but it seems to solve the storage problem more than anything else. That's only on the Surface Pro X's keyboard. I get the functionality is the same, but the ergonomics are significantly different. One is a pen, the other a diminutive carpenter's pencil. I have them both. I would dearly love MS to make a Surface Pro keyboard that holds and charges the Slim thing. Doesn't seem like much of a challenge. Just suggesting if you need a pen for your DUO, see how they both feel in your hand. You will be carrying either of them separately, and you need to consider that charging tray. You can't just plug it into the duo or charge it wirelessly on the side (see Apple pencil) or swap a battery.

This seems really useful for contractors, estimators, and sales execs. And those folks could probably "write-off" the high price tag. Nice use case!

I'm glad to see Adobe supporting this out the gate. Now they just need to put their Windows Apps in the Store!

Where is the link to see this in action? Thank you

A valid question that we need to ask.. is windows central going to be dual screen enhanced? And forgive me if this question was covered in the podcast I missed?

Nice to see more spanning apps like this. Hey Dan, please test if you can do the standard android app split-screen on each screen, so basically running 4 apps simultaneously.

I am a hard no on Google these days, but would love to see MS make an OS load, that is Google free, but has some sort of ability to provide a selection of apps. I wonder if we could use the company portal app and Intune to get the apps we want. Like we do with ios

Sure, MS will build a Huaweii load and resurrect the Windows Phone store for you. ;)
Windows Central Newsletter
Thank you for signing up to Windows Central. You will receive a verification email shortly.
There was a problem. Please refresh the page and try again.