The Surface Duo's international release date is set for February 18th
The Surface Duo will finally arrive in more countries next week.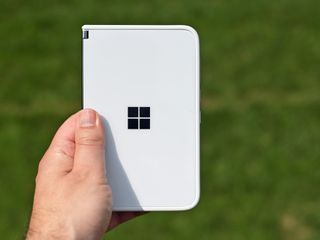 (Image credit: Daniel Rubino / Windows Central)
What you need to know
The Surface Duo will be available in more countries from February 18, 2021.
Microsoft pages in Canada and the UK state a release date of February 18.
The Surface Duo is also set to ship to Germany and France on the same date.
Microsoft's Surface Duo is set to arrive in several additional countries next week. According to Microsoft pages in Canada (opens in new tab) and the UK (opens in new tab), the Surface Duo will be available starting February 18, 2021. The Surface Duo is also set to ship in Germany and France on the same day.
The Surface Duo will be available for £1,349 in the UK, according to The Verge. In the UK, people will be able to buy the Surface Duo at Currys PC World or through the Microsoft Store online.
The Surface Duo will cost €1,549 in Germany, according to The Verge.
People outside of the U.S. have had to wait some time to get the Surface Duo. The device originally came out in September 2020. Since then, the device has received several updates to address the issues that contributed to mixed reviews, including our own Surface Duo review.
If you're in the U.S., you can buy the Surface Duo right now, and there are some big discounts going on. It's currently on sale for $400 off at Best Buy and will also go on sale for $400 off through the Microsoft Store this Friday.
Now available (in the U.S.)
(opens in new tab)
Two screens are better than one.

Microsoft delves into the future of foldables with an ambitious dual-screen device, featuring two ultra-thin 5.6-inch AMOLED displays bound by a 360-degree hinge. This pocketable inking-enabled Android smartphone marks the latest in the Surface lineup, geared for mobile productivity.
Main
Windows Central Newsletter
Get the best of Windows Central in in your inbox, every day!
News Writer and apps editor
Sean Endicott brings nearly a decade of experience covering Microsoft and Windows news to Windows Central. He joined our team in 2017 as an app reviewer and now heads up our day-to-day news coverage. If you have a news tip or an app to review, hit him up at sean.endicott@futurenet.com (opens in new tab).
Any news on what mobile carriers might be offering it??

The Ms uk twitter page says information will be out on the 18th. I spoken to Vodafone and EE and they know nothing about it. EE said they normally get told in advance what is coming.

So from the 18th you will be able to buy a Duo i Europe with an premium of 50% compared to the us price for the rest of the month? A good way to find out the fanatics out there.

Four more places for it to not sell well in.

So £1,349 is approx $1,864, seems like a crazy amount. Just wondering if anyone in the US would pay that much?

I love my Duo. Can't imagine using a single screen phone now that I'm used to it. That's a lot of money though. Tough one. Maybe at this point, I'd wait for the version 2 and hope it goes international faster than version 1. There are so many little things inherent to the Duo that make it better than any other phones, you really need to use it to appreciate. Things like how much easier it is to hold -- if you're walking and need to do something on the phone, you can sort of fold it around your hand and it's incredibly stable, unlike any other phone. You don't see that in the demos and it's hard to explain, but it's transformative. The 3:2 aspect ratio of each screen makes the keyboard, even in regular portrait mode, by far the best touch keyboard I've ever used on a phone (whether via Swipe or keypress, the letters are big enough that it's almost mistake-proof). The ability to have 2 apps open at the same time and the way the Duo just does it automatically without any effort... it's amazing.

he heh eh! But its time for version two. The thing is already aged

Err, at that price - about double the current US$ price, they can keep it.

Aww man, is it safe to assume it's going to be $2k CAD? I was hoping the USA price cut would be accounted for...

The Canadian Microsoft Store says 'starting at' CDN $1869...

Price is ridiculous and 5 months of support less than US buyers...

Terrific Device. Surface Duo is easily arguably the most interesting mobile device on the market in 2021. Duo single handedly is responsible for the spread of Covid—19 because everyone wants to hold it, and play with it (get your minds out the gutter). I can't pull this thing out my pocket in public without people asking about it, and asking to actually try it for themselves (I keep sanitizing wipes in my car. Lol).. It's a fact that you can't say the same for any other device right now.. I'm not saying it's the best device on the market, but I am saying it's definitely the most interesting device on the market. 👍🏾

Sry but how can it be the most interesting phone on the market? Samsung have the same but twice so strong and full screen no slit screen and not worlds biggest black bar around the phone.

Because, I don't think the Fold is as noticeable in public, and it's also more rare... When open it's just one screen so it doesn't have the same "shock factor" when people see it in public... ALSO, I've noticed that people are really interested in it when they see it fold completely back on itself, and all the other postures... After using the Duo, I would be annoyed by not being able to fold 365°... Like I said, being the best device on the market is subjective enough, as is being the most interesting... But, I would argue that Duo definitely is the most interesting device today. I don't think I would have experienced near as much attention if I had a Fold. And, I will add that none of the things you mentioned have bothered anyone that's asked about it. The only thing most people are concerned about is the camera. I always make sure to tell them before they buy one beware of the overall camera experience. But, now I wish I had both so that I could see for myself which would get more attention🤔🤔🤔 It's not really about showing off the device for "personal" attention, but the fact that a device receives a large amount of attention says something.. Duo definitely needs to get better, and live up to the amount of attention it gets in public. I never over glorify the device when people ask about it, and I make sure I'm honest about its 5, or so, biggest faults.. It's best to tell people to wait for version 2 or 3, and keep an eye on the segment. If they use iOS I always tell them to wait and see what Apple comes up with. I mean, I like Duo, but it's really not all about a single devices success. It's more about the entire segments success, because that's how we're going to get apps optimized for every device. 🙏🏾🙏🏾🙏🏾

Kristian, they're not really comparable. The Fold is an interesting novelty, but lacks a compelling use case compared with other high-end phones. It is superior if what you need is an Android tablet -- for that it's better than the Duo. And compared with the Duo, but not with other high-end phones, it has a better camera, Qi, and all the other high-end Samsung phone features. Both Duo and Fold can do tent mode and laptop mode for typing. But beyond that, the Duo offers a lot of unique, compelling, and genuinely helpful features: It flips all the way around to function as a regular phone but improved with its 3:2 aspect ratio -- wide enough that the keyboard is near mistake-proof giving the Duo the best touch or swipe typing experience of any smartphone. It folds around your hand for complete stability, like having a handstrap built into the phone. It seamlessly and automatically multitasks apps in each screen in a way that's intuitive and transformative, opening links from one app in the opposite window -- I couldn't imagine losing this now that I'm used to it. For apps that take advantage of it like Outlook, the Duo is the first phone that can actually be used to do real work -- full emails, writing in Word, modifying Excel spreadsheets. The message list on one screen and the full message on the other allows using Outlook almost as well as on a PC, and the improved keyboard makes typing a full email a realistic endeavor for the first time on a phone.

Yeah, good luck with that... A two year old device that should have been running a different OS at flagship prices? Ehr, no thank you!?!

So, its going to double its user base to 10,000?

What the hell are they thinking with the price!? Feels like they can't have announced this without some justification as to why it's double the price? The only people who were going to buy this are enthusiasts who are aware of the device and the price in the US and will be very disappointed by this. The best thing they could be doing right now is getting v1 out there in as many hands as possible to increase visibility for v2. For me, I was thinking that £999/€999 would be annoyingly acceptable (still significantly more than $999) but at this point I same see anyone not just waiting for v2 and importing. Alternatively, wait for covid restrictions to let up, buy a flight to US, walk into a best buy, buy for $999 and then fly home. It'll be cheaper than buying in UK or Europe

We pay a lot to beta test devices 🤷🏽‍♂️

We're not really going to be beta testing any more though are we because it's already been out for 6 months... Given the dramatic price cuts that were available very soon after launch and then now (that, again, anyone interested in this device will 100% be aware of) I can't really see anybody being stupid enough to pay full whack for this unless £349 is an insignificant amount of money. It'll be £999 by April or it'll be dead in the water and, once again, taint Microsofts new adventures into phones before it gets started. Why announce this pricing the same week as massive price drops in the US...

Haha, it's actually true. For £5 less than the UK price you can get a cheapo 4-night weekend break to New York, buy it there, have a holiday and fly back. If only there were no pandemic. Although, if there were no pandemic, I probably would have had better things to do than look this up.

Would be cool if the plane was all new and the flight was a beta test 😳

The price is the price as there's always a few that WILL pay that price. Later, that price will fall. Me? I'll grab one from eBay once it hits around £500. Can't wait!

>and the UK I can imagine the lack of NFC making that annoying for many. NFC is quite in the developed world outside of the North America and it was outdated before it was released in the US. Maybe like the Surface Pro they will hit their stride with V3 with the Duo. This disaster does not bode well for the Neo
Windows Central Newsletter
Thank you for signing up to Windows Central. You will receive a verification email shortly.
There was a problem. Please refresh the page and try again.