Microsoft's Surface Ergonomic Keyboard does a lot right for a high price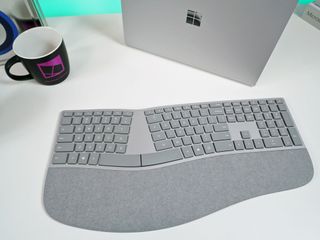 (Image credit: Dan Rubino / Windows Central)
Ergonomic keyboards are an oddity in the world due to their divisive design. The biggest hurdle is that it can take a few weeks to get used to and many people would rather stick to the familiar. It's akin to learning to walk in those orthopedic rocker shoes.
The new Surface Ergonomic Keyboard ($129.99) is not cheap, but it does earn its Surface branding with high-quality materials and excellent typing. I've been using the keyboard for the last few days, and there is a lot to like here if you are already an ergonomic convert, or looking for a change.
Why ergonomic
Ergonomic keyboards are designed to mimic how our hands and wrists move naturally. Traditional keyboards require you to bring your arms and wrists inward causing strain when typing. Note, however, this effect is mostly noticed for typists who use all ten digits. If you hunt and peck with your index fingers, an ergonomic keyboard is no big deal.
Microsoft has been making ergonomic keyboards for years. In fact, they're one of the few mainstream companies that still sell them, and that is mostly due to their design matching human performance metrics to a tee.
I count myself as one of the converts. I'm an efficient typist who can blast through a 500-word article in minutes, and I can spend most of my day typing out emails, articles, and social. That means I need a real keyboard and Microsoft's ergonomic offerings have been great in the past.
Not just the Sculpt Ergonomic Keyboard in gray
The new Surface Ergonomic Keyboard borrows a lot from the previous Sculpt Ergonomic Keyboard (I own both), but no, they are not the same. Here is what's new with the Surface version:
Bluetooth 4.0/4.1 LE (no dongle)
New keys and typing mechanism
Aluminum instead of plastic material
Included number pad instead of separate
Alcantara for the cushion/base
Filled in Split area
No optional riser for the base
Updated media keys (F1-F12, etc.)
Microsoft has taken the Sculpt Ergonomic Keyboard and built upon it for the new Surface edition. The typing experience is new and slightly different. Thankfully, there is no 2.4 GHz USB receiver dongle needed — this keyboard is 100% Bluetooth SMART supported. Pairing is simple and takes just a minute with any PC. There is also no software to download, unlike the Sculpt, for advanced configuration.
Neither the Sculpt nor the Surface Ergonomic Keyboards feature backlit keys. That limitation is likely due to two AAA batteries (down from three) to power the device for up to one year. Backlit keys, which would be fantastic, would drain the batteries within in weeks if not days.
I'm also glad to see the media keys (F1-F12) refreshed to match Windows 10 better. Here is the updated assignment:
F1 – Mute
F2 – Volume down
F3 – Volume up
F4 – Rewind/Back
F5 – Play/Pause
F6 – Forward/Skip
F7 – Brightness Down
F8 – Brightness Up
F9 – Search/Cortana
F10 – Task View
F11 – Wireless display/Project
F12 – Settings
There are also now keys for Show Desktop, Action Center, and Screen Lock, are of which all very welcome additions. I find these keyboard shortcuts great for productivity and ease of use — especially the one-button screen lock.
Typing performance
I'm coming from the Sculpt Ergonomic Keyboard, and I can say even here there is a small learning curve with the new Surface version. It took a good two days before this keyboard began to feel normal. That's not bad, but even I was surprised at the different typing experience and how it felt "weird."
If you have never used an ergonomic keyboard, it could take much longer before you get used to it. Put it this way: I used an ergonomic keyboard, went all mobile with a laptop for a few years, and came back to ergonomic. Even then, it was weeks before I felt at home again.
The keys on the Surface edition (versus Sculpt) do feel different in two ways. One, the bounce back and clicking is more satisfying with improved quality reminiscent of the Surface Book keyboard. The key sizes are also now slightly larger, with a consistent key size across the keyboard instead of the narrowing upper row keys of the Sculpt keyboard.
The all-gray look shows less dirt and dust, as opposed to the smear-prone glossy black Sculpt keyboard. It remains to be seen how well the faux-suede Alcantara on the base holds up, but so far, I like it. It's smooth, soft, but less squishy than the Sculpt edition.
As someone who used the "lift" on the base to raise up the Sculpt Keyboard, I was a bit saddened to see it not included with the Surface version. After a few days, however, I cannot say it has dramatically or negatively impacted by the experience.
Bug - Wake up?
One issue I have noticed and I have heard others have experienced with the new Surface Mouse, Keyboard, and my Ergonomic is not trivial: These devices can't be used to wake the PC from Sleep (Standby).
Clearly, this must be a bug with the driver. The driver is pulled down when you pair the device, and there must be some setting that is overlooked. With the Sculpt keyboard and mouse, I could wiggle the mouse or tap the keyboard to wake my PC, but now … well, I have to use another peripheral. If you've gone all in with the Surface keyboards and mice, that's an issue.
This issue is a deal breaker, but due to the severity of the problem, I know it has to be a bug. Interestingly, Microsoft is not selling this keyboard right now. Some shipped early (including mine), with shipments not resuming until later this month. The Surface Mouse, however, is available in stores and online.
I've reached out to Microsoft about the problem, and I'm awaiting a response.
Wrap up
As a believer of ergonomic keyboards, I'm glad to see Microsoft is continuing to refine their line. The new Surface edition is better in every way. From improved materials to new typing experience, updated media keys, and Bluetooth SMART support the Surface Ergonomic keyboard just feels great.
At $129.99 the Surface Ergonomic Keyboard is not a bargain. It's very expensive, and there is no denying the markup even if the magnesium and Alcantara are a higher level of quality. However, buying a keyboard is an important thing, not something you should ever skimp out on. It's like the purchase of a good bed. You spend 1/3 of your life sleeping, so why cheap out on something so crucial?
If you're a writer and having the best keyboard is important, consider the Surface Ergonomic one. It will take weeks to get used to it, but once you do you'll understand why so many of us are die-hard converts. Your hands, wrists, and arms will be grateful too.
For casual typists, gamers, or those who don't write often you'll be okay with the Surface Keyboard (non-ergonomic) or any other that fits your budget.
My only issue with his keyboard is the Sleep/Low Power State situation. It's not trivial, and I hope Microsoft makes a fix right away. It's hard for me to recommend the Surface Ergonomic Keyboard as is, but I'm also very confident that this bug will be fixed soon.
Update June 30, 2017: Due to some reports and my own experience, I'm giving a slight downgrade to this keyboard. While typing remains excellent the Alcantara can degrade over time for excessive use. Microsoft will replace any such devices, but you may want to take that into consideration.
See at Microsoft (opens in new tab)
Get the Windows Central Newsletter
All the latest news, reviews, and guides for Windows and Xbox diehards.
Daniel Rubino is the Editor-in-chief of Windows Central, head reviewer, podcast co-host, and analyst. He has been covering Microsoft since 2007 when this site was called WMExperts (and later Windows Phone Central). His interests include Windows, laptops, next-gen computing, and for some reason, watches. Before all this tech stuff, he worked on a Ph.D. in linguistics, watched people sleep (for medical purposes!), and ran the projectors at movie theaters because it was fun.
Anyone having issues with the video being set to private?

I would purchase this if the keyboard were backlit, even with the battery drain.

Mine is top lit. Solar by day, lamp by night.

I preordered and received this keyboard last week. I upgraded from the Sculp Ergononmic desktop keyboard because it's 2 years old and I was having problems with the left control key (I'm still using the old mouse for the time being). The new Surface Ergonimic Keyboard would not pair with my bluetooth dongle so I purchased another dongle which is an Asus one with Bluetooth 4.0 and Windows 10 support. I also decided to choose an Asus one to minimize chances of a compatibility issue since I have an Asus motherboard. Anyway, it then paired with no problem. I shut off anything I could find related to power management of both the Bluetooth adapter and the keyboard but I am having one slight issue still. Sometimes when I start typing, it takes an extra second to catch up (but always does). I've moved the dongle around to ensure a clear line of sight but did not make a difference. Perhaps a driver issue similar to the power management issue? Or Bluetooth dongle issue? I don't know. It doesn't affect much but a slight annoyance that occasionally when I start typing the first 1 or 2 keys don't appear immediately on the screen. Any ideas?

I had the "left Ctrl key issue" as well. Mine fixed itself somehow, I let it sit for 3 days with no batteries. No magical reason why 3 days, but just before I tossed it, I tried it one last time. It has been working perfectly since. Give it a try! :)

I used to have trouble with Bluetooth interference years ago with a Logitech keyboard. I fixed it by putting the dongle on a USB extension cord so it was away from my PSU

Dan, I'd appreciate it if you'd post an update whenever the sleep/wake issue is fixed. I'm in no hurry to buy one (have the older ergonomic one currently) but may if the issue is resolved. Thanks for the review!

sure thing, could be related to my BT settings too, so I need to poke around (though I shouldn't have to)

Agreed shouldn't have to, but after reading your review my TS'ing brain would be poking around looking for Bluetooth wake up settings. Likely need a windows setting to allow BT to continue communicating when sleeping. Huge ergo fan, thanks for the review. Do you know if there's a plan for a USB dongle model? The lack of BIOS use on a BT keyboard still holds me back.

I've had the same Sleep/Wake issue for 6 months with two separate Microsoft Designer keyboards on two different machines. Have tried many fixes and all failed. They never wake anything up. I expected these to be fixed with driver updates but it has not happened (yet). I wouldn't buy this new keyboard unless you have confirmation that the issue has been addressed...it's amazingly annoying even if they are good keyboards!

Dan, this can't be a bug, all bluetooth keyboards and mice I have used simply lack the ability to wake any PC from sleep (I have used a Bluetooth Microsoft keyboard and mouse for my desktop, but changed to a using my previous USB mouse as I missed being able to wake the PC without reaching for the power button). They don't remain connected when the PC is in sleep mode.
I think right now it's a technical system limitation. It's certainly no bug, that much I am sure of.

Is this the issue where the keyboard goes to "sleep" periodically, but then when you start typing again it misses off the first one or two keys you've typed? Also when holding down keys like the arrows, ctrl or alt, they get stuck on even when you're not pressing them any more? Really irked me enough to go back to my Natural Ergonomic 4000 and my Sculpt has been gathering dust every since, despite preferring the typing experience. Really hoping the bluetooth of the new one works better. It really can't be THAT hard to have the keyboard store your keystrokes until the connection has woken up, then transmit them all. Or only transmit "key down" events if the key is actually down.

I fail to see where this particular keyboard is marketed. Magnesium & Alcantara finish, Ergonomic build and Surface branding are not enough to convince me to get one of these at this price point as much as other Surface products had me convinced no matter how expensive they are, this just tells me to skip.

I am VERY disappointed that the numpad is attached.

I was VERY disappointed when they were separate. When I saw the 10 back on I was super excited. :)

And I have no opinion on the matter lol. Didn't use it before, don't use it now, but there's no downside so I dunno

Depends. I naturally shift my keyboard to be perfectly aligned with my monitor, and I think a lot of people do, too. This is a problem because it means most of the time, your hands/wrists are angled to the left, which is not good for you. Having no numpad makes it easier to slide the keyboard over, and also means you can keep your mouse within closer reach.

Anyone find the separate numpad is dodgy on communication? I find it misses key presses a LOT and I'm a huge numpad user. Happy to see it back on :)

Yeah I'm disappointed about the attached numpad, the lack of raiser, the lack of split (it is a great place to store your headphones!) but MOST of all, now there's no ergonomic mouse! Why??

Ok so now we know, it's not back-lit. Aluminium instead of plastic is nice but I still think this isn't worth 130€. Specially when it's not even back-lit. I'm not a fan of ergonomic keyboards anyway so I won't be too sad to give this a pass. Also...I get that they're going for a all-grey theme with the Surface line... But I still rather have all my devices in black.

I personally am not a fan of wireless I/O devices period. While it might be nice to have 1 keyboard/mouse combo work with my desktop, laptop, e-reader and phone, I dislike having to have a [censored]load of batteries around and nothing is worse than losing the connection in the middle of the night with no spares. Leaving provision for USB or even a wall cube wouldn't add that much to the price, would it? then you could have backlit keys unless the keyboard sensed battery operation.

Hear ya, but tbh I have had my ergo/sculpt Kb and mouse for over a year and JUST changed the batteries for the first time three weeks ago. And I write contracts all day...

As RoyaleWChz says, battery life is a non-issue. You'll need to change them 1-2 times a year. And you'll have plenty of warning with the battery light coming on.

I use the Ergonomic 4000 at work, and the Sculpt Ergonomic at home - maybe it's because I don't have the biggest hands, but I find the Sculpt more difficult to use because of the larger reach distance between keys. I hope that this version's larger keys are an improvement in that regard. I would ultimately like to see backlighting at this price point, with perhaps a way to recharge to compensate for the toll on the battery (and, like Daniel, I am surprised that they removed the riser). I like the magnesium, but I'm not yet sold on the aesthetic of the gray plastic keys, and I think that it will be interesting to see how long Microsoft continues this look (and continues using Alcantara when we see how it holds up).

Chiclet-style keyboards just plain suck, no matter how ergonomic the rest of the design is.

just watch it, the video is not private

Thanks Daniel. I've been interested in an ergonomic keyboard for sometime but really didn't like the looks of the Sculpt model which is still on the shelves in some stores. I was drawn to the Surface ergonomic when I saw the prereveal picture on Windows Central and I ordered one on the day it was announced. When it arrived last week, I was stunned at the feel of the keyboard when I took it from the box. It really excudes quality, even down to the clean, label free backside. I expect the Alcantara will hold up well as I've been using the Signature Type Cover on my SP4 since it was released and it looks as good as the day I bought it. I agree with your view that something as important as a keyboard, if you make even part of your living working on PCs, is not something to skimp on. While this is my first ergonomic board, I've always favored more expensive keyboards and quickly replaced the cheap ones that are usually included with desktops or all-in-ones. So far my learning curve with the Surface ergonomic has been proceeding well.

Ummmm... $130 and no backlight? That's just unacceptable no matter the reasoning. If you battery drain, include an off switch for the backlight.

So, am I to understand that this doesn't come with a dongle? What is with manufacturers thinking this is OK? Especially for as expensive as this is, the fact that they assume that everyone will have bluetooth on their device is a joke. Do they really think that the only people who care about ergonomic keyboards are people with portable devices?

Well, it is "Surface" branded, and every "Surface" device has bluetooth.

In all honesty, when was the last time a computer came without Bluetooth built in? And how difficult is it to purchase your own Bluetooth dongle?

There's no BT support outside windows, that in itself is enough for me to not buy a BT keyboard again. No BIOS access and I use pre-windows drive encryption, which doesn't allow me to use my KB to enter a password since Bluetooth isn't connected yet at that point. BT has its uses, but it's not a full replacement option for a KB IMO.

On the rare occasion that the BT is integrated into the motherboard it still doesn't function outside of Windows!?

You'd think they would have learned that lesson with USB 15 years ago...

Most consumer motherboards don't come with bluetooth. And like I said, for $130, it shouldn't require a separate purchase to use.

In a laptop, sure. In a desktop, built-in Bluetooth is not that common.

It does not. I got a $15 USB dongle from Amazon.

How are the F-keys? on my Sculpt, the f5 key often gets physically stuck when I press it down.

The F-keys are improved in that they are the same type of keys as the rest of the keyboard (versus on the Sculpt where they had barely any travel), but still roughly half-height.

Sounds like an improvement. I will still wait to try one in person before buying, but it could be a good replacement for my Sculpt. I still think the sculpt ergonomic mouse is the best mouse I've ever used, though.

Good idea to try it out in person. I upgraded from the sculpt too, and have been using it since late last week. I'm going to give it another week to see if my typing speed/accuracy get back up to what they were. The keys are a bit stiffer than what I'd like, but hopefully just an issue of getting accustomed to it.

> "That limitation is likely due to two AAA batteries (down from three)" Maybe you Americans need more power or something, but my Sculpt Ergo Keyboard has two AAA batteries, not three.

maybe including the batteries for the separate keypad? I can're remember what kind(s) of batteries that uses, since I never use the keypad.

Yea, Sculpt Ergo takes 2 but, It think the number keyboard uses 1... the mouse uses 2 as well (matching set). This is the set I have at work... http://cnet3.cbsistatic.com/hub/i/r/2013/08/22/b6b6c2e1-84b8-11e3-beb9-14feb5ca9861/thumbnail/770x433/08ebace95d5784ded01e6c1c08e63f65/Microsoft_Sculpt_Ergonomic_Desktop_35826700_01.jpg

The number pad uses a button battery, CR2430 if I remember correctly.

I'm still rocking a PC-Concepts SK-6000. It was rebranded by many other companies. I have not been able to find an ergo keyboard that can replace it. Many of them, including the sculpt, have enormous spacebars which drives me batty. Surface Ergonomic Keyboard was a step in the right direction.. unfortunately without the front riser I'll keep on waiting. For those that haven't seen the SK-6000 before, here are some pics http://s1251.photobucket.com/user/Flag-With-Care/media/090112%20CL/11161...

I would prefer the Surface Keyboard instead. When can I buy it in EU?

I love the design of this wireless version...especially since they made it out of Aluminum, updated the Fn keys, and added the number pad...but I have no need for wireless at home so I will be sticking with what I've got. That being said, I would totally jump on board to this exact design, but is connected via USB and is backlit.

The only reasons I'm not switching are the lack of an equivalent version of the Ergonomic Mouse that's in the Microsoft Sculpt desk set and the lack of the riser. Those make this a step backward.

With ya on the riser for sure

Word. I didn't even think to check if a riser was included. Much disappointment when I opened the box. I had a wood riser made, but this really should have been included.

A good review. I will put it on my list for further investigation when I hear the sleep / resume issue has been resolved.

Was so sad that the Key-Mouse never really made it through kickstarter. (recommend looking it up, imagine two mice with half a mechanical keyboard on the end, really cool idea). Ergonomics for days. Are there any ergonomics design mechanical keyboards? I love my daskeyboard, but as a computer engineering student all I do all day is type stuff, so ergonomic is something that I find interesting. But if I'm paying $130 for something, I expect mechanical switches (am typing this on SP4 keyboard, so I know what the keys will be similar too, just more travel, but stull prefer full travel mechanical keys, especially for a desktop keyboard where I don't care about weight or thickness).

Been using Ergonomic keyboards for well over 10 years now, if not 15.... My favoriate for gaming is the Microsoft Naural Multi Media keyboard. It's a ergonomic keyboard with bigger keys (full size, more natural feeling) with all Mutimedia features. I have the Sculpt Ergonomic Keyboard with the Mouse at work....When I started there, I told them I need THIS keboard, I got it 3 days later :) Love the keyboard and the rounded mouse is kind of strange at first but, after you use it, it totaly feels natural and very confortable to use. I do like the look on this keyboard but, I really would have to see and feel it before buying... $130 is a bit much for a keboard with out a mouse.

I purchased and receive the new Surface keyboard. The regular one, not this one. I'm extremely disappointed with the lack of back light. I just don't understand how that's not standard.

Awesome! Now make us a Wired version. TIA! My Natural Ergo keyboard keys are faded.

I will definitley hold off until they fix the wake issue.

I use the Sculpt keyboard at work for the past three years and enjoy the feel of it. For it and this keyboard, the major change I would recommend is adding an on/off switch and to make it rechargable. I miss having the attached number pad on the keyboard, just haven't found the right way to set it up without constantly knocking the mouse off the keyboard tray. I use the Logitech K800 at home. It's backlit and USB rechargable. While not erogonomic, I don't type on it for the length of time at work. I love the quietness of the keys and the level of resistance in typing. Not sure why Microsoft can't do backlight, especially at this price.

Nice, really love that design and the materials use.

Reasons this sucks:
Low number of keys/minute
No wired option
Removable AAA batteries instead of rechargeable li-ion or similar
No usb ports or audio ports
Over priced
Does not work with every pc.
This ultimately sucks for fast typists and gamers because of the low kpm and shape. You can find economic keyboards for way less and with more features.

Yea as soon as I saw that they are still using AAA batteries it turned into a definite no for me. I don't want to be scrambling for batteries every 2 months.....These things such up batteries quickly......I'd rather it be rechargeable like plenty of other wireless keyboards

The batteries aren't really an issue any more. I have type a lot for work and haven't had to change the batteries in over a year and counting.

The days of rapidly depleting battery life seem over. I changed batteries in my Sculpt maybe twice a year.

I use rechargeables in place of any AAA, on any device I have that works with that battery size. you can find rechargeables of all sizes nowadays.
But the thing that definitely marks this keyboard as a big "NO" is the fact that it isn't backlit. There's no way I could work with that. I wouldn't care if the battery lifetime drops from 1 year to 1 month, it would sure be worth it if it was backlit. And keeping the backlight on would definitely optional, so if you want 1 year battery life - don't enable the back lighting.

Lack of backlight and lack of being able to remove the handrest when using in a keyboard tray made this a no go for me.

I see your point and certainly a backlight option would have value, but in the end keyboard is marketed at touch typists. I never look at the keyboard when I type so backlighting is not really required.

Not gonna lie. Wish Microsoft would update the Sidewinder X4. It's still my favorite keyboard to this day, and it shouldn't take too much to bring it up to day. Maybe a new LED color, and updated windows key... At least they're still selling the current model.

I've been using Microsoft ergonomic keyboards for 20+ years. I am a fast typist and credit them with preventing any wrist issues that my colleagues have had over the years. I am typing this on the Sculpt Ergo and have a love/hate relationship with the separate number pad (which I use regularly), so I'm glad it is now attached. But I don't think anyone has mentioned the fact that this keyboard comes with no mouse.....but the Sculpt does. I'm guessing people didn't like the Sculpt mouse and now days, there is no reason to bundle a keyboard and mouse together. I have been using the Arc Touch mouse for 3 years and just purchased an additional one (when I travel) in anticipation of my Surface 5 purchase in 2017. So I'm assuming Microsoft decided not to include a mouse since maybe everyone already has a favorite mouse. Plus, that would jack the price up even more for a package deal.

Curious to see how the Alcantara material wears over time.

So mine arrived today and so far my overall impressions are very good. I haven't used an ergonomic keyboard in years (I used one of the original Microsoft ones a long time ago and liked it) so I'm prepared going in to give myself some time to re-adjust but so far I'm pleasently surprised with my accuracy. I'm using this at work with my Surface Pro 4 (my full time work computer, using the Surface dock with two external monitors and ethernet - and now I've freed up a USB port on the dock!) so it's not for gaming or anything. I'm really happy with all the shortcut/media keys. I thought I would miss the ability to raise/pitch up the keyboard but so far seems to be a non issue. Usually I get rid of wrist-rests but this one is actually very comforatble and seems necessary given the design of the keyboard. The one thing that surprised me a little is the actual "feel" of the key surfaces; the keys feel very slippery to me. It doesn't seem to be affecting my typing at all, but its just an odd sensation (and one I'm sure I'll probably get use to in a few days). Its just strange since when you read the description of the keyboard on Microsoft's site it talks about "optimized grip". I haven't noticed the wake from sleep issue but usually I wiggle my Kensington trackball to wake my Surface up so I'll have to remember to try that specifically with the keyboard.

This keyboard easily resembles the last 3 versions of microsoft's ergonmic series......The design is a good design, but I thought they would make some actual changes for such a high price......for basically the same keyboard from 10 years ago.

Daniel, do you have an update on the wake from sleep issue? I've had to train myself not to just wiggle my Bluetooth mouse to wake my SP4 which is plugged in to the Surface Dock in order to test this issue for myself. So far, the Surface has woken with a single tap on the Spacebar. I have had several issues with the Surface Dock not waking my monitor or speakers, but the ergonomic keyboard so far has demostrated this problem.

There is not point buying the non-egronmic one since it is the same price.

I have the Sculpt and had to quit using it because I do play games using the keyboard also. When I would hold down a key to run, after just a second or two, i would let up on the key, but my character would keep running. I also had a problem with hitting keys and sometimes them not registering and it drove me up a wall. I would love to go back to that form factor, but don't want to spend that much money and end up with the same problems again. If anyone has it, can you just go into Notepad and hold down the J key and see if it keeps typing for as long as you hold it down? Hold it for at least 5 seconds.

I've been using my Sculpt Ergonomic since they first came out and love it. However, this discussion has just encouraged me to dig out my old "Microsoft Natural Ergonomic Keyboard 4000 v1.0" (phew) and give it a try. First impressions: it's flippin' enormous! Second impressions, sadly, aren't particularly positive. Compared with the Sculpt, the keys are heavy and have a lot of travel, so it does take more muscular effort to type with it. The other thing is the key "feel" - as well as being heavier and longer travel, they also have noticeably more friction, which again means that you need to hammer the keys significantly harder to register key presses reliably. I can imagine this Ergo 4000 could lead to forearm fatigue and possibly RSI in those prone to it. Two more minor shortcomings: it has the old-fashioned Del key, which is small and not conveniently placed. Also, the keys all rattle when you gently brush them with your fingers - this is especially bad with the Space key. Quite a noisy old thing, then. You might like all the function keys along the top - for me they are just a waste of space, but credit to MS for offering them. Back to the Sculpt Ergo, which remains my favourite (the Ergo 4000 will be going back into the cupboard): overall it's great and a pleasure to use EXCEPT for those poxy little function keys across the top, and the bizarre slider switch for the Fn function. I don't use either much at all, so it doesn't affect me, but I definitely think they are out of place on an otherwise classy keyboard. One small thing - I *think* it misses the first key press after a pause every so often. Presumably it goes to sleep if you leave it long enough, which is never a problem with corded keyboards. Anyway, I've noticed I seem to miss the first letter of sentences every so often, which usually seems to be after I've had a pause for thought. On the other hand, it could just be me..... Anyone else noticed this? In summary, then, the Sculpt is much easier and more pleasant to type on than its predecessor the Ergo 4000. As for the Surface Ergo, I'm very sad that it doesn't have the lifter at the front. The lifter puts the keyboard at a much more natural angle (i.e. sloping away from you slightly). Without the riser you can't really use the wrist rest without hooking your fingers up into a shape like a spider's leg, which I find fatiguing. Typing with your wrists in the air is an alternative - and was the way "professional" typists always did it - but again I find it fatiguing. So, Microsoft, make a Surface Ergo with a lifter at the front and I'll be front of the queue to buy one.

Making your own lifter/riser is an option. Once I'd arranged that, this keyboard went from "meh" to fab.

Out of interest, why does any user of an ergonomic keyboard need back-lighting? Ergonomic keyboards are primarily to make touch-typing easier. You don't need to look at the keyboard when you touch-type, so you don't need back-lights Only hunt-and-peck typists need back-lights, and surely the whole point of an ergo keyboard is wasted on them?

Seems like a backward step with regard to the number pad as the whole point was that the mouse arm wasn't having to unnecessarily reach that much further. Also seems to detract from the ergonomics if the angle is not adjustable, or is this so they can sell a 'wedge' to complement the keyboard at a later date? The build quality and finish look awesome and if they are anything like the surface quality, it'll be worth the hefty price tag.

I agree, that's one of the benefits of the sculpt is my right mouse hand can be closer to the keyboard because the numpad is disconnected.

Word. The lack of a front riser was almost a dealbreaker for me. I had carpal tunnel for ten years. I'd rather not repeat the experience. Thankfully I know a guy who is good at woodworking and he built me a custom support for the front.

I loved the feeling of the 'surface keyboard' keys (hated that you can't identify where the keyboard ends by touch as there's no gap between the main keys and the arrows/page up etc), but I mouse and kb so often that the form factor of the Apple kb (no num pad) ergonomically works best for me. This looks better for touch identification of the keyboard, but it's still mega wide and makes cad/design work a pain

Has anyone got the ghosting issue with this keyboard? I like it a lot but it failed the 3-key combinations (A, arrow down and left). Tested with https://www.microsoft.com/appliedsciences/KeyboardGhostingDemo.mspx

Regarding the wake from sleep issue, my keyboard would disconnect after a period on non-use even with my PC on. Solved by digging in device manager and unchecking "Allow the computer to turn off this device to save power" on the Bluetooth hardware. Apparently when the BT hardware turned off, it would "lose" they keyboard. I'd then have to remove the keyboard from BT devices and re-pair it. My thought is that once the PC goes to sleep, it turns off BT and thus loses they keyboard. Is there a way to prevent the PC from switching off power to BT while in the sleep state?