Surface Go 3 benchmarks allegedly spotted online with new Intel CPUs
Microsoft's October Surface event could feature a large lineup of new devices.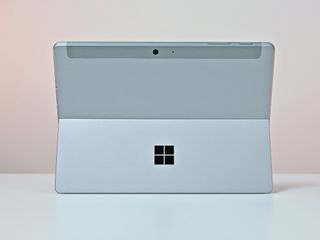 (Image credit: Daniel Rubino / Windows Central)
What you need to know
Benchmarks were spotted online that appear to be for the Surface Go 3.
The listings show two variants of the device, one with an Intel Pentium Gold 6500Y and one with an Intel Core i3-10100Y CPU.
Our sources indicate that a Surface Go 3 could be announced alongside the Surface Pro 8 in October 2021.
Microsoft appears to have a Surface Go 3 in the works. Listings appeared on Geekbench that are believed to be for the upcoming Surface Go 3. WinFuture reports on the listings and breaks down some of the specs. The outlet also explains why it believes the listings are for a new member of the Surface Go lineup.
The name listed on Geekbench is "OEMAL Product DV1.1." Before you get worried that Microsoft has come out with a new naming structure, this name lines up with previous Surface hardware leaks. WinFuture believes that the "AL" in the name refers to a still-unknown codename for the device. For context, the most recent Surface Pro X was listed as "OESMR."
While nothing is confirmed regarding the Surface Go 3 at this point, the device showing up on Geekbench around this time makes sense. Our sources indicate that Microsoft may announce a Surface Go 3 alongside the Surface Pro 8 and whatever the company decides to call the Surface Book 4. If that is the case, now is about the time benchmarks would start to trickle out on the web ahead of an October announcement.
As for the devices themselves, there appear to be two variants of the Surface Go 3. One has an Intel Pentium Gold 6500Y processor, while the other has an Intel Core i3-10100Y CPU. Both CPUs are from Intel's Amber Lake Y Series. These are energy-saving chips that deliver more modest performance.
Based solely on these listings, the base model of the Surface Go 3 seems to have an option with 4GB of RAM, while the Core i3 model has an option with 8GB of RAM. Of course, exact specifications aren't known at this time, and different configurations could be available.
The Geekbench 4 scores for the listed devices are 3,197 for single-core and 5,643 for multi-core. These are solid improvements over the Surface Go 2. The base model of what is believed to be the Surface Go 3 has 62% better single-score, and 47% better multi-score figures than the Pentium Gold 4425Y model of the Surface Go 2. The difference in the higher end appears to be smaller. The listing for the alleged Surface Go 3 is 4% better in single-core and 11% better in multi-core than the Surface Go 2 with an Intel Core i3-8100Y.
If these benchmarks are for the Surface Go 3, they don't fully reflect improvements over its predecessor. We don't know all of the configurations that will be available and will need to perform our own tests to confirm benchmarks on any future hardware.
Windows Central Newsletter
Get the best of Windows Central in in your inbox, every day!
News Writer and apps editor
Sean Endicott brings nearly a decade of experience covering Microsoft and Windows news to Windows Central. He joined our team in 2017 as an app reviewer and now heads up our day-to-day news coverage. If you have a news tip or an app to review, hit him up at sean.endicott@futurenet.com (opens in new tab).
A Surface Go 3 this fall would be awesome. I've been thinking about replacing my Go 1, but if I could replace it with even newer hardware that would be great.

I would have killed for a device like this just a few years ago. But I think there's still lots of room for improvement in low-end Windows devices in terms of performance and battery life. I'd like a world where, like with phones, most people will pick up a low-end device and not even notice any big difference.

There is no free lunch. Then again the migration to cloud-based services connecting to 5G networks will allow service providers to offload complex processing to the cloud and reduce the horsepower requirements at the device. So Gaming online could see big improvements if a robust 5G connection is present. You pay a monthly fee to use the service and you don't need a powerful computer to enjoy high-end gaming.

There are diminishing returns. Low-end candybar smartphones are practically indistinguishable from each other, and if you're not pushing the camera or the screen, indistinguishable from more expensive phones. Some advances in low-end processors and batteries that we are already seeing could make low-end laptops indistinguishable from high-end ones for those who don't ever need AutoCAD or whatever. Gains beyond that won't be noticed by consumers of those low-end devices.

I still feel like the Go series should be ARM and running Snapdragon 7c processors. The battery life improvements alone would be worthwhile. Add in the more capable GPUs and integrated LTE modems and it becomes a no brainer. It's not like the i3 or Pentium processors are winning any awards for performance, so a 7c emulating x86 and x64 would still probably be about on par with the native experience of the Pentiun Gold.

Yep, I think so to. It's the perfect lineup to use ARM. Although, it only makes sense to me if they were thinking of transitioning the whole Surface line to ARM eventually. But with the release of the Pro X I don't think they have that in mind.

I think that would go to Go 4/5 when Win 11 has a complete dev on ARM and has decent performance to run win32 app on low end hardware.

The new HP X2 11 chromebook is exactly that, a 11 inch tablet detachable running SD 7c Gen2 chip allowing long battery life and added LTE option.

The difference between the i3 10100Y and Pentium 6500Y is just 10% better clockspeed on the i3, so the processor difference is insignificant, actually the Pentium Version should be equivalent in speed to the Go 2 i3 version. However what kills the Go 3 is if the pricing structure is the same as the previous one, 549$ for the Pentium+8gb+128gb is suboptimal and then you add the type cover and we are in the 649$ territory. If it had 256gb of storage I would say okay, it's not amazing specs, I would not go with a dual core in 2021, but that's the trade of you get when going for a small 2 in 1 device with great build quality and great cameras instead of your regular laptop. Microsoft just has to have a 256gb option for 549$ and that would be a killer device. (without typecover) If the 399 version only has 4gb of RAM and 64gb of storage then do not go with that, that's just there for advertising.

"If the 399 version only has 4gb of RAM and 64gb of storage then do not go with that, that's just there for advertising.", its fine for secondary devices and W11 will use less ram iirc. Storage can be upgraded by microsd cheaply. Tbf, with these leaks it would be maybe the only I would suggest family/friends to buy besides the ssd pentium version because of the price/spec ratio.

This year's Penium has much higher scores than last years Core https://browser.geekbench.com/v5/cpu/search?utf8=9C%93&q=Surface+Go+...

If Windows 11 actually added Google Play into the Microsoft Store, this would be a buy. Without any of the mobile games I play being available in Microsoft Store or Amazon Store, these devices still have little value. I really hope to see Microsoft show some interest in touch first gaming.

Or install an Android emulator which opens all apps (11 will be just Amazon store I believe). But not sure if there's a good one supporting touch in games.

There's a 100% chance that people will figure out how to sideload Google Play shortly after the Android subsystem releases.

And MS will do nothing to stop it.
Just as Amazon looks the other way at Play installs on the FireOS.
Mostly because not enough people will do it to care about; zero economic impact pro or con.

If you have a samsung or duo phone you could use YourPhone to play playstore apps sort off on your Surface.

@Dusteater late comment never the less it needs to be said. Microsoft cannot simply "add the Google playstore", it requires 1)Google's input 2)Inclusion of Google Mobile Suite or GMS. Google is never going to make an exception for Microsoft. If anything they will subtly be making things worse - have people forgotten the shenanigans Google pulled with the Microsoft developed YouTube app? Lastly, both parties have are in full on litigation battle mode - so yeah... "adding the Google playstore" is easier said then done.

"Amber-Lake-Y" is a big waste of money. Should have gone for "Tiger-Lake-UP4" instead, specifically the i3-1120G4 and i5-1130G7, speedier and more efficient chips that were designed to replace the failed M/Y series. Also missed the opportunity to introduce "Qualcomm 8cx Gen 2", which was designed for small devices like this in mind.

Not a reasonable comparison. Comparing max TDP values the i3 you mention is a 15W part - the 10100Y is a 7W part. The only fair way to compare those chips is to run the 1120G4 at its TDP-down and the 10100Y at TDP-up as they'll both use 7W. The 1115G4 is an option for the Surface Pro 7. That's a 28W CPU and despite the name it's very different to the 1120G4 you've mentioned. What is interesting is that Intel list both chips at the same price. I'm not convinced by any ARM option until Win32 apps run at something close to native speed and for a similar price. It's really difficult to get pricing for Qualcomm chips so I can't answer that. But the 1120G4 & the 1115G4 have a recommended customer price of $281 from Intel ARK. And you're suggesting that for a $400 tablet? Not going to happen. You're effectively asking for a Surface Pro at Surface Go prices. That's an unrealistic request to make from a for-profit company. As for the Go lineup I want a CPU with lowe power requirements that is also pretty cheap. The original Go I own with the 4415Y uses between 4.5W & 6W - the 10100Y uses between 3.5W & 7W - in theory that should allow the device to last longer on low poqwe modes. TLDR? There's no way Microsoft are going to use a $281 CPU in a $400 device.

TL;DR - MS is recycling old chips and charging new money for it. Intel M3 has been replaced by UP4 and AMD also has Van Gogh. Tiger-Lake-UP4 is officially labeled at 9 watts, you're mistaking it for the common UP3 (15-28W) chips. Intel released the UP4 later as a replacement for older M/Y chips that failed to meet power and performance expectations. The i5-1130G7 is also labeled at 9W stock with 7W cTDP down. These chips are CHEAPER than the UP3 (used in Surface Pro and Laptop), just like AMD's "Van Gogh" APUs will be cheaper than original "Cezanne-U". In theory the i3 UP4 should also consume 3-4W on average day-to-day tasks just like the i3-10100Y. Also, I never said anything about taking away the Pentium options, those are great for lowering base price and offering a tight budget option. But for lots of people, the Surface Go is definitely NOT a $400 device as the i3-Y + Pen SKU configured to usable specs as a "Stand-Alone device" costs $750 USD. That's still very affordable. The i5 UP4 I only suggested as a premium option since a lot of people seem to be asking for a 2-in-1 device in a smaller form factor like the 10" iPad Air. As for ARM? Not my preference either, but MS seems to be hell-bent on trying to compete with Apple for their own pride so I threw a bone in there.

They're very different CPUs, yes. But again, Intel list both CPUs you mentioned at a $281 tray price. That's the point - MS is using chips that I assume are cheap enough from Intel so that they can hit the price point they are after while making a profit from every sale (difficult to tell when the 10100Y and Pentium chips don't have a tray price listed but I'd be amazed if they aren't significantly cheaper). AMD don't have anything in the sub-15W range. And ARM doesn't make sense if the x64 emulation isn't good enough. What matters is the price that Microsoft are asking for the product. The base model at $400 simply can't justify a CPU that eats up 3/4 of the total cost, and Microsoft are, I assume as a for-profit company, choosing parts that allows them to make a profit on every device sold. Even assuming that you jump up for the more expensive model, there's both a switch from emmc to a bigger nvme ssd and double the ram for the jump to $550 and another $80 for the CPU boost. Personally speaking I don't think those are unreasonable price points. That and the Pro seems to be the device you're really describing. Also, neither the keyboard or pen are required purchases. A keyboard definitely helps, but I used mine for 9 months with a Bluetooth keyboard I already had at no extra cost over the MSRP I paid. Since then the Surface keyboard I bought has failed - but the bluetooth one still works, and likely will work with my Go's replacment. As for the Pen, I'd love to see the sales numbers - instinct tells me that most Go's are used without one (though obviously I have no evidence, I'm basing that on instinct). Calling that a required part of the purchase really does seem like a stretch to me.

Maybe you're right about the prices. Although I am highly against buying a new tech product that uses an older chipset because that defeats the purpose of buying new rather than used. I'd rather pay $600 for a Surface Go that has i3-1120G4 (7w) + Sata 3 SSD + slower RAM, than spending the same on i3-10100Y + NVMe + faster RAM. In the past, Microsoft has always used older chips in new devices like Surface Book and Studio to cut costs and it worked because those were 1. High-end and 2. Niche at the time. But they can't keep on repeating this strategy in 2022 and expect to be competitive in a growingly popular 10" tablet market. Something tells me the Surface Go is Microsoft's worst seller of the Surface family, and it will continue to fall behind iPad, Android and Chromebook tablets at sales figures if Microsoft doesn't change their formula.

Something tells me iPads unit sales have plummeted from 73 million in 2013 to 40 million in 2019, their tablet market share has crashed from nearly 80% to 34%, and most importantly iPads (and Android devices) ain't computers. Also, exactly how many Chromebook tablets are there? And how many computer programs run on these tablets? Surface products are designed to fill niches that showcase Windows. So unlike Apple, MS is not impacted one bit by increasing or decreasing Surface sales.

It's a well-known fact that Intel never charges list price "RCP" for their CPUs.
Also this quote from AnandTech: "The 7-15 W processors are the former 'Y-series' processors, now known as UP4." So yes, I stand by my argument that MS screwed up big time by not using the latest and greatest Intel and AMD chips that were announced way back in January 2021, they had plenty of time to source them accommodate into schematics. Source: https://www.anandtech.com/show/16063/intel-launches-11th-gen-core-tiger-...

Are they still putting Intel into this? Why? Intel must be paying Microsoft. It makes no sense for a Surface device which should be pushing for the future, not stuck in the past.

Oh, its not as if Microsoft didn't try with arm the first time around and fail miserably...

They have the needed software support this time... Almost all x86 software runs as is.

News flash, Microsoft is pushing ARM again, although they continue to fail because of decisions like putting Intel in Surface Go and massively over-pricing the Pro X.

Do they have a choice with the Pro X? I've yet to see any ARM based Windows device for less than $500. Like I said above, for the Go range the CPU price needs to be cheap. I can't answer for Qualcomm SoCs but if they're in the $250 ballpark just for the SoC then there's no way they can go into a $400 tablet.

Check out the Samsung Dan Just reviewed

The Surface tablet line is about extending the PC ecosystem (road warriors in particular, with Surface Go) not about the consumer tablet market.
Forbes go it right back in 2018:
https://www.forbes.com/sites/ewanspence/2018/10/14/microsoft-surface-go-...
Nothing has changed because it doesn't need to, to sell to its target audience. The whole point is precisely offering an x86 product, not yet another ARM box. Not enough differentiation to justify the effort down tbat road. And if the new Intel x86 mobility chips deliver, SurfaceX may remain a niche or go the way of NT on RISC.
x86 still has a lot of mojo. 😁

x86 will be dead to the mainstream within 5 years. ARM is getting too strong now and Apple dropping Intel will speed it up even more. Putting Intel in this is silly and pointless. You don't buy a device this size to run heavy x86 programs.

Nice try but people said that 5 years ago. Is this the year of Linux?

30 years ago, RISC was going to bury CISC and x86. Didn't quite work out.
We're 10 years into the "Post-PC" era and x86 is still chugging along.
Desktop Linux and ad-supported software was supposed to kill Windows and MS OFFICE. Both have adapted just fine and are still growing. People have a tendency to project tbeir own needs and biases as if they appled to everybody or as if they expect billion dollar entrenched companies to roll over and pay dead. Instead, they adapt and leverage their massive customer base to outflank their would-be murderers. Often they outlive them.

Without Intel Alder Lake, or Ryzen option, or ARM option. For me it is a not go buy it.

I just bought a Go 2 LTE (the M3) a couple of months ago because I thought that it would be another year before a new model came out. I am glad to see that the spec bump on the CPU is not huge in a way - but also sad to see that they are continuing with Intel and not trying to push it to ARM. But at the same time I love that my Go 2 is Intel because I do not worry about running anything. But it is not the fastest thing and battery life is meh. Hopefully as Windows on ARM matures and has more app compatibility it will become more viable.

What if Intel mobility chips catch up?

I'd really have to see a big boost in GPU performance before swapping my Go 2 (m3) for an i3 version.

Intel offers XE graphics only starting at Core i5, so i3 is using the same old UHD graphics as m3. AMD's new "Van Gogh" APUs would have given a significant boost in GPU performance as well as in efficiency for a lower cost than Intel. Microsoft is picking the worst chip possible, trying to save a couple of bucks that comes from not reinventing PCB design.

It has the same HD 615 GPU as the Go 2

Go 2 performance is already good enough, what it needs is about 4x better battery life.

You know what's crazy? That a windows "tablet" can be more expensive than an iPad that can run circles around the pc. Yes, actual Adobe photoshop, illustrator, and Lightroom work on the iPad, and run wayyyyyu smoother even on standard $329 iPads than on any version of the surface go 2 (and by the looks of these specs, nothing will change there either). Don't get me wrong I understand people would rather have this fit the "desktop" apps. But it's just insane to me that there still isn't a processor in these that makes them actually perform competitively. I'm not even saying it has to compete with an M1 iPad, just the basic $329 iPad would be great.

I say all this with love, because I'd LOVE to have a Go 3 instead of an iPad. But I can instantly load pictures and edit them with little to no lag on my $329 2017 iPad. But the 2020 Go 2 (and this according to those specs) crawl with any similar task.

Because that 329$ iPad is powered by a12bionic chip which is faster than even surface pro x. Apple tablets are offering terrefic performance per price which can't be matched by Intel & Qualcomm's current offerings. Qualcomm's future chips are only hope for windows tablets.

As a 2018 iPad Pro 11" daily driver, I completely agree with every word. The apps themselves on windows have too many lags and minor stutters to be able to use as an effective productivity device and not just a media consumption toy. Even on the Surface Pro.

At least the pentium version seems a better deal this time. Personally I have the go 2 m3 and its a good device but I bought it at the go 2 entry price which made it competitive to ipads for me.

You know what is even more crazy? That Apple fanboys don't know the difference between a computer and a big iPhone. iPads are a joke which is why their unit sales have plummeted from 74 million in 2013 to 40 million in 2019. Also, who does photo editing on a tablet? The average consumer uses their smartphone and professionals use a laptop or desktop. Let's not forget the fact that SG's can run 35 million Windows programs and over 600,000 apps from the Windows store (soon to be over 1 million when Android comes onboard). As for the iPad? Only 1.9 million apps. iPads are a dead product, so please stop with the false comparisons. It is 2021, not 2010.
Windows Central Newsletter
Thank you for signing up to Windows Central. You will receive a verification email shortly.
There was a problem. Please refresh the page and try again.