Surface Go vs. Surface 3 (video)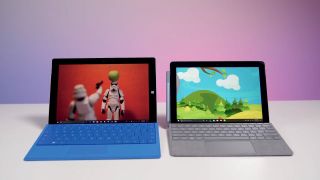 Following its release last week, Surface Go has received plenty of praise as a worthy budget addition to Microsoft's Surface lineup. But it's not the first low-priced Surface on the block; that title would go to 2015's Surface 3.
So how do they compare? Whether you're looking to upgrade, or are just curious about how far Microsoft has come over the past three years, we dove in and pitted the two side-by-side to see how they compare.
Swipe to scroll horizontally
Category
Surface Go
Surface 3
OS
Windows 10
Windows 10
Display
10-inch
1800x1200
216 ppi
10.8-inch
1920x1280
214 ppi
Processor
Intel Pentium
Intel Atom X7
Storage
64/256GB
64/128GB
RAM
4GB or 8GB
2GB or 4GB
LTE
Yes (coming)
Yes
microSD
Yes
Yes
Front camera
5MP
3.5MP
Rear camera
8MP AF
8MP
Dimensions
9.6 x 6.9 x 0.33 in
(245 x 175 x 8.3 mm)
10.52 x 7.36 x 0.34 in
(267 x 187 x 8.7 mm)
Weight
1.15 lbs (522 g)
1.37 lbs (622 g)
Wi-Fi
Yes
Yes
Bluetooth
4.1
4.0
Speakers
Dual
Dual
Ports
USB-C 3.1, 3.5mm headset, Surface Connect
USB-A 3.0, Mini DP, micro-USB, 3.5mm headset
Pen
Yes ($99 extra)
Yes ($59 extra)
Keyboard
Yes ($99-129 extra)
Yes ($129 extra)
Price
from $399
from $499 (orig.)
Surface Go is available to order now in the U.S. and Canada starting at $399. The device is set to come to many more markets around the world in the coming weeks.
Windows Central Newsletter
Get the best of Windows Central in your inbox, every day!
Dan Thorp-Lancaster is the former Editor-in-Chief of Windows Central. He began working with Windows Central, Android Central, and iMore as a news writer in 2014 and is obsessed with tech of all sorts. You can follow Dan on Twitter @DthorpL and Instagram @heyitsdtl.
I miss the Windows button too. I kind of get why they removed, but I loved it.

I love my Surface 3. If I got a Surface Go I'd have to marry it.

Is that more expensive keyboard worth it? I can't shake the feeling that it will either get dirty or wear off leaving bald spots

I got the Grey Signature cover for my Surface Pro and at first I thought I was just being me ...but it actually definitely feels a lot nicer and more Premium then the standard plastic cover, especially when you're carrying the device when it's closed and on the move ...can't explain it but it just feels nice to grip and carry around. My sister has the standard type cover for her Surface Pro 4 and my signature cover not only feels better in the hand but it gives the Surface a unique and Premium look. Been using mine excessively since February and it still feels nice and new and there is nothing wearing off either. If you're not tight on cash and are able spend that extra $30, then you most definitely should ...if not, then the normal one is obviously fine, so just remind yourself, that it's just a keyboard and all that matters is being able to use your Surface.

That is a gross movie being shown in these review clips - the sections with a monster in it. It's almost like an ad too saying October. Subliminal perhaps? There are many movies that are less intense (nicer) that could be displayed to show the video capability of devices. Just saying! Other than that, an informative review. Thanks.

It's the Venom trailer, if you think that clip is gross, maybe it's better you stay off the internet for a few more years.

I'm impressed with the disk read / write speeds on the Go. Wondering if any early adopter tried something heavy like Visual Studio on it...

Yes, I've installed Visual Studio 2017 Community (C#) on mine and it runs fine, at least for smaller projects. I haven't tried anything really ambitious yet.

Anyone tried Adobe Creative Cloud for some light use of Illustrator, InDesign, etc on 8gb Go? I know screen size and chipset seem impractical, but I really like how portable it looks. Thank you.

That surface go wallpaper, where can I get?

Thanks for this review, now I want one ;)

very nice article
thank you
http://techsdot.com

Will you also give the read and write speeds for the eMMC 64GB storage?

Never mind! I see that you posted the eMMC store performance in your full review article of the Surface Go.

The Surface 3 had an AF rear camera also Microsoft just didn't call it out. :)

Is the volume on the Go higher (louder) than the Surface 3? I show videos in a small class setting with my Surface 3 and it's a little on the soft side. Plus I'd miss the USB port, I get handed lot's of flash drives to download stuff all the time, I'd forget the adapter all the time.

You can always use OneDrive and have the "students" share the files that way or use Teams as it's now free. :)

Thanks for the video. This was the one I was looking for. I was wondering about a Surface Go vs Surface Pro upgrade path from my Surface 3.... On the disk read comparison, Surface Pro 2017 is listed twice....What's the diff?

I loved everything about my surface 3 except for lack of storage, and the flexy keyboard. I had all the accessories including the dock. In the end, it was not the device to be my primary device. However, It is an awesome secondary device.

I really enjoyed my Surface 3. I have had the surface 1, 2, and 3 along with the surface pro 3 and now the surface book 2 (high end model). When I had the surface 3 paired with the pro 3, I used my pro docked, at the office but hated to used it mobile just because the fan was always on. It was loud and hot. The surface 3 could do a lot of the work that I need to do on the go and it just became my daily carry. I still use my surface 3 now. Recently it has bogged waaaaay down and before the go was announced, I really wanted another small surface device that was like the 3. That's it! I decided to give my 3 away and buy a go!