Why Surface Headphones may be Microsoft's most important accessory yet
Microsoft's Surface Headphones are its first accessory that parallels the company's cross-platform and work and life strategy.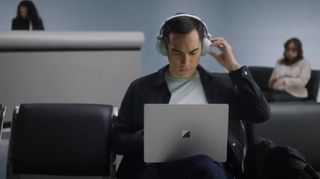 Microsoft's first-party portfolio of accessories includes mice, the Surface Pen, and Dial, the Xbox Adaptive Controller, keyboards and more. Though Xbox head Phil Spencer hinted that the adaptive Controller has potential beyond gaming most of Microsoft's accessories are, as is the nature of accessories, fairly limited in how, when and with what devices they are used.
For instance, Surface Pen would not be used with the iPad. And the Surface Dial wouldn't be paired with the Mac. Surface Mouse likely wouldn't be used all day at work, on the train ride home and then during one's evening leisure time on the coach. These accessories don't belong to a category that is sufficiently "independent" from a particular device or usage scenario to allow broad cross-platform usage and work and life relevance. Surface Headphones are a Cortana-powered smart wearable that does.
Microsoft is positioning Surface Headphones for work and play. As headphones, they are inherently part of a category that has broad cultural and market appeal. Though, the $350 cost is prohibitive compared to what OEM partners may eventually offer. Their Bluetooth compatibility with Windows, iOS or Android makes them easily a cross-platform device that can be used all day between work and home. Though Surface Headphones are positioned to complete the Surface experience, their cross-platform and work and life relevance complement Microsoft's strategy to support our digital experiences across devices and personal and professional life.
Remaining immersed while switching devices
Microsoft Corporate Vice President, Modern Life & Devices, Yusef Mehdi wrote:
Microsoft's goal is to provide a cloud-based platform that efficiently conveys users' digital experiences between PCs and phones. Microsoft Graph ties iOS and Android devices to Windows 10 PCs. Cortana is a device-agnostic assistant that knows users across devices. Your Phone and TimeLine continue user experiences between PCs and smartphones. Text messages can be received and interacted with from Windows PCs. And Project Rome is continuing app experiences across devices.
Microsoft's positioning Surface Headphones to keep users immersed in their digital experiences even as they transition across devices and platforms and between work and play. Microsoft is reaching beyond providing a comprehensive Surface experience toward positioning a cross-platform hardware accessory that supports its cross-platform software strategy.
Those who balk at the intimidating $350 price must remember the Surface brand is aspirational. Microsoft likely wants partners to build more affordable Cortana-powered headphones modeled after Surface Headphones.
Cortana-powered wearable
Microsoft's sluggish evolution of Cortana's abilities, limited availability beyond the U.S. and repositioning as a business-focused "assistive" agent suggests Microsoft has little ambition for Cortana in the consumer space. Given this reality a consumer-focused smart wearable featuring an always-on Cortana heralded by Microsoft's esteemed Surface brand seems ironic. Microsoft doesn't entrust Surface branding to products unless it has faith in them.
Microsoft's three-year Surface Headphone investment suggests it took its time to get the noise canceling features, ergonomic design, eight microphones, stereo speakers and Cortana integration just right for an optimal experience. Sure, Cortana is reviled by frustrated techies, but she's unknown to most consumers despite her Windows 10 presence. Consistent with her assistive assistant repositioning her presence on Surface Headphones and potential on OEM smart headphones that may follow could help to introduce her to a different audience.
Two years ago Microsoft promised Cortana was coming to a range of devices but never delivered. Despite Cortana's U.S.-centric nature and limited capabilities, Microsoft's launch of a first-party Cortana-powered wearable with Surface branding suggests Microsoft may be serious about Cortana in the consumer space after all. Or perhaps Cortana's integration is targeted more toward Surface Headphone's professional positioning and any consumer impact is merely a fortunate byproduct.
Cortana goes from assistant to "assistive"
Becoming Apple?
In 2014 Apple bought Beats Electronics and Beats Music and inherited the popular Beats-branded headphones. Beat's headphones like Sony's and Bose's high-end noise-canceling headphones are comparable in price to Surface Headphones' $350 cost. This is no accident. For years Microsoft's brand was inextricably linked to cheap partner hardware. Conversely, Apple's hardware enjoyed luxury branding and pricing.
Microsoft's Surface brand solves this by pushing partners to build higher quality devices that optimize Windows 10. It also positions first-party hardware that rivals Apple's.
Most consumers may not opt for Surface Headphones when comparably priced Beats headphones are available. Microsoft knows this, which is one reason Surface Headphones are so heavily positioned to complement the Surface experience. If Surface Headphones mindshare grows, Microsoft would likely see value in more aggressively promoting their cross-platform benefits.
More than what it sounds like
Microsoft's Surface Headphones extends Microsoft's brand into an accessory category that has mainstream appeal beyond the PC. It also introduces a "transient" hardware component that moves with users across platforms and between work and play as Microsoft's cloud carries users' digital experiences across the same. They are also a Surface-branded Cortana-powered wearable that can be emulated by OEMs.
Finally, Surface Headphones are a great pair of quality noise-canceling headphones that compete with Beats, Bose, Sony and other high-end brands. With eight microphones Microsoft claims their great for calls and further claimed the noise canceling feature shuts out the outside world allowing users to focus for productivity or play.
Microsoft is positioning an intelligent wearable that helps facilitate its cross-platform work and play strategy with top of the line headphones that it hopes will appeal to audiophiles. As an aspirational device, this may also be Microsoft's first step into a smart wearable category that introduces Cortana to iPhone and Android users in a useful way. Only time will tell.
Get the Windows Central Newsletter
All the latest news, reviews, and guides for Windows and Xbox diehards.
Jason L Ward is a columnist at Windows Central. He provides unique big picture analysis of the complex world of Microsoft. Jason takes the small clues and gives you an insightful big picture perspective through storytelling that you won't find *anywhere* else. Seriously, this dude thinks outside the box. Follow him on Twitter at @JLTechWord. He's doing the "write" thing!