Surface Hub app finally lets artists disable the Windows button to avoid accidental clicks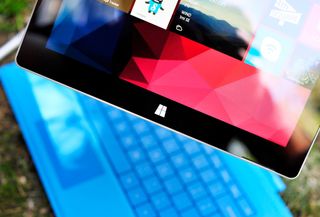 When the Surface Pro 3 was announced, Microsoft had righted many wrongs with the previous version of the hardware. Faster, more processor choices, thinner, lighter, larger display, the list goes on.
However, one thing that irked some people who used the Surface Pen was the placement of the Windows Key. Due to the new keyboard positioning, placing the key near the bottom was simply not possible, so Microsoft opted to put it on the right. The downside? Some artists and graphic designers complained of accidental clicks when they laid their hands on the display to draw.
Today, that issue is finally fixed as Microsoft had promised.
The fix comes via the Surface Hub software, which lets Microsoft dynamically update and add features to the Surface Pro 3's hardware. Besides adjusting pen sensitivity and the assigning the top button on the Surface Pen, users can now enable or disable the Windows button with a simple toggle. This replaces the earlier user hack, which had some negative side effects.
Although we suspect not all users will even bother with this choice, for those who rely on the Surface Pro 3 for drawing or note taking today's Surface Hub update will be a lifesaver. Grab the update, and get going, creators!
Via: Neowin
Daniel Rubino is the Editor-in-chief of Windows Central, head reviewer, podcast co-host, and analyst. He has been here covering Microsoft since 2007 when this site was called WMExperts (and later Windows Phone Central). His interests include Windows, Microsoft Surface, laptops, next-gen computing, and for some reason, watches. Before all this tech stuff, he worked on a Ph.D. in linguistics and ran the projectors at movie theaters, which has done absolutely nothing for his career.
This is a great thing. Has there been any word on bringing this to the original Surface pro or Surface pro 2?

Likely not. Not sure many people complained about it on that hardware because it was at the bottom and not the side, where people tend to lay their hand.

It's sad to see that surface pro 1 or 2 owners don't have a hub app too.

I'v never had ay problems with the button, on my SP2, even though I use it in portrait mode when I draw, so the button is on the side for me.
The SP2 seems to be able to predict when I touch the windows key by accident, so I can rest my hand on it while drawing, with no problems at all. Don't undersand why the SP3 wouldnt be able to do this.

This is why the Venue 8 Pro's placement is the best of all devices. The physical Windows key isn't important anyway. It's far easier just to swipe in from the side and click the on-screen Windows key from the charms bar.

I'm left handed, what's the problem?

I would have liked to seen a long hold on the windows button to bring up a menu to do the same thing. But I'm glad they addressed it none the less. It wasn't too much am issue for Lefties like me, but I like to see MS giving end users choices.

Long hold could be used for triggering Cortana in Windows 10.

Hallelujah! As a dexterous, I can't count the amount of times I've accidentally hit that bloody button.

Why is this toggle needed? Yes I understand artists are accidentally pressing the button, but that's not what I'm referring to. The Surface Pro's screen can recognize the difference between a palm/side of the hand being rested on it and a stylus so the palm doesn't affect the screen while the stylus is being useed. Why not use that same idea to disable the Windows button while you're using the stylus? If the stylus is currently touching the screen, then the Windows button isn't active. Just an idea so it isn't an absolute on or off.

MS probably could add that option to the surface hub at a later date.

A lot of the touches occur when the stylus is up and the hand is moving.

I'm not an artist, but I will love having this button when I use the NY Times Crossword app.

We need this on Windows Phone.

W10 will be the answer to everything.

Bring disable search button to my WP phone please. ;)

They added a double tap feature in 8.1 so simply touching it won't exit out of your current game but defo could use extended functionality.

W10 will be the answer to everything. xD

This is wonderful. I almost always bump it when in PhotoShop.

so they finally admit the side button was silly. almost as silly as the swipe down on bottom edge gesture which is next to impossible to do with a keyboard in the angled position. for as much good things as surface pro 3 has, I'm hoping surface pro 4 will move the button back to where it was. There was no need for it to be on the side. this isn't an ipad no matter how much MS still thinks it is.

TBH, the only people who have issue with the side button are artists/graphic designers. I actually prefer the button on the side because when you are holding it two-handed, you can just use your thumb to hit the Windows key (versus taking your hand off, or swiping). Regardless, the button does automatically disable anyway when you have palm pressure on the screen. The issue is, for some, this was not enough. In other words, Microsoft had thought of the ramifications, but alas it did not go far enough for some. In the end, this is something I think very few people will actually take advantage of on a regular basis. It's kind of niche and moot.

Actually, Daniel, I am not an artist, but use OneNote for taking notes in meetings. I'm glad this feature has been added since I'd accidentally hit the button in the middle of writing notes in meetings. To return to OneNote I would quickly swipe through my open apps to return to it. I never had a solution except to avoid the button. What a hassle. Hallelujah! MS must be a mind reader!

Agreed. I frequently hit it when using OneNote. It was just often enough to be an irritation not a problem, but I'm still thankful for this improvement.

Yes, this was very annoying while using OneNote, which I use extensively. It would have been better to disable the Windows button automatically, temporarily, whenever the stylus was near the glass. I understand it already disables when the pen is touching the glass for writing. The problem occurs when the pen is momentarily lifted between words, to dot an i, cross a t, etc. I believe it should be possible to disable the button also when the pen is near enough to act as a mouse pointer, not just a pen. For good measure, they should also have a small (configurable) delay before re-enabling the button after the pen was last in proximity of the screen (in case one lifts the pen momentarily a tad too high). This really shouldn't be that hard or take so long for all those high-power programmers and engineers at Microsoft.

Can the 2 side buttons on the pen be mapped yet?

I would love to have this option on my Lumia 2520 please

A recessed windows button would have done the trick..Hope they bring it to the next gen Surfaces..

Ugh, I really wish I could have this for my SP2! It doesn't happen everyday, but when it does happen, it's annoying as hell.

I am kinda confused i just downloaded the app and turned off the windows button but it still works does it turn it off only if you are using the pen or permanently i would hope permanently as i constantly accidentally tap it

Abraham, I have the same problem. This software doesn't disable my windows botton on SP3. I updated my sp3 with the latest updates and it still doesn't work. Did you find a solution? Thanks

It works for me at first but when the surface goes to sleep and i wake it up some hours later the windows button is active again although the surface hub still shows it as deactiveted. es only solution is to activate it, deavtivate it again an then restart the surface so it will be disabled again unteil the surface falls asleep the next time. I have a Surface Pro 3 and thelatest Updates installed. I think Microsoft has to patch this.

Seems to me that, simply, turning the device 180 degrees would solve the issue for most people.

Flip tablet over, then the start button is on the side where your hand does not rest. But I'll download this anyway.

There's not a single time I would look at Surface Pro 3 and not think: "Yiiiikes, this button should *not* be here...". Yeah, a lil' obsessive...

Great to see this feature added! Thx Microsoft!
Windows Central Newsletter
Thank you for signing up to Windows Central. You will receive a verification email shortly.
There was a problem. Please refresh the page and try again.