Microsoft releases Surface Hub app to calibrate and customize the Surface Pro 3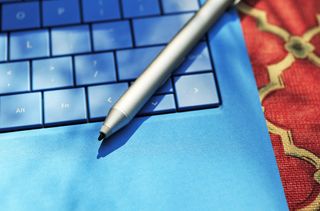 Earlier this week, Microsoft releases a firmware update for the Surface Pro 3. The update was to enable a forthcoming app that would let users calibrate and customize the unique pen for Microsoft's latest tablet hybrid. Tonight, that app is now live in the Store.
Named Surface Hub, the app looks to be only for Surface Pro 3 owners, although anyone can install it on a Windows 8 machine. However, non-Surface owners are greeted with a 'coming soon' screen, as obviously this week's new firmware is what 'activates' it for the right equipment.
The app itself is modest, although it has growth potential, which is why Microsoft made it an app and not part of the OS. After launching the app, users can pan over to various screens, including an introduction, settings, feedback to Microsoft, and your Surface information.
The settings are perhaps the most exciting, breaking down into two categories for now:
Pen Pressure Sensitivity
Pen Top Button
The first option allows users calibrate the pen to their liking while the second lets users set the top button for either One Note Modern (default) or One Note Desktop. As of now, users cannot reassign the two lower buttons, although Microsoft is reportedly considering it for a later update.
Although Surface Hub looks promising, at least on our Surface, the pen is not detected. Likewise, for someone else who already left a negative review of the new app. Perhaps Microsoft is still working out some issues, so we will wait awhile longer to see if anything changes.
[Update: after a few minutes, the app finally recognized our pen and we are now able to adjust the pressure sensitivity]
The Feedback to Microsoft screen lets users rate the Surface on how likely they are to recommend it to a friend or colleague on a scale of one through ten. Users can also add an explanation to that score, which can then be sent to Microsoft.
Surface Hub is still very green for Microsoft and the Surface team, but the app has the potential to grow into an interesting configurator for users in the future. In that sense, Surface Hub is more rousing in its potential than its current form.
Thanks, Anidexlu, for the tip!
Windows Central Newsletter
Get the best of Windows Central in your inbox, every day!
Daniel Rubino is the Editor-in-chief of Windows Central, head reviewer, podcast co-host, and analyst. He has been covering Microsoft since 2007 when this site was called WMExperts (and later Windows Phone Central). His interests include Windows, laptops, next-gen computing, and for some reason, watches. Before all this tech stuff, he worked on a Ph.D. in linguistics, watched people sleep (for medical purposes!), and ran the projectors at movie theaters because it was fun.
I can't wait to get one of these.

It works for me! I can change the pressure curve and top button settings with no problem.

Yup, updated article. It took a few moments for it to kick in.

Wow, you can write and publish an article faster than the app can recognize the pen. That's fast! :-D

Yeah mine worked straight away

Worked for me too , just restarted the system.

So I'm shafted for commiting to the surface pro 1?

Without me there is no you 3!

You are absolutely correct. Thank you for taking the plunge!

Here's to hoping for an update for us first Gen adopters.

There is no need for a update, it uses a different tech, the sp1 pen is much better than the sP3 pen

No your not, the SP1 is a great device. It was released over 2 years ago and the pen is better than the one on the sp3. The SP3 pen uses n-trig which is worst than the Walcom digitizer on the Sp1 and 2. It is still a very capable machine. Money well spent.

N trig is worse? You sure about that? Parallax is better on the wacom? Does the wacom pen can click to open apps like one note , etc ??

Turning your pen around to erase I found to be much better :) I liked it. Also the button to open apps is a gimmic and doesn't even work on Preview for Windows 10.

It is a pretty useful thing to a lot of people. Also, the fact that it doesn't work on a preview for a new version of Windows (one that is focused on the desktop) means what exactly?

You just made my eyes bleed. It's WACOM.

Thanks for the correction :)

Aside from the fact the N-Trig pen with the 3 requires more pressure to register as pen input, and you have to hold a button to erase (as opposed to flipping around for an eraser): I find the N-Trig pen superior to the pen that came with my SP2 in every way.

Hardly. If the SP1 met your needs, then you have most likely had two good years out of it. You knew what you were getting when you purchased it after all.

Not at all. Other than slightly larger screen overall, and probably slightly longer battery life I cannot see that you are missing out on anything.

I never got last week's firmware update...

Same here but the Surface Hub app so far is working for me.

I wanted to download this... Then I realised I don't have a surface pro

I wanted to buy a surface but then I realized I can't because Microsoft doesn't give shit about non US consumers.

In europe you can buy one in all tech stores...where are you from? The arctic?

Latin America, Asia, Oceania, Africa, East Europe, do I need to continue?
There are a lot of places where Microsoft didn't give a shit and is pretty hard been fan of them without access to their products

Sounds like third world countries that survive off of personal generators , I would overlook you too. Blame it on your governments or Hitler for not winning.

Surface works fine on personal generators though.

Really? So they're lying about the 25 or so markets the Surface Pro 3 is selling in?

Sp3, is it available in the middle east?

Online, yes. In stores, maybe not.

So are our tomahawk missles for a limited period of time? Try and catch one it you can

Really?, really? and this was called for how?

Shouldn't you be more concerned about the war happening right now

Does this app fix win 10 pen issues

Probably not, to be honest. Going to have to wait until Microsoft starts updating the Preview for pen and touch input: It's almost solely optimized for mouse and keyboard at present. :/

Cannot download from win10...??

I can map the button to either OneNote on desktop or Modern. However even though I can tweak the pressure sensitivity and which version to open, the button still doesn't launch OneNote on Windows 10 sadly. I got so happy once it recognized my pen after restart but that was short lived when I tried to open it.

Why always surface pro 3?...

Because it's their latest flagship, and the original Pro devices use different pen technologies?

and apparently those pen technologies (wacom) were better than the current (n-trig)

It is not better - Wacom and N-tring both have advantages and disadvantages. eg Wacom has huge parallax and accuracy issues near the edge, and no amount of calibration can fix it. It's a known issue for the longest time which Wacom hasn't really addressed either. Yet only because a small portion of people has gotten used to it they somehow pretended that issue doesn't exists.

I came across a method of calibration that allegedly improves it. Requires some ungodly points of calibration though, I'm too lazy to try haha

Depends on what you're after. I have a SP1 and a SP3. I find note taking on the SP3 to be a superior and more convenient experience.

This. Especially with that much bigger and better display, plus that 150° kickstand, and the easy access to OneNote even when the device is sleeping.

Maybe I'm just crazy, but I'd love to re-assign the Top Button to erase. I really don't like the fact that I can't erase inking with what would be the eraser-end on a real pencil. Even if that means sacrificing the instant OneNote functionality.

Why don't you use real pencil anyway muehehehe

Unfortunately, can't be done with the given tech inside the pen.

I think the idea is that it's supposed to be a pen, not a pencil. You click a pen to get started, which is why they did it the way that they did.

Which setting is everyone using for sensitivity? I went with the highest one for now, but will play around and see what works best for me.

I also moved it to the higher setting so I don't need to put so much pressure on the pen. I'm used to ink pens and therefore I write very fast and lightly. Before the app I didn't find the experience of writing with the pen that enjoyable. Posted via the Windows Phone Central App for Android

I put the slider all the way to the left, actually. It seemed to provide a smoother stroke at lighter pressure on PhotoShop. But I don't really know if it's my imagination or what. I wish there was more explanation of what does what within the app.

No Daniel, Microsoft made it an app and not part of the OS because it's only for one device, the Surface Pro 3.

It Dosen´t Works, the Surface hub couldnt not connect with the device

Guys i think lumia denim will be rolling out in 2 weeks @wpcentral

Here is a link http://wmpoweruser.com/claim-lumia-denim-to-start-rolling-out-in-2-weeks/

Seriously, don't use that site as a reference to anything. You'll just get your hopes crushed. Posted via the Windows Phone Central App for Android

Its not of ur business! I want people to know more!

Rumor, and then people will blame Microsoft when it doesn't happen.

LOL has Verizon even started rolling out Cyan? Nice job big V

I don't have the firmware update pushed to me yet for some reason... I suppose with that happens...

Have you tried manually checking for updates?

Looks like I'll go from SP2 to SP4.

the link on that microsoft website doesnt take me to the app, it just brings me to the store and searching the store doesnt work either

It can take time for the Store to push apps out to all regions, unfortunately.

Awesome. I'm gonna download it now!!!

Well, it doesn't seem to see my Surface Pen, even though I'm using it right now. What's worse is that the app's instructions for getting it to see the pen don't seem to make any sense...

it didn't show up for me until I did a restart.

Sweet! Gunna download it now

Ahh... How I hope this app can be used with other n-trig capable tablet... Even better if it can recognize any N-trig pen... So the configuration won't be only for the top button, but for the 2nd button to open an app too (my Vaio 2nd button is locked to Vaio paper... Which is a very laggy app..)

Maybe they can add a section to the hub called make WiFi work faster than 70megabit even while connected at 270... And that's if your lucky and it doesn't lock on at 2.5ghz on a dual channel SSID so you get 10megabit.

I have a much more customizable setup on my Pro 2 with the Wacom Feel driver, will soon be creating a tutorial over at the Surface Forum...