Upcoming Surface Pro 3 app to bring custom pen pressure sensitivity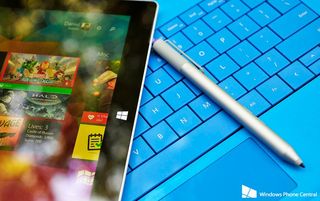 Microsoft is readying an update that will bring improved pressure sensitivity control to the Surface Pro 3 pen in a few weeks. This will come by way of a control panel app that will be available in the Windows Store in about two weeks. The update won't allow users to map the pen's side buttons, but that may be coming in a future update.
According to Surface Pro Artist, Surface Audience Marketing manager Markus Weickenmeier said that the update will add these features:
A firmware update rolled out by Microsoft earlier this week will help pave the way for the new control panel. Making the tool a Store app enables Microsoft to do more dynamic and frequent updates, including adding new features in the future.
Are you excited about improved pressure sensitivity to the Surface Pro 3?
Source: Surface Pro Artist
Windows Central Newsletter
Get the best of Windows Central in in your inbox, every day!
Chuong's passion for gadgets began with the humble PDA. Since then, he has covered a range of consumer and enterprise devices, raning from smartphones to tablets, laptops to desktops and everything in between for publications like Pocketnow, Digital Trends, Wareable, Paste Magazine, and TechRadar in the past before joining the awesome team at Windows Central. Based in the San Francisco Bay Area, when not working, he likes exploring the diverse and eclectic food scene, taking short jaunts to wine country, soaking in the sun along California's coast, consuming news, and finding new hiking trails.
That's great news, but I hope the recent rumour about MS cancelling the whole Surface line is premature!!!

I remember Daniel Rubino SP3 Pro is Windows 10. Will the update works on that too?

It did receive the firmware update this week, yes. So it should get this Store app.

Excellent news. Personally I can't wait, though I've been using a wacom intuos 5 with the sp3, when needed. The looks on peoples faces when I pull those two things out of my bag. Coffee spillage lol

I wish I could get one... Too expensive

sell your kidney. i mean your old techs. ipads, iphones, etc. or credit card.

Sell your health information;)

I'm wondering... Does firmware update means that it's for SP3 only? Will it improve other N-Trig pen? And will the app be available for all?

sp3 only. what other tablet make use of ntrig?

Sony tablets, a couple of older HP machines etc

Yes! Very excited, this is needed badly!

Control over the pressure curve? That's more than awesome.

Wasn't this already on this site earlier this week?

That was firmware prepping for this I believe.

Only surface pro 3? SP2 and Surface pro have become trash?

Well, not exactly, but these are updates for the N-Trig pen that comes with the Surface 3. Doing this would be an independent develoment effort for the Wacom pens in Pro and Pro 2, and may not even be possible. I have speculated that NTrig was more willing to work with MS than Wacom, because they were the 'inderdog' in stylus tech.

lol quote unquote inderdog.

SP and SP2 use a wacom digitizer. SP3 uses a ntrig digitizer. this is to address complaints from artists about the pressure sensativity. also, wacom pens are passive and have no batteries. the ntrig uses batteries and that is why it can use a button to launch an app.

The launching app function is powered by 2 smaller batteries right below the button (aka the cover that screws in), and so is Bluetooth. The AAAA battery is only for the stylus. Therefore you can launch OneNote without the AAAA battery.

Don't have mine yet. Still using SP1 I got day one and saving my pennies. But really encouraged that MS is sending out so many improvements so when I get it, it'll be even more amazing!

The SP3 uses a different tech. (N-Trig)
SP1 and SP2 use walcom tech, it has many more pressure points and more advanced. This firmware update isn't needed for the Sp1 & 2

The pens already have a good pressure sensitivity. I can image digital artists would like more, but there is already an existing tablet and wacom pen for that. I wish microsoft would invest more in improving handwriting to text recognition more and improve the UI canvas input to full screen canvas ink to text recogntion on the fly, instead of using the pen input panel with only two lines of wrting. This technology exists since windows XP 2005 and needs a serious upgrade in the UI and recogntion. While they're at it I would like to see the manual handwriting sample library have a more central place in the pen software UI.

Have a look at One Note as you can write lots and then convert to text. (You probably know this already)

Yes, but it could still do with a lot of improvement as I've discovered in the basics. And the onenote app for windows 8 does not support ink-to-text. I use this app more because it's more simplistic, easy to use and more natural to use when using it on my surface pro. http://www.youtube.com/watch?v=_ro8RLACs7M&list=UU1XKbytqHObDBndR48cyLhQ

I hope they release a commercial showing the increased sensitivity to the Queen song "Under Pressure"
Windows Central Newsletter
Thank you for signing up to Windows Central. You will receive a verification email shortly.
There was a problem. Please refresh the page and try again.