What it's like to edit video on the Surface Laptop
The Surface Laptop is a beautiful piece of hardware, but can video editors work with it? Looking at the specifications of the Surface Laptop given to me for testing, I had low expectations. It's not all bad though.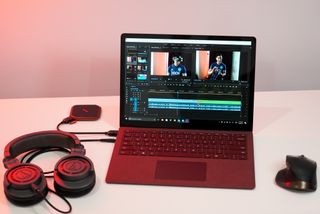 The Surface Laptop I'm using in this article is the model with an Intel Core i5 processor, Intel HD 620 graphics, 8GB RAM, and 256GB storage priced at $1,299. For an extra $300, you bump up to Intel Core i7 processor and Intel Iris Plus graphics. From looking at the specifications, you could assume this model, in particular, won't be much good for video editing, and while you're correct it's not a terrible experience.
See at Microsoft Store (opens in new tab)
Importing
Let's start with the importing process. Unfortunately, the Surface Laptop does not have an SD card reader so video editors will need a dongle. There's only one USB Type-A slot, so it'll be better to carry around a USB dongle (opens in new tab) that includes multiple ports.
Editing & exporting
The video editing app I use on Windows 10 is Adobe Premiere Pro. It's the software responsible for all the videos I've uploaded to the Windows Central Youtube channel. Since it is a separate download outside the Windows Store, I had to upgrade the Surface Laptop from Windows 10 S to Windows 10 Pro. It's a lot easier than you think and it takes less than 3 minutes.
Once the video files were imported into the Surface Laptop, I was initially surprised to see a smooth playback of the videos on the timeline. My hopes increased, but I was quickly reminded of the hardware limitations once I started trimming clips and added simple transitions. Playback started to lag, and it became more noticeable when other apps are open. I opened Slack, Twitter, GroupMe, and Microsoft Word, and it became evident that my workflow would be a lot slower compared to a beefier laptop like the Razer Blade or HP ZBook Studio. I'm able to complete my video projects with the Surface Laptop, but at a much slower pace.
Exporting finished videos is another uphill battle for the Surface Laptop. A sample 2-minute 4K video shot with the Sony a7S II (opens in new tab) takes about 25 minutes to export. For comparison, the Razer Blade with GTX 1060 graphics card and HP ZBook Studio with NVIDIA Quadro M1200 take about 4 minutes to export the same project.
Playing the finished video isn't a problem at all on the Surface Laptop. It can play 4K videos smoothly.
Using an external monitor
When editing videos from home, I usually connect my machine to an external 4K monitor. The Surface Laptop has a mini DisplayPort instead of the newer USB Type-C port, but it works fine as long as you have the right cable. To squeeze out the most performance, it's best to project to the external monitor only, instead of extending and using the Surface Laptop's display along with the external monitor.
Conclusion
Sure, the Surface Laptop with an Intel Core i5 processor can handle video editing, but it's not a pleasant experience compared to laptops with stronger specifications. If you're very interested in the Surface Laptop and need to occasionally edit videos, spend the extra money for the model with the Intel Core i7 processor and Intel Iris Plus 640 graphics. If editing videos is your job, then you should probably look elsewhere.
See at Microsoft Store (opens in new tab)
biggest issue I had with video editing was Premiere required a seperate number pad for some of the keys to work I for got which key it was I will look it up if anyone is curious.

What a smokin laptop. I love it. nope it's not the most powerful. but damn its the best looking!

Yes it is. I hope they develop a new book 2, have the awesome colors, and re design the fugly hinge on that.

Are you kidding! That hinge is the coolest thing ever in a gadget in the last 20 years.

NOPE. its 1. ugly...and 2. takes up extra space when folded...Not awesome at all...

Well, you can have your own opinion. But in my opinion, it's unique and unique is good. Stands out from the crowd.

i'd love a surface laptop pro

Whoa! Mark wrote an article. Wish I knew how to edit video.

Can start learning by watching tutorials on youtube. Lynda.com is also a good resource

Sounds like it's not the right tool for the job. Comparing the device to 2 laptops with dgpu's seems like Apples to Oranges. To me a better comparison is an equally spec'd MacBookPro. Good write up tho. I definitely see the i5 for the average Office user and maybe coder but something more powerful for the graphics and video crowd.

Nice job, Mark. Can you estimate how much faster the i7 version would be? This is an example of compromises made when using a laptop* in place of a work station. It is nice to know that it can be done, but it is good to know the limitations. * Yes, I know that there are workstation replacement laptops, but nothing in the surface line is a workstation replacement, including studio.

The Surface Laptop is premium ultrabook, arguably among the top in its class. Performance-wise, it is no doubt as capable a video editing machine as any other similarly-specified ultrabook. None of the dual-core 13" models, up to and including the Surface Book, are going to be able to excel at video editing compared to a 15" quad-core rig having a much higher TDP. To single it out this way, without providing a a bit more context, could lead a casual reader to assume that the Surface Laptop is somehow underpowered compared to other, similar, machines. I don't think that is your intent. Adobe does provide solutions for more modestly powered rigs. You can use proxies for edits, particularly helpful for 4K editing. Similarly, still shooters can use Smart Previews (proxies) in Lightroom.

While a lot of people uses Premiere, it is very resources hungry before you do anything with it, Premiere is a awful video editor. Try something lighter like Vegas and you may get better resualts. I do not know what Mark expects using 4K, that is going to test even the more powerful machiens, I have a Ryzen 7 1700 and I have not done 4K on here yet as I do not have a 4K camcorder or monitor, but I think this machine may stuggle a bit anyway, i do need to update my video card if I go 4K. anyway 4K is not that popular yet, while there may be many people who have a 4K TV, I bet most of them have never had 4K playing on it.

Hmm I wonder if Microsoft will make a Surface full sized Workstation Laptop computer with a optical disk DVD read/write drive. some of them are as powerful as desktop computers. In fact some People use them to replace their old desktop computers

Why these types of performance tests?! We all know the new Surface Laptops are premium general purpose computing devices...right?
Windows Central Newsletter
Thank you for signing up to Windows Central. You will receive a verification email shortly.
There was a problem. Please refresh the page and try again.