Surface Neo, Xbox Series X, and all of the other tech we're looking forward to in 2020
It's going to be a heck of a year for Microsoft fans.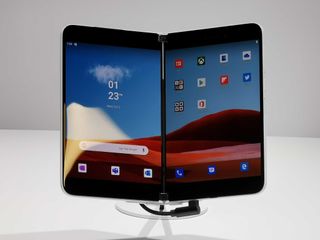 (Image credit: Windows Central)
This year is shaping up to be one of the biggest for Microsoft in terms of how much tech it's readying for launch. Gamers have a new Xbox to look forward to at the end of the year, while Surface fans will see their dreams of a Surface phone realized with the Surface Duo. Then, of course, there's Windows 10 X and dual-screen PCs in general, along with so much more.
One thing's for sure: 2020 is going to be an expensive year for some of us. Here's a look at all of the tech and software we're looking forward to this year, and just why we're excited about it.
Xbox Series X
Jez Corden, senior gaming editor
2020 is a huge year for Microsoft when it comes to general hardware. Like many others of us here at Windows Central, I'm overly excited for the Surface Duo, and the possibilities of a modern, streamlined Windows running on the Surface Neo. For me, though, the big one to watch is Microsoft's Xbox Series X strategy.
We've heard that Microsoft will ship not one, but two consoles for its next-gen Xbox offering, with modern CPUs that drive ray traced lighting and reflections for more dynamic visuals. On top of that, the two-pronged approach has been viewed by some as a risky proposition, as Microsoft pits itself in direct opposition to Sony's singular PlayStation 5 model. With digital lock-in making it less likely than ever for people to switch from their current preferred ecosystem, it remains to be seen whether features like Project XCloud, and Microsoft's increased investment in first-party games can realistically make a dent in Sony's console marketshare.
The Xbox Series X (and its possible Xbox Series S cousin) are only a part of Microsoft's gaming aspirations for 2020 and beyond. As mentioned, the Project XCloud game streaming service will begin rolling to the masses in 2020, allowing users to turn their home console into a personal game streaming server. In our testing, we've found that console streaming works extremely well for turn-based games on a modest home network infrastructure, but it's really XCloud itself that will prove itself more intriguing. Microsoft's more Netflix-like XCloud service will stream games directly from their high-power data centers, which, so far, has proven itself to be viable for more demanding 3D games such as shooters, fighting games, and sports titles.
Microsoft is also working hard to court PC gamers with its high-value Xbox Game Pass for PC offering, although some of its other social tools, such as Xbox Clubs remain in limbo. It's unclear whether Microsoft will continue to push its own Xbox-branded PC gaming ecosystem into the future, or simply double down on Steam, where Halo: Reach for PC has already seen massive success.
This generation will be the first that is fully representative of Phil Spencer's vision for gaming at Microsoft. With Xbox Game Studios offering more exclusive titles than ever before, huge hardware commitments, and a bigger budget for practically everything gaming at Microsoft, it will be fun to see what Xbox can truly do when it stands on its own, unrestricted by the Windows division and Microsoft at large.
Dual-screen and foldable PCs
Daniel Rubino, executive editor
Two years ago, I wrote how Microsoft – and its OEM partners – were going to try to push the 2-in-1 category forward with dual-screen PCs. Many of the comments were dismissive and even doubtful, but it is evident that 2020 is the year of dual-screen and foldable-screen laptop PCs.
We know now that Lenovo has an X1 PC with a foldable display set for release sometime in 2020. Microsoft, too has its Surface Neo launching for next year's holiday season. Microsoft even let it be known that ASUS, Dell, and HP all have contributions to this push for dual-screens. We also understand that these devices support magnetic physical keyboards to help with that whole typing problem.
So, will they a hit or a flop? At least Windows 10X will help with the new user experience, but like the original 2-in-1 category, it is likely to take a few generations before everyone figures it out. Either way, it's officially happening. For those who yearned for Microsoft's original 2009 Courier concept, it's about to become a reality. And that's super exciting.
Windows 10X
Zac Bowden, senior editor
2020 is going to be a pretty big year for Windows, as Microsoft is expected to debut a new version of Windows 10 built from the ground up with a modern core, designed for modern devices such as foldable PCs. Known as Windows 10X, this new version of Windows 10 features a brand new user interface that's quite the departure from the Windows we know today, along with new features and changes for a more modern experience.
Windows 10X will be the first consumer version of Windows to be based on Windows Core OS, a restructuring of Windows from the ground up that's much more modern and lightweight, compared to the bloated, legacy version Windows we have today. Windows 10X is a modular OS, meaning many legacy features and components that most users don't need today have been stripped out in favor of a far simpler user experience.
Even though many legacy components have been removed from Windows 10X, users will still be able to run legacy desktop applications thanks to emulation and sandboxing. Legacy desktop applications are sandboxed on Windows 10X, which means they run in a secure environment that can't as easily affect the rest of the system. If you're not running a Win32 program, legacy components are shut down and aren't called upon until necessary, meaning improved system performance and battery life too.
Windows 10X will be launching first on foldable PCs at the end of 2020, but we understand that Windows 10X will be coming to more traditional form factors at some point in the future as well. Microsoft wants Windows 10X to be the new default version of Windows for most people. Similar to how Apple treats iPadOS and macOS: iPadOS is for most people, macOS is for power users. Windows 10X is the OS that Microsoft wants most people to use, with existing Windows 10 becoming the option for power users and enterprises who need legacy features and support.
Surface Earbuds
Dan Thorp-Lancaster, news editor
Something I'm pretty excited to get my hands on in 2020 is Microsoft's Surface Earbuds. It may not be as exciting as a new OS, foldable PCs, or a new console for most, but the accessory was one of my favorite takeaways from Microsoft's October 2019 Surface event. That's why I was pretty bummed out when Microsoft ultimately delayed them to Spring 2020.
I was waiting to see if Microsoft would jump into the premium wireless earbud space before buying any for myself, so I'll be happy to at least test a pair whenever they end up launching. I'll admit I'm still coming around to the design, which features a rather large touch area on each bud, but the promise of excellent audio quality, a comfortable fit, and some interesting Office and translation integrations is tempting.
That's not to say I'm handing my money over just yet. Apple's AirPods Pro and Google's Pixel Buds 2 are mighty interesting as well. Then there's the raft of much cheaper earbud options out there that could fit the bill. Still, I'm stoked to go hands-on with a pair once they're available.
Though, if Microsoft ever manages to launch the fabled black Surface Headphones, I might be swayed that direction as well.
Surface Duo and Microsoft's Android efforts
Sean Endicott, news writer
2019 was arguably Microsoft's biggest year ever on Android, and it sets up for an even bigger 2020. Microsoft continues to expand its library of apps and services on Android, with several apps reaching one billion installs in 2019. In 2020, we'll see the rollout and next steps for xCloud, Your Phone, and the Office suite. Microsoft is unifying the look of apps across platforms, bringing dark mode to more apps, and delivering a growing number of services to mobile users.
It feels like years of Microsoft shifting its mobile strategy is coming together in 2020.
On top of all of the apps and services that Microsoft builds for Android, it is also entering the hardware space with the Surface Duo. While this dual-screen phone won't be a direct competitor to the likes of OnePlus and Samsung, it will give us a glimpse into Microsoft's vision for Android.
I'm curious to see what and Android phone from Microsoft looks like. What will its launcher look like? Will it have an upgraded version of Next Lockscreen? Will Microsoft add any features to stock Android? These are just a few questions we'll have answered in 2020. Samsung already integrates Your Phone directly into the Note10. I'm anxious to see what Microsoft will do when it has deep access to the software and hardware of an Android device.
What about you?
What's the tech you're most looking forward to checking out this year? Do you agree with our picks, or is there something else that's caught your eye? Let us know in the comments.
News Writer and apps editor
Sean Endicott brings nearly a decade of experience covering Microsoft and Windows news to Windows Central. He joined our team in 2017 as an app reviewer and now heads up our day-to-day news coverage. If you have a news tip or an app to review, hit him up at sean.endicott@futurenet.com (opens in new tab).
Happy new year everyone? I am eagerly waiting for the Surface Duo to come out, and I am hoping that it features an AMOLED or OLED display.

Surface Duo and Surface buds please. I literally cried when the Duo was announced and I'm a sucker for headphones/earbuds of any kind.

I literally cried too. Out of disappointment. I wanted a phone that was Windows-based and supported UWP apps, if I wanted an Android phone I would have gotten it years ago.

UWP? Why? That platform is dead.

@bleached You know something is dead or dying when a company barely even supports their own product like MS with UWP.
It's like WM before it. MS displayed their lack of faith in the product time and time again yet the super fans refused to see it and act all hurt and shocked when MS finally officially pull the pin. You can add consumer Cortana to this as well.

bleached you have been trolling Windows Central since the Windows Phone Central days. I've been coming here at least five years and yourr schtick hasn't changed at all. Don't you ever get bored? Or lonely? It seems like you would lead a very lonely life.

"Surface fans will see their dreams of a Surface phone realized with the Surface Duo"
That is the most incorrect statement I have ever heard. The Surface fans dreaming of a Surface Phone (regardless of the fact that Microsoft still refuses to call any of their devices a phone, even the Surface Duo) were dreaming of a phone that ran Windows and supported Windows-based apps (mostly UWP). Surface fans used Surface products because they liked Windows, if all they cared about was the hardware and wanted Android or iOS they would have gotten a Chrome Book or iPad. This has been confirmed, very soon after the Surface Duo was announced and we were told it was going to use Android at the Surface Event an online petition to release a version with Windows X and that supports UWP apps was launched at: https://www.change.org/p/panos-panay-satya-nadella-panos-satya-give-us-a... Most Android developers will delay optimizing their apps for dual-screen, they will just be happy that people are using their existing apps. Windows developers, however, will be writing new apps for the Surface Neo, which means they will be optimized for dual-screen from the start. Therefore, the Surface Duo will most likely not be that much better than the currently existing Android devices. I strongly ask that all true Surface fans sign the petition mentioned above. Thank you.

I kinda of felt the same way when it was announced. The Surface Phone Windows fans dreamed of was running Windows or some version thereof. Seeing Android and Google branding all over the OS when the Duo was announced was just bizarre after they had just announced Neo running Windows 10X. What's the point of a scalable new Windows OS if you only plan to put it on the same screen size Windows has always been on?

While i too am disappointed this Duo surface phone is running android i can see why they chose this path out of the gate and hope that Gen 2 Duo will ultimately come back home to Win 10X or a new lighter Win10 mobile.

Anyone hoping for a phone running UWP apps is braindead. Why the hell would anyone want that?! There are virtually no important apps on UWP and like hell this device will tip the scales to get developers on board by end of 2020

Are you angry? Or are you afraid of Windows users encroaching on your iOS/Android space for some reason? Seriously, calling people "brain dead" just because they don't agree with you truly shows what kind of person you are. It's simple: people like what they like, and that's a good thing. UWP is a great platform with a lot of potential. I've developed 4 apps on UWP myself. The platform just hasn't fully matured yet. It's true that it may take awhile for that platform to replace Win32. But we're at the very first step here with the Neo. Windows 10X is the first real step we have had. Windows 8 and Windows 10 were simply bridges to this first step, a step that involves replacing the legacy parts and platform with a more modular replacement. Calm down. Enjoy the ride. Let's see what happens.

Am pretty much in wait-and-see mode for the Duo and Neo. Neo will be more exciting when I see how it functions (comparing it to iOS isn't a recommendation) and Duo would have been exciting if folding Android phones weren't already a thing. The messaging for the two devices is too mixed for me. Only time will tell.

I know some users like to comment as though they speak for everyone. I won't do that. I'm excited for the Duo. I live in the world where Microsoft no longer makes a mobile operating system, but it does make a lot of really good apps for the mobile OS that most of the world uses. And now it is going to make its own pocketable device that also has telephony and two screens and that will likely come loaded with most of those great mobile apps and they will be optimized for two screens and share data back and forth with Windows devices. This form factor will solve a real usability issue with phones: the need to leave one app to get data from another and then move back. It will also provide new opportunities for app layout, gaming and more. I want there to be a few models of the Duo with different specs, just as with other Surface devices. I will buy the high end model on Day One.

No one is complaining about Microsoft apps on Android. The problem is that you can't actually take apps aside from Microsoft ones with you to the PC unless you use an Android emulator. To explain, when Windows Mobile was a thing, you could receive notifications from apps on your phone and they would show up on PC and you could open it on your desktop because the same apps ran on both. With Android I can text notifications on PC and that's it. I can get all the notifications I want from non-Microsoft apps sent from my phone to my PC but I can't do a thing with them unless I pull out my phone because there is no continuity from Android to PC. The closest solution isn't even Your Phone but Dell Mobile Connect but the latter is a battery drain. TLDR The idea of Duo is great if you only ever plan to use Microsoft apps and love Android but not super exciting for those who really want the link between PC and mobile which is still shoddy at this point. Also, announcing a new dual screen scalable OS then not having it available at all on their dual-screen phone makes no sense and made it clear they have no confidence in their own software.

Ideally, the Duo would have been running some variant of UWP based Windows (10X), but as you know, the choice for the 'phone' form factor is made. In some ways, going with a different OS from Android on the Duo (which is still a 'phone') is equivalent to trying to build a new desktop OS that is not Windows (or Linux or macOS) - doable but ultimately pointless because of the apps. Who would write apps from the ground up for a brand new OS on a mature form factor with thriving alternatives today? Let's take a practical example, say the latest Huawei 'bans'. Notice that Huawei is trying to fork out Android, and not even bother trying to come up with their own OS - and all this ends up with the apps. No matter how inherently 'good' your OS is, without the apps, it is just a fun experiment that may be exciting but will not take off. The story is different though with the Neo. For a 'newish' form factor, then there may be a slim chance that the choice of OS is still open and developers are willing to write new apps for the new interaction model. Time will tell. I still expect the Neo by itself to be niche at best, but I may be wrong. The Duo though may see success comparable with the Surface Pro line, simply because it's just another (different) Android phone (with hopefully better support), with the entire Google Play store available on day one. One can't argue with that. With this, maybe MS can encourage developers to start thinking more along the lines of dual screen foldables, and maybe we will get some 'trickle up' effects to the Neo. Lots of maybes, but I think given their position in the mobile space, MS has made the best decision for the Duo. TLDR: The Duo, being another 'phone' (although different), has no realistic alternative but to go Android, unless MS wants a repeat of WP and WM. The Neo may have a better chance with a different OS (10X) because of it's larger, productivity-based, and new form factor which Android typically struggles to succeed in because of its consumption-based roots as a mobile OS. Android is almost always pointless beyond the phone form factor. This is where 10X on the Neo has a chance.

I understand why they went Android but again, I just don't see the benefits to Windows. Like you said, there are an awful lot of maybes and I don't even remotely expect Windows 10X to get support from developers after the way Windows Mobile and UWP were mis-handled around the end of 2015. As I stated, I am waiting and seeing as far as Microsoft's experiments go. They like to accept my money but their support disappears too quickly these days if something isn't an instant success.

It's true that there appears to be the tendency these days for MS to easily give up on non-instant hits. But I think it only seems that way because they cleaned house and narrowed-down their focus within a short space of time. They are no longer making half attempts at anything - either all the way or nothing, which is a reasonable strategy in the ultra-competitive market. I think the Duo is MS attempting to have some foothold, no matter how tenuous, in the mobile space. At least a foothold they have some decent control over, similar to the position of Samsung, LG, OnePlus etc. The benefit to Windows I think will only be an indirect one. An example of this may be like Google's chrome browser on Windows. It is safe to say that regardless of how 'unhappy' Google may be with supporting anything MS/Windows, they will never abandon the chrome browser, even if they'll never develop any other app for Windows. Chrome for Windows is a critical gateway which they simply cannot afford to take lightly, so they continue to develop it. For the Duo running Android, MS wants to at the minimum have their premier mobile apps and services front and center, as visible and optimized as possible. Baseline is that they do not lose out on the reach of their apps. For benefit to Windows (10X), I can only think that this *may* encourage devs to explore the similar form factor of the Neo. At least, a consolation is that the existing UWP apps should quite seamlessly work on the Neo, so that's encouraging.

I appreciate your concern, but I don't share the problem. When I get notifications of an email or a text on my Android phone, because I use Microsoft's apps, the email or text is also on my PC when I write a response. I can review or share any Office doc I've created on the PC with someone by showing it on my phone. There are apps that send notifications on my phone that have no Windows partner. Ring is probably the best example for me. Or a banking app. I can just quickly open the webpage on my PC however. This is good stuff, but the better part of the dual screen Duo for me is the ability to pull data from one app onto another without needing to leave the first app.

This whole situation is a clusterfuck. I'm convinced both devices are going to be a major flop without app parity between them.

Writing this on my P30 Pro, and I can't say I would have minded only having the apps available through the MS store. So, when the Duo and Neo are out and someone manages to get W10x running on the Duo, I'll get one. Having a SFP I don't see me buying the Neo. Perhaps when my SFP need replacement and the Neo can dock and do 2x Philips 49" Super Wide 499P9H displays.

I who to like if Microsoft brings a lumia device launcher for Android whit life titles and all the other screens cal messages, mai, agenda etc dat who by Osam.

Really the only exciting thing in this list is Xbox Series X. I can't imagine ever owning a Windows device again. It's been several years without one, and I don't miss it. All my business productivity software just works better on iOS. It's a shame Microsoft couldn't even keep business productivity developers on Windows.

I am looking forward to the Duo hardware. If it's been several years since you have used Windows how can you profess it lessor to iOS? Windows 10 has turned into one heck of a great OS. One Drive and app integration with my S9 and Black Edition Blackberry KeyOne makes things seem seamless between devices. I think the new Chromium based Edge Browser will make it all that much better! I have a 6th Gen iPad and it feels foreign between my work, home, laptop and Android devices. Some of the frustrations with iCloud and iTunes have all but ruined iOS for me. My One Drive does integrate with the newer iOS files but its a one way street. Apple just plain does not like to place nice with others. Pulling 60 GB of team videos off of my 128GB iPad has been the most mind numbing experience EVER... One Drive has finally done the trick. Actually plugging in my iPad to Desktop or Laptop is laughable, especially having to load iTunes. (One of the most useless applications in my experience)

Surface Go 2 -- ARM, LTE, Windows 10X, and a 10" screen thanks to smaller bezels! Not exactly 'new' tech, but I'm not greedy. :)

Meh, I'm happy with my surface go and old and busted Samsung S7 edge. Both of them are perfect for my duo needs. I feel there is no real need for a two screen phone. not to mention the odd size it has when folded. Id weather purchase something like the Motorola Razor folding screen thing. At least it feels more practical than the Samsung origami machine and Surface duo.

Can not be deleted... Sorry

I'm looking forward to the Windows 10 phone that will never be replaced 😂🤣

I have to say that I disagree with Jez's digital lock-in theory. Is that really any different than having physical games. Whenever you switch platforms you still have to start over. And if you want to sell a console with a bunch of digital games, can't you just change the email address associated with the account?

Galaxy S20+ from Microsoft Store?
Windows Central Newsletter
Thank you for signing up to Windows Central. You will receive a verification email shortly.
There was a problem. Please refresh the page and try again.