World's first foldable Windows PC is here, it's from Lenovo, and it's AWESOME
Foldable PCs are coming in 2020 and Lenovo has the world's first. We go hands-on with the future.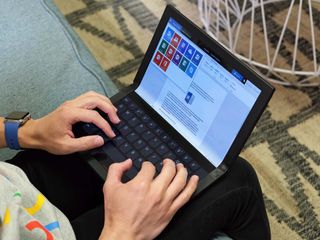 (Image credit: MrMobile)
In October 2017, we first reported that Microsoft was working on a foldable PC. A few months later we wrote that dual-screen PCs were also on their way. While that vision has evolved from "Andromeda" to "Centaurus," the initiative to reinvent PCs for the future went unabated.
Today, the foldable PC is becoming a reality. Lenovo just teased its forthcoming book-like Windows device coming in 2020. Although there are only a few prototypes in existence, we got to spend some time with one.
Specs and features
What we know about Lenovo's ThinkPad X1 foldable PC
Lenovo teased the foldable PC at its Accelerate conference (opens in new tab) with a quick look at what it can do, who it's geared for, and what the future of Windows will bring. It has been under development for the last three years, with much of the work taking place in Japan.
The foldable PC does not yet have a name, but it is a part of the ThinkPad X1 line, which is Lenovo's premium offerings that also face stringent ruggedness testing. There is no price yet. There is no release date, but it is expected sometime in 2020.
Lenovo ThinkPad X1 foldable PC specs
Swipe to scroll horizontally
Category
Spec
OS
"Windows-based device"
Processor
Unannounced Intel platform
RAM
N/A
Graphics
Intel
Storage
N/A
Display
13.3-inch 2k OLED
4:3 aspect
Touch and inking supported
Pen
Wacom AES
Ports
Two USB Type C
Audio
Stereo speakers (Dolby)
Wireless
W-Fi and 4G LTE
Camera
Front-facing
IR camera with Windows Hello
Keyboard
Bluetooth
Touchpad
None
Battery
N/A
Dimensions
N/A
Weight
Less than 2lbs (< 907 grams)
What OS it runs is not evident. While the prototype we saw was running full Windows 10, Lenovo was quick to point out that this was only for the demonstration. Instead, Lenovo wants us to say it's a "Windows-based device", which is a smart way of avoiding talking about the "Windows "Lite" OS, which is what we're expecting to be featured on this – and other – foldable PCs.
The screen is 13.3-inches OLED at a 2K resolution, with full touch features. The hinge is a torque design that allows the screen to bend and hold into a variety of angles, not just opened or closed.
LG – not Samsung – makes the display technology, and it doesn't have quite the visible crease that is found with the Galaxy Fold. Likewise, there is an anti-scratch layer built into the display versus being a sticker on top.
The most significant difference, though, between the Lenovo foldable PC and Galaxy Fold (and Huawei Mate X) is Lenovo supports inking; not only can you draw on the screen, a high-end Wacom digitizer gives it a smooth and accurate drawing experience.
For a processor, Lenovo is using an unannounced Intel-based one – likely part of Intel's 10nm mobile lineup, due in early 2020.
4G LTE is also part of the package, which makes this PC a real "use anywhere" device. For ports, there are two USB Type-C, which can be used to connect to an external display, add a mouse, keyboard, or storage. While not on the prototype unit, there is also support for Windows Hello for bio-authentication using an infrared camera system. Stereo speakers flank the screen to deliver what is expected to be very decent audio.
Highly mobile
So who is Lenovo's ThinkPad X1 foldable PC for?
Delivering a new paradigm for computing means the audience targeted will naturally be smaller. Lenovo sees this foldable computer as "a primary PC that can replace your laptop" and ideal for "road warriors and business executives that are highly mobile, as well as tech enthusiasts."
During the demonstration Lenovo laid out a few real-world possible uses for the PC using a "day in the life" scenario:
Wake up, fold it into a book, and start the day scanning your social media feeds in bed.
Walk to your kitchen, unfold it, and stand it up for hands-free viewing of your top news sites.
Hit your commute on the bus or train and morph it into a clamshell to catch up on emails.
Get into the office, dock it into your multi-monitor setup and get to work.
Go into meetings, take notes with its pen, and write on a full-screen tablet.
After lunch, set up the stand and use its mechanical keyboard to type out a few work emails.
Come home at night, open it up and stream your favorite shows.
Relax in bed, fold it in half and enjoy your latest read before going to sleep.
There is an included Bluetooth keyboard, as well, but it was a non-working prototype when we saw it.
Hands-on
What it's like to use Lenovo's ThinkPad X1 foldable PC
Using the foldable PC was remarkable. Closed, it looks and feels just like a hardcover book or moleskin especially with the leatherette wrapping. The pen attaches nicely to the exterior and the total size when closed is half that of an Ultrabook laptop. The weight was ideal – not heavy at all.
Image 1 of 2
Unfolding the display reveals a drop-dead gorgeous screen. Even if this PC didn't fold, its 2K OLED display would stand out on its own. There's no perceptible airgap, colors are bright, and inking was one of the best experiences I've had thanks to Wacom AES. Folding the display halfway and turning it into a clamshell PC was fun. Half the screen turns into a virtual keyboard letting the device mimic a small laptop (think Surface Go size).
Adding things like 4G LTE, stereo speakers, Windows Hello and the ability to plug into modern accessories, even docking it to make it a "desktop" PC, all felt natural. While traditional 2-in-1 PCs let you jump between tablet, laptop, and presentation modes this device has even more adaptability.
There are still questions though. For instance, while folding into a book to read will be great it's not clear what you will read on it. Microsoft just killed its book store and Amazon's Kindle app is not on the Microsoft Store. Microsoft and Amazon, though, are closer than ever so maybe a new app for Amazon Kindle could be coming later this year. If so, Microsoft could feature that app on this PC.
Battery longevity is also unclear, but if it is using Intel's 10nm chipset that could help equal things out. Lenovo says it will get "all day" battery life and it features Quick Charge technology, but it's still too early to peg exact hours of usage.
Finally, there is the cost. The Samsung Galaxy Fold costs $2,000, which is also about what a good laptop costs these days. There's little reason to think that Lenovo's foldable PC will be cheaper. On the contrary, the price could be significantly higher, but we do not know yet.
Year 2020 and beyond
Foldable PCs more to come
It's important to remember that while Lenovo is the first to announce a foldable PC, it is unlikely to be the last. Our sources tell us that this is but one device of a change in thinking in computing that will be taking place in the next few years. PCs will be lighter, thinner, faster, and more adaptable as cloud computing becomes a reality. Dual screens, foldable displays, ARM processors, Intel CPUs, and Windows Core OS will usher in this era.
Microsoft reportedly has "Centaurus" in the works for this fall – another dual-screen, foldable PC running Windows Core OS. Other manufacturers – including Dell, HP, or Huawei – could also release such PCs. The more significant point is that this is a concerted effort by Microsoft and its partners to launch this category, like the push for convertible PCs in 2012.
That effort also means we'll see different designs, features, specifications, and price points. While a foldable Surface would be the most expensive, Lenovo's ThinkPad foldable would likely be cheaper and aimed more towards mobile professionals.
Lenovo promised more details on its foldable ThinkPad X1 PC in the coming months heading up to its planned 2020 release. We're also still waiting on Microsoft to unveil Windows Lite – including its ability to run Win32 applications. Such an announcement seems likely for October.
For now, we have the promise of the world's first foldable PC to hold on to, and based on how impressive it is, we're OK with that.
Windows Central Newsletter
Get the best of Windows Central in in your inbox, every day!
Daniel Rubino is the Editor-in-chief of Windows Central, head reviewer, podcast co-host, and analyst. He has been covering Microsoft since 2007 when this site was called WMExperts (and later Windows Phone Central). His interests include Windows, laptops, next-gen computing, and for some reason, watches. Before all this tech stuff, he worked on a Ph.D. in linguistics, watched people sleep (for medical purposes!), and ran the projectors at movie theaters because it was fun.
This does look very promising. Here's hoping for more than all day battery life - more like, ARM-based mobile tablet battery life.

This in ARM would be amazing.

Someone will do an ARM version at some point. This is a whole new category with years ahead for growth/refinement. I expect a few OEMs to jump on this including, obviously, Microsoft.

I realize that, but unless some real time use reviews show differently, it looks like Lenovo may have gotten it exactly right on the first try. It is quite hard to imagine (which you have said many times) what these future devices will look like or even do. As far as the new Intel chips, are these only supposed to match power drain while running for battery life, or are they able to mimic the same always connected aspect of ARM?

I hope HP builds one. I'm really digging their style.

I'd be quite happy with Intel and battery life exceeding recent ultrabooks but not quite matching ARM-based mobile tablets. Like, a device that I just wouldn't have to worry about charging every day, but would otherwise work just like a decent laptop. I think the Intel 10nm chips might get us there.

What is wrong with charging every night after hours? as long as the device is fresh and squeaky clean in the morning?

Nothing wrong with that unless your work demands money battery life, but in general battery improvements are always welcome

With my usage pattern, I need a dedicated reader for PDF's, books, my own notes, Word documents, etc. (a Samsung Android tablet in my case) and a Windows tablet for inking (mostly taking notes, ink-to-math, and doodles), light productivity (Word, PDF authoring, lots of web research), and coding (mostly using data, which tends to eat up battery). I can't just use my Windows tablet as a reader because on one or two days a week it would just run out of juice. I spend most of the day "on the road" (I have an office but don't use it). Even days when I'm at home, with a device that can easily get though 8 hours on battery (light productivity) I have to watch my usage - and eventually the Surface Pro gets docked. There's also a worry about battery longevity. The battery of my last Surface Pro died a real warrior's death even with the help of my Samsung tablet. If my Surface Pro could do, say, 16-20 hours on a charge, then I wouldn't need the Samsung tablet. But today's Windows on ARM devices, which really can do 20 hours on a charge, are just not powerful enough yet - and I'm still very reliant on Win32 apps. So that's my story about why a device that can go "all day" isn't really enough, for my usage at least. Also why I can't wait for a super efficient Intel chip that can go toe to toe with today's mobile i5's in all usage cases.

This is the future, no doubt. I can't possibly see how this wouldn't find a market.

I won't be satisfied until I have a 27" tablet that I can scrunch into a ball and shove into my pocket.

You are half joking and I agree with both halves.

It'll be called the lenovo paperball

How you know that it won't be the HP Spectre Sphere?

I'm waiting for someone to make a yoyo PC. I will die a happy woman 👩

what about folding it up and wearing it on your wrist?

That looks cool for... somebody The very first thing I thought of was, "If it's that large then I'd rather have a laptop." I have a Lenovo Yoga Book - and I really enjoyed it - but I never thought having another screen would be more beneficial. I can't imagine casually using that thing on the couch. And I also can't imagine a typical "business" user taking advantage of it either as a physical keyboard is more preferable. Unlike a foldable smart phone, which gives you half regular (albeit thick) phone and a tablet when you need it. This is essentially all tablet. There's definitely a niche for that, and I'm glad for those that can get some genuine use out of this, but that doesn't look like the future of computing to me.

It all depends on how you look at things. People said you did not need a 5" phone when HTC came out with it now look at phones. With the pen you can do alot of things with this device in both tablet and laptop mode. The one thing I think this needs to beable to do is flip the other way to so you can use it for making notes ect. Yes it's not for eveyone but it's the same with the galaxy note or a smart watch ect. I do see some great uses for it and what will be intresting to see is if Microsoft bring one out for the surface line.

I still would like have a < 5" device with current hardware. Unfortunately, there is none.

A modern 5.8" phone is about the same size as a 4.7" used to be.

The Palm Pre was my favorite ever form factor. Followed by the iPhone 5. Where's the Sony Xperia 1 compact when you need it...

https://www.cnet.com/news/the-199-palm-mini-phone-is-ready-to-stand-on-i... The difference in size between an S10 and iPhone 5 isn't that great. The size of the S10 screen more than makes up for it. There is a reason small phones stopped selling.

"And I also can't imagine a typical "business" user taking advantage of it either as a physical keyboard is more preferable. "

It has a physical keyboard. You'll see in the coming months how it's used, it's super clever.

You have piqued my interest even more.

Looks like it's part of the tablet when not in use. I notice we only see one side of it when it's closed (in your video) and the keyboard is about the size of half the tablet. I'm certain there is more to the trick. Unrelated to my speculation I would love something like this for work. I mostly use my laptop docked and would love to hand written note taking device for meetings

Is the dark part of the keyboard, at the bottom supposed to be the TouchPad?

I'm assuming it's a cover or slip that goes over the portion of the screen that is the on screen keyboard and is then used to press the screen with each key.

Nevermind, I just read the section that it just comes with a Bluetooth keyboard, that's far less exciting.

I am not sure how it is too big. It is similar to Surface Pro or iPad Pro, the tablets that people actually buy and hold. You forgot that your laptop is twice as big as it has a keyboard too.

But a Surface that can fold into a device that has a digital keyboard that looks like it could replace your physical keyboard depending on how you fold it.

It won't fit in my pocket?

Anything that can fit in your pocket will be way too small for Windows.

Not if it folds out. Or connects seamlessly and wirelessly to an external monitor.

You're trying to reason with a brick wall..

You mean like a Lumia 950 XL, oh wait. You just can't stand that all the innovation is on the Windows side and not the android/chromebook/OS scroogle side of the world.

He means the Windows Desktop OS, and he's right, that running on the screen of a 950XL would be God awful. Also people seem to think that a folding screen magically gets so much larger than when it's folded, yes it is technically twice the real estate but the differing aspect ratios make a HUGE difference to viable content, unfolded is only really beneficial in a business environment, or web browsing. Which I guess one could argue is entirely the point, but for media consumption this device would be a waste of money.

After the Samsung Fold debacle, I wish Microsoft would just make a phone. I like that someone is working on this like HoloLens, but I don't think this or HoloLens will be ready for years even as it's promised to be "ready" in a few months.

Nah bro. Unless they have apps and developers backing or PWA becomes a things there is no reason to make a Windows phone. Let the past die. I'll be open for a open source of Windows Mobile OS though.

I think the internet is just going to get more and more platform agnostic and designed around mobile. Microsoft might not have to do as much as they think to get back into mobile.

So is this that special device that you guys talked about on the podcast? Because it's awesome!

Haha. Thats so ridiculous.

Looks very promising. Not only is it cool, but I can see it being very useful too. Not a gimmick.

Now if only devs would publish their apps on the Microsoft Store.
Is Microsoft's revenue share really that large that devs avoid it like a plague?

"Is Microsoft's revenue share really that large that devs avoid it like a plague?"

This information is easy to look up if you wanted to know: Microsoft dropped its cut to 5-15% depending on linking strategy in March. Apple takes 30 percent.

There are +800 Million devices with W10 out there. I'm sure its more than zero. lol

Not much more. Look at Microsoft's comments about the store from last week.

Revenue share was about the same as Apple at some point but they went down last year (or this year). I hope Google follows suit.

One could make an argument that app stores only work well in mobile ecosystems.
Microsoft decided there was no need to have a mobile platform.
Windows Store went from potentially viable to ghost town.
Probably a coincidence.

They would work fine on desktop too, but I think decades of conditioning is hard to overcome.

The screen tech is maturing and it seems LG looks better than Samsung or Huawei (not sure was was the oem on the Mate X demo units). If Andromeda gets back on track, then a new hardware design will be required. Panos, get to work!

I will say that right now is LG > Huawei > Samsung unless proven wrong.

I can't wait to see the scratch-gate outcry when reviewers have had their Mate X for a week or so...

Where is LG's folding phone screen?

Stop trolling, and be quiet. Geeze. Give it a rest.

I am not trolling. This isn't a phone screen. Engineering a hinge and screen at the size of this device has to be easier than a phone sized device.

You're trolling if I say so, low end device boy.

I love my OP6T, but I will get the 7 Pro soon, especially if TMobile has a trade in deal. I would like to upgrade to a GTX 2080, but my 1070 is still working fine. I don't really have anything low end, but I don't really have many devices. Gaming rig and phone is about it. Also, a Surface for work.

rodneyej, dude try to encourage him when he's not trolling. He's not trolling! I haven't seen this LG device either.

A folding phone is going to have a much harsher environment that this (being shoved in pockets for example). LG might not think the tech is ready for that environment, but it is here in a larger, sturdier design (the hinge for example looks much more robust than one the Fold).

Exactly what I was getting at. The smaller the form, the harder it is to design.

It's been a while since Samsung is trailing behind in screen technology especially in the high end... There QLED tech is a joke for amateurs that don't know it's glorified LCD... Anyway LG in screen panels have been king for a while... And I have bought Samsung screens for almost 20 years... But my next one will be a LG...

Without the nitpicking. I can't wait for a tear down so we can see how the screen actually does its folding. I'm curious if it has some mechanism built inside that allows the screen to have some space so that it doesn't crease when folded. I think it would be cool if it had a screen on the opposite side so you could just breeze through emails and information... sort of like a small built in app that allows you to swipe through emails and messages, check time calendars without opening the laptop.

I'm also curious about the fold. I'm no engineer but I wonder if it's not easier to make a folding screen in a larger device - maybe the fold itself can be less harsh, and thus more robust compared to the Samsung Fold? Just a thought.

Give it a Surface Book like bend when closed to make the screen more reliable.

Surface Book all the way !!! 👌🏾👌🏾👌🏾👌🏾

Looks like "Courier"... Bet the call it the Lenovo Scribe😳😳😳😳😁

ThinkPad TwoFold sounds better....

For a prototype, I am impressed.
WoA will also make the designs more competitive/interesting and I am sure MSFT would let OEM use some of their library of patents they've published on folding hinges and mechanisms.

Inspiring and looks like a solid implementation. There's a few things I personally would want in a foldable tablet PC. 1) I'd like it to be smaller - like folded a maximum of about 8.9 inches, just small enough for a jacket pocket or small purse and hold in one hand. Maybe even like 8 folded. I don't like to carry big bags, and I think that would make the portability more worthwhile. MFST also needs small screen experiences, if it's ever to get UWP or scaling to take off. 2) I'd prefer windows on ARM. The newer chipsets should be fast enough, and for a portable device, the longest possible battery life is best. In addition, of course, it would bolster ARM native apps. 3) It needs more OS UI and app UI intergration. Other than that, solid. I love the idea of leather on the outside, because this idea is so much like a book.

I like what I see here, but yes, if it is smaller in size it would make a huge difference to how and where using such devices, adding mobility service it would be just awesome.

You guys know that ARM only runs Windows Core well and that Win32 emulations sucks? By a lot in comparison to how smooth UWP runs? For now of course. Windows on ARM will be a hard pill to swallow for some and I know it will get undeserved hate like Windows RT got when it was released.

With Microsoft's recent comments on UWP and the Store, I doubt WoA is being pushed very hard. I didn't see anything about it at build and when was the last time a WoA machine was released?

There were two releases in the 2nd half of last year. Sure it's not at the current speed of normal PCs, but it is still early... I would love to see some 2019 editions though.

We haven't heard anything for a while. Now we just wait for some lip service before they abandon it.

I'm not disagreeing that it's too slow, but one can also argue that MS hasn't exactly pushed the way forward for other OEMs either. When/If they make a WoA device, I think thats when it will gain some speed. This all could be to your point though. It's hard to say they WON'T abandon it if they arent pushing the tech with devices or at least talking about them with ads. Hopefully this is all just a long game untill Apps/emulation are ready or ARM chips rival at least a core i5.

Waiting for emulation to be viable would be a poor strategy. With their comments on UWP, I would bet they are no longer focusing on ARM.

Looks great but what about I/O ports, upgradability and keyboard? Three pillars of the Thinkpad?

Never mind, people ignored "Think"pad for a long time. Now it's just a logo. Though X1 is still equipped with a better keyboard than MacBook, it's almost no compatible with old school and full length Thinkpad t43 t60, etc.

And now, Microsoft, hurry to get your Windows tablet mode right, which is, at the moment, abysmal.

Be awesome with Windows 8.1

Heck no, be better than Windows 8.1. They should steal some ideas from Chromebook with the recent task overview

Cool. I think the "laptop" design (display+keyboard+touchpad) is already the best design for a mobile work device. No need to re-invent that. This Lenovo device, to me, reinvents the tablet instead, and this is a great thing. This Lenovo device seems to be the solution to the tablet conundrum. Bringing around a big tablet to me has always been a bit awkward, why not bringing a laptop instead? But this X1 makes it convenient to bring around a big tablet. Cannot wait to see it in action.

Folks it's sad the Microsoft Surface Centaurus device is not ready yet because if you like
this device the Surface Centaurus will I think be a smaller version of a device like this
but may have 2 separate 7 to 8 inch touch screens as opposed to a single screen. Last I
read is that it wont appear until the New Windows "Lite" operating system is ready in 2020.
I hope the Microsoft "Centaurus" Device has a built in feature Cell phone to send/receive
phone calls with

The device is a step in the right direction. But where I see the big problem is what we always say. Applications. After about an hour into the Keynote of Build this year you could see where MS focus is for developers. It is not development for its consumer Windows products. MS has moved so far away from Ballmer's "Developer, developer, developer" mantra that I fear they have dug a hole too deep to get out of. With MS it is everything about AI, ML and Office. That is great, but now is the time to strike with something fresh and hot. Apple and Android are stagnant and there is nothing creative about their products. But they continued to give reason for developers to build for their platforms. MS has so much potential, but as of late with cancellations of this and that product they send a strong statement to developers.

The only reason is money. There is a ton of cash on the App Store and the Play Store has the numbers.

I like the idea, but man the crease is going to be killer, unless they designed the hinge a lot better than Samsung did, stuff will creep into that joint. That is why I like the "arc" approach either like the Surface book or the arc to flat approach of the MS vision video.

Don't take my criticism the wrong way, I love the idea, especially the "laptop" mode. This would work great as a "carry around" device for me as a professor, easier to carry between classes, labs, and administrative meetings, plus a actual pen. In organic chemistry the pen and MS Whiteboard are an essential feature.

Is this the Big Thing that Daniel was talking about in the podcast? Then I'm a bit underwhelmed to be honest. I wonder if this will be long lasting. For now I think it's in the category 3D and Curved TV's. Hopefully WCOS can make the difference.

I doubt it. I think the word was 'gamechanger'; this is a niche product at best. Not something that will have a broad appeal...

I think early versions of this tech is in the same category as 3D TV or curved screens, but think about the evolution of it. Curved screens are really a precursor to foldable screens. 3D is really a precursor to something like the hololens and AR/VR. As the tech mature it will become more mainstream.

The case is a key pad? Take my money

If this foldable PC does well, as far as durability is concerned, we might see LG foldable phones with inking, and it might just be a Windows based device, once MS releases their new Core OS. For those that might read this and think MS fanboyism... No, it's not. Despite what people think about MS and Mobile, they have the best inking setup of any os mobile or otherwise. If they intergenerate fully usable phone features into Core OS, no reason we wouldn't see such a device.

Pretty much what I'm hoping for...!

I have a few Surfaces and Pens. I have only used the iPad pencil once, but it worked better. It was more accurate and just felt good on the screen. I don't use inking in my normal routine though. It just isn't a great experience, not sure if the iPad would change that.

Can't speak fo iPad, but never had issues with my inking experiences on my Surface. I use it fairly regularly in OneNote. Experimented with drawing, but haven't been all that motivated to draw anything serious. But, for the small things I've played around with, it works well.

Yeah, it definitely works, just not as well as the iPad.

You don't have any MS products, and you can't afford a Surface.. Please. You're a low end Android device fan. Get real.

I have had a few Surfaces, but my work buys those. I have no use for a Surface at home. Personally, I have a custom Windows gaming rig (2700X, EVGA 1070) and a TMobile One Plus 6T that I flashed the unlocked software on. In the past I have always had Nexus phones, but I am not a big fan of the Pixels. I am not paying $1000 for a phone with a giant notch and chin when OP6T is literally half the price and better hardware. I have used low end Androids when waiting for insurance claims or whatever and they have been fine, except I play Pokemon Go and you need a bit of power for that.

Very cool, but not a form factor that will suit my needs; I'd still rather have a truly mobile (pocketable) device a la Andromeda... It doesn't seem like much of a leap to expect such a device slightly further along the line, though!

Agreed. This would be the only device form factor that would satisfy me.

Just another laptop form factor. You will need the keyboard to be efficient with Windows. There is no touch ecosystem and Microsoft is turning away from UWP and the store. No reason to put "Windows Lite" on this machine. With that screen size and a keyboard it should just be full Windows. "Lite" will just gimp the ecosystem even further.

Lite runs Win32 and this has a physical keyboard, which has not been shown in its full capacity yet.

Then what is the point of Lite?

I think Kobo still supports it UWP app, plus you can read Google Books in a browser.

Lenovo. Nuff said. Check out - https://www.grc.com/sn/sn-522.htm and numerous other sites. It's chinese spyware distribution vector.

You know they're the biggest shipper of enterprise PCs, right?

Interesting, basing your statement on a 4 year old conversation discussing a discontinued practice with some software which was not actually spyware. It was not good behavior, but to call it a spyware distribution vector is a bit mis-leading.

It had me interested until I read Lenovo! Will never own another Lenovo!!!!!!

Funny, I have had no problems with Lenovo, but I HAVE had problems with HP and Dell.

I like hearing about no crease in the screen. If LG has a screen like this, LG is going to be doing very well.

LG have a rollable TV, they are nailing foldable screens at the moment.

Thank you Dan for bringing this to the WindowCentral readers. I was beginning to think all the Andromeda talk was about nothing, but after seeing this prototype, my faith is returning that Microsoft really is working on something (e.g. WCOS) that is about to emerge. This prototype looks pretty cool. I don't want to be too negative here, but I have tried touch keyboard on the Yoga at Best Buy, and I had to stare at the keyboard in order to hit the keys. That won't be very productive if you have to do a lot of typing. Maybe you can learn to type without looking at the keys, but I think tactile feedback is key (no pun intended) to typing without looking.

Only a matter of time before Apple copies err.. I mean invents this first.
Looks great.

I'm thinking a foldable monitor for gamers would be awesome, since you don't have to be as worried about the screen getting damaged in transport. :)

It would be awesome if one half of the fold was a mechanical keyboard and the other half was a large monitor.

imagine this being a Surface. Surface Fold.

Since MS gave up on foldable they should copy this and call it so...

MS didn't give up on a foldable, that is the whole point of Centarus. They did delay, who knows how long, Andromeda (the not a phone, phone size foldable). Listen to Zac and Dan, at least a couple of times a month they talk about the dual screen Centarus system in development. Whether it is one or two screens, the OS will serve the same purpose (crease versus line).

Maybe I am in the minority here but I hate these folding screens. They are chunky devices. There is a problem with working on a folding screen no one has been mentioning, which is the amount of glare at the fold. I am noticing also that one side is usually cast in shadow.

I gotta admit, it looks pretty neat, maybe my mom would use something like this.

Make one that fits in the pocket, give it xCloud gaming, phone capabilities, the new Cortana skills, and I am SET!

Very Cool; Would Think: Wireless Charging eventually in the Augmented Reality patterns would generate collections and security inspectors selling Cyberpunk shoes and clothing to make stay and focus for personal projects not being dictated by the observation of social commerce; Having the gadgets electrified then as well as the perception, the importance for posing to the larger standard Desktop screens; digital manuscripts could be unrolled in various sizes making use of various devices (keyboard), then the Desktop computer transmits the wireless information \ Touch to enable the manuscripts in the smart grid; The process to get rid of these situations then is the route to rediscover the personal computer; then eventually post the digital value on the internet in case blogs are available from these realities meaning the extended part of the personal computer; Deep \ Dark Web? The Random Web; at least it is what had been perceived;

ALL this needs is telephony, a Phone App and a SMS app, and I would buy it and drop my Android like the bad habit it is.

And carry this huge thing around? Have to pull it out of your backpack and unfold it for every call?

Or, you know, use a Bluetooth headset. I don't take my phone out of my pocket to answer a call, why would I need to take this out?

I feel like "foldable PC" is the wrong term for this, I mean, any laptop is a foldable PC. More like a foldable tablet. As an aside this is pretty perfect for my use case for work so provided it doesn't have an exorbitant price tag (not holding my breath) I can see a device like this being my next tablet/PC.

This just signed the death warrant for Centaurus (if it ever existed). How can Microsoft expect Surface to be a category-defining device line if they can't get their crap together and be the ones to actually define the category... 🙄

Do you not think MS has a hand in designing this... where do you think the "software experience" is coming from.

For once MSPU shows something you guys didn't. In their images they showed a top down closed view (so you could better see the hinge) and there is a perceptible gap between the sides at the hinge, meaning they left room for an arc in the screen when folded. That makes me feel better about the long term viability of the screen. It also appears that the edge is better sealed in this than the Galaxy Fold.

A closer look as the MSPU image actually shows the screen almost forming an multiple arc bend when folded, which explains why the crease is softer than the Galaxy Fold and why the sides of the joint look so flexible. There seems to be a second mechanical hinge behind the flexed screen.

Time to scrap Centaurus and start over.

I think there are scenarios for both. A line could be better at a lower cost than the crease (or the crease could be too obvious rather). Likewise a line may allow a thinner or more robust device. The real unknown is how Windows develops the "book form" user experience.

Once WCOS for foldable-big-screen is out, the sim-ready-small-screen-tablet is just a piece of cake imo...

Absolutely AWESOME review of a device type we cannot even begin to comprehend or compare with anything else - yet. It was a good idea to point out the orchestrated push by MS and its partners with a focus on synergy between software and hardware.
I think the Surface Pen is very close to natural to write with, so I really look forward to try out this Wacom AES tech on a WCOS-based device 😍
Windows Central Newsletter
Thank you for signing up to Windows Central. You will receive a verification email shortly.
There was a problem. Please refresh the page and try again.