Surface Pro 3 128 GB ship date pushed back by 10 days for new orders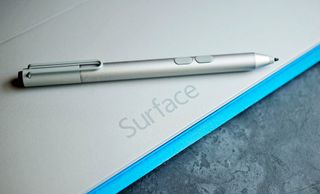 The Surface Pro 3 is slated for release later this Friday, but only for the Core i5 versions coming in 128 GB and 256 GB ranges. The more budget friendly Core i3 and wallet-busting Core i7 configurations, however, are not due until the end of August.
Microsoft may be dealing with somewhat high demand though, as the $999 Core i5 version with 128 GB now has a June 30 ship-by date, slipping by 10 days from June 20. The change in shipping appears only to apply to new purchases, and not early pre-orders. Accordingly, if you reserved your Surface Pro 3 128 GB prior to the last 24 hours, your new tablet/laptop hybrid should still be on track for delivery.
Presumably, Microsoft and Best Buy will also have the128 GB version on-hand in stores for immediate purchase starting Friday as well.
Does this mean that Microsoft is pushing more than anticipated inventory for the Surface Pro 3? It's too early to tell as production numbers could be lower than the 256 GB version, or other supply issues could be causing the delay. It will certainly be interesting to see how well the Surface Pro 3 sells in its first weekend, with many eyes on the high profile and category-breaking device.
Microsoft Stores and select Best Buy locations already have the Surface Pro 3 on display to the public, letting consumers get an early-look at Microsoft latest creation. As part of a promotion, Microsoft Stores will offer an exclusive Red Type Cover, with Best Buy getting select access to their dark Blue Type Cover.
The Surface Pro 3 news follows our earlier story observing substantial discounts on the Surface Pro 2 by up to $200 as Microsoft plans to reduce current stock.
How many of you have ordered your Surface Pro 3 already and if not, are you going to go to the store to see it?
Source: Microsoft Store (opens in new tab) (US); via Tablet PC Review forums; Thanks, Joe920, for the tip!
Daniel Rubino is the Executive Editor of Windows Central, head reviewer, podcast co-host, and analyst. He has been covering Microsoft here since 2007, back when this site was called WMExperts (and later Windows Phone Central). His interests include Windows, Microsoft Surface, laptops, next-gen computing, and arguing with people on the internet.
Ordered it within minutes of it going on pre-order. Still shows "processing" hoping it shipps and I get it on Friday and dont have to wait till next week.

I can tell you from experience with the SP2 pre-order that it will probably say processing and "no tracking history" until the very last minute. I think they stage these things in UPS warehouses and then label them and deploy them to the doorstep the morning of.

I saw it it was love at first sight ay the Microsoft store. I preordered online I hope I receive it in Friday. Microsoft online customer service is terrible. One person tells it will ship Friday. Another person says it will arrive on your doorstep Friday.

How is public response there at your store nearby. Do ppl check out the pro3 there??

They are both right. It will ship and arrive on Friday. See my post above.

A silly question but how much storage is available for users in 128gb? How much does the system eat up? Posted via Windows Phone Central App for Android!

I think it ends up being around 100gb free, after the OS and system files.

Check surface.com specs, it indicates approx. 96 GB left

Oops. Will check and thanks. I was worried about that! 256gb is much better I guess. Posted via Windows Phone Central App for Android!

Actually, I would probably buy the 128Gb and then buy a 128Gb micro sd card. There is a $300 difference between the 128Gb and the 256GB i5 but a 128Gb micco Sd is only $99 on amazon.

The 256 has 8 GB of RAM, the 128 has 4 GB

Isn't the 128 using Intel's 4300 vs. the 4400 for 256? So another difference there.

256 is much better if you are ok for $300 extra. Especially because it comes with 8 gb ram which i guess is very important for people who use SP3 for development. I have the Original Pro and it start lagging in memory and speed if i open a few windows along with Visual Studio. 8 gb is the sweet spot. Thanks Microsoft and Yes i am buying the version with 256 gb storage. I have not pre-orderded as i am waiting for a few reviews from Technology sites before I take the plunge.

I agree with you in that sense, but I just recently sold my SP2 256GB for about $1000 after buying it for over $1600 after taxes... That's a pretty big hit compared to people seeking their 128GB models and only losing 300-400 bucks. So if you're gonna sell it in the year or so, I'd say the 128gb has better resale value.

Agreed. My choice is more on 8 gb RAM than storage. If there was a Surface with 8 gb RAM and 128 GB storage with a 1100 price tag, i would happily buy that. Is MS listening :-)

Thanks! I keep forgetting that Microsoft posts that information right on their website.

128GB has >96GB available per tech specs listed on https://www.windowscentral.com/e?link=https%3A%2F%2Fclick.linksynergy.co...

This is it folks. Surface brand is getting the attention it deserves. It will sell out.

I had a heart attack for the first half of that headline lol

I'm going to wait a little on this one, Make due with the 2520. But come this fall I'll pick one up.

Sorry for being off topic. At last Facebook app gets a new face. Beta version updated with new UI. :D

One would assume in the face...

They are worst programming company ever.

I used to love the html 5 integration on WP. It was too good. They should bring back

HOLY CRAP IT LOOKS BEAUTIFUL!!

That's what I told.....:)

I'm going to Best Buy bright and early to purchase one.

Have you received confirmation that we'll be able to buy them in stores this Friday? The people at Best Buy and Microsoft couldn't give me an answer.

Got my 256GB i5 preordered with the red type cover a little while back.

Is it being delivered on Friday? Or, just shipped Friday?

Both. They seem to stage these things in nearby warehouses or something. They will show no tracking history until early Friday morning. Then they show up at your house the same day. Expect it Friday.

Anyone out there an architect? How does the i5 version work with software such as AutoCAD, Sketchup, Rhino, and Revit? Also light PhotoShop and illustrator work. I need a new computer, debating on surface 3, or holding out till they can make an external gpu docking station. It has to be the next thing coming (I hope)

This button has now become relevant to me http://www.nooooooooooooooo.com/ ordered mine online possibly too late lol so may not get it on the 20th

Well, as long as they have this all sorted out in mid-July, I'll be fine.
Also, question for the US folks, specially those living in New York: does the Microsoft Speciality Store at the Time Warner Center sell the SP3?
I'll have a friend bring me the Dark Blue type cover from Best Buy but I'd rather he get the SP3 directly from Microsoft...

That is a good idea, I heard the best buy kind are different than the Microsoft kind.

It's not a difference in hardware as they're not different. It's a question of warranties. The SP3 is to bring to Europe. We have Microsoft here... We don't have best buy ;)

Guys, what is the exact price of Surface pro 3 128GB, i5 with type keyboard?

1100++ Posted via Windows Phone Central App for Android!

Full price $1130 plus tax, or $1017 plus tax if you're a student or teacher.

Depends on the country... $1,208 in Australia (inc tax / GST)

Saw it in store last week, didn't feel compelled to buy since I just got the SP2 when it came out a few months ago; having to get a new type cover definitely sealed the deal for me to skip it

I preordered the 256GB i5 version in store two weeks ago. I still think going to the store for some things is best. Hopefully MS expands its physical footprint a bit more so others can do the same.

Just checked my pre-order. Still showing shipping on the 20th. 256GB model. Saw it in the store last week, and fell in love.

Pre-ordered in the store. I'll be picking it up on Friday... 256GB i5

I already received my shipping notification this morning but I can't track if for about 24 hours to see where they are shipping from and get an idea as to when it will arrive (hoping maybe it will arrive on Thursday as a bonus).

Ordered an i7 256 8gb the day the preorders went live. Really looking forward to this device. Having said that an i5 128 would be great for college kids. Hmmmm....

Pre-ordered at the Microsoft Store. Really hope I can waltz in this Friday and pick it up. 256 version. Posted via Windows Phone Central App

I preordered an i5, 4gb, 128gb model from Best Buy weeks ago as an upgrade from my Surface RT. I can hardly stand the wait!

I've already ordered mine and I can't wait to use it on Friday!! I got a chance to use one back in May when the new Atlanta Microsoft Store opened and I loved how thin it was :)

Guys where do you usually order these devises? WalMart? Best buy? Amazon? Etc..??

Microsoft, Best Buy, TigerDirect, etc. Lots of details here on the different models and accessories.

Out of nowhere the wife said I should get one.....i wasn't going to say no. Will replace my surface rt that will be for the kids now. Unfortunately, I will be camping until the 22nd so I guess I will be picking mine up on the 23rd. Will be checking out reviews while I am camping though. I guess this means the SP3 is selling well!

I have been to two best buy stores after the 8th and no SP3 on display.

Even though i had preordered, my order says the RED TYPE COVER is BACKORDERED. Called MS Store all they could say is that it was in high demand, they had no clue when it would be back in stock.

I saw the red type cover at the Microsoft Store - didn't care much for it. I ordered the SP3 from the store but will probably wait to see the dark blue type cover at Best Buy. When I went to Best Buy, they were showing the SP3, but with no type cover or pen (for fear of theft). The great thing about going to a Microsoft Store is that you can get a true feel of the product since it's not weighed down with any anti-theft device and both the typer cover and pen are there to play with.

None of the 4 Best Buy's I went to had them, they all said they would have a demo unit on the 20th.

Just hoping that no one goes as far as setting tents outside of best buy on Friday. No door busting please.

I preordered my 256 i5 online yesterday morning, and had a heartattack when I first saw the heading of the article this morning! I'm leaving for a trip on the 25th, and wanted to make sure that I had it for then. It looks like I probably won't have the red type cover, but I PRAY that I get the machine on Friday so that it can get set up for the trip. I'm still waiting to get the order confirmation in my email. I sure wish that we had a Microsoft store somewhere nearby, but the closest stores are a full day's drive from here.

For the 256GB you shouldn't be worried. It's only new orders for the 128GB that have a later ship date.

I preordered mine at the Microsoft store on Saturday....hopefully I still get it. I ordered the 128GB version and red type cover.

I hope the surface pro 3 does well, I predict it will. Seems like the tablet that really can replace your laptop.

Ordered up my surface pro 3 back in May...got the 256g version with the I5 core processor..can't wait

same. Purple type cover. Hopefully they both arrive Friday.

Tried the SP3 in an Ms store this weekend. Also looked at other laptops and ultrabooks, keeping an open mind. SP3 blew them out of the water for size and versatility. Also liked the new type cover much better than previous model. Seemed more stable, with better key range. I'm not quite ready to purchase but this will be my choice when I do. I'll have to get the 8gb.

Ordered my 256/i5 on the first day from the Switzerland store. Arrival at 31.08, but the status is on BackOrdered. What does that mean?

Just ordered yesterday morning. Email says Ship by 6/20/14. Must have barely. made it.

Umm... It does not ship until 31/8...

Yeah. A while to go for me to receive my Surface Pro 3 i7/512GB :( Although I should be getting the red pro cover soon.

Microsoft Store Online Officially Sucks I pre-ordered the surface 3 i5/256gb model on June 17th, and I didn't receive any e-mail confirming the shipping, so I contacted them, and they said "oh we didn't tell you, it ain't shipping till the 30th. All orders placed at or before the 16 June will ship on the 20th, anything after such as the 17th of June will not ship till the 30th. and they apologized, which did not make any freakin sense in my world. I drove to best buy, asked them to price match the student discount, and now I have the surface 3 ...
Windows Central Newsletter
Get the best of Windows Central in in your inbox, every day!
Thank you for signing up to Windows Central. You will receive a verification email shortly.
There was a problem. Please refresh the page and try again.