Surface Pro 3 and Surface Pro 4 make their debut in India; prices start at ₹73,990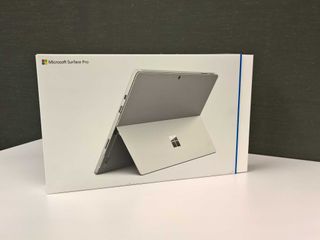 It's been a long wait, but finally, in a press event in New Delhi, Microsoft announced the launch of Surface devices - Surface Pro 3 and Surface Pro 4 - in India. While the two will be sold to consumers, only the Surface Pro 4 will be sold via enterprise channels.
Microsoft will showcase the devices at Microsoft Priority Stores in Delhi, Gurgaon, Noida, Bangalore, and Mumbai for one to experience the products, however the devices will only be sold online, being exclusive to Amazon India for six months.
Surface Pro 4 Specifications
| Category | Features |
| --- | --- |
| Operating System | Windows 10 Pro |
| CPU | 6th-Generation Intel Core i5 or i7 (Skylake) |
| Display | 12.3-inch PixelSense Display at 2763 x 1824 (267 PPI) |
| Storage | 128GB or 256GB SSD |
| RAM | 4GB, 8GB |
| Rear Camera | 8MP |
| Front Camera | 5MP |
| Dimensions | 11.50 x 7.93 x .33 in (292.10 x 201.42 x 8.45 mm) |
| Weight | 786 grams |
Surface Pro 4 prices in India
Surface Pro 4: 128GB /Intel Core i5/4GB RAM: ₹89,990 ($1,346)
Surface Pro 4: 256GB /Intel Core i5/8GB RAM: ₹120,990
Surface Pro 4: 256GB /Intel Core i7/8GB RAM: ₹144,990
Surface Pro 3: 128GB /Intel Core i3/4GB RAM: ₹73,990 ($1,107)
HCL is the Authorized Device Distributor in India while Orient Computers, Frontier, and Team will be Authorized Device Resellers for the Surface Pro series in India.
The Surface Pro 3 and Surface Pro 4 go on sale on January 14, although the pre-orders start today. All Surface orders include free premium delivery on Amazon that gets you the same-day or next day delivery based on the time of your order or city – a pretty neat incentive.
In India, the Surface devices come with one-year swap warranty that will be fulfilled by Microsoft Care centers (formerly, Nokia Care). Interestingly, Microsoft India would also acknowledge warranty on Surface devices brought abroad, although under local warranty policy.
What do you think of the pricing of the Surface lineup, and would you be looking to pick one up? Tell us in the comments.
please someone gift me these. Totally out of my budget :):

They are actually way more expensive than the process we get here in the US. In going by the $1150 SP3 that costs less than $800 here.

Yep... That's how the tax is..

oh santa,i know it's too late... please drop this machine on my roof...;-)

But have it land on mine. :P

Warranty stuff so really amazing! Job very well done Microsoft. All those people who got their Surface from outside, can now repair it here!

I don't think so.. Was looking forward to it's release here until yesterday, when I read online (across many sites), that the battery replacement when Out of Warranty costs close to $500 in the US, which I'm afraid won't be any different here. Basically, one would end up paying Rs. 85,000/- to Rs. 122,000/- for a disposable tablet PC!! :( This thing is way too expensive..!!!

I'd rather wait for Surface 4, which will suit my multimedia needs, without breaking the bank. I already have a powerful company laptop, which heats up and is heavy. A next gen Core M CPU would mean all except this in that gorgeous Surface body.

I'm pretty sure Surface 4 will come with atom x7, and not core m. Core m and up are surface pro category.

That will be another 2 years. More over second tier devices are almost always released to just test the waters. Remember Samsung Note3 neo, that was the last and first and the last time a neo version was released for the note series. It's the complete package i needed, i was lucky to get it. All the functions of note 3 at almost 2/3rd the price. But there was no Note4 neo or note 5 neo thereafter. It was just a bait to future expensive Note models.

How much is Core M priced?

Core m version is not released is india bro..!!

They didn't release coreM version in india. Nor did they release surface 3.

I wish microsoft would give surface or lumia users a free screen repair like samsung does

They replace the device free if bought at Microsoft store. At least in the USA.
If bought somewhere else, phone is replaced with $100 charge.

Microsoft should announce an exchange deal with MacBook ppl in India. Very few may go bcoz apple fanboys.

Rubbish! Dumping the old surface pro 3 inventory on us. Should have launched the surface 3 instead.

Old Surface Pro 3 inventory? Do you get paid to spout rubbish like this?

It is definitely the old SP3 inventory. And no I'm not paid by anyone to say this.

yes it looks so.. they skipped core m and introduced surface pro 3. They should have done surface 3 atleast.

Pricing is really badly INSANE. ₹1,21,000 for 256gb/i5 REAllY..!! Even if i buy this version from USA along with type cover and get some one to ship it to me through DHL it would cost me around ₹1,05,000. I waited for it for ages man.. Pricing really is a killer for a fanboy even.

I like your comment. So far the comments all were boring. Thank you! I have been browsing through the great commets posted in the article published in Times of India. Fabulous, I must say.

You do know you'll get a 22.5% import tax bill along with the DHL delivery right?

I kenw about import tax being implemented. But not that it is as huge as 22.5%. Thanks for your info. I only calculated dhl shipping charges and thought import would not exceed 4-5000. Your info will help me lot in buying plan for surface. :)

Have someone bring it over by hand when they visit India.

The custom duties on tablets is 29% but its not on the Invoice Price. Even if you add the 29%, these products are way more expensive. Surface devices are made in Taiwan and not US so there also it is imported. But not going to buy this. Will have to go for a MacBook Pro now. The entry level ($1300) MacBook Pro costs within ₹80-90k. Even Macs are imported but they are not the most overpriced products anymore.

The i5, 256GB, 8GB SP3 variant I bought in US with the Type Cover costed me 75,000 INR. At full price it would have been 82,000 INR. By that standard, the price here is almost 50% more.

Very very cheap price.... For bill gates.

Just imagine Gates would have a gadget room in his house. Or he can build a Gadget mansion too. I'm just curious to know what Pcs and phones he uses in his home.

Microsoft again failed at pricing like Lumia 950/950xl
SP3-i3-128gb-4gb @₹74k ?? Are they kidding ?

Are you kidding? 950/950XL are well priced here.... Though, I agree that Surface devices launched today are way too expensive than what we were expecting.

Basically free is the only good price here, it seems :)

So you can think only 0 or crore? Nothing between? Or you think cheap means free?

It does not matter what I think. You can come to your conclusion by reading the comments. All those whining comments make it clear that no price is good for a some people.

Their price to spec is good. But considering popularity of Windows mobile, indian market won't response for these devices (950/950xl) for such price range except very hardcore fans.

I purchased the surface pro 4 from new York i5 version and red type cover Iam happy I brought it there...thou I got Lumia 950 Frome India as not much price diff and got free display dock with pre order from amazon India...
Happy to see i have my pro 4 warranty in India :D

You don't as far as I know. My Surface Pro 3 from US can only be serviced there.

Wow. So ungrateful. Every time a device gets announced in India the comments are just full of complaints about price. And you wonder why they bother selling their products in your country?

you cannot price a product as you price it in US. India is a price sensitive market.

We would have been greatful if they priced it even nearer to US market price. I agree indians cry for price. But this time it actually is pocket burning.
Still am buying...!

Well its about 50% more so obviously people will rant. Wouldn't you if it were the other way around?

The $1300 MacBook Pro costs within ₹85-90,000 here. And the $1000 Surface Pro 4 is gonna cost that much money. FYI both these products are imported. This is just for your estimation of how insanely costly this product is gonna be here.

Well, if that's your choice then so be it. Interesting though how you compare a laptop without inking capabilities and no standalone tablet functions to an ultraportable tablet that's a productivity beast. If you are intent on spending 88k on a laptop, you could do much better than the entry level Macbook pro.

First of all you should have this basic knowledge that MacBook Pro is much more powerful than the Surface Pro 4. And I never said about buying it. I will hold to my current laptop for atleast an year more. I already said that its only for an estimation for those who can't see how insanely pricy this thing is. And even if I want to spend more than ₹1,00,000 on a laptop, I couldn't find a laptop with such a built quality of hardware as the MacBook Pro. I searched Flipkart, Amazon and Snapdeal for a laptop with atleast 512GB SSD, 8 GB RAM, nVIDIA graphics and atleast Full HD resolution.

Oh, the MacbookPro is more powerful than the SP4? That's news to me, seeing that I own the SP4 and have had the MacbookPro in the past. Since you've not mentioned any specifications and just mentioned the 'Macbook Pro' blindly vs the 'Surface Pro 4', I'll just assume that you are convinced anything apple by default is better. And the specs you mentioned are on a great many premium ultrabooks, I'm sure in a years time they'll be available in that price range.
Having gone hands on with a few recently, you can be assured that apple's superiority in build quality and trackpad precision is indeed obsolete and the OEM's are overtaking them rather startlingly quickly. All thanks to the SP for giving them the proverbial kick up the arse.

Well your assumption is very wrong. I'm labelled as an Apple hater by my friends coz I praise the Surface products so much and I've heavily criticized Apple for their new MacBook and the iPad Pro. The trackpad on MacBooks are definitely better than on Surface. I've used one on MacBook Pro. Not got hands on with that on Surface but I know it doesn't have the force touch. Also every reviewers have said it is best on any Windows laptop but still not better than that on MacBook.
MacBook Pro is more powerful than Surface Pro 4, no doubt in that. It has the option of discrete GPU. Even MS is not comparing SP4 with MacBook Pro but with MacBook Air. That's why there's a Surface Book.

Macbook pro or air whatever it is,at the end of the day its full blown laptop.And please they compared macbook pro to surface book.Watch the sp4 launch event.One more thing compare sp4 to ipad pro..

I think you missed his point. His point is for those who complain that taxes in India is way more and the reason for heavy pricing from Microsoft. He is merely stating that a more costlier device in US is being sold at a lesser price range, here in India and hence Microsoft CAN sell the device at lower price.

Well, let's look at it this way: The average salary for US is considered to be about $50,000 per annum. The same in case of India is ~$5,000. Now do you get why India is called a price sensitive market? We Indians LOVE to purchase electronics and gadgets, but not in the case where a product is ~4 times the average monthly salary for the lowest varient! I would be considered "upper-middle class" compared to the average salary (I get ~$16k anually), and it still is close to my month's salary! Honestly, I rather get it imported from US (which I actually ended up doing for my GPU and SSD) because even after customs, it is cheaper than the local price. Also, as I said earlier, we Indians LOVE to purchase stuff ;) This is not being "ungrateful", this is you being ignorant.

Stop complain about price! At least there in India you got Surfaces and the Lumias 950s. Here in Brazil we got nothing!

I'm pretty sure $1300+ in India is alot of money. Can't say anything about Brazil, but it's probably not that much

Did you read what I said???

They have the right to complain. Microsoft is running a business not a charity after all. Consumers should voice their opinions and vote with their wallet. We don't have the Surface here in South Africa either but I won't whine about. It would probably be out of my price range. Sorry about the 950 famine though. Just regard the rest of the world to be your beta testers :-D Posted from my Note 5

I think it won't be much difference because of the higher pricing. People here might get the Surface Pro either imported or get it from some one from US rather than buying it locally.

U guys forget that even in u.s the prices are without tax...soo if it's 999$ add 100$ tax to it...then dollar is at 67 plus taxes in India are more...blame Indian gov for that

You have a very very strong point. INDIAN govt. is the one actually to blame.

Well our PM went to them and asked to make their products in India. That would reduce the prices by 29%.

Make crazy laws. Then ask companies to build factories. Sounds like a (Indian) plan.

Your condescension has been taken note of. Up your standards dude... Being biased against a country or it's people is a very lowly argument.

Even though you wrote 3 small sentences, it seems incredibly stupid. One point for you to understand is these prices are way higher than iPad in India. You want to say full blown OS? This is higher than Mac book. You want to say full blown OS and form factor? This is higher than Dell's.

I don't know about Surface Pro 4. But Surface Pro 3 is way cheaper than $999. Even with 30% tax, this pricing is higher. So it's not the government's fault but Microsoft's.

And not to mention that SP3 is about 20 months old device now. This model is selling in US for $799, same as that of iPad Pro. The iPad Pro costs ₹68000 here. The $170 Apple keyboard is selling at ₹15000 but the $130 Type Cover is gonna cost ₹12000. The $500 iPad Air 2 costs around ₹35000 in India. Now one can easily see how insanely costly Microsoft is selling these devices in India.

You guys keep forgetting that even Microsoft's Indian arm would have to pay duties and related charges for importing these devices from their parent arm in the USA. Which is why you cannot and should​ not compare prices here with the prices in the USA (for American goods) cause it will be unfair. This device is not aimed at fanboys anyway. Once you reach the age where you know that you really need the best devices for work, productivity and to get things done pricing of top products like these won't be a barrier. Heck you wouldn't even be hanging around these sites anymore. ​ ​ ​ ​ ​ ​

Its imported from China, as it is in the USA. They are not manufactured in US. Same for almost all other laptops and mobiles by other manufacturers.

Usa has zero import duties, India has 22-30%.

Can you please back your zero import duty claim. Phones are imported as well.. Actually almost every electronic equipment except the ones from Dell are imported from China to both countries. Even then most of device have similar pricing including some if not all Apple Products.

Check out USA Tablet import duty rules and India import duty rules, i am not here to spoonfeed everyone with links.

So here everybody.... What do you guys think? Surface pro 4 is the costliest device? Then tell me what do you think about iPad pro? Do you know what is the price of a 32 Gb iPad pro in India? It is +/_ ₹67,480. The iPad pro is not a bit comparable to surface pro 3.... Don't you think ₹6000 is worth that? I don't think surface is incorrectly priced.... Only I can't buy it doesn't means its too costly for everyone.... People buy mac book, iPad pro in india.... Then why won't Surface? Surface is better than iPad or mackbook in every way possible.... Please friends.... Stop blaming MS.... Its not there fault.

I would prefer dell XPS over this. I dont want to spend money on this.

Did u check price of dell xps13? It's honest question coz last year it was only i7 version available for ₹1,29,990. And ditto for hpx360...₹1,29,990
I think I expect this inflated price everytime due to 22%tax being levied. That way they r rightly priced. I m buying one today.

Way way too expensive. And why are they selling the entry level Surface Pro 3 at such a high price. And what about the Type Covers?

With prices like this my solution is buy a Lenovo laptop and pair it with an iPad Air 2. Just being practical here.
#EmptyPostFestivePockets Posted from my Note 5

Microsoft, its high time to Make in India and get that 29% duties off our shoulders.

Its 1.5 times my monthly income!

Good one Agnish..Guys before taking about price... u should see the built of that product....It is nicely done and I don't think it's highly priced...am accepting 950 and 950 xl were bit costly but price that has been given is correct by my thinking.....i know it is difficult to buy....better save money and buy it..that is d only way as of now

I'd say the price is pretty freakin justified folks.

Yes its justified, its only am feeling because I can't afford that's it and this the feeling of all those who can't afford it

I can afford it but still I would say that it is overpriced. Just wait 6 months and Surface Pro 3 will be half it's price announced now.

Its been a long time i am waiting for surface pro 3. This pricing is day time robbery. Amazon sells i3 version for just 599.91$ here in India its 1107$. I am not a fool to buy at this price.

The government taxes, badddd.

A 100% tax on Pro 3 and 40% to 70% tax on other models??? Government is bad and is also too intelligent on the tech front.

Lumia 650 sd210 8mp 1GB Ram wireless charging, leaked. How you forget to post it Danial?

Why not release surface 3 in India????

Now I want MS to sell Windows Store gift cards and enable operator billing for more carriers like Airtel in India!

I have the SP3 256Gb/i7 version from the US, it has worldwide warranty and I once got it replaced in HK. Does this mean that now I can claim warranty for my SP3 in India?

My SP3 warranty says can only be serviced in the US. Will have to check that warranty page again.

Just called Microsoft support and they said US devices can be serviced in India now.

Great news. I have always been afraid it will die on me someday. Thanks for confirming.

You're right. The fine print does say that warranty is valid only in the US. However, as I said, MS is not strict about it, because I already had it fixed once and replaced twice in HK. One thing to note though, is that MS is only selling the i3 model of the SP3 in India. Wonder how/if they will service the others.

That is a good point, btw when u were in HK, did you have to raise a request through their service website or had to call them?

I raised a ticket online, and they asked me to come in to their service centre.

If this is microsoft's strategy of pricing their windows 10 devices.. It wont sell.. Worst pricing strategy.. Wondering what will be the hololens pricing here in INDIA..

Pricing is fine, it is just not for everyone, Surface is a premium product range and low rupee value plus 22-29% import duties plus vat etc increases the price a lot.

"साला एक साइड का किडनी बेचना पड़ जाएगा इसे लेने के लिए......रहने दो बावा"

क्योंकि यह सर्फेस सबके लिए नहीं है। मैं तो खरीदूँगा ही नहीं, आप भी शायद नहीं खरीदेंगे, तो हम इसकी पर्वाह क्यों कर रहे हैं? :)
Windows Central Newsletter
Get the best of Windows Central in in your inbox, every day!
Thank you for signing up to Windows Central. You will receive a verification email shortly.
There was a problem. Please refresh the page and try again.