Surface Pro 4 helps Marvel Studios producer bring superheroes to the big screen in new ad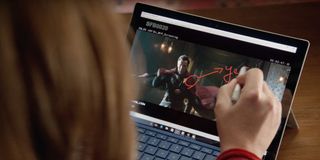 In its latest ad for the Surface Pro 4, Microsoft has enlisted a Marvel Studios Executive Producer to show how the tablet helps superheroes come to life on the big screen. Throughout the ad, Marvel's Victoria Alonso highlights the versatility of the Surface Pro 4, showing how it helps her get more work done no matter where she is.
This new ad further drives home the theme of versatility that Microsoft has played up in other ads. In fact, Microsoft notably used the Surface Pro 4's unique features to call out the competition in a set of previous ads targeting the Mac crowd.
Do you own a Surface Pro 4? What feature helps you get things done more efficiently? Let us know in the comments!
Dan Thorp-Lancaster is the former Editor-in-Chief of Windows Central. He began working with Windows Central, Android Central, and iMore as a news writer in 2014 and is obsessed with tech of all sorts. You can follow Dan on Twitter @DthorpL and Instagram @heyitsdtl.
Slightly off-topic, but didn't Amazon hint at a refresh of the Pro 4 range a couple of weeks back?

They discovered it was the same devices but with AU installed.

Yeah, we see Lumia phones in DC movies and Surface products in Marvel Studios.

This is a great ad. The Surface ads have been compelling.

As far as endorsements go, this has to be regarded as an absolute coup for Microsoft. For them to get a company such as Marvel, who is regarded as the top dog when it comes to comic book movies (even though I love what DC is doing right now, Suicide Squad not included) is going to be a massive head turner for all types of media creators that primarily use Apple's technology. Even if it was paid for, it's going to garner attention for the Surface brand and Windows 10 and that's all Microsoft could ask for really. Bravo

We've already been shown artists from DC publications working on their Surface Pro 4. Almost any creative industry would want to create things on Surface Studio now.

In 'Doctor Strange', Strange himself uses a Surface Pro 4.

I liked the scene where dr strange himself used a surface pro in the movie

and it "survived" being thrown off the table!! lol. I have to admit: I did geek out a bit seeing that logo on the back of the tablet! Ok, geeking out just a bit more than I already was at simply watching the movie.

agreed lol i proudly in a loud whisper told my friend "Thats the surface!! i have that!"

I also told my niece next to look dr strange uses an surface pro

And she didn't once say "You can't do that on a Mac"

I've seen Surface Pro3/ Surface 3's on TV a lot. On Shows like Marvel Agents of Shield, Last Man Standing, Dr. Strange was pretty cool too.

Surfaces also show up in the show, Scorpion on a regular basis.

they make an appearance every NFL Game too!!!!

It used to be what Sherlock used on Elementary in the first season or two but now I notice he's using an Apple laptop....wonder how much the sponsor change price tag was....?

So all she manages to do is write yes on the screen. I'm so impressed. What a waste of time.

and yet she still gets paid more than you to just do that one thing

I own one and among other things, I use it for "on-the-go" note taking during fast-paced webinars. I cannot describe how intuitive it feels to click twice and have a screenshot of the slide I can Draw notes on top of and then resume viewing the webinar within a minute. If I had two devices, I would use one to play the webinar and my Surface for notetaking. Because it feels so much better to write notes in the hand rather than type them on the keyboard. Of course there are MANY issues with this device as well, but you did not ask for those :)
Windows Central Newsletter
Thank you for signing up to Windows Central. You will receive a verification email shortly.
There was a problem. Please refresh the page and try again.