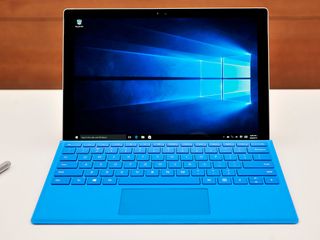 Curious about what's inside Microsoft's shiny new Surface Pro 4? How would a breakdown on the specs suit you?
Here's what we're looking at:
Swipe to scroll horizontally
Category
Specification
Operating System
Windows 10 Pro
CPU
6th Generation Intel Core m3, i5, or i7 (Skylake)
Graphics
m3 Intel HD graphics 51, i5 Intel HD graphics 520, i7 Intel Iris graphics
Display
12.3-inch PixelSense Display at 2763 x 1824 (267 PPI)
Contrast ratio: 1300:1
Aspect Ratio: 3:2
Storage
128GB, 256GB, 512GB or 1TB SSD options
RAM
4GB, 8GB or 16GB
Rear Camera
8MP
Full HD (1920 x 1080)
Front Camera
5MP
Full HD (1920 x 1080)
Windows Hello-compatible
Dimensions
11.50 x 7.93 x .33 in (292.10 x 201.42 x 8.45 mm)
Weight
i5/i7: 1.73lbs (786g), m3: 1.69lbs (766g)
Ports
Full-size USB 3.0, microSD card reader, 3.5mm headset jack, Mini DisplayPort, Type Cover port, Surface Connect
WiFi
802.11ac WiFi wireless networking; IEEE 802.11a/b/g/n compatible
Battery
Up to 9 hours
Pen
Surface Pen
1,024 levels of pressure sensitivity
Magnetic storage
Power supply
24W power supply (Intel Core m3)
36W Power supply with USB chargin port (Intel Core i5 and Core i7)
Other
Stereo microphones, stereo speakers with Dolby audio, ambient light sensor, Accelerometer, Gyroscope, Magnetometer
Pre-order the Surface Pro 4 at the Microsoft Store (opens in new tab)
Richard Devine is an Editor at Windows Central. A former Project Manager and long-term tech addict, he joined Mobile Nations in 2011 and has been found on Android Central and iMore as well as Windows Central. Currently you'll find him covering all manner of PC hardware and gaming, and you can follow him on Twitter and Instagram.
Yup, just like Pro 3. My question is: will the new stylus work with Surface Pro 3?

Yes I guess it was mentioned in the presentation.

Takes away the laptop doesn't it?

Video says up to 1TB storage.

The 1TB version is listed on Microsoft's Store.

Ah, now we see it. For anyone else: You have to go "Customize" in the Store listing.

Update the article please

Why did they go Core M? And what are HD 5xx graphics? Last I checked we were on HD 5500 right..? Much confuse.

It says m3, i5, or i7. I guess the entry model means there is no i3 Skylake, or they are focusing the entry model on battery life?

Right, but it seems, so far, that Core M has failed in the performance category. Which defeats the purpose of the Pro. I'm interested to see if it's worth the loss in performance/increase in price.

Only the $899 model is core M. Everything else is full on core i processors. Posted via the Windows Central App for Android

Sigh. Right. I know. I'm saying is it worth it. Why change from an i3? Why have a mixed lineup like that? And if the M is so bad at performance, as it has on other devices, why does it cost more than an i3 version would? Get what I mean?

not actually its a trend many of the other OEMs are going to start doing as well. The new Skylake Intel M shows a big step up in performance and because it was priced so high and yet offered better battery life and smaller footprint than the i3 a lot of the OEMs went with the M CPU instead. The Core M will perform better than the i3. Skylakes i3 for mobile is the Intel® Core™ i3-6100U Processor it only has 3MB of cache while Skylakes Core M (m3, m5, m7) has 4MB of cache while cutting the TDP down to 4.5Watts compared to 15Watts of the Core i3. the entry level Surface Pro 4 will come with the Core M m3 CPU which is the same price Intel is charging for the entry level Core i3 from Skylake.

I get that you're still worrying that because the first Core M stuff disappointe,d the next version can't be good. If you go look, the peak power difference between the i3 and m3 arent' that great. The difference primarily comes from the m-series chip's ability to clock WAY down vs. the i3. The i3 is supposed to be a 15W chip, on the low-end (the high-end i3 is 28W). The m3 is all the way down at 4.5W. minimum on the i3 is 7.5W, versus 3.8W on the m3. Basically, I think this is meant to be the Surface Mini option. I think Microsoft looked at this as having groups who want powerful stuff (i5/i7), while the low-end users care more likely to live with lesser performance for better battery life. These are the entry-level offerings for those who just want A Surface, as opposed to a powerful one. I don't think the number of people who were looking at the i3 model will notice that it's now an m3. Those who know were also wary of the questionable storage and probably went to the i5/128 GB model and up.

I'm actually pretty certain the Core M processors can compare if not surpass the Core i3 processors of old.

Maybe some of them, like Sandy and Ivy. I'm not sure that they'll top an i3 Haswell chip, and probably not a Broadwell one. We'll see what shakes out, but I honestly don't think they're a bad time.

It's called choice. The i5 "entry" is the same price as old. This is a $100 cheaper super entry level. Maybe you don't need all the power but like the screen size of the SP4 over the S3?

Of course, that's based on a single iteration of the chips. We've seen Intel's graphics stuff ramp up to usability pretty quickly, even if it's not awesome. I'm saying I wonder if M3 replaces i3 on an Intel level, where they just don't do i3 stuff anymore.

Wow wow wow wow.....this is just more than i expected....wow 16gig RAM,cant wait to have this in my hands,this beautiful,this is amazing,this is awesome

"Curious about what's inside Microsoft's shiny new Surface Pro 4?"
Curious doesn't even begin to describe it!

This replaces a laptop. With specs like these its next generation

Pixelsense? I missed that part, what does it do?

Would love more information about the battery.

I can't believe there's no 4g / LTE!!!

I can't believe it's not butter.

What amazing specs for a tablet. Wow. Microsoft is on fire. Their hardware beating apple on every front.

That ac/dc soundtrack made me fall off my chair

Small mistake, Richard, it is: 2736×1824 with 3:2 aspect ratio.

It has a mini display port which is a more capable technology. Display port to HDMI cables or adapters are pretty cheap.

I thought the battery was quoted at up to 12 hours...

I kinda wanted type c as well.

This may sound stupid but where's the start button on the device like the pro 3

Does it charge over USB like Surface 3, or does it a need traditional outlet?

When you say the front facing camera is windows hello compatable does that mean extra hardware is required?

Wish it had USB-C port too at least one.

But will surface pro 3 become cheaper? I really need one but I'm just a poor college kid

A little sad theres no usb c.

It's not trivial: No USB c charging is a nonstarter... Maybe next year.

What's an m3? A smaller i3? How do i3 (or m3) processors perform for normal use? I'm thinking of getting one and I guess it will be a good enough upgrade to the smaller Surface Pro 4 from a Surface 2 even to an i3.

There are some pretty keen deals going on SP 3 at the mo' Any idea the tradeoff going for a SP 3 i5 8GB ram versus the SP 4 i3 4GB ram other than price screen size ram Essentially I want to know if the i5 SP 3 8gb ram can stand up to the new i3 model for performance? Any help appreciated.
Windows Central Newsletter
Thank you for signing up to Windows Central. You will receive a verification email shortly.
There was a problem. Please refresh the page and try again.