Microsoft releases new Surface Pro 'Aqua' colored accessories
By Zac Bowden last updated
Microsoft has unviled a brand new Aqua colored Surface Pro Type Cover, Surface Pen and Surface Arc Mouse.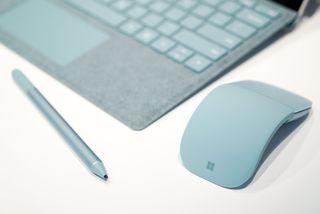 Microsoft has today launched a brand new "Aqua" colored set of Surface Pro accessories for those who have been waiting for a new colored Type Cover or Surface Pen. Hardware wise, the new Aqua set is identical to all the other Surface Pro accessories, with the only difference being its color.
Image 1 of 2
Image 2 of 2
That means these accessories should work just fine on not only the Surface Pro 2017, but the Surface Pro 4 and Surface Pro 3 as well. Pricing will also be the same, $159.99 for the Type Cover, $99.99 for the Surface Pen and $79.99 for the Surface Arc Touch Mouse.
You can read all about the design process behind the new color choice and more on the Surface Blog.
The new color set will available to order later today and customers can order each item separately as well.
Zac Bowden is a Senior Editor at Windows Central. Bringing you exclusive coverage into the world of Windows 10 on PCs, tablets, phones, and more. Also an avid collector of rare Microsoft prototype devices! Keep in touch on Twitter: @zacbowden.
Personally, I don't know what to think about this color. It reminds me of something; I just can't place my finger on it.

Still looking for burgundy colored pens :(

The textile looks dirty but the rest of the materials are gorgeous. Oh why!!? I'll check the video i guess. Edit: not video, but text. Boring.

the wife will love this color!

Beautiful! I always thought Microsoft should continue to release new colors throughout the year, or add a choose your own color option like they have for Xbox controllers.cAnyway, now that they've added a new color, I'm not so sure this is a good idea. I like my Blue, but LOVE this one. If I were made of money, I'd buy this in a heartbeat, but I already have a blue keyboard, pen, and mouse. Dang (:

Agreed. I was just thinking about it more, It's pretty friggin awesome that you can change the color of the S/P at your will. One day you may want cobalt, next day you may want platinum. VERY AWESOME. Damn, do I want to go surface again??????hmmmmmm.

Please bring a black Signature Type Cover that won't stain...

Yeah there ending Surface, obviously now! Why else would they expand their first party accessory line up! I mean like really, why :p ;) ?!

That obviously was a stupid headline.

Will these work on the Surface 3 LTE as well?

Yes. It says it right in the article. It's faster to read it than wait on someone to reply to your question.

You mean where it said Suface PRO 3? Try less being a $mart a@@.

The mouse will do everything it would on a Pro. The pen will work as well as the old pen but the Surface 3 will almost certainly never get tilt support and doesn't have the magnets to stow it. The keyboard will work as a keyboard but you wouldn't buy a keyboard designed for a Surface Pro to use on a Surface 3 because the magnets that make it sit at an angle don't work and it's a different size so looks rather silly when closed.

Thanks John. I knew the diameters were slightly different between the LTE and Pro. But I want sure about the connectors. Bummer. It's a pretty color.

Love the color, hate the fabric on the keyboard.

Just bought the Platinum TypeCover, replacing my standard TypeCover. Love the Alcantara swede fabric.

Surface is the only thing Microsoft has going for them.

That's totally not telling the full story at all... Lol.

A bit blind that was yes. Was speaking in terms of consumer image, aka. broad "mindshare". Aka. hot stuff. - Cloud? I don't care. Others will be there too. Nothing exciting. Holothing? Beta forever. Well I must confess, after the past week's headlines, plus working on W10 and W10M I'm rather depressed about MS's composure, notably software wise.

Well, damn.. WINDOWS 10..

Was excited, riding the new wave with W10 telling my Mac friends that we're actually getting closer to a supreme experience. But the poor implementation of fluent design, the crappy upcoming peoples hub, OneNote failures, OneDrive sh*** performance and several other inconsistencies the hype came to a sudden stop.

What OneNote failures What? OneNote is a superb, if not necessary app... Man, Surface needs W10 like W10 needs Surface. No, it's not perfect, but there's also no need for nitpicking.... On campus ever PC is running Windows 10.... MS doesn't have W10 going for it?. That's silly.
......
W10 might not have the popularity with mobile that fans want, but the reality is that Windows 10 is on your PC, and everyone else's.

OneNote all of a sudden stopped syncing about 13/20 entries of a section. Like, in permanent download status. But with no success on several devices, be it via app or online portal.

I'm not having any issues. Lol. I'm not.

Lol. Just saying, your isolated issues, needs, and grips don't translate to MS not having much going for them. That's the reality of the situation... I'm EXTREMELY upset with the Satya Nadella administration right now as well, but I'm not resorting to comments that are more damaging in the long run, than true in the present.

Has happened to me. It usually happens if you use one of the old OneNote desktop versions. Only use the modern OneNote versions and you will be fine.

That's certainty true. But don't you see, I'm talking about momentum. Hype. Things that make you want to tell your friends. Yet Windows... I guess it's just good ole' Windows again... 🙄

Both my onedrive and onenote are having syncing issues as well....Less isolated than one thought....?????? I do something in my shop, and it's a day after when it shows up in my one drive folder in my house.

Can we get finally a purple again???? Please! Blues are overwhelming.

If you want to get technical, that's a green color up there!
Windows Central Newsletter
Get the best of Windows Central in in your inbox, every day!
Thank you for signing up to Windows Central. You will receive a verification email shortly.
There was a problem. Please refresh the page and try again.