Surface tablets and Surface Book are now certified for use by U.S. Department of Defense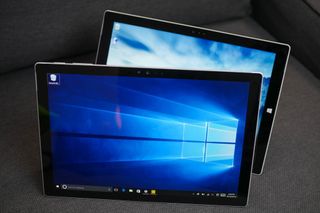 Some of Microsoft's Surface devices now can be used by members of the U.S. military. The country's Department of Defense has certified the use of Microsoft's Surface 3, Surface Pro 3, Surface Pro 4 and Surface Book devices. The announcements comes on the same day that Microsoft revealed the DoD will also upgrade 4 million of its PCs to Windows 10 within a year
Microsoft stated:
Source: Microsoft
I'm buying more Microsoft stock...just saying

buy Google and Pepsi Posted via the Windows Central App for Android

Like, the companies or the stock..? Lol ;p

If you can manage it, I suggest the companies. That might be more beneficial than stocks.

Google stock is too high for the average person to buy enough to make any real profit. Microsoft stock on the other hand, has much more growth potential stock wise. Roughly $52 vs $700+. Just sayin...

This is true.. Too much money.

The actual price of the stock means nothing. It is the gain or loss percentage that means everything. One share at $700 that gains 10% is more worthy than 10 shares at $70 that only gains 5%. I wish that more people understood this fact.

It's still something that should be considered, if one is considering long-term growth and sustainability. Even with what you are saying to be true, it doesnt change the fact that stock price is a concern. I'm not claiming to know stocks, but from what I've understood and read, sustainability of stock price and growth is worth more in the long run. I'd rather buy more stock at a cheaper price, when I see the potential for growth on paper being better and more sustainable, than buying more expensive stock that will have a harder time sustaining its current growth. But, you do have me curious, now. I will look more into it. I do realize there is much more to consider.

No, I'm good on that.. I'll stick to Microsoft stock because I believe that one day it will skyrocket.

Basically, I already got in when it dropped to $40 last year.

I picked it up at $25 I think around the time of the crash.

Go Microsoft and go the Surface Team. Very good job.

Now play let's make a deal with phones hehe...

Certainly a better option than BB especially now since the move to android where fart apps are irrelevant.

Good news for MS...Right in line with recent reports that show Surface/Win10 tablet use increasing in government while iPad use has been dropping. http://www.technmild.com/microsoft-surface-slowly-grabbing-a-larger-shar...

Yes but Microsoft needs to be careful as surface would also drop sales the future despite good market share.

There is no actual proof but every market reaches a saturation point.

Isn't Like seeing the glass half empty? At least, seeing that 2-in-1 market is not shrinking at all (unlike other ones)?

Does certified mean that they would buy?

That means it joined the list of approved devices.

On the device side not guaranteed, but they are upgrading practically all their computers. That in itself is a huge win for MS. What MS need to do now is make sure that continuum on phones continues to improve. The enterprise market is were MS has a chance to garner more mind share, when it comes to OS preferences. That means MS is now front and center and the enterprise community will be especially watchful, now that DoD will be upgrading to Windows 10. This could also translate over to more official business specific and other apps being created for Windows 10. What developer would not want their app being used by the DoD?

This is a really awesome news. It might help increase the upgrade rate to Windows 10 in businesses.

Used as facesmashers, not computers.

That's the power of Windows. It's the OS of industry and many more. While iCrap is just marketed well and is just "cool" for consumers to show off.
I recently watched a news report on a local news channel. They mentioned a computer room for kids at a school and said it had iPads and Chromebooks. Must be the new fashion "thing".

Step aside, BlackBerry :) Glad to see positive momentum for Ms

We are replacing our error prone Dell Venues with Surface Pro 4's and SurfaceBooks

How many? Can you get me a surface book? I already have a surface pro 4

Dell Venues have issues with our wifi network at work. We only buy Surface Pros now.

I saw episodes of America Master Chef Junior... they show the kids Skyping the parent/mentors for advice on Surfaces...

Ms does really well with the surface product placement. Big support on Walking Dead (not in show of course for that one), everyone on Elementary uses a surface. Quite a few big shows really.

I hate producut placement --- the Surface Pro 3/4 are all over the DC Comic TV show's.

Jason Bourne approves this message.

congrats Microsoft! That is an achievement!

Mobile First, Cloud First Posted via the Windows Central App for Android

Now if really windows 10 is spying on us would the DoD certify the use of surface tablets? Haters would bow in shame. Windows is the future. Accept it or not, it is.

DoD will be using an enterprise version of Windows 10 --- meaning they will have complete control over what's sent to Microsoft's. In other words, they will have the ability to disable it via group policy.

It doesn't mean windows 10,is spying
whether enterprise or not. It's called telemetry

I wasn't implying that they were 'spying". Fact is in the home version the telemtry you cannot disable this feature, where as the Enterprise version can be disabled via group policies settings.

Even in the home version you can dial it way down.

Hurray.... But I still can't afford a surface...

I wonder how many Android devices are DoD certified.

So now that top gear is over I see the Stig found a job with the DoD. Nice! Maybe he will speed some things up there?

Wow this is a good news for Microsoft, I wonder if Apple is planning to make an update design on their macbooks.... Mac Pro, Mac air and whatever they want to call them. Planing to get a Surface pro 4 for school use.
Windows Central Newsletter
Thank you for signing up to Windows Central. You will receive a verification email shortly.
There was a problem. Please refresh the page and try again.