Surfs Up! Nokia & Quiksilver team up with special edition Lumia 610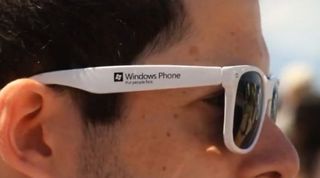 The seaside is a wonderful place for sun, sea, sand and Windows Phones! Looks like Nokia are at it again, but this time they've teamed up with Quiksilver and a load of Surfer dudes to promote Windows Phone. If the images and video in this article are anything to go by, it looks like they had a hoot at Biarritz in France, this time hosting the Roxy Pro surfing tournament. Nokia have teamed up with Sosh and Quiksilver to launch a youth oriented variant of the sleek and stylish Lumia 610.
It's would seem that no Windows Phone event by the sea is complete without a pair of oh-so-trendy Windows Phone endorsed white sunglasses. Microsoft and Nokia were there in force showing off the full range of Windows Phones, giving the beach boys n girls plenty of hands-on time. Of course no Windows Phone event would be complete without the "Smoked By Windows Phone" team smoking peoples phones so you'll be happy to know they're at it again. If that's not enough, looks like spray on 'I love Windows Phones' tattoos were being dished out. Lets hope they come off this time?
Nokia 610 Quiksilver Edition - Looking quite smart eh?
Sosh is Orange France's youth mobile brand and they ran a competition based on votes to decide which design would make it for the shell. The Lumia 610 Quiksilver is available in Quiksilver Boardriders stores.
Those not into the whole needles thing were able to opt for the spray on version
We had already attended an Into Windows Phone event here in London a short while back, but this looks like substantially more fun. Great to see yet more promotion of the platform. We wonder why Samsung and HTC don't do things like this with Windows Phone? Check the video below for the wrap-up of the sunny day.
Anyway, lots of neat stuff to see on the links following. Your comments are of course welcome.
Source: Roxy Pro 2012, YouTube
I'm not very proud to say it but it's Quiksilver not Quicksilver. Am I still a geek? :P

Woah, nice catch - completely missed that. We're all geeks at heart, are we not? :-)

Totally agree with your suggestion... Very nice post and good information here... Thanks for posting that.... Geo Tv

Now that's what I'm talking about. More like this.

That's pretty cool. I would like to see more windows phones like that.

Nice. More of this. As a surfer, this is very cool. Nice work Microsoft /Nokia.

Where does one find a pair of those sunglasses?

I want one badly. Anyone knows anything?

tell, if u got it, need it too :)

Cool! I like the design on the back of the 610. This is definitely a good way for Nokia to distinguish themelves from the competition. I wish HTC would do stuff like this

Que? Do you have an example?

@Grubish360
I also have that same question...

I must have the Quilsilver phone. Living from a suitcase and being a snowboarder means there's very little that isn't Quiksilver or associated with me for my travels!
Sadly I'm UK based for my mobile needs :/

Nice work, Nokia! Wish I was there...

I soo wish that this phone was released in the United States on pre-paid plans. I would buy it for my parents who are transitioning to smart phones.

MSFT Stores should give away those sweet shades instead of the very crappy wp-branded ones they currently give u for taking the Xbox Control challenge, that'd be pretty sick.

Hopefully Nokia makes a waterproof purview phone. That would go great with the like of Quicksilver.

Wouldn't mind a pair of those shades. :)

Nice promo :) they should give away surfing lessons to one lucky purchaser

Looks like it was a very fun happening and where Nokia & MSFT just was there and blended in, that's a clean and nice way to do it. Of all the events Nokia made so far, this sounds, and looks like a clean event AND the best one. No surfer or snowboarder, but this type of brand blending just seems right.
Windows Central Newsletter
Thank you for signing up to Windows Central. You will receive a verification email shortly.
There was a problem. Please refresh the page and try again.