Surge, a Windows Phone game that combines arcade features with a little strategery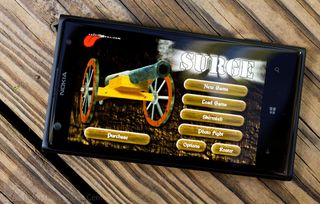 Surge is a Windows Phone game that is a unique version of the board game RISK (opens in new tab) but with an arcade game replacing the dice throws with the combat phase of the game. It mixes the strategy of RISK with the action of an arcade game.
Game play is very similar to what you would find with RISK and just as challenging. The game pace is a little slower due to the transition from board game to arcade which may not appeal to everyone. Surge has multi-player support for up to six players that can be a combination of computer or human (pass and play)
Surge is an interesting twist on a classic board game but isn't for those looking for a fast paced game for their Windows Phone.
Jumping into the main menu of Surge gives you options to start a new game, load a saved game, play a skirmish (the arcade mode), create a Photo Fight, access the game options, and view a help screen that details the various units, munitions, bonuses, and medals involved in the game.
Skirmish's have several variables that can be adjusted that includes the number of players, number of vehicles, the environment you battle in and the style of vehicles used (classic, modern and future). Surge's gaming options include turning on/off on-screen tips, munitions tracking, auto complete by the CPU and limiting the graphics to 30 frames per second.
Photo Fight is an option to load one of your own photos as the backdrop to the arcade game. You can take a picture, trace the area that you want to use as the terrain to create the battle arena.
When you launch a game you'll be given two options for opponents. There is a multi-player game that supports up to six opponents that can be any combination of human and computer players. The computer players have four levels of difficulty (easy, medium, hard and insane). Human players will have to compete in pass and play fashion.
The main game plays just like RISK. You have a global map where your armies are scattered about. There are three map layouts to choose from that have your armies distributed in various fashion. From there you are presented with a global map where you perform troop transfers between adjacent countries and attack adjacent enemy territories. The strategy of Surge comes with your troop movements and allocations. Keeping your forward territories well armed while avoiding your other countries defended too thinly.
The goal is similar to RISK in that you attack adjacent territories, defeat them, move your troops to occupy the territory, and repeat these steps until you achieve global domination.
When you attack a territory, unlike RISK where you roll dice to determine the outcome of the battle, you are sent to the arcade game. The arcade game is an artillery battle where armies are represented by tanks that trade shots at each other. You control the trajectory of your shot, position of the tank, and ammunition choice through the various on-screen controls.
You trade shots until you wipe out the enemy or they take you out. During the battle bonus supplies will drop from the sky and you collect them by driving your tank over them. The arcade battle is a nice touch but graphics are a little on the small side. You can touch zoom into the battlefield but that narrows your view considerably.
A couple of nits to the game. Nothing critical but noticeable by those with fading eye sight. The text is very small and can be hard to read. The same can be said of the artillery vehicles in the arcade game. I wouldn't mind seeing larger fonts and game graphics, especially with the battle stages.
All totaled, Surge is an entertaining version of RISK. The arcade game aspect is more challenging than a roll of the dice but does add a considerable amount of time to the game. RISK was already a marathon type game and Surge is no different. If you're looking for a quick strategy type game for your Windows Phone, Surge may not be your cup of tea. If you don't mind games that take a while to play out, Surge has its appeal.
There is a free trial version available for Surge to let you try things out before buying. Surge is compatible with both Windows Phone 7.x and 8 devices with the full version running $1.29. You can find Surge here in the (opens in new tab) Windows Phone Store.
Windows Central Newsletter
Get the best of Windows Central in in your inbox, every day!
George is the Reviews Editor at Windows Central, concentrating on Windows 10 PC and Mobile apps. He's been a supporter of the platform since the days of Windows CE and uses his current Windows 10 Mobile phone daily to keep up with life and enjoy a game during down time.
Scorched Earth flash-back.

My exact thoughts, but with some added complexity.

Now that would be a cool port to WP8 :)

There are already some Scorched Earth ports. I have Broiled Earth, for instance, which hasn't been updated in a long while but works reasonably well, and offers turn-based weapons (3 turns to unlock Nuke, for instance) rather than involving money, which is a neat difference.

Surge doesn't make you save up and buy weapons either. Random crates falling down from the sky that might contain health, fuel, weapons, guided shots or, if you're really unlucky, the rubber chicken.

Reminds me of North vs. South

Anything on todays Xbox release?(If it's going to be any)

Wow this is awesome :P
NOT!!!
-_-

I take it you never learned that lesson about not saying anything at all if you're not going to say anything nice. I'm actually pretty stoked to try this. But by all means, give me a link to your superior game for Windows Phone and I'll try it out too!

Lumia 520 - Your phone doesn't meet the minimum requirements needed to run this app.

a shame. my mum is complaining about the same with her low end pc

Too bad. Does it need a higher resolution, or is it 1GB only?

Hmm I did comment on this but it seems to have disappeared. It's 512MB phones only rather than res.

'...a little strategery', should read 'strategy' right?

I'm thinking that he said what he meant. It's a silly/purposeful typo. :)

Ahh, I see what he did there...

Also, isn't the arcade bit of the game a lot like playing Worms?
Windows Central Newsletter
Thank you for signing up to Windows Central. You will receive a verification email shortly.
There was a problem. Please refresh the page and try again.