SwiftKey for Android makes it easier to select and delete text
SwiftKey now lets you swipe from the delete key to select and remove text.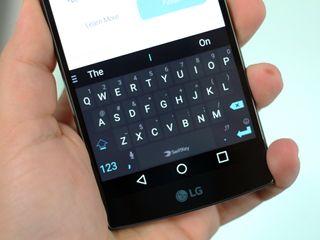 (Image credit: Windows Central)
What you need to know
Microsoft SwiftKey now supports swiping from the delete key to select and remove text.
The same update also adds the option to disable automatic spaces after punctuation.
The new features arrive with version 8.10.13.2 of Microsoft SwiftKey.
Microsoft SwiftKey recently received an update that makes it easier to delete text. The last version of the app includes an option to swipe left from the delete key to select text. You can scrub left or right while holding your finger down to select specific words and then remove your finger to delete the selected content. The same update also adds the option to disable automatic spaces following punctuation.
The update brings the app to version 8.10.13.2. Oddly, navigating to the SwiftKey page on the Google Play Store does not list the changes for the update, though we were able to install it on a device. We can confirm that the option to select and delete text with a gesture as well as the ability to disable automatic spaces both work in the latest version of the app.
Neowin spotted the changes and shared the following changelog (which does not appear for us when navigating to the SwiftKey Google Play listing:
We've added a typing setting to disable auto spaces with punctuation.
You can now swipe on the delete key to select and delete text.
Holding down the delete key removes words quickly. The new option within the keyboard app provides more granular controls over which words you'd like to delete.
Windows Central Newsletter
Get the best of Windows Central in your inbox, every day!
News Writer and apps editor
Sean Endicott brings nearly a decade of experience covering Microsoft and Windows news to Windows Central. He joined our team in 2017 as an app reviewer and now heads up our day-to-day news coverage. If you have a news tip or an app to review, hit him up at sean.endicott@futurenet.com (opens in new tab).
The option to ignore spaces after punctuation is awesome. As a baseball fan, I find myself frustrated when I need to type stats like batting average because of the keyboard's behavior on this.

I wish they would add the "nub" from the Windows Phone days. More precise movements on something like a word doc or email than trying to move the pinpoint cursor location with a finger. I know, first world problems.

Are you aware that you can display arrow keys at the bottom of the keyboard?

In addition to showing arrow keys as John said, you can also hold on spacebar, then the whole keyboard area becomes a TouchPad for the cursor until you release your finger.

Better than GBooard. Have used it since before MS bought it.

I would like an undo option built into the keyboard. There isn't one already there is there? Also, I like the concept of it not adding a space after a period, but the implementation seems off: when swiping, just like it automatically adds spaces after each word, it should also still add spaces after punctuation. This setting should only eliminate the auto space when typing, not swiping.

Is Swift Key trustworthy? Does it send keystrokes to microsoft or can you disable that? I don't trust the current Microsoft as they're desperate to get hold of user data.

Microsoft captures far fewer data than Google, Apple, or Facebook. So did you decide to go Amish?

I used to use swiftkey years ago, I think it was the first one to come out with key swiping, then I got a phone with Gboard installed as standard and started to use that. This latest phone I have, came with swiftkey, I did try it, but I just can't get on with it now, Gboard seems to be better for me.
The problem with these input keyboard type things is that more and more stuff is added to them that I don't need or require, like a million emojis, for some strange reason. i always find selecting text on mobiles a pain, I doubt Swiftkey will help with that.

Gboard is just as inaccurate as Swiftkey is now after this last update. Plus it's a Google app, so I avoid it like the plague.

I never said anything about accuracy. There is just something about swiftkey that i don't like.
I find it less responsive than Gboard. If you are using an Android phone, does it really matter if Gboard is a Google App?

My honest opinion (after being forced to used both due to institutional restrictions on my phone) is that neither GBoard nor SwiftKey are great. Neither actually understands English, so recommendations are often dumb. It does even dumber things like recommending extremely rarely used words versus common ones. Neither is particularly good at recognizing patterns in your own typing. Neither just flows (which is what I think you're saying when you say SwiftKey is worse than GBoard - in that I agree). I still prefer SwiftKey, but boy does AI have a long way to go if no one can make a fast, intuitive, and satisfying soft keyboard experience.

It has been a more than a couple f years since I have use SwiftKey, so I can't compare accuracy with Gboard now, as these things change. Just something about SwiftKey put me off and now Ms owns it, that put me off it even more. I find Gboard can be a bit iffy with putting the word I want in, i find myself having to correct it a few times, as you said IA still has a long way to go.

And it has become WAY less accurate in word shaping. It's almost completely useless now.