Sygic GPS and Navigation for Windows 10 offering up cheap lifetime licenses right now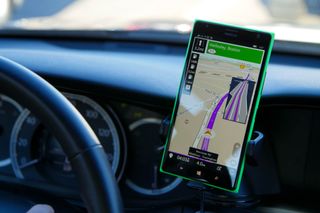 Popular mapping and navigation app, Sygic, is currently offering lifetime licenses to its service for a serious discount. The prices are valid on all its packs covering all regions and is available through all its apps, including Windows 10.
Prices have been cut by up to 75% on lifetime licenses, and prices naturally vary depending on where you're buying and which region you're buying for. The screenshots below show a quick break down of prices in USD and GBP.
You also seem to be able to bundle traffic for a little more, with an email Sygic is sending out to current customers showing a $24.99 subscription for North America with traffic. The prices above presumably only include access to maps and navigation.
This probably isn't for everyone, indeed many are probably fine with the free maps on their phone already. But for anyone looking for something a little more serious, Sygic has been a solid choice up to this point. The paid for access gives you 3D maps and voice navigation, and it runs on TomTom maps and points of interest, which in itself is enough for some to drop their money.
Maps are stored on the device, so don't require a data connection, and there are a number of other things you can plug in like traffic and live parking information. I used Sygic exclusively on a road trip across Northern Europe last year and found it to be an excellent, and most of all, reliable product.
If you're interested, hit the link below to download the base app for free.
Download Sygic from the Windows Store (opens in new tab)
Richard Devine is an Editor at Windows Central. A former Project Manager and long-term tech addict, he joined Mobile Nations in 2011 and has been found on Android Central and iMore as well as Windows Central. Currently you'll find him covering all manner of PC hardware and gaming, and you can follow him on Twitter and Instagram.
This is awesome. I've been looking for a good replacement because I've been having issues with Microsoft Maps finding where I am, and the address that I'm going to. It feels like since Here was sold, Microsoft's mapping has taken a big hit.

Don't get your hopes up. I actually dropped Sygic for Windows Maps.
Maybe it's better now, but it was horrid when I used it. Paid for the maps and everything.

Same here, Sygic was awful! Couldn't find addresses, some were not even there, CONSTANT crashes. Virtually non-existent support, what support there was was snarky. Live traffic was a complete joke. Uninstall and reinstall didn't fix the situation either. Even a complete phone reset had no effect. Personally, if you're going to tout yourself as a premium app, how about premium service. Sygic was a horrible experience.

This...i tried this because i wanted something that could show me live traffic and reroute me accordingly, but this one was awful...like you said, it couldn't find any address...and the UI, wth, it's not the 80's.

Oh yes, the UI, it was like it was constantly stuck in another time zone for me... it would show the dark map in the daytime and the light map at night. Totally knackered! When I complained about this to support they sent me a very rude email that I should just set it manually. I was like wth, FREE map apps don't seem to have this problem! As far as UI's go, in my opinion Windows Maps is FAR better than Sygic.

Windows Maps DOES NOT work in Canada or Mexico. Tried and failed so I went back to Sygic GPS and swear by it everytime. Plus the option of having reliable offline maps is a bonus.

USE NAVIGON! Free Traffic

Ha. Sorry, but "lifetime" on Windows 10 Mobile devices (which is where you would be using a nav app) is code for "until we pull support next month".

This. And subscriptions should be cross platform.

I paid ONCE and can use it on Windows desktop even though the MSA is different. Settings/My Account - log in there with the right ID. I've used it since it was in beta. Sure, it had quirks, especially during the first three months it was out, but now, its solid. I use it religiously on just about every trip I take. Some addresses it won't find, but usually finds something close enough or I can put in the name of the hotel or business instead and it finds it then.

I purchased this back when Here was dropped, before Maps became usable, I really enjoy using it. I do find myself using maps instead due to Cortana integration, but I do really like Sygic.

Meh, I bought this for free using Bing points a while back, but I didn't like it and don't even have it installed at this point. Lots of silly quirks and crashes for a Maps app.

Silly quirks and crashes sounds like daily bread and butter using Windows phones right?!

Hehe. Edge has been crashing on Mobile Creators Update since CU was released, and they still haven't fixed it...

I tried using this on the free mode but found the UI baffling. I was hoping it would suck less than Maps in terms of usability. Maps hasn't given me traffic predictions (don't even mean live, just when choosing routes) since Creators Update.

I tried Sygic here in the US for a few days, alongside Microsoft Maps. I found Sygic most of the time gave inappropriate navigation directions, so after the free trial period I decided to not purchase any of it. I just use Microsoft Maps again, and although not great, I found it to be better than Sygic (again, in the US). That said, Microsoft Maps is still MUCH inferior to Here maps, and stil somewhat inferior to Google Maps. But I'm keeping Sygic loaded as a backup to Microsoft Maps, because with Microsoft, at least where Mobile is concerned, can't be trusted to stick with it and support their customers long-term.

Here is a right royal pain in the navigation! I've lost count of how many corrections I've had to submit. If it wasn't the satnav built in to my car I would never use it.
I used Sygic for many years starting on Windows mobile 6. The best at the time. Paid for a lifetime subscription to find later that the maps and navigation was given free to everyone.
Now for standalone offline maps I use either Sygic or more often Open Street Maps (but as an app on an android; I gave up on Windows after 6.5.)
TomTom POI aren't that good either. Far too many seem to have been machine created and are not in the right place.

LOL Why would anyone commit to this?? And seeing other's comments about its stability issues just basically nixed any possible chance it would have had for me....no thanks even if it was free.....

It works really well in certain countries such as Canada, France, Netherlands, India, etc. and not work in other countries like US, China, Japan, etc.

Hello. I live in a country that doesn't have offline maps from Microsoft and sygic has saved me because the company offers offline maps for here. One thing I noticed is the estimated time from point A to B can be off (it sometimes estimates a 2.5 hour drive as under 1.5 hours) but the path has been spot on.

Syigc is a complete joke with it comes to routes. Sometimes it only shows you one possible route when other navigation apps show three. Traffic is a complete joke, if it even works. It's a waste to even download this crap. Copilot is pretty good. Navgon is good, with free traffic, but a bit cryptic. Windows Maps is pretty decent, but not as accurate. Constatly requesting updates to locations

Waze for me....fast and very reliable

I've paid for Sygic and regret it. Hopeless searching for addresses - rarely found what I was searching for (in big cities in Canada), completely frustrating to use, and buggy. Navigation jumps 400 or 500 meters at a time, I've found it impossible to use effectively and gone back to Microsoft Maps.

That 1520 looks gorgeous!!!

I used to use Windows Maps on Windows 10 mobile, but then I switched to Waze on my 950XL. It's an older app but it still works (before you first start it, turn off wi-fi to stop it crashing. You can then enable wi-fi and it works fine after that first time). It's an old client but covers the basics pretty well (getting from A to B with traffic rerouting). I now use Windows Maps for offline mode (travelling in US for example) and Waze in UK via 4G/3G.

Why bother when you have google maps?

Google maps is okay on Windows 10 and the app called "Maps App Discovery" is fine

Yea still worth getting a windows phone
Windows Central Newsletter
Thank you for signing up to Windows Central. You will receive a verification email shortly.
There was a problem. Please refresh the page and try again.