Sygic GPS Navigation adds new maps, offers World pack for 70% off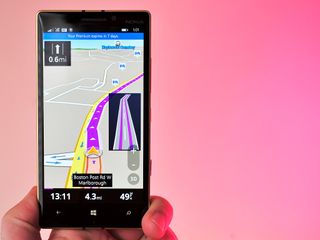 Sygic has updated their GPS Navigation app for Windows Phone devices, adding new maps in time for the summer vacation season. It also includes new points of interest, all for free. Windows Phone users are also able to try out some of the premium features for free for a limited time.
Here's what the changelog has to say about the latest update.
Sygic is also holding a promotion for Windows Phone users. From now through Monday, July 6, customers can grab the GPS Navigation World map set for 70% off.
Download Sygic: GPS Navigation from the Windows Phone Store
Windows Central Newsletter
Get the best of Windows Central in your inbox, every day!
I have problem with walk mode, it is always pointed to north, no matter where I go.

Well why anyone will pay for this when we have reliable here drive for free

Reliable.....LMFAO.....oh, you were serious?

Yes for me they are.. So much better than google in India especially rural areas

The reliability of Here Maps is entirely dependant on your location. I've not had very good luck in the Chicago suburbs. That said, when I tried this app when it was released, it looked great but led me far astray. I am sticking with Copilot.

Interesting. I live in Chicago and whenever I head out to the the suburbs, I never have any problems with Here.

That's the issue with HERE, it's good for some things and some people, awful for others. I like the UI of HERE, but the mapping is mediocre, at best. Google Maps is still light years ahead in terms of actual navigation (their UI is horrible though). Paid apps like Navigon and CoPilot help bridge the gap between HERE and Google Maps. Hey, if HERE is great for you then fantastic. Let's just not make the mistake of thinking that since something is awesome for you it is the best solution for everyone ;)

Here Drive works best for me, and I travel ask over the US for work - I'm on the road about 3 weeks out of the month. Sygic always crashed or froze at terrible times for me. Sometimes the app wouldn't even fully loaded. What a waste of money.

Yup.. But if it's good for me...how i will know it's bad for others..

Just don't assume, that's the point ;)

Daniel can u plz look and complain about the gps issue in newer lumia phones like 730 and 640xl Gps doesn't locks without internet.. Suppose we are on offline maps and turn off and on location it will never relocate..you have to keep location on forever.. U can't turn it off to save power. I am an admin at a Lumia fb Page and many members complain about the same..can u plzz?

When you want GPS, why are you turning off location?

I reckon once you get a GPS lock, keeping location on or off is irrelevant.

Yep, even if location is turned off, when it's turned on again, GPS can never lock without data, that's the problem.

Without data, it should take about 15 minutes to get GPS lock (since you will be missing aGPS). How long are you waiting?

But on my older Lumia 520, without data or cloud cover and in open spaces, it took less than 5 minutes.
My Lumia 730 on the other hand takes about 10 to 15 minutes to lock without data. There is no problem once it locks, but it takes too long to lock.

Dude I should be the Admin. You do realize Daniel is merely an editor not a developer or anything right?

Ticom all I realize is that daniel will be heard and responded by Microsoft... if u can as a developer help us
.. Plz help

Yes older Lumia phones (620 for me) didn't had this problem

Because Here is not nearly as good as Sygic (at least for me). Features that are missing in Here (or I did not find them) and are in Sygic (Navigon, Copilot and others): Waypoints, Alternative routes,Line assistant, Junction views

Here drive sucks in the region I live in Brazil! And its a city with +1.3million inhabitants! I F hate here drive!

Anyone else faces problem with their navigation ( it doesn't locks if location turned off and turned on)

Yes, the only workaround is never turn off location.

What's the best navigation app for Southeast Asia?

I tried out Sygic earlier this year. I had a problem with the audio not playing out of my car speakers despite Bluetooth being activated. (HERE seems to do fine in this department) Has anyone else encountered that problem with Sygic?

For those having problems, contact their support via email. They are very responsive. My compliant is they still cannot handle giving turn-by-turn voice directions when the phone is connected via Bluetooth in the car like you can do with Copilot which prevents me from using it most of the time.

That's odd. I use Sygic on my Windows Phone when connected via bluetooth in car and I have no problems with turn by turn navigation.

I have used this for a few months now and generally happy. I tried different makes and decided to pay for this as I travel quite a lot and needed more than Here offered. Like the way it integrates with Cortana -- just say to Cortana "directions to Gatwick Airport" and you are taken to the voice sat nav and away you go.

It would be nice if you can note the price points in the article itself (eg. regular price is $?, discount will be $?), even better if you can tell us how this deal compares to previous deals. WW

Before I even try it, does it automatically reroute for traffic? Pisses me off HERE doesn't. Still using my trusty old-school Garmin for this very reason.

Navigon's (owned by Garmin) routing seems to work better for me than Here Maps, although pricey and the UI and graphics are outdated. WW

The more I use this app the more I like it. It is visually pleasing especially in landscape mode on my 1520

I think windows 10 might have some kind of Bing GPS. Voice guided navigation

Actually it's more like only 25% off. I did a comparison of GPS software for a dutch windows blog back in February. If I compare the price from then with now the price had only reduced by 25%. Not 70%. And that's including the HUD pack. The curious question for me it's what the incentive would be to reduce the price and update with new maps. I could understand the incentive/business model of the current reduced price is an incentive to use older maps. One the price is back up I can understand am update better. So it's still not clear what you're buying. Reliability of maps update policy experience here in the Netherlands is not clear also. Sygic does have advantages over say here maps with they have a few specialized features and more another map animations. Bit as far as I can tell her still has global free map downloads where you have to pay suffix a packet price for "free" map downloading. ​