SysApp Pusher gets doublewide Live Tile and Doodle Jump gets new look for Windows Phone 8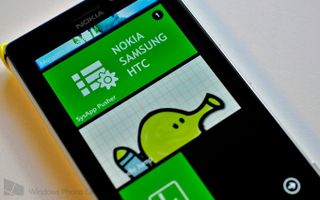 As the Windows Phone ecosystem continues to grow, more frequent updates are becoming more and more common. Today, we have two that are small but noteworthy.
SysApp Pusher is a free app that checks all the custom OEM stores for new updates, including Samsung, HTC and Nokia. While there are quite a few of these "system app checkers" now available, SysApp Pusher is our choice simply because it gets updated once, sometimes twice a week with new features. The developer clearly has a vision for this app and version 2.0 is well worth taking for a spin.
Since we last mentioned SysApp Pusher, it has received the following new features:
Wide tile has been added (see lead image)
Live tile has been implemented (see lead image)
About 15 applications from Nokia have been added, including new "glance" application
Added settings where you can select which vendors to check for updates
Checks availability of application in your region. And mark it with red circle is the application is not available in your regional store.
Share information about application with social networks
App will show count of updates after check (if found)
What we thought was a simple concept has turned out to be a full-featured and impressive little app.
Why use SysApp Pusher in the first place? For a small percentage of you, the Store Tile is either slow to show app updates or it doesn't work at all. Another is that System Apps are not just third-party programs but often affect how the device operates—especially true for Nokia phones. Because of that, sometimes you want the latest and greatest right now.
Finally, the app is also a very important if you get a new phone. We speak from experience here but when you load up a new Nokia device, you'll want all of those system app updates to get things like Glance. We often have 10 or more Nokia app updates on a new Lumia. This app will help with that process since system apps are not directly listed in the Store and it can take 24 hours before they show up as waiting updates.
SysApp Pusher v2.0 – Windows Phone 8 – Store Link – Free (optional 99 cents)
Doodle Jump gets a new Tile
Doodle Jump, probably one of the greatest time-wasters, was re-released for Windows Phone 8 recently. Unfortunately, it lost its Xbox status but many of you were clever enough to figure out the upside: more frequent updates.
Indeed, the app has since been updated twice since August 21st to address little bugs like the lockscreen timeout and auto-dimming. Version 1.0.2.0 is now live in the Store and it fixes a small but annoying problem: it gives us a new icon.
When Doodle Jump first came out for Windows Phone 8, many of you noticed the "crappy" icon that it had, which appeared to the same one for the iPhone--namely it had rounded, green corners and it just didn't fit our OS. The developers have now given a custom one for Windows Phone users that's super square and ready to put on your lockscreen. It's even doublewide ready.
Kudos to Lima Sky for making the community happier with the game. With the HD graphics and smooth gameplay optimized for Windows Phone 8, Doodle Jump is still our go-to game for a quick distraction.
Doodle Jump - Windows Phone 8 - Store Link – 99 cents
Daniel Rubino is the Executive Editor of Windows Central, head reviewer, podcast co-host, and analyst. He has been covering Microsoft here since 2007, back when this site was called WMExperts (and later Windows Phone Central). His interests include Windows, Microsoft Surface, laptops, next-gen computing, and arguing with people on the internet.
Hey what was the result of that nokia teaser?
And for this article:
Yay new aesthetics :) always welcome in making WP look even better with yo lovely apps ;)

I don't think that was it.

I think it was Where's my water 2?

Unfortunately, I believe it was nothing more than this disappointingly humorous graphic.
https://twitter.com/nokia/status/378589862179246080
Now, lets get back on topic before Daniel gets on to us.

It was the Lumia 925 coming to ATT.

That wasn't a surprise and wasn't even mentioned by @Nokia.

You guys convinced me to buy it again >< huge improvement over the old version though...

Hah, good to hear. It's well done, not just a simple port. I always play it (and Fruit Ninja) when I have a free minute.

Wow, same! The Fruit Ninja redo was amazing; it feels like a whole new game now, that's why it's the only game I actually pinned to start (besides Doodle Jump). As you said, fantastic time wasters!

What about multiplayer though ? My iPad has had for years now:(

Wow.. Would you look at that. Doodle Jump has more updates than its Xbox counterpart did. Long live INDIE TITLES!

Speaking of indie titles, have you played castle crashers?
I wish they would port that.

All the users of windows phone complain about not having enough free apps on the store,they are content with the app situation but need it free,like on iOS and android with freemium model,we get quite a few.microsoft needs to step in here

NO NO nofreemiums! IOS is clogged with em. Too many IAP's keep WP a virgin OS as much as possible. You trade off good graphics and game play for $49.99 plasma gun or $99 bank vault of coins and terrible graphics.

What i need is an app pusher for all my apps. I have not had an update on my 820 for about 3 weeks

Just keep your wi fi on when you go to sleep and surely you'll find an update pending in store :)

I've tried that, i've also tried leaving mobile data on overnight and still no luck :/
I didnt use to have any trouble with it, no idea whats going wrong.

The time of day when a Windows Phone device checks the Store for updates is unpredictable. So if you disable mobile data and WiFi for most of the day I am not surprised that your phone doesn't find updates.

Seriously, why do you bother having a smartphone?

I'm struggling to find where I wrote that I keep data and wifi disabled most of the day...maybe you need to brush up on your reading skills.
I have been keeping my wifi on 24/7 for the last 2 weeks, only turning it off when I am using data (which as previously mentioned I have tried leaving on overnight) Comprende?

Why is that SysApp Pusher can't even update itself ?
I checked on "SysApp Pusher" and they have no updated
so you have to "reinstal" from the WP Store then you get the update.
Brilliant !

Mine updated itself, but it keeps saying that I have to update apps that I have already updated (sometimes days ago).

Agree, there is definitely a bug in the app. I've experienced this behavior as well.

Who told you this is bug? Windows Phone gives no access to list of installed application so there is not way to find what apps are installed and what versions do they have. If it would be possible it would be implemented.

Yeah, it doesn't mean you haven't updated them. It simply means that the apps have been updated since the last time you checked them within SysApp.

Thanks to the latest hard reset that I did after the GDR2 Update, my phone has started working flawlessly. Nothing like getting a surprise app update notification on the Store Icon. But wonderful apps like these won't hurt either.

Was the video trimmer updated for 512mb devices? Tried using this app to get it before but it said it wasn't available without amber, which I had for a week or two at that time. Got it now though.

'affect', not 'effect' (paragraph 5, sentence 2).

start screen* I don't think pinning apps to my lock screen is possible :P

If only I could disable other manufacturers from being shown.

My best time waster would be Wordamnets, but I just love Doodle Jump I was very sad when it disappeared from the store for 6 months. :(

Would love Doodle Jump again with achievements so I can finish it off. I deleted it to make space & then realized it had be delisted without being able to recover it.

this sysap pusher app is a life saver if you perform a hard reset. i bought a phone from a shop where they connected it to a windows account , NOT my windows account! i am new to WP so it took time to figure out that i only could change it to my own windows account by performing a hard reset, which obviously wiped out everything including amber upgrade and all of it's features that worked well prior to reset. anyway , i performed a reset , it ran smothly and took only like 5 minutes. but afterwards i had to install all the upgrades, because automatic nokia's search for upgrades kept telling me that there were no new upgrades , while i was missing some features that are supposed to come with amber, like glance feature. this app found all that was missing , showed me in a list , so i just had to click on what i wanted and it downloaded and upgraded . so , thanks god, my phone is functioning just fine now , looks wonderful with glance and i put this app on screen to easily use it from time to time.
to the developer: THANKS ! keep up the great work you're doing for free, and seriously microsoft and nokia should pay you because so many people would return their phones if it were not for you providing a work around their not working properly updates system.
Windows Central Newsletter
Get the best of Windows Central in in your inbox, every day!
Thank you for signing up to Windows Central. You will receive a verification email shortly.
There was a problem. Please refresh the page and try again.