System Shock reboot starts its Kickstarter campaign; get the Windows demo now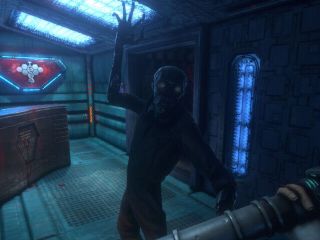 As promised, Nightdive Studios has started its Kickstarter campaign to raise money for making a reboot of the System Shock sci-fi RPG franchise. The developer has launched a short Windows demo of that upcoming reboot, which will be released in 2017 for the PC and Xbox One.
The campaign is seeking at least $900,000 in the next 30 days to fund the reboot of the game that was originally released by Looking Glass way back in 1994. Here's a look at the reboot's features:
A modern take on System Shock, a faithful reboot; it's not Citadel Station as it was, but as you remember it. Many improvements, overhauls and changes are being implemented to capture the spirit of what the original game was trying to convey, and bring it to contemporary gamers.
Re-imagined enemies, weapons, and locations by original concept artist Robb Waters.
Terri Brosius reprises her role as SHODAN, and new VO will be recorded.
Brand new musical score composed by Jonathan Peros.
The user interface, game mechanics, enemies, and puzzles will be updated to reflect modern aesthetics and sensibilities, while maintaining the feel of the original.
If the $900,000 goal is exceeded before the end of the campaign, the developer has a stretch goal of $1.7 million which will add features like RPG leveling, enemy limb dismemberment and much more to the System Shock reboot:
Get the Windows Central Newsletter
All the latest news, reviews, and guides for Windows and Xbox diehards.
Yes! I've been waiting for this! only played System Shock 2, looking forward to reboot of the original. Looking great!! Stoked that Terry Brosius is reprising her role! Posted via the Windows Central App for Android

$30 for the digital copy is really good. $10000 is the biggest reward

Looking Glass Studios had previously made the Ultima Underworld games, which featured the same kind of mechanic. I thought these were the best RPG games of their day -- absolutely immersive, because finally you could play in the first person, non-tiled world with free motion. It had never been done before for anything but a FPS, and that was really just Doom at that point (maybe Quake was out by then too, don't recall the exact sequence). System Shock was the first to feature a new world (Ultima Underworld was in Origin's existing Ultima universe) and it was just brilliant. A nearly perfect game for my tastes. Maybe a better game historian can correct me, but I think System Shock really created the genre that has become mainstream of merging FPS gameplay with an RPG (with its inventory, puzzles, character progression). And as many know, Ken Levine, who went on to create the more recent Bioshock games, led the excellent sequel System Shock 2, which certainly seems to have some key similarities all the way through to his later Bioshock. System Shock 2 was definitely the better game, but the original System Shock was the real groundbreaker.