T-Mobile announces March 18 event in New York; calls it 'a real piece of work'
T-Mobile has sent out an invite tonight for a March 18 event in New York City that it promises will be "a real piece of work."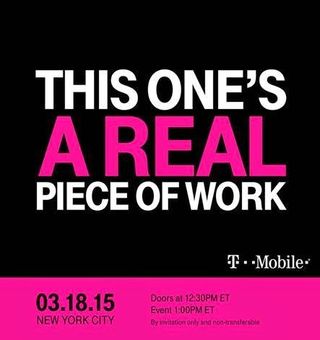 There's no telling what T-Mobile has in store for this event, but the invite featuring a single tag-line falls in line with what we've seen from past uncarrier events. The only other hint that T-Mobile gives is a message saying it is "rewriting the rules of wireless again!" For a recap, during T-Mobile's most recent Uncarrier 8 event, the carrier unveiled Data Stash to the masses.
In any event, join us on March 18 at 12:30pm Eastern when we'll report on whatever the Un-carrier has in store. In the meantime, feel free to speculate below!.
Windows Central Newsletter
Get the best of Windows Central in your inbox, every day!
Dan Thorp-Lancaster is the former Editor-in-Chief of Windows Central. He began working with Windows Central, Android Central, and iMore as a news writer in 2014 and is obsessed with tech of all sorts. You can follow Dan on Twitter @DthorpL and Instagram @heyitsdtl.
Unlimited Netflix streaming just like radio and music. That's just they beginning.

If they are making so many services free streaming in terms of data, why just not make it unlimited?

There is no way they are gonna make Netflix unlimited streaming. That would cost them RIDICULOUSLY large amounts of data.

Not gonna happen. They'll end up going belly up if they do this.

You haven't been following the net neutrality law that got passed, have you.

Wi-Fi Calling for Unlocked Phones!

Don't you mean the iPhone : \

iPhone has wifi calling, do your update to IOS8 already... Wife has a 5s and it works at our house (which has NO cellular coverage due to the geography of where we live).

Very nice but doubt if i happens it would include WP.

GS6, can't see any other thing coming!

An event about a retarded phone... Highly doubt.

call it retarded all you want, it's the most powerful phone in the world right now. In the mean time, we're getting all excited for Snapdragon 400/low end Lumia's.

Well it is kinda retarded, no microsd card support, no removable battery, the best part, it is ACTUALLY costlier than the iPhone 6. S6 Edge is costlier than iPhone 6 Plus.

PLEASE, do NOT even compare the most overrated, 4 YEARS BEHIND, ............ the iJUNK, with Samsung or any other brand. Samsung (and others),HAD 750 res, 1800+mAh battery, 8 pix cam, 1.2 pix front cam, large screen,..............4 years ago dude. in 2015, thy have ""curved edge"" QUAD HD screen at 577ppi, 2500mAh turbo wireless charging, Glass back like Sony, 16 pix super fast camera, 5 pix front, 8 core killer 64 bit CPU,................many things, that iJUNK wished it had, till Samsung, LG, Sharp,...................makes it for them, since CrApple does NOT make crap. All they do is, way overprice their old ass phns, so ordinary ppl think, its so special. just a fooling, pretending, lying brainwashing......scam. maybe in 2019, they catch-up to 2015 Samsung/others technology we use now. LOL

the flex 2 and the m9 are just as powerful it more so then the gs6 and Microsoft is coming out with a line of phones that will use the 810.

LOL! Blindness at it's best.

Cheaper plans again to take on other carriers

Maybe they will blow us away and release a NEW, HIGH END Windows Phone? Doubt it -_-

They'd have to be smoking an awful lot of crack for that to happen..

They're a happy bunch of stoners so maybe :)

Release a good windows phone? MS would never let that happen. It would ruin their "modiocre, boring" strategy.

Microsoft and Deutsch Telekom already made an agreement to push windows phone with new Windows 10 for Mobile. Not impossible to imagine something similar for T-Mobile. I sure hope so!

its coming, be patent. MS is waiting to release it with Win10. it would only make sense to do that, with a killer flagship phn. don't you agree?

More ways to drive sprint into the toilet.

Sprint is doing that on their own already

I think they're doing great honestly.

Paying off financed phones from other carriers.

Details on 640 launch date

They better unveil a flagsh...oh wait.

Haha their announcements so far haven't really blown away anyone who knows the wireless system. The Smartphone funding one for good payers? Lame. The contract carriers already had policies in place that helped out good payers. Seems a little bit like misdirection.

The problem is contract carriers didn't put much effort into letting their customers know about these policies. I had to ask Verizon about end of contact discount, something that should be automatic. That's one example.

The 640 launch date and because of customer demand... they will also carry the 640XL

T-Mobile needs to be less relevant until: 1 - MixRadio is added to their Unlimited program :( 2 - Improve their Lumia options! 530, 635, 640 are not what I would call an upgrade to the 925 :(

Because they're not. They're crap. I'll wait for M9 or MS New phone to show off win 10 when it's finally ready

That's Microsoft's fault, not T Mobile. The only flagship level phone that Microsoft came out with after the 925 was the Icon and VZW got that one. MSFT hasn't had a flagship phone in over a year now.

What MS needs to do is what apple does with the iPhone. Push one or two flagship phones to all U.S. carriers at one time not make different ones for each carrier.... EX: Lumia 1520, 1040.... Need I say more? At&t always gets the good phones.... While Verizon settles for less high end models..... Icon, 928.....

I wouldn't call the Icon less than high end. The only knock on it was that it was sort of thick but that was because of wireless charging. The rest of your comment I agree with. MS should produce a Surface phone that is on every carrier as their flagship. Make it metal, between 5" and 5.5", and quad HD screen. Then leave the Lumia brand for these types of phones you can buy off contract for less than $300.

Even though i want a flagship phone my 925 has been a really good phone so far. I will keep it on till there is a MS flagship phone to replace it.

T-Mobile is deserves the majority of the blame for lack of flagship WP phones. 925: No promotion. M8: No promotion and available only by mail. And they wonder why neither one sold all that well.

How is T-Mobile to blame when there are no WP flagships to promote? The Icon was the last flagship for MS and even that is a year old.

I love my 925, and the 640 XL(if T-Mobile gets that too) is about on par with it considering the amazing price for it. The only downside of the 925 is the overheating. My phone always gets so hot when I open any app other than photos lol. So I'll either get the 640 XL unlocked if T-Mobile gets it, the M8 for Windows, or wait for a Windows 10 flagship phone

FREE LUMIAS FOR EVERYONE!!!!

It's my birthday then! Too bad I'm on Vodafone Ireland!!

Why do all the writers always cover a man with t-mobile behind when writing about t-mobile?

He does an add for shampoo too!!

I believe this one is for small businesses per tmonews.com

Yup, definitely (obviously, one could say, based on the name of the event) something to do with the enterprise market and/or work productivity.

Unless they do away with two year contracts and the jump or next programs which have you over praying for the phones then it's of no interest to me. So what are they going to advertise, something about how they have specials on the iPhone?? Their service is still crap no matter how cheap they are, just like cricket and their $45/mo plans were in the past..... Where are they now(ATT bought them as we all know)

I use cricket and love it, service everywhere, 10 gigs a month for $60, pretty good deal

As stated ATT owns them now....I was speaking of cricket before the att purchase

Check your plans, they are currently offering 20GB for $60 but you have to switch to it.
It's a hell of a lot better than the 3GB T-Mobile gives for that price point.

Tmo gives LTE for that price also, and for $70 bucks, you can use 50Gb a month(or more)

The "unlimited" tier on T-Mobile is actually $80, which is more than $90 after taxes and fees. Cricket's 20GB is $60 after taxes and fees, quite a difference.
And cricket has the coverage to let you actually use it.

T-Mobile?! They have no contracts. And the jump program is insurance with some added benefits.

Tmo be an uncarrier and show the rest how to support WP. One can dream lol.

Maybe they're offering a signal for people on tmo plans! I miss having a signal

Now that's funny. Except I can say the same for ATT at my house. No signal at all.

Right, but in general the coverage is significantly better. We can cherry pick exceptions all day.

Hell yeah! That's why I switched to att about 3 yrs ago. Sorry ass service! Central Texas area.

It's obviously Denim and Windows 10 coming to the 810.

lol, yea thats so not happening.....

It's probably some sort of corporate / enterprise data plan to gain corporate customers.

Regardless of what it is, it will ultimately benefit me on AT&T. They seem to follow suit shortly thereafter and it makes T-Mobile a moot point, since their service is poor in my neck of the woods.

Office 365 subscription with T-Mobile purchase duh.

Unlimited data for everything. It's 2015.. Sick of tethering, WiFi, etc... It's time carriers get it done.

MI have the 30$ monthly plan with 5gb and 100 min. On my unlocked att Lumia 1020. I wish they would just make unlimited minutes standard and not charge for tethering. Maybe even make Skype calls data free?"only in a perfect Walgreens world" :/

Lets hope its not the Kyocera Echo part deux.

They're going to unveil a real LTE network ?

As if their actually lte isn't real enough. T-Mobile is the fastest when you actually have it, but its really an awful carrier for anyone who isn't in a populated suburb or city.

Return of BlackBerry to the lineup?

I just got a text from them last night about a promotion called "SCORE!"
http://explore.t-mobile.com/phone-upgrades-score It's kind of like their JUMP! plan, but for prepaid. Additional $5/mo. for a free basic 4G phone after 6 mo., or for discounted pricing on all phones after 1 year. Discounts look to be ~$100, but for some phones like the S5, are only $30, which is a lousy deal after paying $60 plus taxes for SCORE! over that year. This could be it, but since it is already on their site, it wouldn't be much of a surprise. I'm still hoping they'll knock the $10/mo. in taxes (20% tax rate!) off my bill and for all T-Mobile customers.

How is getting a SGS5 for $90 plus taxes a bad deal? Nevermind, I just looked at your link and yes, paying $500 for a year old phone doesn't make sense. I thought you were saying that the SGS5 was $30 which would have been a great deal. But I'm sure there are plenty of SGS5's to be had online for well less than $500.

Something something marketing bullshit.

They are going to pay off your mortgage and car payments and give you a Lumia 2990 with unlimited everything for $10 a month...no contract...

Are they still merging with that other good for nothing carrier - sprint?

Well I believe that IF T-Mobile does not already carry the HTC ONE for Windows, this may be their announcement at least judging by the wording "This One's" in the posted Invitation. Of course this would depend also to whom generally the Invitation was sent. If it weren't sent just to Windows Central and other mainstream media concerned with Cellular services, it could very well be the unveiling of HTC ONE M9 prior to launch by other Carriers.
Then again I am in Canada so am rather unfamiliar with what handsets they currently have on offer. I do know that were I residing in the USA, T-Mobile would easily be my choice for my cellular needs.

I'm going with your guess. Probably because I'm also hoping it's true. If TM gets the 640XL, then I'll have to figure out which is the better choice.

"Switch to T-Mobile from any other carrier and we'll pay your ETF and give you a free year of service, a free phone of your choice, and a snoopy fridge magnet!" Boom. You read it all here!

Throw in a Snoopy Snowcone maker and I'm sold!

"This One's" a real piece of "work". Um something Microsoft related since "one" like in OneNote OneDrive etc and something productivity based? Since work? 100gb free of OneDrive storage? Free office 365 subscription?

Could be. Their parent company already did this recently.

Work /Business focused wireless plans

Yup something business related makes sense

If they REALLY wanted to do something that would be TOTALLY unlike a carrier, they would announce that from here on they will ONLY support Windows Phone. Yeah, like that would happen. Still, it's totally unlike a carrier to do something like that. ;) It's probably some sort of reaction to the FCC ruling on Net Neutrality, which now makes it contrary to the rules to allow unlimited bandwidth on some things and not unlimited on others. They may as well come out and announce a new unlimited LTE plan that's the same price as AT&T's 30GB plan. People with higher than 30GB with AT&T would jump on it, IF there was actually any coverage in their area.

I am on unlimited 4g data in England for £15 pm..so why not NY?

Lemme guess, Three UK? I'm on the same network if yes.

I pay 70 a month for unlimited Talk, Text, and LTE Data plus 5 Gigs a month of tethering on T-mobile and most months I'll use 20-30 gigs of data easily. It's no contract. The Jump 2 program as someone else stated is just an insurance program with added benefits. As far as service and connectability it's excellent but I live in New York City Specifically Manhattan so the signal is always strong. So if you live out in the Boondocks then yes T-Mobile wouldn't be your best choice but for us City Dwellers it's goooodd. As far as power house windows phones T-Mobile has the HTC One M8 just wish they would pick up higher end phones on the Lumia end

Announcing support for all Windows phones including bring your own :)

Probably just some new plans to go with their new lte network. Hopefully it'll be done where I live soon its still 2g right now

Ah. They're finally going to announce the Softcard app for their network. ;)

CDMA. Partnership with sprint. Bring your unlocked VZ or Sprint phone to TMo to take advantage of their plans. Pure speculation, but inspired by ting, now supporting GSM.