T-Mobile makes it official: HD7 getting NoDo, not yet for Dell Venue Pro; Changelog posted too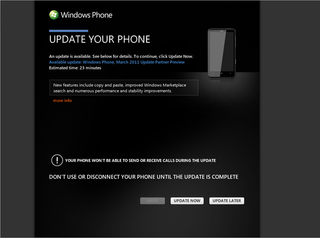 By now, a lot of T-Mobile US customers have received their alert about the February and March updates for their HD7s. T-Mobile has published a step-by-step guide on the process, which can be found here.
What is obvious is that the HD7, but not the Dell Venue Pro is getting NoDo today. The DVP did receive the February pre-NoDo update but we've heard, but not confirmed, that NoDo will be hitting the Dell phone in mid-April (April 18th?)--has to do with more "fixes" being on board in addition to NoDo. Hopefully we'll hear more about that later.
In addition, what is curious is the changelog for the HD7:
Adds the ability to copy and paste text.
Stops unnecessary data connectivity and lowers data usage while using Yahoo! Mail.
Improved Marketplace search
While connected to Wi-Fi, customers will now see different background images in the Search screen.
We haven't heard about the Yahoo! Mail bug being fixed in this update before, nor about the the "background images" being different during search when over WiFi--more subtle changes we suppose.
Source: T-Mobile 1, T-Mobile 2
Daniel Rubino is the Editor-in-chief of Windows Central, head reviewer, podcast co-host, and analyst. He has been here covering Microsoft since 2007 when this site was called WMExperts (and later Windows Phone Central). His interests include Windows, Microsoft Surface, laptops, next-gen computing, and for some reason, watches. Before all this tech stuff, he worked on a Ph.D. in linguistics and ran the projectors at movie theaters, which has done absolutely nothing for his career.
Still nothing on T-mobile elsewhere? Like the UK?

Where did you hear that news about the Dell? Some people on XDA reported they got NoDo on the Venue Pro already via the official update.

(1) T-Mobile's site/help area makes no mention of Dell software update--could be inadvertent though(2) Heard through someone about the delay(3) People here haven't confirmed the DVP getting NoDo, but perhaps some are?If people can verify they have NoDo on the DVP and not just the Feb update, we'll modify the story :-)

Your reasoning and the story are inaccurate...For starters:1. The Dell Venue Pro is an unbranded T-Mobile Handset. That means it isn't supported by T-Mobile directly. T-Mobile won't publish an update notice for the Dell Venue Pro. Their customer service represenatives have no idea the phone is on sale and their site has NO MENTION of the handset. So to expect a DVP announcement from T-Mobile is foolish.2. Who was this person? At least what gives them the ability to be trusted.3. Some have stated they are. More important than their posts though is Microsoft's "Where is my update?" page showing that the NoDo update for the Dell Venue Pro is in the 2nd stage. We have started getting the Pre-NoDo which is in that stage and lends support to Microsoft being accurate that this update is on a trickle release.If there were more changes to be added to this update it would still be in testing... It isn't.

I disagree and you have not convinced me otherwise.1. "Dell Venue Pro is an unbranded T-Mobile Handset" That's a contradiction in terms, sorry. T-Mobile and Dell are certainly working together on this handset and it needs approval just like the HD7.2. Why would I reveal a source who doesn't want to be named to you? If I already put that we have not confirmed, that should be good enough for you to accept or dismiss the info and not to take it as gospel.3. Some? Outside of those doing the Hungary trick, I have seen no proof of US DVP users getting NoDo, just the February update. Look at Zigg in these comments. Why are HD7 users reporting they are getting NoDo but most DVP users are not?

Hay I agree with Daniel Rubino, T-Mobile does have a say in this phone, I'm sure its not like others but it is there bands and service..Also I want to point out that I can beleive this, because there are alot of users "Not Me" with problems with the SD Card and if it might take a few more weeks to get this fixed for thoes users that did not upgrade the SD Card than this is another good move for Microsoft, look they pushed out the pre NoDo with no issues they are pusing out the NoDo to other phones with no problems I think they got their act together at this point with the updates and I bet you will will see the SSL patch fix soon after all of this so they have truned the corner and they are headed for perfection with the Dell Venue Pro now lets just hope the fixes work..BRING ON MANGO!!!!

1. No it isn't. The DVP is considered a T-Mobile Handset and T-Mobile has to approve the updates, yep. But T-Mobile officially gives NO information on the handset! You can't find it on their website or in their stores. It also is unknown to T-Mobile (both in store and via the phone). This is because ALL T-Mobile phones are required to carry to T-Mobile brand and the Dell Venue Pro lacks ANY T-Mobile logo on it ANYWHERE (making it an unbranded, i.e. no logo, T-Mobile handset).2. I don't want you to reveal his name. I'm just asking how can he tell you the update isn't coming when MS says it is and now so does Dell.3. Yes the forum lists people getting it without the hungary trick...

Dell confirmed that NoDo is rolling out now:http://twitter.com/#!/LionelatDell/status/52939756748816384

Until a few weeks ago, my Bing search would not update the background image over the cellular network. It did update over WiFi. I thought it was fixed.Atlanta GA. Still waiting for the 2nd update.

I did the feb update but no nodo yet. i thought it was on there and immediately jumped into puzzle quest 2 and it still is slaggy as all **** whatever tho. i'm not going to do the hack thing. i want to wait for it to be a legit update.

Just got part one of the update for my HD7. When dose the second part come?

woot woot! got the update for my HD7 on my mac!

Posting this here and on the original story: I want to share with Focus owners using the Hungarian Hack to update..I couldn't get my phone to update. It kept failing on the backup step. The solution was to remove all music from the phone first. Not only did this make the phone backup faster, but it finished the backup first try(I had tried 5 times before removing music with no success). Good Luck.

Dell Venue Pro User:My device updated with the Pre-NoDo update: 7008No luck in getting it to go further :(

HD7 User in California (GMT -8)7008- Completed7390- Update not available yet :(

Same in Seattle. I've only received the pre-Nodo update. Waiting for full Nodo

No NODO yet already go pre nodoHD7 baltimore

appears your source was referring to the firmware update coming in april and not nodo which is out nowhttp://twitter.com/LionelatDell/status/52940654199836672#

Yup. Just added a new post with the info.

Noticed another little fix to the Marketplace.... you can now look at the landscape oriented game screenshots without it auto-rotating the the image.

Just installed the Feb 2011 update. Very fast process, and nowhere near the 20-minute estimate the Zune desktop mentioned. Partway through I remembered I was going to note which apps I have installed, but I can happily report all my apps and media were left untouched.For reference, I think I had about 8.5 GB free before the update and now I've got 9.67 GB.BTW, if you are waiting on your phone's update notification in Settings to give you the green light, stop waiting and connect your phone to your computer already! My phone gave no indication of a waiting update, but the Zune software did soon after connecting.

Curiously, my wife just reported getting a notification on her HD7. Perhaps the notification process is delayed up to a day. That would save on sending notices to those who sync everyday.

Hey... Isn't it time the charts (http://www.microsoft.com/windowsphone/en-us/features/update-schedules.aspx) were updated?

No, it was posted 7 days ago tonight.

Shouldn't US HD7 status now be "Delivering update"?(I notice the vote/spam buttons are overly easy to press on my phone. I can tap on the left side of the screen and somehow cast a vote for any one of the three. Usually the vote is Spam. Strange handling of the CSS by the mobile browser?)

NODO update arrived today for ORANGE - France - LG optimus 7.Seriously, it is quite a disappointing update.... :(Such a long waiting period just for this?!Some annoying issues, such as no camera settings saved, some marketplace issues are NOT SOLVED.Bring the MANGO update quickly! Please!

I've got the 7008 update still waiting on the NoDo update.

Some genious on XDA has found a way to force the NoDo update to come. i tried it and it worked.... surprisingly even though it makes no sense... let me know if it works for you. Im on an HD7 i fot Pre-NoDo yesterday and only after doing this today did i get the push for Nodo, now installinghttp://forum.xda-developers.com/showthread.php?t=1015131

Thank you Doctor! The XDA thingy worked for me too after 3 trys. HD7 with T-Mobile in Montgomery, AL.

OMG IT WORKS I HAVE NODO!! SICK!

I ducking love DrHuss. I'm using HD7 T-mobile USA in California and it worked like a charm. I have NoDo thanks again DrHuss. DrHuss for president!!

The XNA Steps worked great on my T-Moble HTC HD7 in Hemet California. and the best part, its not a hack thats going to void my warranty.Thank you DrHuss !!!!
Windows Central Newsletter
Thank you for signing up to Windows Central. You will receive a verification email shortly.
There was a problem. Please refresh the page and try again.