T-Mobile Touch Pro 2 unboxed (sort of)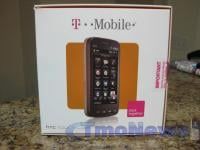 So what we have here of the T-Mobile Touch Pro 2 isn't quite an actual unboxing. Consider it more of a box-opening, as the phone's not actually seen outside the box. But we'll take what we can get, and these pics from TmoNews are certainly another step toward from the dateless announcement on Twitter to the now-rumored Aug. 12 launch date.
Just a couple more weeks, folks.
Windows Central Newsletter
Get the best of Windows Central in in your inbox, every day!
Phil is the father of two beautiful girls and is the Dad behind Modern Dad. Before that he spent seven years at the helm of Android Central. Before that he spent a decade in a newsroom of a two-time Pulitzer Prize-finalist newspaper. Before that — well, we don't talk much about those days. Subscribe to the Modern Dad newsletter!
Chomping at the bit for this phone. One more month to go!

The phone that we have been seeing in the past months have been a Europe model. They are on 5th generation cell phones, the u.s. is barley cracking into the 3rd.

this is bullshit!!!!!!! this is not the tp2 that we have seen over the last few months!!!!!! this seems to me like false advertisment!!!!!! this is not the device that we were expecting!!!!! i am mad as hell!!!!! this thing is horrible looking!!!!! somebody needs to get at tmobile and warn that i will be rallying all my resources together with other tmobile ppc users against this terrible injustice!!!!!! i have the wing and it looks better than this....DAMN, DAMN, DAMN! AT TIMES LIKE THIS I KINDA HATE TMOBILE!!!!!

But, how do you really feel Chris? I agree, I hate the design. Wish they would've done like all the other US carriers and stick to the original design.

I agree. I want the original design. I'll be seriously considering the other carriers since I've been out of contract with Tmobile for quite a while.

Agree in not so many words, the original silver/black design was about 30x better looking. We haven't seen anything but possibly fake renders from AT&T so far...AT&T where you at? I'm sitting on an open contract waiting to upgrade...need me some TP2 (Just not the fugly version).

I agree. They took a really progressive design and killed it. Is that Maroon? I just about had it with Tmo. They have the crappiest phone selection, and they still they still don't have broadband access in my area.

It certainly is not pretty. Rather plain actually. I will wait and see what at&t does with it.

I'M OUT OF CNTRCT ALSO.... AND TO RYAN.... I FEEL LIKE GETTN THE 3GS (IPHONE THAT IS)....I'VE OWNED EVERY PPC TMOBILE HAS EVER OFFERED AND THIS IS THE WORSE LOOKN ONE YET.... I JUS FEEL LIKE TMOBILE NEEDS TO STEP UP IT'S SEXINESS...U FEEL ME. WE R NOT CHILDREN SO WE DON'T WANT THESE FISHER PRICE LOOKIN DEVICES!!!!! I GET SICK AND TIRED OF BEING LAST IN THE PACK WHEN I'M WITH MY CONSTIUENTS AND THEY PULLN OUT THEIR DEVICES, ALL SLEEK SEXY AND POWERFUL..... THEN HERE I COME WITH MY MEDIOCRE DEVICE FROM GUESS WHO>>>>>>> T M O B I L E!!!!!

does anyone know what the outright purchase price is? and also will this version work on rogers network (canada) with my sim card? thanks

the box is weak, i would i imagine that they would have a nice boxing for what they call their high priced and edge technology phone. a box like the one for shaddow would have it. I don't care that much about the box. I really can't wait for the Touch p2 to come out in AT&T or T-mobile. i need to move out my currently contract.

TO EVERYBODY ON TMOBILE.... SPREAD THE WORD ABOUT THIS GREAT CRAP...I'M SURE THAT WITH ENOUGH PRESSURE MAYBE WE CAN GET THE TP2 ORIGINALLY SHOWN ON HTC'S SITE AND ALL OVER THE WEB.... THAT'S WHAT OUR VOICES R FOR!!!! MAKE IT KNOWN THAT WE R NOT HAVIN THIS.....

If only this beautiful phone had a faster processor and a 3.5mm jack!

That would leave, "if only this beautiful phone had a decent battery." And if it had a decent battery, that would leave: "if only it had more ram, a capacitive screen and was thinner."

..and that would leave "if only this phone has window moble 6.5..... ...and that would leave...lol

That was the first thing I said when I saw it also,,,,, WOW T-Mobile really uglified it!

Theres a big difference there http://media.boygeniusreport.com/wp-content/uploads/2009/06/htc-dash-2-t... http://pdadb.net/img/htc_touch_pro2.jpg

so who or what dept a tmobile would one contact to address this issue?

I would love an HTC stock model with US radios (Quad Band GSM & Quad Band UMTS (850/1700/1900/2100)). The look had nothing wrong with it, my bigger issue is the carrier branded junk that gets thrown on these devices. Hopefully the device that does come to AT&T will live up to my expectations... I broke the screen on my 8525, and have been waiting to replace the phone... The Fuze was horrible, wasn't even sure why they chose the 'capacitive' d-pad on that... Either way - HTC and the carriers better hurry up!

Lol, now that I've read this blog, I feel so much better about not waiting for the touchpro2 for tmobile to come out. I decided to go with the mytouch (htc magic). I couldn't get pass what they did to the touch pro, it hurt my feelings.
Windows Central Newsletter
Thank you for signing up to Windows Central. You will receive a verification email shortly.
There was a problem. Please refresh the page and try again.