TAIHE Gemini vs. ASUS ZenScreen GO MB16AP: Which should you buy?
Portable displays are a great way to add some screen real estate when on the move, and we've tested and reviewed a few popular contenders, including the ASUS ZenScreen GO MB16AP and the TAIHE Gemini. If you're wondering which one best fits your needs, we can help.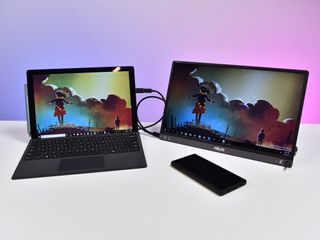 (Image credit: Windows Central)
Touch-enabled display

TAIHE's Gemini, the result of a successful Kickstarter campaign, is available in FHD or 4K, it starts at a lower price than the ZenScreen, and it offers more ports. It's also touch-enabled, but that ups the weight and lowers the battery life, which is already due to a smaller 5000mAh battery size.
For
FHD and 4K options available
Touch-enabled (FHD only)
Cheaper price
More ports
Built-in speakers
Against
Smaller battery
Slightly heavier
Non-touch FHD display

The ASUS ZenScreen GO MB16AP brings a sizeable 7800mAh battery to keep from draining connected devices, it's a bit lighter than the Gemini, and it has a slightly higher build quality. However, it does cost more than similar Gemini models, and it doesn't come with touch support.
For
Large 7800mAh battery
Cover included
Lighter build
Slightly better build quality
Against
More expensive
No touch support
These two portable displays have their share of perks and downsides, and the final decision will likely come down to whether or not you want touch functionality or a 4K display option. Let's take a closer look at what sets this hardware apart.
Portable display showdown tech specs
Swipe to scroll horizontally
Header Cell - Column 0

TAIHE Gemini
ASUS ZenScreen GO MB16AP
Display resolution
1920x1080 (FHD)
3840x2160 (4K)
1920x1080 (FHD)
Display size
15.6 inches
IPS, matte
15.6 inches
IPS, glossy
Aspect ratio
16:9
16:9
Brightness
300 nits
220 nits
Ports
(FHD)
Two Mini-HDMI
Two Micro-USB
USB-C
(4K)
Two USB-A
Mini DisplayPort
HDMI
USB-C
USB-C
Touch
Yes (FHD)
No (4K)
No
Battery
5000mAh
7800mAh
Weight
2.0 pounds (0.91kg)
1.87 pounds (0.85kg)
2.83 pounds (1.29kg) with cover
Design and features
These two portable displays are both slim and lightweight, though the ZenScreen GO without the protective origami cover is slightly lighter. It's not going to take up quite as much room in a backpack, but it also doesn't have a built-in kickstand — which closely resembles that of the Surface Pro — like the Gemini has. To prop up the ZenScreen, you can add the origami cover that weighs about a pound, or you can use an included non-digital pen for landscape or portrait orientation. The Gemini, with its kickstand, can also be used in both orientations, and at least in landscape mode, it should prove to be sturdier. You also have more freedom when it comes to the angle you'd like to use with the Gemini.
The ZenScreen does have a slightly higher build quality, though the Gemini isn't far behind. The latter display is a bit rougher in some areas, including the kickstand, which is a bit abrasive on the edges, but both still seem to be able to put up with a life on the move. While the ZenScreen keeps it simple with a couple of menu buttons and a single USB-C port (it ships with a USB-A adapter), the Gemini has a full range of menu buttons on the right side, as well as more than a few ports. The FHD and 4K versions differ, but you'll get a 3.5 mm audio jack, USB-C port, and, depending on the resolution, full HDMI, Mini DisplayPort, Mini HDMI, and Micro-USB.
The addition of a 3.5 mm audio jack is a welcome addition on the Gemini since you'll likely find yourself using it in public, but it also includes built-in speakers that are not that bad. They get loud without distorting, and though they're sort of hollow, they're better than no speakers, which is what the ZenScreen has to offer.
Particularly impressive due to the lighter weight of the ZenScreen is a much larger battery. It comes in at 7800mAh, which is enough to get about four hours of life before it starts running off of whatever device you have plugged in. The Gemini, on the other hand, has a smaller 5000mAh battery, and the FHD model can be expected to get just more than three hours.
If you're going for style points, the ASUS ZenScreen GO is no doubt going to win out. It's a sleeker option that comes with the folding cover included, and it just looks more like something you'd find in a professional setting. The Gemini's aluminum chassis isn't exactly off-putting, but it appears to be more functional than stylish.
Touch or non-touch display?
The display is what really matters here, and if you're interested in having the additional touch function, you really only have one choice in the FHD Gemini model. The 4K model, which costs about $339, doesn't have a touch feature, but that's probably for the best due to the battery size. It nevertheless offers an awesome picture with 100 percent AdobeRGB color reproduction that's no doubt better suited for mobile design and editing work.
While both screens can be used with either a laptop, tablet, console, or phone — especially useful with something like Samsung's DeX — only the additional touch function on the Gemini allows you to use it as an enormous display for mobile games like PUBG Mobile. Connected with USB-C, you can handle the Gemini like you would a tablet, giving you more options than are available with the non-touch ZenScreen.
The FHD Gemini has a matte finish on it despite being touch-enabled, which helps cut down on glare. The ZenScreen, despite not being touch, has a glossy finish that can be an annoyance when working in a well-lit room. It does hit about 220 nits brightness, which is right about what the Gemini is capable of as well despite claims that it is capable of 300 nits. To cut down on eye strain, the ZenScreen has low blue light and is rated as zero-flicker.
When it comes right down to it, the extra touch functionality and the 4K option available with the Gemini make it easier for more people to get exactly what they want. The ZenScreen's display isn't exactly a slouch, but the glossy finish makes it tough to work in sunlight and there's no touch option available.
The TAIHE Gemini is the better pick for most people
Thanks to a lower starting price for the FHD touch model and a nevertheless competitive 4K price, the TAIHE Gemini is likely the best option for most people. It has a built-in kickstand, has a wider port selection and built-in speakers, and the matte finish makes it easier to work in well-lit spaces. It might not have as good of battery life and it might not be quite as sleek as the ZenScreen, but that's a tradeoff many will no doubt live with.
Touch-enabled display
Easier to get the display you want

The TAIHE Gemini's aluminum body has a simple, light design that's stocked with ports, a built-in kickstand, and a 5000mAh battery. Touch FHD models cost less than the ZenScreen, and you can upgrade to a 4K non-touch version for not a lot more than you'd pay for the ASUS option.
Go with ZenScreen GO MB16AP for a more svelte option
The ASUS ZenScreen GO MB16AP doesn't offer a touch or 4K option, but it does have a much more refined design that will likely fit in better in a professional setting. Unfortunately, it lacks a built-in kickstand, but it does come with an origami cover that props it up, and it does have a larger battery for longer runtime before needing a charge.
Non-touch FHD display
Fancier design though lacking features

The ZenScreen GO MB16AP brings a larger battery and a better build quality than the Gemini, but it lacks a built-in kickstand, touch functionality, and a 4K option. Still, its design seems better suited for a boardroom, and it does come with a cover included that doubles as a stand.
Get the Windows Central Newsletter
All the latest news, reviews, and guides for Windows and Xbox diehards.
Senior Editor, Laptop Reviews
Cale Hunt is formerly a Senior Editor at Windows Central. He focuses mainly on laptop reviews, news, and accessory coverage. He's been reviewing laptops and accessories full-time since 2016, with hundreds of reviews published for Windows Central. He is an avid PC gamer and multi-platform user, and spends most of his time either tinkering with or writing about tech.