You can take a shower with Sandisk's waterproof portable SSD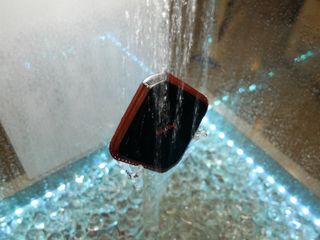 OK, you're probably not going to actually take a shower with a portable SSD drive, but you could if you wanted to with Sandisk's latest since it's waterproof. The Extreme 510 portable SSD is the follow up to the already announced Extreme 500, with the new IP55 rated water resistance one of the headline features.
Besides size, one of the benefits to carrying an SSD in place of a portable hard drive is data transfer speeds. The Extreme 510 boasts 430MB/s read speeds and 400MB/s write speeds, both of which are pretty handy if you're carrying around a ton of large files.
Which you can totally do since the Extreme 510 is available in a 480GB storage size, while still maintaining the form factor and durable design of its predecessor. And SanDisk SecureAccess software makes it easy to create password protected folders on your drive. The connection is microUSB 3.0, but you do at least get the cable included in the package.
It isn't cheap, and if you're wanting one you'll be putting down around $250. But you can take it in the shower with you, so there's that.
Richard Devine is an Editor at Windows Central. A former Project Manager and long-term tech addict, he joined Mobile Nations in 2011 and has been found on Android Central and iMore as well as Windows Central. Currently you'll find him covering all manner of PC hardware and gaming, and you can follow him on Twitter and Instagram.
Re: You can take a shower with SanDisk's new ssd Err... Thanks but no thanks :)

Only 480gb as well... What is this, 2009?

2009 had poor transfer rate in hard disks! Its an SSD dude means transfer rates are like "hey let me transfer my 30 GB of movies, so here we go!, 1....2.....3.....4....5.....6......7.....8....9....10.. Oh its done!

Yea I know what SSD is. 480GB still sucks

want bigger storage? get on HDD. want faster speed? get on SSD. well, it's simple as that :D

About time!! I've only been able to shower with my SSD's once, maybe twice, before they're useless.

No USB-C makes this very uninteresting.

Well most of us don't have USB-C on our computers yet...

So what? Computers don't have microB-3.0 either. It should just come with an A-to-C cable

microUSB 3.0 is regular USB on one end.

Come on, I go with dusteater. It's dumb to not use type-C on any such high end device anymore. #willnotbuywithoutdatetport. This size and speed and quality will be usable for at least 10 years. Micro is definitely gone in two. So uninformed choice of design.

Just testing my most awesome signature feature! Posted from Windows Central for Windows 10

STOP GOING OFF TOPIC YOU! ;-)

Thanks for the update Daniel!

And what would be the benefits of that?

Why i would take shower with SSD :D !!

You have to be really lonely to do that

Why... why.... why.... why.... why.... why.... why.... why.... why.... why.... why.... why.... why.... why.... why.... why.... why.... why.... why.... why.... why.... why.... why.... why.... why.... why.... why.... why.... why.... why.... why.... why.... why.... why.... why.... why.... why.... why.... why.... why.... why.... why.... why.... why.... why.... why.... why.... why.... why.... why.... why.... why.... why.... why.... why.... why.... why.... why.... why.... why.... why.... why.... why.... why.... why.... why.... why.... why.... why.... why.... why.... why.... why.... why.... why.... why.... why.... why.... why.... why.... why.... why.... why.... why.... why.... why.... why.... why.... why.... why.... why.... why?

Thanks. That answers my first question. What about the other ones?

We wouldn't want to write "Military stuff?" or "Accident prevention" 91 more times :)

correction! it's 90 times xD

Why? Just why? Why would someone take a shower with an ssd?

Camouflage it as a bar of soap and hide all your secret information on it.

To make sure nobody steals it while you are in the shower.

I fear that you're taking this wayyyyyyyyy too seriously.

You can never be too safe

Wait a minute. You guys don't take showers with your hard drives??!!

I throw them in the washing machine,
much faster.

I was the first one to shower with them!

This is the most innovative thing ever made!!! Thank you SanDisk, now my life makes sense! :D

Fireproof would make me a buyer.

It'd probably weigh a brick.

Wait... Why do you need it fireproof? It's in a shower!

Probably for grease and electrical fires.

I've always wanted to do that.

It should have a lanyard because... You know.... You wouldn't want it falling in the shower.

Don't drop the hard drive

4 yellow rubber ducks for sale ! Going cheap ! Now I have new stuff to take with me into the bathtub.

Seems like a great solution to a problem that never existed.

Those speeds are kinda slow, what's the iops? Also what controller is being used in this?

Sandisk is a crappy product itss product stops working within 2 monthss ..even if it is bullet proof dont buy itt...

I can see this applying to their Cruiser Glide USB drives, but their SD cards are very reliable.

For those asking why: Fire, Police, Military, Forestry Service, Insurance Field Adjusters, FEMA and this goes on for those who have to be available day or night and in all kinds of weather.

Those occupations require large external drives for what exactly?

Ah yes, I remember when I brought my boombox in the shower to listen to songs. Now I can bring an SSD in and bring a laptop in the shower as well so I can be productive while cleaning myself.

Make it small enough to keister, I can bring all my important files with me in prison and I'm sold!

Finally, a shower mate! Posted via the Windows Central App for Android

I finally have a place to store the karaoke music I use to serenade my neighbors with when I shower!

who hasn't wanted to shower with their entire collection of pirated pornography?

Uh, I'm pretty sure the waterproofing is actually for if it starts bucketing down with rain when you are out using it or, you know, if your house floods then you won't lose all your files.

Or you know...you might be overthinking and taking this post way more seriously than was ever intended?!

Hey, don't speak for the author! I'm sure this Richard Devine person really likes bathing with electronic equipment. Like car radios... And a Nintendo Wii (NOT Wii U).

No, but everyone else is because they all seem to be taking it as more than an Onion piece. Granted this isn't The Onion so that could be why.

Awesome. Now I can transfer my files to a backup drive in the shower. Wait... what?

I knew you should wipe a drive clean if you needed to. But really. Shampoo and rinse?

The next iteration will have dispensers for body wash and hair products

After showering with it, can we take it to bed?

My shower has a micro sd slot

Lmao catch a buzz and read these comments.. you'll be crying laughing so hard.. #nolife Posted via the Windows Central App for Android

May be add a vibrate mode...

What's the purpose for take it to a shower with you?

One of my friends accidentally had their USB thumbdrive go through the washer once and it still worked after it dried out because it's flash memory.

The upgrade will be nice.

I prefer a shower with your sister

Getting Redstone update on Lumia 640... And also got moveable keyboard

My phone thinks it's a Lumia 1550. I got it so it thinks it's a Microsoft MDG manufactured phone (not Nokia) and it's a 1520. So Redstone for me!

Lmao shower with your sister he says xD.. man that's funny after a few drinks.. you people are nuts haha.. it just means it water proof lol, although I'm not sure why they went that far to make portable SSD water proof.. I mean, cause I'm gonna go save this guy in the water with my SSD in hand lol.. or shower with it xD.. Posted via the Windows Central App for Android

for underwater server room.:)

Lmfao there ya go.. submersible servers haha.. somebody will do it, you watch xD.. Posted via the Windows Central App for Android

done that... check out Project Natick, http://natick.research.microsoft.com/

AT last, I can take my expensive SSD into my bathroom and shower naked with it. What a stupid 'feature'.

Okay but, what's the point of this?

hehe, great now I have an excuse to kick my girlfriend out of the shower.
Windows Central Newsletter
Get the best of Windows Central in in your inbox, every day!
Thank you for signing up to Windows Central. You will receive a verification email shortly.
There was a problem. Please refresh the page and try again.