Taking the Nokia Lumia 920 down the Alps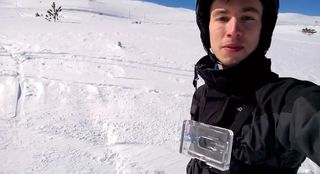 Fabian Pimminger took his Lumia 920 to the Alps for some skiing. Utilising the GoPro case purchased through Nokia, he mounted the Lumia 920 to his chest and picked up some speed, showing off the beautiful sights one can experience when traversing up and down the slopes.
While we're sporting OIS (optical image stabilisation) on the Lumia 920, it's still a wild and bumpy ride down, which we're pleased has been captured in the footage. As a bonus, the backing track is awesome. We took a look at the GoPro casing at Mobile World Congress earlier this year.
Source: YouTube; thanks, Fabian, for the tip!
Windows Central Newsletter
Get the best of Windows Central in in your inbox, every day!
Rich Edmonds is Senior Editor of PC hardware at Windows Central, covering everything related to PC components and NAS. He's been involved in technology for more than a decade and knows a thing or two about the magic inside a PC chassis. You can follow him over on Twitter at @RichEdmonds.
Wish the case covered the whole phone. I know it would hurt the footage (maybe not), but if I fell, water would go through the camera lens.

Water doesn't really effect the 920 unless you somehow short it which is rare

Awesome video! Gotta go hit the slopes in Austria next season. I have couple good clips from my ski trip in Salt Lake City this season captured on my Lumia 920. They look so good!

This season, at Snowbasin in Utah, I filmed my brother with my 920, and then he filmed me with his iPhone 5. The difference is night and day. His is barely watchable because it shakes so bad and the wind noise kills your eardrums. The 920 isn't perfectly stable either, but it's SO MUCH BETTER than the iPhone, both in stability and sound.

That's why L920 gets 13 awards because of its innovation in camera and sound :)

#screenShotsWp8 use this hash tag on twitter along with your screen shot. Microsoft won't show off the features of this great device then I think we should.

I think these last two videos show some serious shortcomings with the chest mount. Nokia and GoPro need to devise a head mount. I'm sure that's why we didn't see a lot of footage from the free runners because most of it was feet. Other than that 920 is boss like a mofo with this OIS.

They need to make it with an adjustable angle. If he could have tilted it up 10-15 degrees it would have made a world of difference.

Great music track, which my WP tells me is We Can Make the World Stop by The Glitch Mob

From where can we buy this chest mount? :D

Best smartphone camera out there for recording video...but still very far from being a replacement to cameras with larger sensors. I feel we'll never really get better photos or video unless we're willing to go for larger and bulkier sensors

I don't think smartphones will ever replace a good slr/dslr, and nor should they. If you want to take amazing photos, or if your a professional photographer, you're not going to be using a smartphone. Phones are good for everyday average photos, they shouldn't be made to compete with the quality of an actual camera.

Where can I get that case in the US?!?

Hi. Thanks for featuring my video. I got the case from the awesome press team of nokia austria and i think it's custom made and unfortunately you can't buy it in stores :(

Great vid!!:)
They should really make this case available for the rest of us!! I would definetly buy it

Dude if that is your true last name, scantrons must fear you.

Hahaha that's my last name indeed!

I agree, and they should have serious (but well design) LUMIA branding, like the one in the video. To make other people think "I wish I could have that on my iPhone, but unfortunatly there aren't any good looking cases as the LUMIA one and even if there were, the video quality would suck anyway... I've got to buy a LUMIA!".

Same music as the DTM intro? Sometimes I am unimpressed by videos like these. Then I remember, "Wow, this is a phone recording!" The Lumia 920 has a great camera indeed.

I tried to film with my 920 while snowboarding before and I was really disappointed. When you pick up some speed the autofocus gets confused and everything is completely out of focus. This was before the 10211 firmware update so maybe it is better now. The weather wasn't particularly good either, I guess that made it even worse.

Somebody please make a CAD of this case so it can be 3D printed. Share on shapeways.com!

That case is hot (or cold in this case). Puns abound. I want that case for no other reason than it's just awesome looking and would protect my phone from my kids, lol. Great vid and if people aren't so sure about the stabilization then I can assure you that all other phones would look dreadful in comparison. OIS isn't a steadicam but it's made video I've taken so much smoother.

If he strapped his Lumia 920 phone to his head, the video would be much better. Anyway, it's Lumia. ;)
Windows Central Newsletter
Thank you for signing up to Windows Central. You will receive a verification email shortly.
There was a problem. Please refresh the page and try again.