Tales of Arise for Xbox: Release date, gameplay trailer, and everything we know
A new Tales adventure comes to Xbox!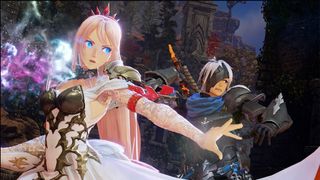 (Image credit: Bandai Namco)
JRPG fans should be well acquainted with the Tales series. Since the first title hit the original PlayStation in 1997, the Tales series has delivered unique RPG experiences that weave vibrant worlds, emotional stories, and compelling characters together to form some of the best JRPGS on any platform.
Aside from the re-release of Tales of Vesperia, Xbox owners haven't been able to experience this rich series — until now, that is. Here's everything you need to know about the upcoming Tales of Arise.
What is Tales of Arise?
Tales of Arise takes place in both the medieval world of Dahna and the more modern world of Rena. For 300 years, Rena's superior technology and use of magic has allowed it to exploit Dahna's resources and force its people into slavery. You play as Alphen, who comes from Dahna, and Shionne, who hails from Rena. In order to free the people of Dahna and change their fates, the two heroes must form an alliance.
Tales of Arise gameplay: What to expect from combat
Tales games are action RPGs, but Tales of Arise has overhauled the battle system completely while retaining the classic Tales gameplay. Players take control of one character from the party and can jump between party members at will, while the AI takes control of the other characters.
Expect every party member to have different attack styles. For example, Shionne sticks to long-range combat and uses a gun to attack, while Alphen isn't afraid to get up close and personal with a sword. The two heroes will also be joined by other party members, including a mage named Rinwell and a martial artist named Law. All of this happens in real-time and keeps the action fast and furious. Dodge, roll, and perform special moves with just the press of a button.
To engage in combat in Tales of Arise, players must approach an enemy in the overworld, which will seamlessly transition into the combat space. It looks to be the fastest Tales game thus far.
New to Tales of Arise are Boost Attacks and Boost Strikes. Boost Attacks are support abilities that boost stats for all party members, while Boost Strikes are special moves that involve multiple characters. Mystic Artes, powerful finishers that are unique to each party member, also make a return.
Will Tales of Arise feature animated cutscenes?
Tales of Arise runs on Unreal Engine 4, so it makes sense for the developers to want to take full advantage of it, but what about the 2D animated cutscenes that fans know and love? Tales faithful can rest assured that they will make a comeback in a big way. Tales of Arise animated cutscenes are being developed by Ufotable, the studio a lot of anime fans will recognize as the one behind Demon Slayer.
What's the difference between the Xbox One version and the Xbox Series X version?
Tales of Arise producer Yusuke Tomizawa confirmed in an interview with Famitsu that Tales of Arise will feature two visual modes on the Xbox Series X — one that supports 4K resolution and one that prioritizes performance — and players can choose which one they prefer. No word yet if those options will available while playing on the Xbox Series S or Xbox One.
Can I upgrade the Xbox One version of Tales of Arise to the Xbox Series X version?
Yes, you can! Players who purchase Tales of Arise on the Xbox One can upgrade to the next-gen versions, free of charge.
Do I have to play the other Tales games to understand the story?
Nope! The Tales games share the Tales name and the combat systems, but not much else. You can jump straight into this new game with no prior Tales knowledge.
Is there multiplayer in Tales of Arise?
Previous Tales games have allowed additional players to take control of other party members during battle. That's not the case in Tales of Arise — it is strictly a single-player affair.
Tales of Arise release date
Originally announced way back in 2019, Tales of Arise was originally slated for a 2020 release but was delayed due to current world events. It now arrives on the Xbox One, Xbox Series X, and Xbox Series S on September 10, 2021. There are a few versions of the game that players can preorder if they choose. There's a Digital Deluxe Edition that includes an in-game Adventurer's Pack and Premium Travel Pack, and if you preorder, you'll also get costumes for Alphen and Shionne, food items, cooking recipes, and a wing-themed outfit accessory.
There's also a Collector's Edition available exclusively on Bandai Namco's website that features a physical soundtrack, a 64-page hardcover art book, and an exclusive 7-inch Alphen and Shionne figure.
Take control of your fate
A new tale begins

Join Alphen and Shionne on an epic journey in the next exciting entry in the Tales series.
Get the Windows Central Newsletter
All the latest news, reviews, and guides for Windows and Xbox diehards.
Zackery Cuevas is a writer for Windows Central, Android Central, and iMore. I like playing video games, talking about video games, writing about video games, and most importantly, complaining about video games. If you're cool, you can follow me on Twitter @Zackzackzackery.