TD Ameritrade launches its Windows 10 PC app, with Mobile version in the works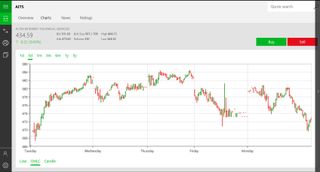 We always like to post news about new financial apps for the Windows platform and a major one, TD Ameritrade, recently updated its app in the Windows Store to support Windows 10 on PCs and tablets. An email from the company says that a version of the app is also in the works for Windows 10 Mobile.
TD Ameritrade is an online stock broker, and the Windows 10 PC app allows its customers to stay on top of the financial markets. According to the update version notes:
Hopefully we will see more online brokers offer Windows 10 PC and Mobile apps for their customers in the future.
Download TD Ameritrade for Windows 10 (opens in new tab)
Thanks to Larry for the tip!
Windows Central Newsletter
Get the best of Windows Central in in your inbox, every day!
Nice. Now if only the E-Trade app had an update...

Awesome....hopefully etrade, capital one investing, and other stock analysis/tracking apps will come soon.

Am I the only one that cares about personal finance?? What about Mint or any other personal finance app. Mint allowed me to see my entire financial picture. I ain't no day-trader so these apps don't excite me.

I would switch to TD from Scott simply because there's an app. Well, so long as trades don't cost much more.

you know the universal app thing worked when instagram updates theirs on par with iOS. so never. BTW, try using this comment window on edge? shame on windows central. fix it.

You have no clue what will happen in the next year or so. There's already 200 million Windows 10 machines, if that number reached 500 million+ how can a company really ignore the platform at that point. Also, I'm on edge and have no issue with the comments.

Once again you demonstrate that you have the reasoning skills of a child (I really do wonder if you're that young, or that feeble) He made a claim, and has nothing concrete to back up that claim. Unless you can back up the claim that the UWP a) only works if Instagram updates on par with iOS and b) that will never happen, then you have nothing relevent to say.

You really are a special kind of moron. I haven't been led to believe anything because I know exactly what it takes to build a UWP app, I've been a software developer for years. That aside, your logic is beyond flawed. It doesn't matter how easy it is, it matters how motivated the developer is related to their cost. I've said it before, and I'll say it again, quit embaressing yourself and saying stupid things. Do the world a favor too, castrate yourself before you breed. We don't need another one of you running around ever.

+1 wpkevin doesn't understand development at all. But that hasn't stopped him opening his loud mouth on any universal app article. A Windows Store app, is a UWP app, but if you want it to work on all devices and more importanly "look nice" then you have to tweak you XAML, that's all. But devs still need to make a Windows 10 Store app. He is confusing UWP with general app availability and just whining. I agree with the castration option :)

That's BS about costs...MSFT has claimed they developed tools to easily port iOS and Android Apps to WP and they keep touting Universal Apps...been using WM/WP since 2005...guess what? There still is no Bank of America or Lyft App on WP...GEICO's App left WP...btw, not having a Lyft app resulted in me paying an extra $10 to get a ride because my friends got a cheaper Lyft ride while I was stuck with the more expensive Uber ride...they laughed at me...long suffering WP user...

Or mebbe the developers at Instagram suck at UWP...

Yea but 200m+ or 500m+ is nice and all but not all apps are suitable or useful on certain platforms. And since devs are free to develop for a single windows platform instead if all 500m might never be the case.

Guaranteed this would not be coming to mobile if it wasn't for the UWP.

But the article never stated that it's a universal App. You can still make Apps for either-or, you know.

You still have to account for different screen sizes, even with universal apps. It takes time to master and it certainly costs more than developing just for desktop.

Except there's already an app http://www.windowsphone.com/s?appid=2457f73c-a383-4ad5-961f-32f8cb175143

Nevertheless. That's an old and horrible app designed for Windows phone 7, way back when companies thought it was a good investment. TD would not have invested in a new app were it not for UWP.

Nice... I believe better days are ahead for the w10 community in terms of apps

Don't hold your breath, I've been hearing this for 10 years...

ITS ABOUT TIME!!! YES!!!!! I usually carry my old S3 Galaxy just for this app.... btw....ITS RAINING APPS!!!!!!!!!!!!!!!!!!!!!!!!!

Who is The Drizzle? The hero of a new generation!

"Mobile version in the works"
Listened/read this sentence for several app but nothing happened.
Cold sigh.

Let's see if the claim of only incremental work to get the mobile version holds true in real world. I think it does, so will wait and hope.

Nice. Last I checked (years ago), it was just a web wrapper.

Wonderful! I have been waiting for this app for so long... Now I can get my trade on like a boss!

Great... Now if TD would make a TD Bank mobile app for us east coasters, I'd be all set.

Just for the east coasters? You think the rest of the continent don't use TD Bank?

I purposely stopped using ameritrade because of no app. I also stopped using American express due to this. Hopefully things turn around with windows mobile 10. I heard that a big company near me was upgrading 34,000 machines to Windows 10, from 7. They even have a few XP machines laying around that haven't been retired. I also heard that surface pro 4s were being deployed. Posted via the Windows Central App for Android

Been using the desktop app for a few weeks now. Excellent. Thankfully they included streaming on many of the pages. Their old Windows Phone app was akin to those 'apps' you'd have on old flip phones, where it's a list of links. It was probably the most garbage 'app' on any platform anywhere at any time. So happy they are going to have this new app on the phone as well. For now it says 'this app is not available for this device'. Up next... Bank of America

I dropped BofA when they dropped the Windows Phone App. Don't think I will go back. Well Fargo is a better bank.

I believe what we are seeing here is a paradigm shift. Microsoft is not trying to beat or even compete with Android and Apple, that race was lost long ago. They are redefining the PC and Mobile experience. Universal apps will make this a reality. The competitors know this and even the fans of other mobile platforms reluctantly realize this is something different. Slowly, app after app will be brought on board, and you will still hear the doubt from fans and competitors still stuck in the old paradigm profess to little too late. So save yourself the headache and worry, this is happening, whether you want it or not. One OS! Many devices! (drops microphone)

(picks up the microphone) What he said... (drops the microphone again)

C'mon Schwab... Looking at you

Hopefully Fidelity and Santander next.

Wow, cant believe what I see. A trading platform on Windows. Now if only Metatrader was available, that would be great.

Forget metatrader...NinjaTrader ftw!!! j/k

Metatrader has the most addons and stuff so..

If I can get a full featured thinkorswim I'll be happy...

need the TOS platform as a windows 10 app. The full desktop experience of TOS on the surface is horrible. The fonts and everything is sooo damn small.

What about Fidelity? They desperately need a universal Windows 10 app.

I work for TD Ameritrade it is our most requested App

I use TD Direct Investing.... don't presume they are part of the same ??

Slowly but surely, Universal Apps are taking off thanks to the success of Windows 10.
Windows Central Newsletter
Thank you for signing up to Windows Central. You will receive a verification email shortly.
There was a problem. Please refresh the page and try again.