Here's a tease of QuizIt from Daniel Gary, a Windows Phone client for QuizUp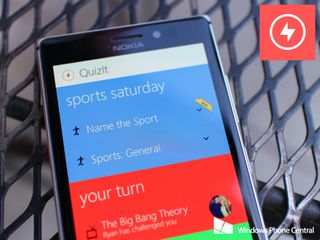 A few days ago we asked you guys and gals what apps were still missing from the Windows Phone Store. The response was overwhelming. At the time of this writing there are over 2000 comments, which means there are a handful of apps you still want to see make the jump to Windows Phone. I have a few personal favorites that I still want to see come to the platform, one of them is QuizUp. Not familiar with the game? No worries, we'll go over it after the break. We don't have any word on whether or not on official app is coming, but we do know that überdeveloper Daniel Gary is working on an unofficial client for Windows Phone. Let's go over what QuizUp is and take a first look at Daniel Gary's version called QuizIt.
QuizUp (https://www.quizup.com/en) launched on iOS back in early November. It's a super addictive quiz game that has me hooked. The game has over 290 categories, so you're sure to find your area of expertise. There are your typical quiz categories like geography, history, and science. But you'll also find some pretty fun ones like Breaking Bad, Beer, and the Winter Olympics. There are over 100,000 questions in the game and they're a mix between user generated content and questions supplied by Plain Vanilla, the developers behind QuizUp.
Gameplay is super addictive. You can play against either your friends on Facebook or those who create pure QuizUp accounts. Rounds can be against your opponents in real-time or in a turn-based format. Each round consists of 7 questions, 6 of those are worth a maximum of 20 points while the final is for 40 points. Not only do need to get the question right to get the maximum number of points for each question, but you also need to answer within a certain amount of time. You get 10 seconds per question, but answer nearly immediately to get the max amount of points. The little video below from QuizUp will help give you a general idea of what the game is about.
Right now QuizUp is only available on iOS, they're still working on an Android version. Which is why it's pretty rad that Daniel Gary is pretty far along in development of his QuizUp client, QuizIt. We've got some screenshots of the game for you to check out. He's been working on the game for a few weeks and hopes to start a private beta soon. Any interest in a public beta? This isn't the first time Daniel has helped bring a highly desired app to Windows Phone. With Pinsation he brought Pinterest to Windows Phone, while Instance brought us Instagram.
QuizIt has a lot of functionality working, like live multiplayer. You can also see the early stages of the UI coming together as he works on the app. We'll have more to share in a few days and will you all in a better look at it then. Until then enjoy the tease.
Get the Windows Central Newsletter
All the latest news, reviews, and guides for Windows and Xbox diehards.
You know Sam, the way the punctuation is set up, it looks like you just called Daniel Gary a WP client for QuizUp XD

All I want is google+, but sadly it won't come.

Yea that's what I need too its pretty sad we won't ever get it . The fact that google aren't making us any apps still doesn't get enough attention yet Microsoft's scroogle ads are big news to tech blogs.

There are people that actually use Google+?

Everyone who has a google account does.

Everyone with a google account probably has a + account, but I'm sure its a small minority that actually uses it.

I'm in this category. Meaning that I don't use it.

There was a great flurry when it first came out and a lot of my friends joined and added each other to their circles... a few people even posted things. But it's like a ghost-town most of the time.

I'm part of a community about atheism with a decent amount of followers.

So that's what Atheist follow?

Yeah we like to talk a about religious buffoonery. And question the religious people who are in the community saying where going to hell.

Did the paid version of instance ever get updated? I finally gave up on it.....again.

Unless it's somehow region specific, no, it didn't.

Rudy did such an amazing job I think everyone else just gave up, tbh

Is this game multi-platform? Can I play against an iPhone user?

I would hope so, else there would be zero point in it imo.

There would still be a point (such an overused term). It would just be different. Wordament "had a point" when it was WP only.

I guess in the sense that there would be zero point in calling it a quizup client and risking quizup coming after his app. In that case, it should just be a different trivia game with a similar concept.


the fact that its being marketed as a 'quizup client' and not a 'quizup clone for wp' leads me to believe that yes it hooks into the official game and you play with others on ios (android version's not out yet).
its like 6tag/instance being apps for instagram..

I have only one question: when this game becames available, do you Gary will make it available here in Brazil? You can use a PEGI or an ESRB certificate to do that. I can help with the process.

Private Beta... Yes please!!! My friend was asking me yesterday to join them in QuizUp and got frustrated when I realised it wasn't on WP... so great timing!!!

It would be interesting if WPCentral could compile a list of all the apps requested on the "what's missing" post (filtering out repeats, of course).

Yeah something in a format that devs can download on a regular basis, like an rss feed called 'WP8 consumer cravings'

Hmmm... A 3rd party app for a game service. This is new.

Hope someone read my comment on the need for a decent Windows Phone news app...

We have loads of news apps. My problem with Bing is that there is no way to favorite/save or share anything.

Need? We have many like CNN, USA Today, ABC news, Bing News....just to name a few...

The AP app is all you need

What...we're gonna have the app before the android users......that's cool

I'd be interested in joining the beta.

hm interesting app and the UI looks really nice

Awesome, a definite download.

I look forward to giving this a try.

Beautiful. The game Quiz Up itself is pretty fun and it would be great to have it on the platform.

ios version is full of bugs,host name error,etc but its a fun game to play facebook friends and challenge them. i contacted the developers via facebook they replied that they are focused on android version to released soon, no plans for windows phone as of now.

I suppose given due time Daniel Gary alone could bring all the missing apps to WP. Way to go Daniel!

Hi, I am definitely interested in a public beta or if Daniel could add me to his private beta that would be great. I love Quiz Up, play it on my iPad all the time. I have a Lumia 520 and 1520 so I can try it on both ends of the platform spectrum and give him feedback. Is there anyway to contact him?

I was so excited when I heard about this. I got addicted to it some time back and would always take my sister's iPhone or mom's iPad mini and play for hours. Hopefully it doesn't get taken down. Thanks Daniel. If you need people to beta test, sign me up =D

Given Daniel has effectively abandoned the paid version of Instance due to it failing certification *once*, why the hell should we support any of his work further?

I'm glad he's not spending all his time on Instance when there are plenty of Instagram options...including Instagram.