Telegram Messenger adds a way to resume downloads and more with new update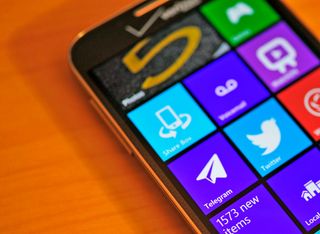 Telegram Messenger for Windows Phone, which began as an unofficial third party app before receiving approval from the Telegram team, has received a new update, adding in features such as a way to resume downloads and more.
Here's the change log for the new version:
resume paused downloads
instant resending of previously uploaded media
save videos to media library
cache management
fast app resume
Technically, this app is still in open beta so be aware of that before you download it. Do you use Telegram Messenger and if so what is your opinion on this new update? Thanks to Joyson for the tip!
Windows Central Newsletter
Get the best of Windows Central in in your inbox, every day!
Nope, no need for this app I think

Hike messenger all the way

Telegram has end to end encryption, plus is on every platform including desktop.

They still don't have that encryption and auto-kill message or whatever they call it right?

I think most of the users are not interested in telegram

How can you know what "most users" want? Wow, I want to know.

What are you? An advertiser?

I am. I love it but then again I care about security.

I'm trying to get my friends on it, it's faster than WhatsApp

me too ;) it's way better because I can use this app also on PC simultaneously

Whatsapp is fast too, but the 'one device per account' policy is annoying, I don't want to use my telephone keyboard when I'm sitting at my desktop computer..
Fortunately a lot of people I know use telegram.

I have 84 contacts in WA and 0 in telegram :)

i use it with some Friend and hope i can bring more to use it... It Develops Really fast and is not owned by Facebook... ;-) Update Sounds Great btw.

the comments are so bitchy. if you don't use the app, don't use it, that's up to you but this official app certainly help the ecosystem. I use the app and I think these bitchy comments should go to these companies that stopped support for Windows Phone like Kik and Tumblr and Instagram. Or the ones that has no app yet e.g. Snapchat (and no thanks, 6tag and 6snap doesn't do the job for me)

Few months ago there was a hype for this app. Ppl use to download this a lot and suddenly ppl stopped using it. I pretty much know that Microsoft has the ability to make a Skype a very good messenger. But it also depends upon what the world perceives Skype as just for video calls. Of Skype becomes in regular use like watsapp definitely it will be used more bcoz it can be used on PC too. As Satya mentioned that technology trends comes and goes what's in is the mobility. Otherwise competition will continue to go on even after 10-20 years.

I use it all the time. It should have landscape mode, it's a bit unconfortable to write on the little keyboard

Why would you complain about an app update? Who cares if you don't need it, the platform needs it. I happen to love this app. I can use it on desktop to talk to my wife and friends from my PC and then from my phone....it is great.

My family and I use Telegram on our Windows Phones and we love it. It's encrypted and not part of a big data-mining corporation that wants to sell ads or your demographics. I'm happy about the update :)

can abybody tell, if migram beta is still better app in compare with this "official". Or can I expect any future updates of migram if there is already this official WP app?

Try both by yourself, easy.

He wants to know so as to know which one to download obviously. I haven't used them so I can't tell unfortunately

Telegram is so Neat! Keep updating!!

Isn't 8.1 officially out now (One, the new Lumias')? Why WhatsApp is taking so long to optimize (update) its app for new OS. I really don't have problems with it, but I would love to have features like:
- Scrolling the text I just typed (not sent) like in WPC and Skype apps.
- Proper searching (it finds txt, but no way to jump to That specific date)
- And most importantly, save chats' history on other devises and/or PC. When I try email it it only includes last TWO days, and my chat goes back to March. Five months

Why people can't learn to keep on topic? Your comment is off-topic.

@ronaldme, your comment history shows you are here just to say to people things like: "find out by yourself, how do you know that, why are you asking this here" , it's irritating, you are not the websites policeman, please mind your own business, help if you can, ask something if you need to

Yeah I know its off topic, and I was thinking to write this in WA thread in forum. But, you know, almost nobody goes there anymore. It's forgotten thread, forgotten as WP by WA team.

Still looks like a Fisher Price toy for 2 year olds in the L1520.

Telegram > Whatsapp. Iove the desktop client too

So could I share files with this?

This app is great! I've used it on android as well, and I love the ui. That being said, I agree with most users of WA here that there are more users on that app than telegraph.. All we can do is try to appeal to the masses..=-D

I use it regularly with a bunch of friends. I prefer it over other messaging apps due to how fast and simple it is.
The selling point though is that it's faster than Skype and I can send pictures without any hassle or having to click on links.
Landscape mode would be a godsend though, I agree on that one. Would make typing easier.

What is that phone from the image?

Still can't send multi photos at one go.. Sheesh

Don't understand the dislike - it's outside of large corporate control, it works across many devices, including web and pc, it's fast, free, built with passion, well funded, across all platforms.

Does not allow me to send mp3 files from my phone, only jpeg. PC version works great.

- Could I finally be able to record and send a voice clip?
- The very slow sending of message and slow retrieval of new messages, are these fixed?
- Lets say new message 1, 2 and 3 came in together. I received a notification for message 1, so I opened Telegram and saw the three new messages. I read all the new messages and closed Telegram. Ten minutes later, the notification of message 2 came in. Five more minutes later, the notification of message 3 came. But I have already read message 2 and 3 fifteen minutes ago! Is this irritating issue fixed?

Yes.
Yes.
Fixed.
Its much more stable

Thanks, that's great news!

The resuming seems to take a little longer now, maybe its just me.

Wow the fast resume works pretty good.
I'm so happy with this.
And telegram rocks, lot of my friends use it

How about a replacement app for the stock SMS app?

Telegram seems to fit into wp more than hike does.

It's a fast app and my subscription to whatsapp is gonna end. It looks a good alternative to whatsapp. It does everything whatsapp does and much more secure..
Windows Central Newsletter
Thank you for signing up to Windows Central. You will receive a verification email shortly.
There was a problem. Please refresh the page and try again.