Telegram Messenger update lets users select and send multiple photos and more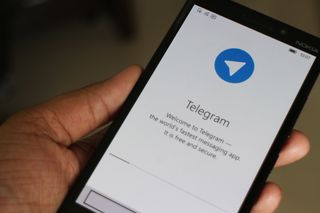 (Image credit: Windows Central)
The Telegram Messenger app for Windows Phone is the subject of a new update. The popular messaging app, which shed its beta status earlier this year, has added a way for users to select and send multiple photos at once.
Here's a look at what's new in the 1.16 version:
Select and send multiple photos (up to 100)
Universal search (chats, usernames, messages
Optimized for WP10
Minor improvements in Channels and elsewhere.
Download Telegram Messenger from the Windows Phone Store (opens in new tab)
Thanks to Dick for the tip!
Windows Central Newsletter
Get the best of Windows Central in your inbox, every day!
Telegram devs. doing great hardwork for our OS

Great hardwork? There are bugs that have never been fixed since launch (a year and a half ago). And the app is so slow and unusable when compared to other official clients.

Really? I've never had such issues. Which bugs are these?

Messages disappearing or moving up and down. Chats disappearing. Messages with a lot of weird characters that show randomly. Sometimes you have to force close the app because the images don't get sent. Most of the times when you close the app you're not shown offline but you stay online for about 5-10 minutes. Plus there are all the useless and bad implemented features. You can upload 1 GB of files but you can't do it in the background. Video compression works only if you leave the chat open. If you close it, it gets stuck and you have to delete the messages. Plus the app is really slow. It takes a lot to update every time you open it. On Android, for example, it's immediate. And notifications are immediate as well. On WP they have a delay of 5-6 seconds and if you enable Internet after being offline you'll miss all of them most of the times.
That app is a pain.

Telegram works same as Whatsapp for me. No bugs, only low number of people who use it.

Are you serious? Have you even tried the desktop, Android or iOS version of the app? Have you seen how responsive they are and how they *immediately* update with the server? Have you noticed how unreliable and delayed are the notifications on WP? Come on, open your eyes

I hope it fix the bug for file sharing thru the app. It's really darn slow.

Just the tip. Thanks Dick.

Did you read the last line?

This one made me truly LOL :D

I'm unable to detect what exactly did they optimize

Crash with push notifications and attaching photos

This was a preview build that fixed, no?

Thanks for the app link :/