Tell Microsoft which Xbox 360 games should be compatible with the Xbox One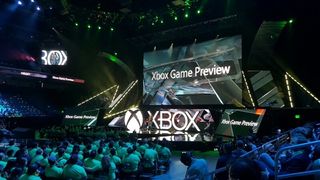 Microsoft wants your input as to what should show up next in their library of backwards compatible Xbox 360 games. Backwards compatibility allows Xbox One gamers to play select Xbox 360 games on their newer console. The company is making no promises about availability, but it is currently taking gamer feedback through their UserVoice site:
With 6,656 votes, Call of Duty: Black Ops II is currently the most popular game among users. When announcing the feature at E3 2015, Microsoft said that all developers would have to do would be to authorize their game for backwards compatibility.
Xbox One backwards compatibility will first be available for Xbox Preview members, who can play any of the first 21 compatible games. The feature will come to all Xbox One owners later this year, and Microsoft hopes to have more than 100 titles in place by that time.
Source: Microsoft
Windows Central Newsletter
Get the best of Windows Central in in your inbox, every day!
I would say all of the games included in the games with gold, for returning players, and honestly, maybe most of the games, although the games that already have an improved version aren't going to be available i assume.

Agreed. I'd say all of 'em. Especially for people with discs.

Guitar Hero: Metallica and Transformers Fall of Cybertron. Man I got sooo far in that.

can any body invite me to preview program just wanna try the game streaming thing please my GT is. (Chezz Burgers) Thanx

Microsoft and their shenanigans. When I heard backward compatible, I thought all we had to do was just put in the x360 CDs and boom.

Not really sure how that's their shenanigans. Microsoft can't just take someone else's property and go "there you go! It's free for everyone". Take it up with the publishers.

Since when is backwards compatibility republishing? This is just a concession.

You purchased a xbox 360 license with this game. The xbox one would need a own license. there you go.

How is it not? Microsoft has agreements with all of the game developers/publishers for a license to put their IP on Microsoft's console. You can't just make an emulator and not expect legal issues.

Castle Crashers will be released revmped for the One, i bet they dont want to lose $ if people just play their 360 version instead. But well its kind of fair i guess. On the other hand all the Microsoft games should be released

Well since there needs to be a patch for it, that's republishing it with altered code.

So how does Nintendo have backwards compatibility in every modern console out of the box, no publishers involved?

It has hardware in it from the original Wii. The XBO has to run a recompiled version of the original game. That's why they need permission. It also is a digital download that is modified, not playing from the disc.

XBONE is not running a recompiled version. MS has stated that they have a full Xbox 360 emulator running the game. They weren't clear on the digital download, certainly it needs to download the latest patches just like your 360 would, but they haven't said that the disc verion will need to download the full game, they just implied that, like the xbox one games, the disc version has to be installed to the hard drive to run.

Having tried it last night, yes, it does need to download the full game, not just install it off the disc.

Depends. How does Nintendo technically run their old games? If they include the Wii hardware in the Wii U, then they get around it because that's still technically a Wii license being used on a Wii. If its through emulation (which I really doubt, since I don't think the Wii U has the processing power to run an emulator), then they may have an agreement that tells publishers that they have to allow their games have to be allowed on all Nintendo hardware or something like that (and I would suspect that this may be a reason why 3rd party devs aren't as interested in the Wii U, if this were the case).

They have good lawyers. This isn't an accident, they chose these things. Just as other platforms choose their battles.

Yep famicon disk system being a good example of stealing ip

Lol Nintendo has 3rd party publishers making games for the Wii U? In all seriousness though, it really does have to involve the publishers. Microsoft needs permission to distribute 3rd party games on the Xbox and it's always been that way. The reason why publishers never had an issue with it in the past is because they didn't realize how profitable remakes are instead of backwards compatibility. Since a publisher owns all rights to their game, they have the final say in how it gets distributed and I guess this time around they may change their minds about so freely allowing backwards compatibility.

Nintendo had tons of 3rd party games on the Wii, and ALL of them are playable on the Wii U, same for the DS and 3DS, and the Wii played Game Cube games, and the DS played Gameboy Advance games, for exemple.
The PS2 played all PS games, and initialy the PS3 also played PS2 games.
Its hardware compatibility of course, but from a licencing point of view I'm not sure how it matters, since it's still a different console.

I believe it works very similar to OEM copies of Windows. They are only allowed to be distributed or sold as long as they are with some piece of hardware, usually a PC. They are not authorized to be sold any other way. In this case, games are only licensed to be distributed with the console hardware they were intended to be distributed with originally. Hardware compatibility basically means the newer console contains physical hardware from the older console and thus the games are still running on that older console. But full software emulation is a different story and it's the reason why emulators on PC's have been a legal grey area for a long time.

you seem to forget that the x360 wasn't based on x86 architechture and it requires some work to make the games compatible.

True although I thought there whole point of the emulator they announced is that it's a complete job, this minimising issues to nothing.. Will have to see how this works.

Red Dead Redemption, Bioshock and all Mass Effect games. Oh and Gears 2 & 3. Kthnxbi.....

What a loaded question.
And why multiplayer? Should be great single player games.

Pinball Fx2. Yes I know its already available for X1, but last I heard you couldn't transfer purchased tables. Though that may have changed by now. This is a game changer for me,I will definitely be purchasing an X1 now (possibly two for my household). The only thing I need now is dual tuner and pvr functionality, then I can get rid of xb360, bdplayer and freeview hd recorder.

You can transfer purchases now.

Not all tables are available yet & would be nice if they had tourney mode

Cool way to approach it. I wonder how long it takes for Microsoft to complete one title once the publisher authorizes it. And is that done on the backend without requiring a new update on the console. Hopefully they'll be somewhat transparent with it, too... instead of making people wonder if its coming just say "Look, we reached out to publisher XYZ and they said no. Sorry." Was hoping for Disney Infinity 1.0 but it's not on the list, sadly.

I've got gta5 just sitting there doing nothing but I due to there being a Xbox one version I'm sure that wont happen

Actually, I think games released on both consoles should be the first to get emulated. They are still in active development, and could sway newer owners to switch without losing their most recently played purchases.

Probably won't be a priority, no, but it might appeal to 360 users yet to upgrade, so it's a possibility

Same here i got the digital version tho

How about all the games, MS? How about that for a suggestion? Cause that should ought to be the case from the start.

Did you read a single thing about the announcement? They have to get permission first from the people who own the licenses. -_-

Don't be silly. Microsoft should steal everyone's IP.

You're the one that's silly.. Taking things out of context.

How is that taking things out of context? You're suggesting they just allow all games to be able to be played, which they can't legally do without the publisher's permission. If they just do what they want, that's technically stealing their IP.

Its not as bad as the famicom disk system was

Working w/ other companies on the onset means stealing IPs.? Cause that's what I mean. What MS fail to have conceptualized from the beginning is to have projected "backward-compatibility" as another great feature. Then it would have been great to see Xbox One coming out in the first-place as having that feature already. How great would it have been if we're already having played more on more lineups by now, rather than just starting it just now? If MS started the idea even before Day 1 of development of Xbox One, having talked already/dealt w/ various gaming studios and I mean "all" and managed to grab at least 50% of those companies, then it would have been awesome, isn't it?

That's why I said ought to be., then why ask? Just do it.

I think they already know we want ALL OF THEM.

Obvjously they know that, but when you have some relevant data to provide to a publisher, it holds a little weight. If you can tell someone that 5 million people still wanna play your game, and all you have to do is say yes, it makes it easier for them to say yes.

Halo Wars is high up on the list. I'm not surprised. I still play it regularly. It has an amazingly strong fan base for a game that's almost six years old. I just voted for it. :-)

Yes!! ONe of my favorite games EVER!! If it gets backwards compatibility im selling my 360.

We're probably in luck. If you look at one of the first images Microsoft released it shows rows of Xbox 360 boxes, and the top of the Halo Wars box can be clearly made out in one of the middle rows. And since its a first party release then there's no third-party to ask permission of. Can't wait!

At this point ms has mostly games they themselves have published under their label

MEDIA CENTER!! Microsoft has 7 pages of xbox360 apps, but not one mention of the Microsoft Media Center extender. That is the app keeping me from using my XBox One.

It's over. Pick up the pieces and move on.

You know, it's sad but so true. I love MCE on my living room PC and 360s and really (really) wished that it would have been updated and re-released. MS killed it though and it's not coming back. Plex looks like the best alternative at the moment, but it's not perfect. I think your comment is spot on.

Im using plex on my home network and i see all my movies and music no problem

Please move on like the rest of us. Media center was not the best. Everytime I used it. It constantly did not work.

Yes yes yes! There is no all in one substitute for streaming live or recorded tv (from multiple types of tuner, I might add), music, videos or photos around the home

Yup. MCE unless they come up with a better solution, which they haven't yet.

Im with ya whats sad is things like hd homerun require a dolby codec for audio in their application to work so only alternative was wmc

I know, right? I know its dead, but it sure would be nice to have, especially after they charged for it in 8, yet removed the ability to have Ceton Echo attached.

I want my Castle Crashers! That game is so much fun on my 360, one of the things I still turn it on for...

Call of duty modern warfare 2, GTA IV and a lot of games !

Ok, I find this a very stupid post. Microsoft pretty much said all 360 games will work but it is up to the publisher to approve them for this feature. So, why vote to tell Microsoft, tell the publisher.

This seems to be a way to allow Microsoft to put pressure on publishers. "See? We've got 20,000 people wanting to play your game"

We have to put pressure on publishers. User voice is just one thing, but if people go directly to the publishers that has more weight. That's all I am saying.

Forget black ops. Bring COD4, the only good call of duty

Street fighter IV, cant be arsed powering up my 360. That would be kinda funny for Capcom though.

All I want is Marvel vs Capcom 2

This, Street fighter IV, and Soul Caliber...

RUSE, XCOM, GRFS and all the Splinter Cells. All others have gone like the wind.

My friends keep vouching for MLB since there hasn't been an Xbox release

All Kinect games, I've made an investment in kinect family games. Moving to Xbox one is cost prohibitive

I think they said all first party games at some point but they also said something about connect on the 360 and the one not being compatible...not sure if just the connect itself or if games as well

Unfortunately, they said Kinect Xbxo 360 games won't work on Xbox One :( I suggest taking to Twitter (Phil Spencer, @XboxP3, #SaveKinect) and letting him know that if they can't emulate it, they should port it: bring Kinect Xbox 360 games to Xbox One via a "Kinect Collection"). I oh so badly want to play Child of Eden on Xbox One with updated Kinect 2 controls.

"Because this solution is a software-only emulation, titles that require a hardware accessory are not part of this feature" They are giving this answer to all kinect games requests. I got all hyped yesterday for nothing since the kinect collection for xbox one is pretty much inexistent.

You know, they gave the same answer for general xbox 360 backward compatibility when the Xbox One shipped. Lo and behold, they managed to write a software emulator for the old hardware (different CPU). Which is awesome! So now they are saying the gen 1 Kinect hardware is different, so they can't do that. Actually, they could use the same method. They could write a software emulator for the Kinect 1 using the new Kinect peripheral. The problem is that it would be expensive to build, might not work fast enough and is probably not financially a good move. They are picking their battles and making excuses for things they aren't will to commit to at the moment. What is the easier path is re-mastered versions of the most popular Kinect games. In my house, Kinect Party is used a lot when friends come over. The Disney Just Dance version is another one. Revamp those and release them. That's got to be more cost effective.

I agree that porting select Kinect 1 games to Kinect 2 makes more sense. I have already asked @XboxP3 for a Kinect Collection of first-party games. I have also asked @Ubisoft to port Child of Eden. Please do the same: #SaveKinect

Ping pong from Kinect Sports 1, Hip Hop Experience and Fable The Journey. I loved my kinect games =)

There is a video on the 360 dashboard with the guy running the team for this. He said they can't use peripherals, so I don't think original Kinect games will make the jump. Posted via the Windows Central App for Android

Makes me want a new scene it even more. Use the phone as a buzzer too.

I am curious, because he said the peripheral isn't compatible, but could it use the Xbox One Kinect? What I would really like to see is backwards compatibility for controllers

The old game wouldn't know what to do with the next-Gen Kinect. Maybe running an emulator on the Kinect as well to translate what the more advanced Kinect senses into something original Kinect games can understand and interpret might work, but that also might start becoming prohibitively processor intensive.

From what I understand thats how vision games work

It is, but keep in mind that Kinect 2.0 is a LOT more advanced than the original Kinect, so I'm not sure how Microsoft would distill that data to be compatible. But they're the engineers, not I, so perhaps they will find a way.

Bring on Star Trek: Legacy!

They should focus on exclusives. If a game is on PC it means it's still accessible and not lost on an obsolete console.

If they do this right they will see xbox one sales rise

Ultra Street Fighter IV!!!!!!

Lets go Call Of Duty Modern Warfare 2!!

Because Nintendo for the most part any games that are popular are in house made games like Mario and Zelda games

I can't find Sneak King to vote for it :,(

Hahah! I totally looked for those 3 Burger King games, too.

Weren't they a direct port from xbox original

tales of vesperia, lost odissey, blue dragon, red dead redemption, portal 2, mass effect, fables saga, Assassin's Creed saga.

Sadly 360 Kinect ones wont be able to come =(

Need For Speed: Most Wanted 2012

Ghost recon future soldier, Splinter Cell, Gears 2 & 3, NBA 2k11 - 13, PGR 3, Resident Evil 5

Modern Warfare 2 would be nice.

Make all sonic the hedgehog xbox 360 playable on the Xbox one, my nephew he keeps asking when sonic new game is coming for Xbox one

That's my same thought too, lets bring more games for children to Xbox One. I read an article yesterday on Fortune, telling that the average age of a gamer today is 37 years old, this means new generations and millenials are gaming much less on consoles and more on their smartphones, this needs to be addressed by Microsoft to bring more console games to small kids and teens.

Sonic Unleashed and Sonic 2006? 2 almost universally hated Sonic games. Are you sure you want those on the One?

The Elder Scrolls V Skyrim, All the Kinect games for small kids, Guitar Hero.

I would like to see Alan Wake come to Xbox One

All of them? Was that a trick question?

All left 4 dead games !!!!!!

Left 4 dead all of em !!!!!

Phantasy Star Online from Original Xbox. Free hunters license edition. Hey, one can dream right? Since there's nothing scheduled for the One. Hey, maybe Blinx the time sweeper too.

Catherine baby, It's the one I miss the most.

Agreed! Never played it on the 360. Always wanted to. I'd buy it for the 360 if it played on the One.

I got one! Alan Wake. Yep.

Could someone invite me to preview program so I could participate in this gt GHOSTRUNNER1990
Left 4 dead

Tested this feature last night and it works well. Put in the Perfect Dark Zero 360 disk, was prompted for about a 2 minute download and the game played great with no lag or other issues. Also able to bring up the 360 guide menu from the x1 controller.

Dance central games for kids and the guitar hero franchise as well.

Well this one is very easy Chromehounds with servers back online and I will buy an Xbox One quickly.

Skyrim, Read Dead Redemption and Mortal Kombat 2010 Edit: Oh, except for MK2010 their are already on place 1 and 3

Elder scrolls (Skyrim & Oblivion). Half Life, Portal 2 and Alan Wake.

Wii could play any gamecube game ever... ps3 can play any ps2 game... just saying...

The Wii is an overclocked GameCube. The PS3 had the PS2 chip inside of it.

Well then you go buy a Wii or ps3 or 2 and we'll move on. Oh, by the way can a ps4 play any ps3 games? LOL! Just saying.

I also like how you left out that the Xbox 360 was compatible with Xbox games. Just saying ps4 troll.

Out of the games its a call of duty game people want? faith in humanity lost.

If they can make an emulator run on the XB1, they can make all of them work. Hell, i would even pay for a full blown W10 standalone emulator. Maybe up to 100.00 depending on abilities to modify resolutions, max out FAA, save states, etc. Even if the emulator required to phone home. Just make it.

I just want Marvel vs Capcom 3

Lost Odyssey and Blue Dragon.

Split second. Great arcade racing game!

Both L4D games. All previous (i.e. not V) GTA games. Red Dead Redemption. All "games with gold" releases. And all exclusive titles.

Just to confirm you have to own the games? Its just I haven't seen it said

STREET FIGHTER IV!! Since we can't get V!!!

Fallout 3, Fallout New Vegas, Red Dead Redemption... All of them!

Dirt 3 and Ninja Gaiden 2!!!

Red Dead Redemption currently leading. As it should be. :-)

Rainbow Six: Vegas 1 & 2 and earlier All COD Splinter Cell Red Dead Assassins Creed Ghost Recon

Skyrim Skyrim o and Arkam Series

WWE 2013, Cricket, FIFA 2015, Ghost recon,

Please add Kinect games, too! It would be the most awesome thing to play Dance Central or my Kinect sportss games on XBO. If, not, why bother with doing the backwards compatible way? You would def make my holiday if you do. What a way to revive Kinect 2.0!

Skate 3. Please make skate 3 compatible. I would LOVE to play on the Xbox one.

Split / Second!!! Split / Second!!! Split / Second!!! Split / Second!!! Split / Second!!! Split / Second!!!

The Bioshock series. Silent Hill Games. SKYRIM. SKYRIM, SKYRIM, SKYRIM.

Honestly guys I want R.U.S.E one of the best world war 2 strategy games to ever be released I never got bord of it please help me get it punched again thanks

R U S E . by UBI soft there are no good strategy games on Xbox one this is Horta be a title included in backwards compatibility guys
Windows Central Newsletter
Thank you for signing up to Windows Central. You will receive a verification email shortly.
There was a problem. Please refresh the page and try again.