Tentacles too tough - fix on the way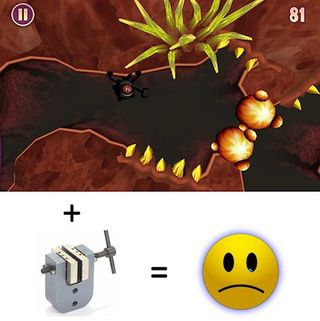 Like many of you, we here at WPCentral were excited about Windows Phone-exclusive Xbox Live game Tentacles prior to its release. Press Play's follow-up to Max and the Magic Marker shows all the creativity we would expect from them, with a control method that's unlike any other game, ever.
But if you actually play the game and get farther into it, you may notice something seems a bit off… Namely, this game is hard! I mean Ninja Gaiden (opens in new tab), put your groin into a vice grip and spin the handle hard. The latter half of the game is just tortuous rather than fun. Every little mistake results in the death of Lemmy, the tentacled hero. Levels win which currents push Lemmy into spikes are particularly frustrating. A small percentage of gamers (masochists, I call them) prefer games to be uber-challenging, but most don't – especially on mobile phones. Why should Tentacles be this tough?
As it turns out, the developers hold no animosity toward gamers. According to Ole Teglbjærg, the game's director:
Press Play has informed us that a future update will address Tentacles' challenge in a couple of ways:
It's great to see them taking steps to extend the game's appeal to a wider audience, because the game has a lot to love – when it's not trying to break players' spirits. Locking a couple of the Achievements out of Easy mode is not so great, but maybe those extra refinements they mention will reduce the frustration for Achievement hunters too. We're willing to give Press Play the benefit of a doubt, so we'll hold off on our review until the update lands.
Windows Central Newsletter
Get the best of Windows Central in in your inbox, every day!
Paul Acevedo is the Games Editor at Windows Central. A lifelong gamer, he has written about videogames for over 15 years and reviewed over 350 games for our site. Follow him on Twitter @PaulRAcevedo. Don't hate. Appreciate!
lol Paul be a man and complete it before the patch! :P - Also, have you seen that Rise of Glory update today? Does it fix achievements??

Oh, I might... But I don't exaggerate in saying it's no fun for me in the 30s.

The only bits that were tough are when the current forces you into spikes, and you can't escape. There are a few times around level 30 where this happens.I'm on level 36 atm. Great game.

..and completed. It's not that tough if you don't mind dying a few times.

Yeah you just have to use all three legs on the side the current is coming from and take it nice and slow lol. I'm working on the collect all pickups achievement then imma go back through and do all challenges and try not die in each.

You guys are beast for tackling this game!THIS game and Ilo Milo are top AAA quality games!

It would be better to have a Normal and Difficult mode. Hope the dev goes that direction.

This is exactly what I was going to say. Keep the current difficulty as "Hard" mode or whatever you want to call it, and add another easier mode so people can choose. Adds more value and longevity too.

this article seems a LITTLE exaggeratedI don't consider myself a hard-core gamer but I was able to get the 200GS without too much troublehardest thing about it would probably be the damage challenge in level 38

Game difficulty is actually a passionate subject for me. What is the goal in creating a certain level of challenge, and what is the end result? I tend to analyze those things in my reviews (see Earthworm Jim for a good example).

I love that Ninja Gaiden is known as the standard in tough games. I couldn't agree more. The original NES game was a BEAST. It is one of the only truly hard games I have ever beaten...the last level took forever, but it was so satisfying to beat that game.

I thought that the later levels were insanely difficult, but I still managed to beat it this week with a bit of persistence. I'll wait for the update to get all of the Xbox Live Achievements though.

Typical I got 200/200 today but I am glad I did it before the patch. Good news for those strugging with the later levels.

"Namely, this game is hard! I mean Ninja Gaiden, put your groin into a vice grip and spin the handle hard."Okay, just FYI: I spit coffee laughing. Line of the day. I am so stealing that line, and not giving you any credit, Mr. Acevedo. I will however mail a .25 cent royality every time I use it... :-D

Always good when a line goes over well. High five!

Hey Paul, where is the source for this? Also...not to brag or anything ...I was on the final level.. then I updated to Mango. I'll let the girlfriend play and catch me back up. :)

If we don't link to a source, that means the info came from direct communication with the developer. Also, I say the info came from the dev in the article itself.

I hardly reached level 11. The game starts to get on my nerves.

Hi Everyone, I'm Ole the director of Tentacles and I just wanted to clarify a few things about the upcoming update.Yes, the game is hard, and we probably underestimated the difficulty a bit. However, this has nothing to do with the game being rushed out. I don't know how Paul came up with that;-). It was a matter of choice and deliberate design. That said, when we saw how few actually made it through the game, we decided that it would be silly not to have more people enjoy the later levels and bosses, that we have put so much effort into creating. So here's what we're going to do:Easy mode: We have made an easy mode, which basically lets Lemmy take more damage without dying. At the same time we really back the idea that achievements should be earned and not be too easy to get. So when you play in easy mode, you will not get the "No Death" star at the end of the level. So if you want all the achievements, you still need to be hardcore. Furthermore we polished a few problematic areas and tweaked here and there – see if you can find them!!!We have a deep love for our little freak Lemmy, and have been really excited to see how the world would welcome him. So thank you all for being so nice to him and thank you all for playing our game.Cheers,Ole TeglbjærgFollow us on www.facebook.com/pressplaygamesAnd twitter www.twitter.com/oleteglbjaerg

Hi, as a game developer i know how important it is to create a certain level of challenge. And i am also a huge fan of tentacles. But some of your levels, when you try to get the no death star, borders with frustration than anything else. In my humble opinion when you die more than 20 times, something is wrong and is not simply worth it. So the update, does not solve the only thing that is bugging me, which is a shame. Nevertheless i am looking for more games from you:)

The Pickup Truck achievement will not unlock for me. I didn't advance to the next level until I got all 3 stars. So I reached level 40, having all 3 stars in the first 39 levels.I beat the game, with 0 stars on level 40. 2 achievements unlocked (tentaculous & eye candy) i then replayed the level a few times and eventually got all 3 stars in one attempt.. 3 achievements unlocked (when i say jump, napoleon, mr immortal) Pickup Truck did NOT unlock.. i tried to replay the first few levels, it still won't pop.Please tell me this will be fixed too.. i'd appreciate if anyone can email this to the developer for help :\

To update: I restarted my phone, replayed the first level and it unlocked for me!!! 200/200.. brilliant game
Windows Central Newsletter
Thank you for signing up to Windows Central. You will receive a verification email shortly.
There was a problem. Please refresh the page and try again.