Terraria will soon have one team working on both console and mobile game updates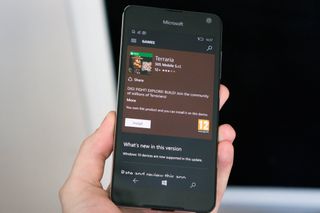 The console and mobile versions of the popular sandbox action-adventure game Terraria will soon be under one development roof. The development team's plans include some major updates that will be released in 2017.
In a post on the game's official message board, it was revealed that Pipeworks Software will be in charge of updating and expanding the console and mobile versions of Terraria. On the current generation cosole side, which include the Xbox One version, Pipeworks will rebuld the game from the ground up and include all of the content in the recent 1.3 update that was put in the PC version:
Endgame Celestial Invasion Event & Moonlord final boss encounter
Brutally difficult Expert Mode – where fortune and glory - and unique loot - await those brave enough.
Over 800 new items, bringing the total count to well over 3500!
Numerous player quality of life upgrades.
That patch is due for release in the second quarter of 2017. The bad news for older generation console players, including those on the Xbox 360, is that development of those versions of Terraria will soon come to an end. A final patch from Engine Software, which is mostly bug fixes, is due for release sometime in September. After that, the game will remain playable but won't be updated.
Pipeworks will also update all the mobile versions of Terraria going forward, including the Windows 10 Mobile port. The big update will also include the Terraria 1.3 content and will be released around the same time as the current gen console patch.
Download Terraria from the Windows Store (opens in new tab)
Windows Central Newsletter
Get the best of Windows Central in your inbox, every day!
Hopefully that means that it will be rewritten as a UWP so that it's playable on W10, W10M, Xbox One, and Hololens!

Probably not since all the platforms have their own versions and the main terraria team is already working on their next terraria game.

Currently the game crashes a lot... Would love if they fix that before adding more content...

Well if you didn't read some parts of it, they said a new team was working on Terraria... They're going to be reworking it all.

When is it coming this year

And they still haven't fixed it so 512mb ram devices can download it.

I read the headline by mistake as Temeria.. I was like wow they made a special thing for Roach.. Too much witcher..