Thanks to AMD's new Ryzen 4000 laptop APUs, laptop buyers have a real choice again
Intel has had the laptop space essentially monopolized for years, and after CES 2020 that could all begin to change.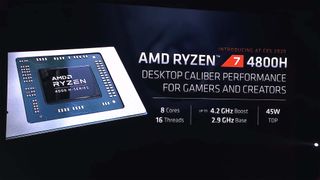 (Image credit: AMD)
AMD had a huge 2019 and closed out the year with Microsoft's Surface Laptop under its wing as partner hardware. But while the company's desktop CPUs and its GPUs have garnered widespread praise, Ryzen for laptops has so far been somewhat underwhelming.
And that became ever more apparent in the pretty expensive Surface Laptop 3 with an AMD chip inside that ultimately disappointed. But 2020 is already a big year for AMD and we're a week in, and it's got nothing to do with the new Xbox or PlayStations on the horizon (though obviously those will be a big end to this year).
Just like 2018 and 2019 with AMD clawing itself back into the spotlight on the desktop, 2020 begins with the company making a play for the laptop market. The new 4000 series Ryzen APUs are exactly what we, the consumers, need to see. Finally, once more, there's a real choice coming when you're choosing a new laptop.
Ryzen laptops brought into the present
I've been using a Ryzen powered laptop for about six months now (the Ryzen 5 2500U powered Huawei MateBook D if you're curious) and honestly, I've been perfectly happy with it. But that happiness comes with tempered expectations, and while the integrated graphics are phenomenal and the CPU has hyperthreading, for the most part, it's what I expected it to be. That is to say a mid-range laptop with corresponding performance.
None of that is bad, after all, Intel has a wide range of hardware for budget, mid-tier, high-end and gaming laptops. For me, the problems truly began when Microsoft slapped what's essentially an old processor into the Surface Laptop 3. Exciting, though it was, the outcome to anyone familiar with Ryzen laptop chips to date knew what was coming.
Surface Laptop 3 was in the wrong place at the wrong time. AMD's Ryzen mobile APUs have their place, and that place has been budget and mid-tier hardware or powering a more affordable gaming laptop that's backed up by a beefy dedicated GPU.
That all changes now.
The Ryzen 4000 series is brought up to spec on AMD's latest and greatest. The CPU cores are now based on the 7nm Zen 2 architecture (Intel has just started to ship 10nm laptop processors), and their number has doubled. Even in a thin, light, Ultrabook, you'll be getting 8-cores and 16-threads from a Ryzen 4000 APU, even at a 15W TDP.
Naturally, a CES press conference will tell you exactly what the presenting company wants you to hear, but assuming the stats touted are accurate, Intel has a fight on its hands again. That's good for the industry and ultimately the consumers, but it also shows that AMD is serious about getting into laptops.
When was the last time we could honestly say that? The idea of being a cheap and cheerful option is starting to change. Compared to Intel's 10th Gen laptop chips in much gaming and multithread performance, Ryzen should come out on top. I'm honestly surprised.
Choice is never a bad thing
Ultimately it now means that manufacturers, like consumers, have a viable choice of hardware to put inside new laptops. ASUS is first out of the gate, with almost its entire CES lineup powered by AMD processors. Whether it worries Intel or not isn't really the question (though it should certainly provide food for thought).
Based on what we know so far, Ryzen 4000 will provide a compelling choice whether you're buying an Ultrabook, a gaming laptop or a professional-grade machine. Core count isn't everything, but there are times you definitely need more, and AMD is giving them to us.
All this is even before considering graphics. The integrated graphics on the 4000 series is still Vega, but Vega with a more than 50% performance boost. That's perfectly fine on its own but then comes the dedicated GPUs.
Again, AMD trails and has trailed for some time behind NVIDIA in outright performance. But the gap is narrowing and AMD is now making a serious play to get onto gaming laptops as well. Again, we'll have to wait until we have hardware on hand to see real-world results, but it's exciting stuff.
Perhaps making all this new AMD laptop goodness stand out even further is Intel's lackluster press conference which came directly after AMD hosted theirs. Intel hasn't long since launched its 10th Gen laptop chips, and they're excellent, but AMD seems to have caught up and Intel's next push looks like being at least six months away.
So at least for the first half of 2020, the fight truly is on.
Richard Devine is an Editor at Windows Central. A former Project Manager and long-term tech addict, he joined Mobile Nations in 2011 and has been found on Android Central and iMore as well as Windows Central. Currently you'll find him covering all manner of PC hardware and gaming, and you can follow him on Twitter and Instagram.
I say this already having a capable desktop and SPX and should not be spending money give me a Ryzen Surface Book 3 immediately.

Yep. This. Is. Everything.

This is most exciting indeed. The Ryzen 5 2500U is good enough for most people's day-to-day usage (i.e. non-hardcore gamers, DTP designers etc.) but this boost should seriously make these Ryzen chips a compelling choice for people who don't nitpick over benchmarks. Am curious yo see the price and whether AMD will also eventually compete with Lakefield.

The big issue here is that these likely won't support Thunderbolt 3/USB4. That means they are incompatible with almost all docking stations in the wild. That's enough of a reason that I couldn't buy one. Is the same reason that had kept me far away from any Surface device.

Down to the manufacturers to get behind that. ASRock, for example, makes an AMD motherboard with Thunderbolt 3. It's entirely possible, just needs the right people to do the thing.

Word? I thought thunderbolt was an Intel specific tech and they dictated what could have it... Here I was mad at them this whole time

I will absolutely consider an AMD APU when my Surface Go becomes un- usable. However at the moment the Go is doing great for all my required tasks.

Now please start to put this in high end 2in1 like dell xps, hp spectre x360, lenovo yoga c9xx, surface...

Narrator: But they did not break Intel's dominance.
Windows Central Newsletter
Thank you for signing up to Windows Central. You will receive a verification email shortly.
There was a problem. Please refresh the page and try again.